Episode Ten: Trying to Cross a Rope-Bridge
Jennifer Falls into a Ravine; Jack Is Unable to
Save Her; Brokenhearted He Remembers Their Past.
---
[Air date July 23rd, 2004]
Scene One: Jack is still frozen, his hand outstretched, a look of horror on his face. There is no sign of the Jennifer nor the bridge. Down below is the the rapids and vegetation. Jack desperately scans for signs of Jennifer.
JACK: God! Oh my God, Jennifer!
Jack flashes back to finding her on the bridge and it collapsing.

Jack stops, and crotches, throwing out his hand as a signal to stop.
Jennifer swings around, surprised and thrilled to see him.
JENNIFER: Oh.... Oh, Jack, oh!
She starts to turn around to try and go back towards him.
JENNIFER: (Cont.) Oh.... Oh, You.... You got out?!
JACK: Don't move an inch! Stay where you are.

JENNIER: Okay.
The rope is just about to break. She stars slowly walking back to him.
The bridge gives a little, and Jennifer tries to keep her balance. Jack runs towards the bridge.
JENNIFER: Ah, ah....

JACK: Jennifer!
Jack notices just as the rope finally gives way.
The bridge finally gives way. Jennifer screams.
Jack falls to the ground horrified, reaching out his arm in a vain attempt to save her, screaming in terror, gritting his teeth.
JACK: AAAAAHHHHHHHHHHHHHH!
In the present Jack screams out again in horror, having relived what just happened.
JACK: JEEEEEEEEEENNNNNNNNIIIIIIIIIIIIFFFFFFFFFFEEEEERRRRR! (Searching for a sigh, desperately) JEEEENNNIIIFFFEERR!
Seeing nothing he moans in anguish.
Scene Two: Jack still is in shock. Trying to search the area for any sign of her.
JACK: Jennifer? JEEEENNNIIIIFFFEERRR! (His voice cracking) CAN YOU HEAR ME?
Frantically searching, his eyes wild with fear. He grunts, as he tries to get up. However, he falls back, against the post which once held the rope securing the bridge. He cries out a lone moan
He clinches his teeth and closes tight his eyes, and throws a fist to his forehead, trying to think what to do.
Near tears, panting from the strain and his emotions. He uses the other post to lift himself.
JACK: Think, Deveraux, think!
Looking around for something to use to use.
JACK: I've.... I've got to come up with some way to find her! (Panting) She's (his voice cracking from the emotion) gotta be down there. She....
Biting his fist in frustration, near tears; suddenly something comes to him. His voice is weak.
JACK: ....I've an idea. It's risky, but it's about the only chance to save her. It's the only chance.
---
Scene Three: Jack is looking around for a way to get down to find and then rescue Jennifer. He notices a vine which is hanging from the side.
JACK: I've just going to.... (grabbing the vine) hang from the vine (looking down) and lower myself to the bridge. Then I can lower myself into the ravine. I can....
Jack grunts and groans as he tries to stretch far enough to get the bridge.
JACK: Oohhhh, damnit! (Frustrated) Oh....
Looking around trying to find something to help. He shakes his fist, and falls against the post.
JACK: Think! Deveraux, think!.... (He uses the other post to get up) ....outside the box. (Looking around) What can you use?
Jack stumbles. He puts his fist to his face in concentration. He looks around. Then looks down.
JACK: I got it (quickly unbuckling his belt), okay!
JACK: (His voice is horse and weak) HANG IN, JENNIFER!
Reaching for his pocket he search and pulls out a pocket knife which he opens.
JACK: IF YOU CAN HEAR MY VOICE, HANG IN THERE! I'M COMING!
JACK: (Cont.) I'M GOING TO HOOK THAT THING .I'M COMIN'! Ah! (Looking over to where Jennifer might be) LISTEN, (still working on the vine) WE HAVE BEEN THROUGH TOO MUCH.... (still working on the vine) TOO MUCH! TO (Voice) LOSE EACH OTHER NOW!
Jack cries out upon finally cutting through the branch.
He gets up and tries to put a loop of the belt around the two-prong end of the stick.
JACK: Oh, come on.... ( getting it looped around) Okay. (Shouting to her) ALL RIGHT! (Weak) HERE I COME!
Jack goes towards the edge of the cliff. He wraps the end of the belt around his hand.
JACK: (Trying to convince himself) This will do it! This will do it! Okay!
Jack sits on the ledge and groans.
JACK: Ahhh.... Okay.... Alright. Come on.
Jack leans over the edge and with one hand uses the belt tied to the stick to hook the bridge, with his other hand he reaches to grab the bridge.
JACK: Okay.... You're close! And....
Groaning as he tries to snag the bridge, and then pull it up.
Jack is unable to lift up the portion of the bridge.
JACK: Okay, one more time. One more time. This time we're gonna do it!
Again he stretch his arm down, trying to snag the end of the bridge with his makeshift hook.
JACK: (Straining) And, ahhh.... Ah. Gotcha! Gotcha! Come on!
He appears to be pulling it up towards him.
JACK: Auggh, come on! Ooohh, no!
It has apparently slip, Jack yanks it and it flies back knocking him to the ground in part by the force and in part because of Jack's frustration. He lets out an ironic laugh.
JACK: haha, (looking at the stick and belt) oh.... (in frustration he hits them against him). Oh....
Jack sits up and tries to find something else to do.
JACK: Okay, (getting up) I gotta.... I gotta find a way....
Using the posts to get up, he is a little dizzy, and looks down and weakly shuts to Jennifer.
Jack starts to weaving, he tries to stop himself.
JACK: Ah.... eh.... eh....
---
Scene Four: Jack has fallen and is holding on to a dead branch which is growing out of the side of the cliff, he gasps as he sees the rushing river a long ways below him. mustering all his strength he throws first one hand then the other to the edge of the cliff. Straining he tries to pull himself up. He finally gets his arms on the ledge, and with one last burst of effort pulls himself back up to safety.
Using the post again he stands up, barely able to stand without collapsing. As he rubs his forehead he notices something caught on his sleeve, it is the locket.
JACK: Ah, what the.... (he takes it and looks at it horrified) Ah, oh (nearly in tears, his voice cracking from the fear and pain) Jennifer? Jennifer!
Jack recalls his and Jennifer's happy moments together.

Jack first recalls the time Jennifer locked him in his bedroom and tried to seduce him.
JENNIFER: Why do you keep fighting me Jack? Why can't you just give in to what you want?
SHE WALKS TOWARDS HIM AND HE BACKS UP AWAY FROM HER.
JACK: I want you to go.

JENNIFER: No you don't.

JACK: I want to be alone.

JENNIFER: You want me to be with you. You don't want to be alone. You want me to be with you. You're just too afraid to say it Jack.

JACK: You're putting words in my mouth.

JENNIFER: Oh really! Then let's see if your body can do the talking Jack, okay.
SHE WALKS UP BEHIND AND PUTS HER ARMS AROUND HIS CHEST RUNNING HER HANDS UP AND DOWN. JACK IS NERVOUS, AND TRIES TO STRUGGLE, BUT HE DOES NOT DO *THAT* GOOD OF A JOB. JACK DOES NOT MIND DESPITE OF WHAT HE DOES OR SAYS.
JACK: Oooooh! While your fingers do the walking.
SHE SPINS HIS ROUND TO FACE HER.
JENNIFER: What do you want?

JACK: I don't want this.

JENNIFER: No?

JACK: Yes!

JENNIFER: Yes?

JACK: No!

JENNIFER: You don't want this, really?

JACK: Yes, really! I mean no.
JENNIFER BEGINS TO KISS HIM AND HE RESPONDS INSTANTLY.

Jack then remembers the time in the cave when they first made love.
JACK:
You know I don't .... I don't express my feelings very well. I don't put into words.

JENNIFER: It's okay. It's alright because you already said it.

JACK: No I didn't. You said it. I just agreed with what you said. (Very emotionally) I just....love you .... Jennifer. I love you.
JENNIFER SMILES AND JACK TAKES HER IN HIS ARMS AND BEGINS TO KISS HER PASSIONATELY. HE LIES HER DOWN IN FRONT OF THE FIRE. A SHOT OF THEM IS SUPERIMPOSED WITH THE BLAZING FIRE, AS THEY BEGIN TO MAKE LOVE FOR THE FIRST TIME.
Jack then recalls his Santa proposal, Christmas morning 1990.
JACK:No, no, I'm checking my list and checking it twice to see if you've been naughty or.... well speaking of checking.... oh Mr. Deveraux wanted me to check on my time and see if you had an answer to his.... his little question.

JACK: Ah yes, so I'm asking for him.... ah.... wou.... wou.... wou.... wou.... wou.... would you marry him?
Jack then recalls he and Jennifer reciting their wedding vows during their first wedding.
JACK:
Jennifer, I.... I give you this ring as a token and a pledge.... of our constant faith and abiding love.
HE SLOWLY SLIDES THE RING ON HER FINGER. JENNIFER HANDS CARLY HER FLOWERS AND TAKES JACK'S RING.
JENNFIER: Jack, I give you this ring as a token and pledge of our constant faith and abiding love.
SHE SLIPS THE RING ON HIS FINGER AND SQUEEZES HIS HAND.

The scene flashes ahead to the minister pronouncing them husband and wife.
MINISTER: You may kiss the bride now.
JACK: Thank you.
JACK SLOWLY FOLDS BACK HER VEIL AND LOOKS AT HER WITH LOVE IN HIS EYES.

THEY MOVE TOGETHER AND SLOWLY HE BEGINS TO KISS HER AS THE GUESTS AND CROWD START TO CHEER. HE CONTINUES TO KISS HER AMIDST MORE APPLAUSE AND CHEERING.
Jack's remembrances take him to Valentine's Day, 1992 when Jennifer tells him that she is pregnant.
JACK:
Jennifer, Jennifer.

JENNIFER: What?


JACK: Would you stop beating around the bush. Just spit it out.
SHE GETS A HUGE SMILE ON HER FACE.
JENNIFER: Okay, this is my surprise for you. (Beat) I'm pregnant!

JACK ALMOST CHOKES ON HIS DRINK. [MATTHEW CANNOT HELP SMILING BEHIND THE GLASS] HE SLOWLY PUTS DOWN THE GLASS AND STARES AT HER IN AMAZEMENT.
Jack now flashes ahead to when Abigail was a baby.

JACK COMES FROM THE KITCHEN WITH A CUP OF COFFEE, JENNIFER IS HOLDING ABBY.
JACK: I mean I thought.... I thought she was down for the night, upstairs.

JENNIFER: She just woke up a few minutes ago. She wasn't really crying. She was just a little hungry. There we go.
Jack then flashes back to a short time earlier when, in the cave, he and Jennifer were finally reunited.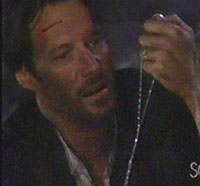 He takes the chain in his hand, taking it from around his neck he holds it up. Almost crying, he loving places it around Jennifer's neck, as Jennifer looks down. He holds the heart locket in the palm of his hand.
JACK: (His voice cracking, filled with emotion) I promised myself I would.... bring this back to you....
Jack wraps his arm around her, and kisses her forehead, as Jennifer holds the locket.
JACK: (Cont.) and we would be together again!
Jack is near tears as he leans against the cave wall next to Jennifer. She lovingly, and crying with joy, caresses his face. They then cuddle, they faces pressed together. Jennifer rests her head on his chest, and relaxing drinks up the feel of being held by him after such a long time.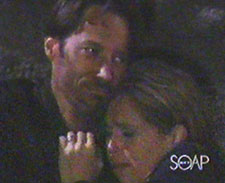 JACK: (Crying) And we are! We're here, you're here with me. And now I promise you, I will never let you go! Ever!
Jack comes out of his remembrances. He crying over the joy of their past wonderful moments together, and distraught that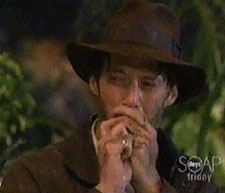 Jennifer may have fallen to her death, and there. Jack opens it, and brushes away with his finger and then blows on it to get rid of some some dirt on the photo. Very emotionally he pours out his heart, his voice is weak from being so ill, and is filled with pain from fearing the worst.
JACK: You taught me.... about being a man! (Trying not to cry he pauses) about (his breaks) love! Family! Being a husband! Father! (Looking at the locket) I'm not going to let you go, Jennifer! (Crying) I am not going to let you go!
Jack crying kisses the locket. He closes his eyes tightly, crying, he again kisses it with great love.
Scene five: Jack cannot hold on any longer. He falls to the ground, the locket is intertwined around his fingers. Too weak, and almost giving up. He turns over, groaning. He looks very bad, he is flushed, his eyes are rolled back.
JACK: I'm coming to join you, Jennifer. (His eyes close) We'll be together forever. I love you.
Jack falls unconscious, or has all the toil took its toll and has Jack breathed his final breath.