Episode Forty: The Homecoming Part IV:
At the Hospital, Jack Attacks Patrick,
Certain He Has Been Working for Tony.
---
[Air date April 29, 2005]
Scene One: The scene is a somewhat repeat of the previous episode [the dialogue is slightly different].

Patrick continues to have his hand on her shoulder. As Jennifer is about to explain about Bo and Billie. A furious Jack runs up to him, and angrily grabs Patrick's collar.
JACK: GET YOUR HANDS OFF MY WIFE!

HOPE: OH, JAACCKK!
Jack does not listen and slugs him, knocking him over a row of chairs.
JENNIFER: Jack, wait! WHAT IN THE WORLD ARE YOU DOING?
Jack jumps over the and starts attacking him.
HOPE: Patrick? Jack!

JENNIFER: What are you doing?
Jack continues to attack him, as he pathetically tries to defend himself. Jennifer and Hope run over to him to try and stop him; they watch shocked at Jack's violence.
JACK: PATRICK LOCKHART, COME ON! DEAL WITH ME! DEAL WITH ME!
A security guard runs over and tries to pry Jack off Patrick. He finally does, but Jack continues to rant.
JACK: (Cont.) DEAL WITH ME, LET'S FINISH THIS NOW!
GUARD: [Hard to hear] ALL RIGHT! ALL RIGHT!
Hope tries to hold Patrick back.
JACK: COME ON! LET'S DEAL WITH IT, NOW!
The guard puts his arm around Jack's throat to stop him. Jennifer runs up to Jack.
JENNIFER: JACK, WHAT IS WRONG WITH YOU? WHAT IS WRONG WITH YOU?

JACK: What is wrong with you? Letting that snake back in your life?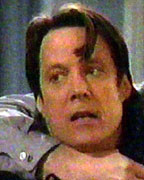 Jennifer is staring at Jack, she's panting, and confused by his behavior.
---
Scene Two: The scene continues. Jack is still struggling.
JACK: COME ON! LET GO OF ME!

GUARD: [First part is hard to under stand, I am guessing] Not in the eyes of the law, [this I can hear] you're outta here, Buddy.
The guard is choking Jack, as Jack continues to struggle to break free.
JACK: Aahhh....
Hope flashes her badge.
HOPE: No, it's okay! I'm Detect Hope Brady, STOP!
The guard eases his hold on Jack. Jack is panting.
HOPE: (Cont.) I can take it from here, thank you.

GUARD: Are you sure?

HOPE: As long as he promises to behave himself.

JACK: (Still panting) All right! All right, whatever (motions)! Fine!
Jack continues to pant. The guard lets Jack go, and leaves.
GUARD: Good luck Detective.
The security guard leaves. Jack straights out his jacket, and sniffs.
JENNIFER: Jack, what are tr.... you doing? Wh.... what if (pointing) Abby heard you!

JACK: (Angrily) Abigail's asleep, but not before telling me how (motioning to him with his head) Lockhart played you the entire time I was gone! Coming on to you! Trying to make you trust him!

JENNIFER: Well, wait, I do trust him, Jack!

JACK: (Hurt and furious that she trusts Patrick) WHY?!

JENNIFER: (Cont.) ....but not in the way you think!

HOPE: I trust him as well! If it wasn't for Patrick none of us would have gotten off di Mera's island!

PATRICK: (Angrily) Tony almost killed me for betraying him!

JACK: THAT'S AN ACT! HE NEVER MEANT TO KILL YOU! YOU'RE STILL ONE OF HIS MOST VALUABLE ASSETS--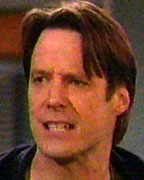 HOPE: What are you talking about?

JACK: News flash, Hope! Tony never died on that island--

HOPE: No, no, of course he did!

JACK: NO--

HOPE: John Black killed him!

JACK: (Gesturing) He's still alive.... he survived, HE'S THE ONE WHO KEPT ME HOSTAGE ALL THESE MONTHS! AND YOUR.... (pointing) YOUR FINE UPSTANDING BOY IS STILL WORKING FOR HIM!--

PATRICK: IT'S A LIE!
Hope tries to say something but Jack is shouting too loudly.
HOPE: [Hard to hear] THAT'S OKAY, JACK!

JACK: NOT ONLY WAS HE WORKING FOR HIM, YOU (gesturing) SET ME UP!
Jennifer, upset, tries to figure out what Jack is talking about.
JENNIFER: Set you up for what?
Jack is still enraged. He looks down towards Jennifer.
---
Scene Three: It is some time later, Jack has told them what happened to him when he escaped the first time -- obviously he did not mention he had sex with Madison.
JENNIFER: Wait a minute, y-you.... you escaped the Castle and made it back to Salem doing laundry on a freighter, Jack?

JACK: But the Jennifer who greeted me was false (makes a sweeping motion with his hand)! Was an imposter! A di Mera operative who (gesture) kept me from anyone and everyone in Salem until Tony and Bart could get back, (motioning for emphasis) recapture me and take me back to the Castle!

JENNIFER: (Having a realization) That's why you grabbed my face in Abby's room--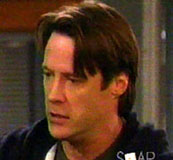 JACK: (Still talking frantically) To make sure it wasn't a mask! To make (grabbing her) sure you were really real!

JENNIFER: (Realizing the horrors Jack went through) Oh, this is horrible, you came back to Salem thinking (gesturing and upset for what he suffered) tha.... that you were home and were safe, and it was all a lie!

JACK: Ha.... A lie, LOCKHART HELPED TONY ENGINEER--

PATRICK: OH, YOU ARE WRONG, JACK!

JACK: (Desperate) No, I am right! I am absolutely right!
Jack walks towards Patrick. Hope stops him. Throughout Jack's accusations Jennifer watches on in silence, not sure what to think.
HOPE: Wait, do you have proof Pa-patrick was involved?

JACK: (Frustrated, sighs) Huu, nothing tangible. (Gesturing) No! I tried! I tried to get Tony and Bart to admit it! To confirm the whole thing! THEY HINTED! THEY HINTED ALL AROUND IT BUT THEY NEVER QUITE CONFIRM IT! NEVER--

PATRICK: Because it's not true!

JACK: IT HAS TO BE TRUE! Tony needed someone here in Salem to pull of this charade, and you fit the bill perfectly! (Pointing) That's why he let you double-cross him on the island, that's why he let you come back with us, (pointing downward) because he needed you planted here--

PATRICK: You spent way too much time alone in that castle--

JACK: No, no, (pointing) you are part of Tony's plan! You are! (Walking towards him) Admit it! Admit it, you know what he was up to here! He's NOT UP TO IT ANYMORE, BECAUSE HE'S DEAD, THANK GOD!
Jack is standing right in front of Lockhart, staring him down.
HOPE: Are you positive?

JACK: (Turning to her) As positive as I can be without his body (motioning for emphasis) being right in front of me.(Gesturing) Nobody could have survived that explosion, (indicating with his gestures) not Tony! Not Bart! Not haa--

HOPE: (Interrupting) Not who--

JENNIFER: Wait, now Jack, y-y.... you said that (gesturing) Roman, and Marlena, and Cassie....

HOPE: (Interrupting) Wa.... wai..... wai....

JENNIFER: (Cont.) .... they were there with you--

HOPE: (Continues to trying to silence Jennifer, and ask Jack a question) ....Wait!

JACK: Ha....

HOPE: (Cont.) Roman, and Marlena, and Cassie are alive?

JACK: (His fingers on his forehead) Yes! Yes, safely back in Salem.

HOPE: Do Kate and John know?

JACK: (Removing his hand) I-I.... I suppose they do. (Gesturing) Roman and Marlena were determined to get to them as soon as possible!
Jack looks upset, he does not want to break the possible bad news about Victor and Caroline. Jennifer is looking at Jack, knowing what he knows.
HOPE: What about Victor and Caroline?

JACK: (Exhaling, his voice is emotional) We believe the may have been in the castle, yes.

HOPE: (Concerned) Did they make it?

JACK: (His voice cracking) No, I don't think so. No, I'm sorry.

HOPE: Oh my God, Bo's parents survived the island, being swept off the rafts, only to die in an explosion?

JACK: All thanks to Lockhart!
Jack turns towards Patrick.
PATRICK: (Angrily) I had nothing TO do with any of this!

JACK: I don't BELIEVE YOU!

HOPE: Well, you know what, I DO! I believe him!
Jack turns to Hope not believing she could trust Lockhart. Jack flashes her a nasty glare. Jennifer looks at Hope, her expression is hard to read.
HOPE: (Cont.) Patrick saved our lives. Find some hard evidence that was still working for Tony and I'll change my mind!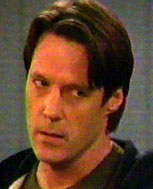 JACK: (Furious and sighn in frustration) Ahhh.....

HOPE: (Cont.) But until then, I'm giving Patrick the benefit of the doubt!
Jack cannot believe Hope. He is frustrated.
JACK: Hope! You're making a big mistake--
Hope interrupts Jack. She tells him she cannot continue to talk about this, she needs to find Bo first and tell him about his parents, "He's going to be devastated. It's going to be like losing them all over again!" Hope begs for Jennifer to tell her where Bo and Billie went, and why did they go.
---
Scene Four: A little later, it appears that Jennifer has told Hope about Bo and Billie. Hope cannot believe that Bo and Billie were so naive about the sweater, she says even "a first year cadet would it's a trap!" Jennifer tells her that the blood did match. She is not surprised, for it is just another "wild goose chase!" Patrick interrupts, agreeing. He brings up the last time, he cannot believe that Billie talked Bo into going [seems like he is purposefully making Bo look bad]. Hope goes on and on about Bo always having to be heroic, and "Billie knows how to play him like a fiddle." At that point Jack interrupts.
JACK: Whao.... whao.... whao.... wa... wait a minute, I know I just got here, but it just seems to me tha.... that Billie's just desperately trying to find her daughter! I mean, As mothers you must under stand that. And if Georgia is Bo's daughter too he's just trying to find her ah... I-I would do the same thing.

JENNIFER: Jack, we know how you feel, about Billie, but now is not the time to be defending her!

HOPE: And don't try to justify Bo breaking his promise, either!

JACK: No, I'm just saying, Hope--

JENNIFER: (Pleading) Jack, I mean it--
Jack is hurt that Jennifer is siding against him.
HOPE: (Furious) Don't Jack!
Hope gets all annoyed, and goes on to state that she cannot see what there is about Billie which makes all the men defend her.
---
Scene Five: Hope grills Jennifer about where Bo and Billie could have gone. Jennifer says she saw no address in the package in which the sweater came. Hope knows Tony is dead [funny how after all the faked deaths everyone so easily believes].
JACK: If that's the case then Lockhart should know where Bo and Billie are headed!
Lockhart is annoyed, her rubs his forehead, and points at Jack.
PATRICK: How many times do I have to tell you, (nastily) Jack, that I don't work for the di Meras anymore! I don't know where Bo and Billie are!
Jack turns to him not believing a word he says.
JACK: I don't believe you!
Hope insists they stop arguing, she has to find Bo to tell him about his parents. She needs to tell him before he hears it from someone else. She damns him for taking off with Billie, *yet again*. She also damns Billie. Hope knows that Billie will not be happy until they both wind up dead. Hope swears that she will make "that manipulative, selfish witch pays" if something happens to Bo. Of course, as she speaks, Bo falls into the pit, as he tries to rescue Billie who fell into the trap during the previous episode. Bo is unconscious and looks seriously injured.