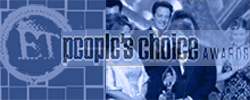 shows: Entertainment Tonight and The People's Choice Awards [Entertainment Magazine and Awards Show]
additional cast: Entertainment Tonight: Announcer [unknown] and Kirsten Storms (Belle Black); 2001 People's Choice Awards: Days of our Lives cast and Julia Roberts
network: Entertainment Tonight syndicated; 2001 Peoples Choice Awards [no info.]
cbs' people's choice awards:
days wins "favorite soap"
et segment:
days cast & julia roberts
people's choice awards winners

ANNOUNCER: One of the most unique moments was when the biggest actress showed she still could be the biggest fan.

ANNOUNCER (CONT.): Julia is a big fan of the daytime soap and was thrilled backstage [of the awards ceremony] when a castmember asked her to pose for a picture. It turns out Julia's mother is just as big a fan.

KRISTEN STORMS (BELLE BRADY): Her mum came down for a tour about a month ago, yeah. It was cool. We were all hoping Julia would show up too. But I guess she couldn't make it.