The segment aired on November 28, 2002, as part of the show's Thanksgiving Day episode.
Deborah Norville: For soap opera star Hunter Tylo and her husband Steve [sic; Michael] they don't need a special day be thankful, every day see their baby daughter alive and well is a day of thanksgiving. But little could Hunter Tylo expect that the disease which struck her daughter would also strike the family of an old friend whose also a soap star. Steve Noble with the story of coincidence and hope.
Announcer talks about Inside Edition keeping track of the Tylo families ordeal with Katya's battle with retinoblastoma. Various shots of Hunter, Michael, and Katya; and Katya various treatment sessions in her battle with Rb.
Steve Noble: This is soap star Hunter Tylo today with her five year old daughter Katya, happy times, but it hasn't always been so easy. For years since Katya's diagnosis in 1997 with retinoblastoma we have followed the Tylos' struggle with heartbreak. From check ups to operating room, we where there as Hunter and Michael bravely battled this rare form of eye cancer. A dies ease that forced Katya to have her right eye removed.

Hunter: We were devastated, our world was absolutely upside-down. We felt like we were the only people on the entire face of the earth that were going through this right now.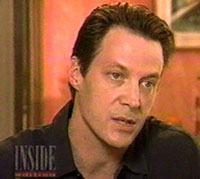 SN: Still the Tylos turned their anguish into action, raising money and awareness of often deadly disease. But the Tylo's dramatic story did not stop there, you're about to hear of an amazing, remarkable turn of events, that begins with this man, his wife Christine [sic; Christina], and their little girl Emma (shot of her playing the piano).

Matt: It's amazing that all these things came together at this moment.
Scene of Matt and Missy from DAYS; Jack is hugging Jennifer, breaks off and says, "That is the power of love.
SN: That is Matthew Ashford, a popular regular on Days of Our Lives, and a long time friend of Hunter's dating back when she was on the show over a decade ago.
Scene of Hunter from The Bold and the Beautiful.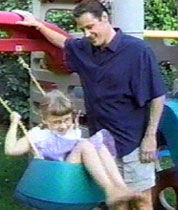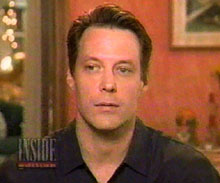 SN: (Shot of Matt pushing Emma on a swing) As an actor Matthew's played dramatic scenes involving sick children, but nothing could prepare him for the real life drama he experienced in 1997.

Matt:Then it really happens, and I am uh, really holding a baby, my own child, who has this mysterious illness that I can't see. (Scenes of Emma) That's, you know, eating her up inside.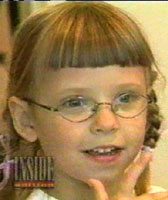 SN: So what was "the mysterious illness" inflicting his daughter Emma? (Scenes of Emma at the doctor's, with Matt and Christina watching on) Well, doctors found six cancer like tumors in each of her eyes. (Emma sliding down a slide) A rare disease, in the whole world there are only about 8,000 such cases reported.....
Scene of doctor testing Emma's eyes, asking her to read letters on the wall. Next more scenes of Emma playing in a tree house.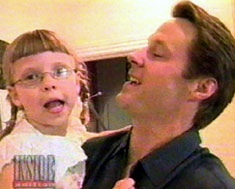 SN: By now you may have guessed it, Emma had retinoblastoma, and so now the two friends and former co-stars faced the same nightmare.

Matt: And then four months into it we were, you know, just going through the chemo, finishing up and suddenly finding out that Hunter and Michael were going through the same thing. And, eh you know, supposedly this rare disease.

SN: (Photo of Hunter holding Katya, who has a patch over her left eye) Then on the day little Katya had her eye removed, Matthew happened to call Hunter (Shot of Hunter with Grace; and then of Matt picking up Emma) sharing the news of his daughter Emma's diagnosis.

Hunter: I was absolutely blown away.
SN: (Emma and Katya are playing the game Sorry) Both girls have had an eye removed, but are in good health, and receive regular check-ups at the Children's Hospital in Los Angeles.
Someone asks Emma what she thinks about her eye, and she replies, "Fine."
SN: (Christina, Matt, Hunter, and Michael, and Grace, are seen talking in the kitchen) And you might think this kind of terrible news would rip these families apart, (scene of Emma playing with Katya) but the opposite has happened. Emma and Katya have struck up struck up a friendship,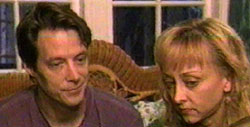 (shot ofChristina and Matt, and Hunter and Michael) and their families remain focused.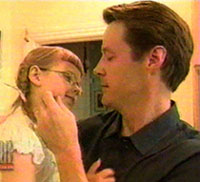 Matt: I don't think any of us believe that it's just a coincidence, I think we're all here with a mission.

SN: (Matt holds Emma and caresses her cheek) That mission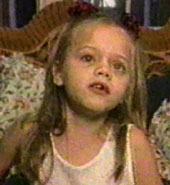 (scenes of Hunter with Katya) includes raising awareness, and remaining positive (shot of Katya) about the childhood disease that struck their daughters.

Hunter: (Emma is climbing up to a tree house) They're very athletic,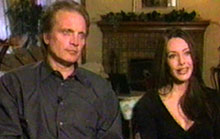 (Hunter, Michael with Katya) very inquisitive, and I'm sure they'll be skating boarding together,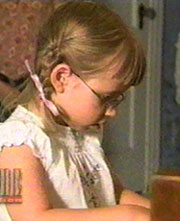 (Emma playing the piano) in spite of having just one eye.
Back to the studio.
Deborah Norville: Fortunately treatment and therapy have reduced the mortality rate of retinoblastoma which was 100% fatal just a century ago.

[ Official Retinoblastoma International Homepage ]