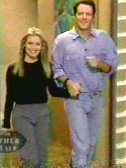 MARIO LOPEZ: [Talks about DAYS].... One DAYS' greatest on-again off-again loves stories is that of Jennifer Horton and Jack Deveraux, played by our next guests, please welcome, Melissa Reeves and Matthew Ashford.
MISSY AND MATTHEW AND MISSY ENTER, WAVING TO THE CHEERING CROWD. THEY COMMENT ON THE AMOUNT OF FANS MATTHEW AND MISSY HAVE. MISSY REMARKS ON HOW GREAT THE DAYS FANS ARE.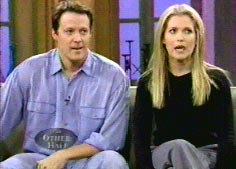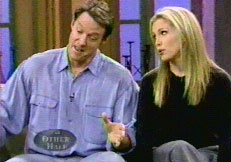 DICK CLARK: What is going on with your two characters? I don't me you two characters, the characters on the soap.
MISSY: We're a little immature?
ML: Jack and Jennifer?
MATT: And we are too. MISSY: And we are too.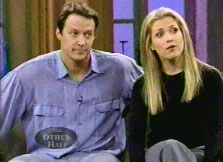 DC: Last I heard you are divorce? And living in the same house?
MISSY: Yes....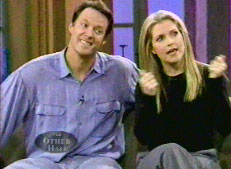 MATT: Happily...
MISSY: And we decided we're going to date people, to make each other jealous. And we go to the same places with our dates. We're really really dysfunctional right now.
ML: Sounds healthy.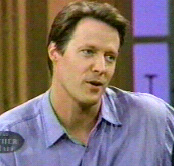 MATT: No it's not. You know, we decided it's best... we want have... I say we have a child together we have to give her a nice feeling if a family, so we have to be a family. So I sold her on this idea because now our little daughter is so happy so happy seeing us together, but at the same time... you know, at night were going on a date... so...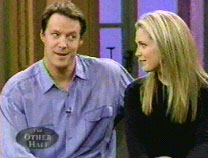 DC: You are so hot, hot on TV. How do you quickly turn this off?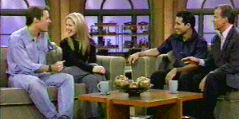 MISSY: [Turning to Matt and teasing him] You're sooo hot.
MATT: Soo hot.
DC: [Turning to Lopez] You've seen this.. Sizzzzzle.
MISSY LAUGHS, AND LOOKS AT MATT WHO THINKS IT IS FUNNY TOO.
DC: How do you turn it off when you're not on camera?
MATT: Start talking about children.
MISSY: Yeah, we start talking about our kids.... Macaroni and cheese tonight? No.... you know the hot scenes are so technical, really. Your hand here, don't block my nose....
ML: Oh Really?
MISSY:h, right. We have right kiss; left kiss; turn it this way
MATT: [With some accent] Don't touch the hair. Don't touch the hair.
DC: The director, "Alright, it's a right kiss?"
MISSY: Oh, yeah.
MATT: Yes.
DC: Can you give us a quick demonstration? Don't get too eager.
MATT AND MISSY DEMONSTRATE HOW THE DIRECTOR SHOTS KISSING SCENES.
MISSY: Well, it's like this when we're practicing.
MATT: Right. Left.
MISSY: Okay, turn 180. We have 180; 360. Completely.
ML: So then it's choreographed.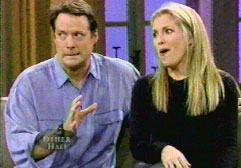 MATT: Well?.... Yeah.... Because....Well, there is a little bit, but if you're really having a good scene the last thing you want to do is mess it up [Missy nods her head, and agrees].You know, you take a good run at it and do it well.
ML: You both two [children]?
MISSY: We both have two children exactly the same age. Both of them. See it's hot in our minds.
EVERYONE LAUGHS AND IS A LITTLE SURPRISED.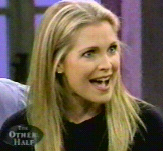 DC: Wait a minute! I have a comment (hesitates) Well, I don't know if that's very tasteful (thinks decides to say it anyway) You know what it is, get all hot in the the daytime, then turn around and go home (he slaps his hands together, to show what he means).
EVERYONE LAUGHS, INCLUDING MATTHEW AND MISSY. DICK CLARK THEN ASKS THEM TO SET UP THE CLIP THAT THEY ARE ABOUT TO SHOW.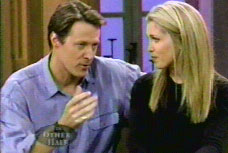 MISSY: Well, the point of our relationship is that Jack and Jennifer are soooooo in love with each other. And it is so intense that they are doing everything they can real to come back together, even though it looks completely immature. [She then sets up the scene] They talk about their time in Africa and Jack asks me to marry him.
MATT: I suddenly, I say go.... I gotta propose, so I propose.
THEY SHOW THE CLIP OF JACK TALKING ABOUT AFRICA, AND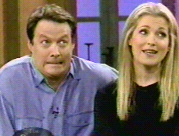 JENNIFER REMINDING HIM HE NEVER WAS AROUND. THEY CUT FROM THE CLIP AND MATTHEW FLASHES AN EMBARRASSED LOOK AS FOLKS RESPOND TO THE CLIP AND JACK NEVER BEING AROUND.
THEY MENTION THAT MISSY IS MARRIED TO SCOTT REEVES OF THE YOUNG AND THE RESTLESS. THEY ASK HER ABOUT HOW THEY JUGGLE TWO SOAP JOBS AND FAMILY. SHE TELLS THEM ABOUT THEIR SCHEDULES AND HOW THEY HAVE A GRANDMOTHER JUST DOWN THE STREET. MATT COMMENTS THAT IT IS JUST LIKE DAYS.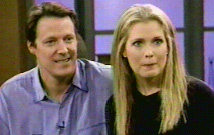 DC: I have the greatest respect for daytime drama, because you do volumes of stuff, you do a movie a day. How on earth do you remember all that stuff?
MISSY: We just talk to each other all day long like "Do you wanna run lines.... run lines?"
MATT: Exactly.
MISSY: ....we're getting hair done.... make-up... just running around all day [doing lines].
DC: You don't stay awake nights memorizing all that stuff?
MATT: Sometimes.
MISSY: Matt's 4 year-old runs lines.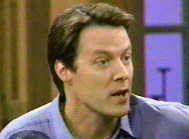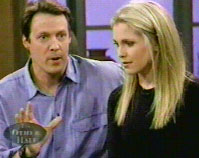 ML: And a lot of times, right, it's all like on the same day, right? You don't get material until the same day?
MATT: Sometimes they say, "Rewrites," or "we need an add. Here's an add." And they give you the add, and all of sudden you say, "Let's just run away from it, and go.... get.... learn the lines. And then come back and say, "Okay, here we go!"
MISSY: But it's good. There's never a dull moment. The energy....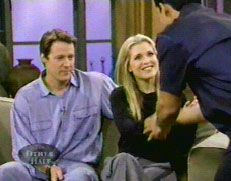 MARIO LOPEZ AND DICK CLARK JOKE THAT IT IS LIKE THERE SHOW; MATTHEW AND MISSY LAUGH IN AGREEMENT. THEY TALK ABOUT HOW IT WOULD BE LIKE IF THEY HAD TO REMEMBER LINES FOR THEIR SHOW LIKE SOAP STARS HAVE TO DO. WITH THAT THE TIME IS UP AND THEY THANK MATTHEW AND MISSY FOR COMING.