Scene One: The creature, in the form of a sexy woman, goes to a pick up bar in search for someone with whom to mate.

Matt almost is picked up by the Species alien
30 sec; 1.1 Meg.

She is looking around when Matt's character, Man in Bar, calls out to her.
Man in Bar: HEY, hey (grabbing her arm; and carrying a drink in the other hand) where are you from?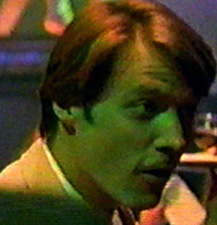 Species Creature: I'm foreign.

Man in Bar: (Could not hear her because of the loud music) You're what?
Species Creature: (Pausing for awhile) I'm foreign.

Man in Bar: (Apparently impressed, and hopeful) "Foreign?!" Really, Wha--
Just then another woman, obviously drunk or high, throws herself at him, throwing her arms around his neck.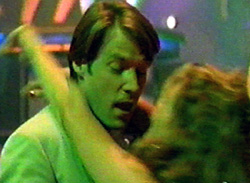 Man in Bar: (Talking to the new woman) Whoa, Whoa, easy, (laughing) easy.
She starts dancing around with him.
Woman in Bar: I have a party to go to and no one to take me.

Man in Bar: I'll take you.
The Creature does not seem happy she lost her victim.
Man in Bar: I'll take you.

Woman in Bar: You will?

Man in Bar: Yeah!

Woman in Bar: Okay, I'm going to go to the Little Girls' Room. You wait right here. (Taking his drink with her) I'll be right back.

Man in Bar: I'll be right here.
She leaves and goes to the restroom. The Species Creature follows her. When the woman is in a stall, the alien, in the next one, reaches in, as the creature and kills her.
She returns to the dance floor, takes off her top and throws it to Matt's character. She then picks her next victim.