matters of
LIFE and DEATH
Matthew Ashford ponders
Dr. Stephen Haver's

"grave mistakes"
B
ack in October of 2003, Matthew Ashford's long-running DAYS OF OUR LIVES character, Jack Deveraux, was bludgeoned to death by the Salem Stalker. Less than two months, later, the actor resurfaced on ONE LIFE TO LIVE, where he'd begun his daytime career two decades earlier and would soon be revealed as the serial murderer who'd been terrorizing Llanview!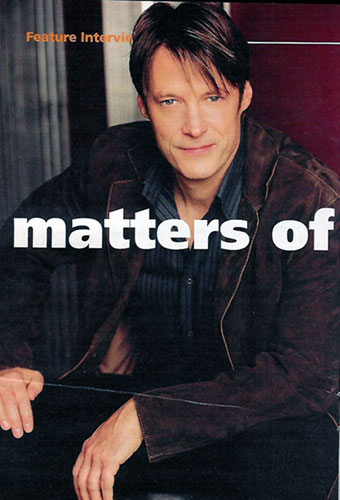 It's an irony that isn't lost on Ashford. "I feel like jack has left one alternate universe for another, says the actor, who originated his DAYS role in 1987 and returned in 2001 after an eight-year absence. "I have scenes with Bree Williamson (Jessica) where I keep saying [the name of his DAYS wife] Jennifer, or Salem university instead of Llanview University. I've had to bit my tongue on many occasions."
And we'd be remiss not to mention Stephen Haver's mother, Marlena, who shares the same name as DAYS' killer doc! "Isn't that something?" the actor laughs.
Coming Home
In many ways, Ashford's career has come full circle with his return to OLTL. "It's really wonderful to be back her again," says the actor, who played Drew Ralston from 19822983 in his first television role. "I worked with Bob Woods (Bo), Erika Slezak (Viki), Robin Strasser (Dorian) and Phil Carey (Asa) before, and I'm getting the chance to work with a whole group of new, talented people as well.
"But," he continues, "I'm in a slightly different place now. I had been through four years of a professional training school [earning a BFA in theater from the North Carolina School Of The Arts] when I arrived in 1982, and yet I still basically didn't know what to do. Everyone has so much on their plate that you really can't wait for someone to direct you. You have to look at your own work and make strong choices; I didn't.
While Drew met a sad fate, Ashford found new life on other soaps (see FYI box below), and returned to Llanview with a new perspective. "I learned from different mistakes," he relates. "Coming back here now, this character is wide open, and i said, `I'm going to do my own thing and keep bringing things for the directors, producers and writers to look at.'
"Back then," he continues, "I didn't always know what to do with it and thought, `It's just another day -- when in fact every day is this great opportunity. Maybe that big movie is out there, but who knows? You better not wait to do your best acting until you get there. Whatever you're given here, you should make something of it, because it will help you be the kid of actor that can take all kinds of material and make something of it. I wish I'd been able to figure that out back then."
Seizing The Moment
While the the handwriting seems to be on the wall for his killer character, LA-based Ashford is keeping an open mind. "Although [Stephen] sounds like he's not so long for this world, it's hard to tell," he says. "I'm also talking to people at the network about other projects. I'll be back in L. A. for pilot season, but if something comes up here, I'll be back in New York, too."
After being on the West coast for so long, Ashford even was able to relish the East Coast's harsh winter weather. "I actually liked the snow because i hadn't been in it for so long," he relates. "I got a good dose of it this time, and I got to wear clothes I haven't worn in years!" It's a beautiful city, I've reconnected with old friends and made new friends, I got to see Broadway theater, the symphony and the opera."
Like the weather, Ashford acknowledges that the soap business is ever-changing -- and that's all the more reason to make every day count. "In 2020, people will be looking back to the good old days of 2004 and saying, `Remember when we were there?' This business is so volatile, who knows what we'll be doing then? So we've got to enjoy this."
--Irene Vitale