THE EX FACTOR
Days of our Lives's
Jennifer Encounters Her
Estranged Hubby, Jack, In Paris


JACK STRIFE

When DAYS announced that Matthew Ashford would be returning to the show, some industry insiders were shocked. After all, the popular Ashford endured a high profile firing in 1993 and the character has been played by two other actors since then. But it looks like there are no hard feelings. In fact, the handful of episodes Ashford was scheduled to do has already turned into a longer gig. What would it take to make it permanent? "It depends on two things," says DAYS honcho Ken Corday. "How things are working on-screen and in the studio. But if all goes well, I think these two will be back on top six months from now."

"It all depends on the response of the people, I guess," nods Ashford. "I'm looking forward to it."

By STEPHANIE SLOANE
and ROBERT WALDRON
Photos by JEFF KATZ
---

In 1993, Matthew Ashford was fired from Days of our Lives, breaking up one of the show's most popular duos. Two years later, co-star Melissa Reeves exited, as well. Both roles were recast but the subsequent pairings never had the same spark or intensity that Reeves and Ashford did. Well, everything old is new again in Salem: Reeves returned last October and this week, she's reunited with Ashford. "These two are still immensely popular," says Executive Producer Ken Corday. "The return of Jack is definitely a beginning...."

The auction starts this week in Paris, where Jack, on the advice of Grandma Alice, trails his ex to Greta's coronation. "He poses as a series of different people in disguise to get closer and closer to her," previews Matthew Ashford (Jack). He's got to st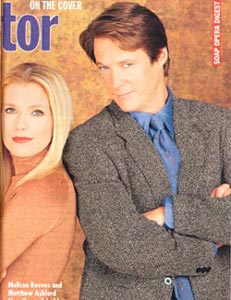 ay close because she keeps running away."

She can run, but she can't hide. By week's end, Jack corners her. "Jennifer's not happy," says her portrayer, Melissa Reeves. "She just blasts him at the coronation; they really get into it. But I think secretly, deep inside, there's an underlying feeling of "Maybe I'll give him one more chance."

First things first: Why are they estranged? "Something happened in Africa," teases Ken Corday. "Eventually, we will find out what it is, but it won't be in the immediate future."

For now, Reeves believes her alter ego is all talk about wanting nothing to do with Jack. "I think she's secretly glad to see him," asserts the actress. "We're talking about someone who Jennifer has loved pretty much her whole life. She was very young [when he came into her life]. So I think she just feels comfortable getting into this madness with him. If Jennifer and Jack didn't ever speak again, it would be devastating for both of them. I think it's comforting to have this back and forth, push and pull that exists between them."

Ashford agrees: "Whether he realizes it or not, Jennifer is a part of Jack. He has to resolve things with her. There are people in your life that, whether you like it or not, love them or not, they have to be dealt with in a good way or in a bad way. Jack may think he's going to win and go on with this. But Jennifer is a force to be reckoned with, that's for certain."

The first battle of the Deverauxes is over their separation and its effect on daughter Abby. "Jennifer is the reality check," points out Ashford. "She says, 'Wait a minute, you come in, give a kiss hello and then you're gone.' He wants to see his child now, and then he's going. Jack lives in his own world and, as far as he's concerned, that's his reality. By seeing Abby, he's being a good father. He's different from Jennifer. She says that there's more to being a dad. But that doesn't change the way Jack sees it."

"It's a common situation," notes Reeves. "It's so heartbreaking for a mom to see her children hurting, especially if they're hurting because of the adversity between the parents. Jennifer's problems are with Jack. There's no reason Abby should have to pay for it. Jack would never hurt Abby intentionally. But for Abby's sake, I think Jennifer feels maybe it's better if she and Jack just break the ties between them and move on."

But can they really? This isn't the first time they've split and reconciled; in fact, it's happened three times before. "Her ultimate dream is for Jack to walk in the door at night and just be this wonderful person," Reeves acknowledges. "I think she always has this ultimate hope for Jack that he will change."

As for reconciliation, Corday is coy. "Something happened in Africa and what brought her to Ireland is part of the same storyline," he explains. "These are the mysteries and secrets that you have to stay tuned to uncover and it will probably lead to whether or not Jack and Jennifer will reconcile."

If there's a reconciliation, it will take place in Salem, where Jack and Jennifer are headed by the end of the week. But don't hold your breath — a mystery man will shake everything up. "It will take some patience on the part of the fans," says Corday. "They will be on once or twice a week for now. It will be a careful segue."