Soap Opera Digest
Better Than Ever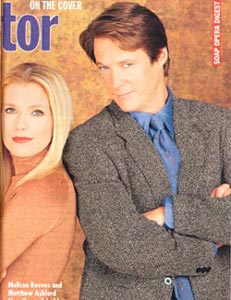 When Melissa Reeves and Matthew Ashford were paired in 1989, it seemed like an unconventional union. She was the Salem sweetheart; he was a former rapist with a silly side. Nevertheless, their romance was a hit with the viewers. Ashford left DAYS in 1993 and Reeves followed in 1995, but the duo was reunited on-screen in February, 2001. Suddenly, everything old is new again in Salem.

By Stephanie Sloane
Digest: What was it like to work together again?
Matthew Ashford: It felt the same.
Melissa Reeves: As though no time had passed. It was kind of weird!
Digest: Do you think Jack and Jennifer are still meant to be together?
Ashford: Yes. But in what way?
Digest: It's interesting because you are together, but not romantically.
Ashford: But then you could also redefine what is romance at the certain point. Half the time they're at each other's throats.
Reeves: I think that's Jack and Jen's romance. They have turmoil.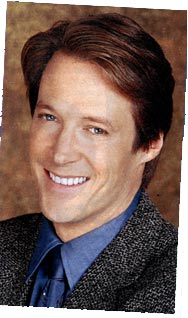 Ashford: I think when we were working on the paper together, we were romantically involved, but we never physically touched or anything like that. There was a romance to the moment. It's in the way something is written -- there's something going on. There's an excitement in the air. It isn't just candlelight and flowers. There's romance in adventure and romance in mystery.
Reeves: I love that, it's like in the old movies. But it takes more of your skill in acting to make that work. It's such a challenge.
Ashford: There has to be a connection and something going on all the time. There are a lot of opportunities for that. I think there were times in the past when people thought that I was I wasn't connected to Missy or Jennifer, but I knew where we were coming from.
Digest: Fans call you the "real" Jack and Jennifer. It didn't seem the same when other actors played your roles.
Reeves: That is so sweet!
Ashford: We heard that a lot at the fan club weekend [last year]. It's nice that they think that.
Digest: Has Jack changed?
Ashford: He believes that he is already different. If not, he's going to be different. Jennifer has said to him, "If there were some terrible thing, I know you'd be there." Jack even says, "I'd risk anything for you." These are the kind of lines that I wouldn't have been able to say not too long ago. Now I'm saying them because I want her to remember them.
Reeves: So, one day he won't have to say them again.
Ashford: If Jack had to have anybody guarding his right, I think he'd want Jennifer because he can't always put it into words, but he trusts her and has that kind of connection. "Love me or hate me, we have that understanding." It's better to show that to the audience than having to explain it. Just let them see it.
Digest: Jack and Jen reached a turning point when J.T. nearly died last year. Did you feel the same way?
Ashford: Yes, Jennifer saw a side of Jack that was disconcerting because they're in a different place in their lives, and I think Jack saw the same thing. He saw her level of courage in what she was trying to do. You see things, and it's exciting and scary, and it raises those stakes.
Reeves: I stressed Scott [Reeves, ex-Ryan, Y&R, her husband] out so bad during those scenes. I was flipping. I had to do something that I've never experienced in my life and make it work. He said, "Oh, honey, that's why they give you those things because they know you'll make it work." I said "That's what you're supposed to say!" He got points for that one. But there is the pressure to perform and to make people say, "Okay, this is why we pay them," or get out.
Ashford: You've got to sell the stuff.
Reeves: You've got to earn your keep.
Ashford: It's exciting because everything pinpoints on that.
Reeves: It's fun for us, too. I love doing all the crazy stuff.... Remember the train wreck, where we were all wrapped in those wool blankets? I love that adventure stuff. I could do that every week.
Ashford: Just pull that train out of retirement.

Reeves: I love all that crazy adventure stuff and disguises and accents -- it's so fun. We've been lucky to have such great stories.
Digest: How do Jack and Jennifer live such a nice life with no paychecks coming?
Ashford: I think that there's a little bit of trust fund money that Jennifer's been living on because we've got this house....
Reeves: We always have enough means to get by.
Digest: Missy, should Jen get a job?
Reeves: I told Kristian [Alfonso, Hope] that I want to do CHARLIE'S ANGELS with her.
Ashford: They've got the shoes and the boots.
Reeves: We're always in our heels and our sleek pants, and we would be girl detectives. Bo and Jack wouldn't know where we are at night, and we're out getting in trouble and totally blowing the case. Kristian and I have it all thought out in our heads.
Digest: What's the best thing being here?
Ashford: Working with her,
Reeves: Yeah, working with him, and wardrobe and makeup and hair are the best.
Ashford: It sets a pretty high bar, though, because then you leave and think....
Reeves: What am I gonna do at home? My clothes are ugly. My makeup is ugly. I really do.... I feel so at home here. I love it.
Ashford: So many people have been here for many years and they're comfortable enough to say something that they appreciate in a scene.
Reeves: The goal is to make the crew react because they see us every day. If anyone is sick of listening to us, it's them. So, when they laugh or go, "Good scene," you're like, "Yeah!" You must've been good because they actually watched.