"Jack and Jennifer come together for Abby's sake and make a change in their living arrangements. Jen has a surprise reaction when Jack spends time with Greta. Alice and Julie do some detective work to track down Jen's mystery man in Ireland, who will be on the canvas by the end May."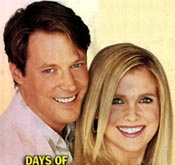 [Ken Corday]
DAYS'
Jack convinces Jennifer to live together, but her explosive love secret may tear them apart forever. How will Jack react to the truth?
Putting Differences Aside

"Jennifer and Jack are divorced and she doesn't feel that Jack is capable of doing what's best for Abby," says Melissa Reeves (Jennifer). "He's a good father and Jennifer doesn't doubt his love for Abby, but he's selfish and unreliable. In her heart, Jennifer wants to do what's best for Abby, even if she doesn't feel it's best for herself." Therefore, Jennifer agrees to live with Jack for Abby's sake, and because Jack threatens to sue for full custody.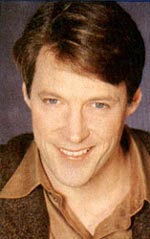 Beneath The Surface

Jennifer confesses to Hope that she's not trying to save the relationship. She says that she feels partly responsible for their breakup. "If there was another man, it seems Jennifer had feelings for him, but he didn't have the same for her," says Reeves. "I'm not certain what Jennifer is hiding, but she's hiding something about her father also. As Jennifer confides in Hope, Jack and Abby run into Greta, who notes how he handles his daughter and feels he's a wonderful father. Matthew Ashford (Jack) agrees, to an extent. "Jack is a good father. However, his motives haven't usually been clean and pure in the past. Why should they be now? He wants his family under the same roof, in an environment where he can control them. This is Jack's world and he's doing the best to hold on to it.
Intense Connection
After seeing Greta's apartment, Jack wants her to decorate the house that he and Jennifer are going to rent. "With Greta," says Ashford, "Jack can get his ideas to, vent a little. His veneer is starting to crack. With Jennifer, he's trying to find the sunny side over and over again. He's been trying to put a positive spin on everything and not let his negativity out. He's not risen to the bait very often as Jennifer vents all her anger. He's snapped at times and told Jennifer that they will be civil toward each other in front of Abigail. He knows if he lets his anger go all-out Jennifer is going to be gone. It's a side she knows is there. Sometimes, Jack pushes Jennifer and it becomes a very heated argument, but it's an intense connection. They still have that." At the rental house, Jack and Greta fall and land in a heap, unaware that Jennifer and Hope have seen them. Jennifer assumes that Jack is toying with Greta on the side.