Tom's life experience will, no doubt, give the character a more serious demeanor than the one Ashford was used to displaying as
Days
' Jack. Yet, Ashford insists he's primed for the task. "When I came on to play Jack, he was serious. Then, he kind of turned a corner and became comical." Ashford doesn't necessarily see that happening with Tom, nor does he want it to. " I would prefer to see humor in a daily life be more than just comical. At this point the book is kind of wide open as to what could happen... Wherever the character goes is OK with me."
Perhaps that's a parallel with Ashford's own life, because since leaving
Days
he's enjoyed exploring many avenues and stretching his talent in a variety of different directions,a tiny bit in a movie, a sci-fi thriller called
Species
, with Ben Kingsley. I played a guy in a bar about to be picked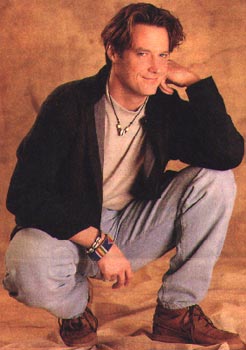 among them playing the vampire in a production of Dracula and "
up by an alien who had adopted the form of this lovely, young woman. But at the last minute another girl falls into my lap, gains my attention and I'm spared." The most fulfilling work he's done in the past year, however, is with Interact Theatre, a company he discovered via former
Days
co-star Marilyn McIntyre (ex-Jo Johnson). "Marilyn said, 'Come down. Check it out,'" recalls Ashford. "I eventually did, and they just blew me away. [The company is comprised of] a very trained, imaginative group of actors. I knew I only had to gain from being around them."
But most importantly, Ashford has gained a great deal of insight from his Interact Theatre experience. "I've learned to break habits set in my mind. I had gotten so used to getting a script and trying to do instant characterization and make instant choices," he says, referring to the fast pace required at a soap. "At the theater I rehearse, you build a character slowly, take time with it. It's the desirable way to work -- my desirable way to work."
Ashford's opportunity to check out a different way of working wasn't his choice.
Days
abruptly stopped contract negotiations with him in the summer of 1993, and informed him he was being written off the show. Although it turned out to be something of a blessing in disguise for the actor, it caused a tremendous outcry of protest from his fans. Ashford has been overwhelmed by the adulation, which continues to this day. "I never experienced anything like it before," he admits, adding, "For any amount of support I received or am still receiving, I appreciate it. To me, that kind of [feedback] indicates people appreciated and enjoyed what I did, that i's still to be remembered.