matthew ashford homepage articles
NOW & THEN
Great Moments in Soaps

TVW
[Australia]

The marriage of Days faves Jennifer Horton and Jack Devereaux [sic]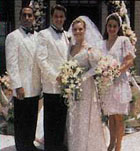 was special…but what would you expect from one of the most memorable couples in daytime history?

Jack (Matthew Ashford) popped the question in late 1990, and Jenn (Melissa Reeves) said yes. Unfortunately, Jack then suffered a case of hysterical laryngitis as a result of his fear of being married in Salem's social event of the year!

The wedding was set for the Salem fairground, in a Wild West setting built for a show to take place straight after the ceremony. Jack checked it out a day early and was mistaken for Wild Bill Mahoney, a stuntman with a dodgy reputation. As Jack was still speechless, he couldn't tell people who he was, so they locked "Wild Bill" up in a cell to make sure he would be there for the show.

The wedding day arrived, and Jennifer couldn't find Jack. He had been knocked by the real Wild Bill, the show starting and horses were everywhere. Wild Bill was about to carry Jenn away when Jack saved her atop a building by knocking Wild Bill out… only to be pushed in the back by Jenn and fall from the roof to the ground!



"Miss Horton, you pushed me!" he said as he got his bearings and his voice back (right) [sic: in reality all that was actually a dream]. The ceremony soon began (top), with Jack and Jenn flanked by best man Marcus Hunter (Richard Biggs) and Carly Manning (Crystal Chappell).

Now you have an idea the Days producers broke the bank earlier this year to have the best Jack and Jenn of 'em all back in Salem.
_______________
[ home ] [ articles index ]