SHORT ARTICLES and PHOTOS
from MATTHEW'S GH ERA
Late Breaking
MATTHEW ASHFORD CHECKS INTO GH
In a surprising move, former DAYS OF OUR LIVES star Matthew Ashford (ex-Jack) will join GENERAL HOSPITAL in the recurring role of Tomy Hardy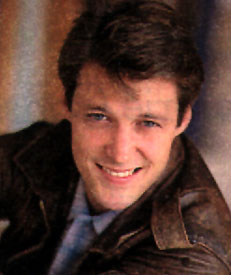 beginning February 17. The move reunites Ashford with fellow Salem refugees Mary Beth Evans (ex-Kyla, now Katherine, Wallace Kurth (ex-Justin, now Ned) and Lynn Herring (ex-Lisanne, now Lucy).

"When they started talking about the character of Tom coming back," GH Casting Director Mark Teschner explains, "I started thinking about Matt. I knew him from his work on DAYS. We needed someone who would be believable in the role of Tom, yet the kind of actor who could immediately make the role his own and take it in some exciting directions." Enter Ashford.

....Tom's current story was originally slated to last two days, but when Ashford's name came up the brass got so excited they started to expand Tom's story.

Soap vet Ashford (who got his start playing Drew on ONE LIFE TO LIVE) won the part without reading for it.

Now that Ashford has been cast, immediate plans call for Tom to confront his wife, Simone (Felecia Bell), about her growing relationship with Justus (Joseph C. Philips), and to consider staying in Port Charles for good this time. The character's long story has not been unveiled -- yet.

Did Ashford's enormous popularity have anything to do with is cast? "People here are aware of Matt's following," admits Teschner, "but this decision was predicated on finding the most interesting, compelling actor for the role. A good actor is a good actor," he states simply.
MATTHEW ASHFORD
Tom Hardy: GH

Predecesssor: David Wallace:

[In this issue of SOW the editors grade the recasts]
Grade: A
CHARACTER PROFILE: Tom is Audrey's son who was adopted and raised by Steve. (Dr. Tom Baldwin raped Audrey during her brief estrangement from Steve.) He received -- but ignored -- harsh criticism and prejudice when he fell in love with Simone and they decided to marry. Although he was practicing psychiatry at General Hospital, Tom volunteered for a medical mission in Somalia, leaving behind Simone andtheir young son, Tommy. Last winter Tom returned from Africa and tried to persuade Simone to accompany him back. She refused and asked Tom for a divorce; he grudgingly agreed and then returned to Africa. In early June, Tom came home again unexpectedly to resume his life in Port Charles. Simone, now in love with Justus, still wants a divorce.
CRITIQUE: Except for the name and backstory, Ashford hardly qualifies as a replacement: His Tom is for all intents and purposes a new character.... Ashford brings his own well-established bag of tricks to Port Charles: boyish charm and a mischievous twinkle in his eye, which play into Tom's newfound edge and ambiguity. One cannot always tell what is going on in Tom's head simply by reading his body language -- and it is precisely that ambivalence that has made him a force to be reckoned with.

LINDA SUSMAN

SAVING GRACE
Matthew Ashford (Tom) isn't too worried about what his 3-year-old daughter thinks about the recentlove scenes between Tom and Felicia -- she just doesn't care. "I was trying to watch the show one day while Grace was hanging on my arm," explains Matthew. "She wasn't interested in atching -- she was trying to climb on my arm. She was more interested in in my being a tree, and I was actually having more trouble watching than she was climbing. At that age, she doesn't want any attention taken away from her, " Matthew adds. "She knows what I do, but every now and then she can't quite figure out what I'm doing there on TV when I'm also in front of her. /I say, 'That's a very deep philosophical question -- we're all still trying to work that out ourselves,'" he laughs.

Dr. Tom Hardy (GH)
(Matthew Ashford)
As the son of Dr. Steve, it was no surprise that Tom was a wonderful psychiatrist, well on his way to becoming head of his department. Then, he ran off to Africa, leaving his wife, Simone, and their son, Tommy, behind. When he finally returned two years later, everything had changed. He'd been replaced byJustus at home and Kevin at work. Now facing trouble with a new love Felicia, and trying to deal withhis father's death, Tom could use a little therapy himself.

Matthew and Christina

Tom and Felicia (Kristina Wagner)

Matthew and Grace