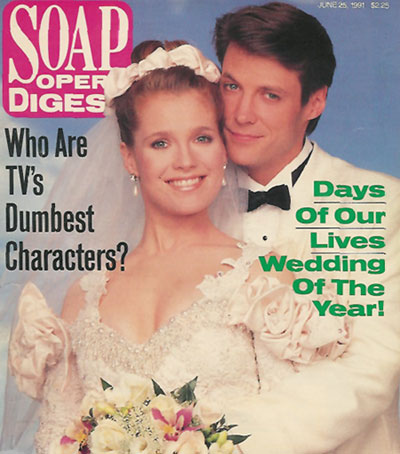 Days OF OUR LIVES' Jack and Jennifer are doing it. Getting married, that is. And this time — Surprise! — they're tying the knot with each other. After years of tortured romance laced with humor, tragedy and connubial unbliss to other people, this star-crossed pair is throwing caution to the wind and finally exchanging vows. We asked the couple's portrayers, Matthew Ashford and Melissa Reeves, to reflect on Jack and Jenn's past, examine their present, and ponder the future.

By Stella Bednar
Are Jack and Jennifer mature enough for Marriage?
Matt:
"No. But why should that stop them? Who's mature enough for marriage anyway? A lot of people say you're never ready."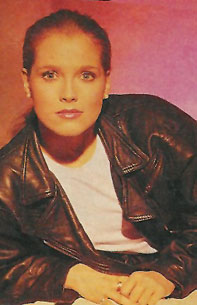 How do you feel about the marriage?
Missy:

I think it's great; it's going to be really exciting. It's a good time to get married, because we [Jack and Jenn] have been through so much. We couldn't possibly go through anything more.



Has this couple ever been on a date?
Matt: No, not really. There's always something going on, though, and that's how he's operated. Jack wouldn't know what to do on a date.
Missy: I'm sure we've tried many times; it just doesn't seem to work out. We're both so wrapped up in our jobs. And we were too busy being shipwrecked on islands and stuck out in the wilderness. That's why we've never been on a date — we're too busy kissing in caves.

Do you have a favorite Disaster?
Matt: I got a kick out of all of them, they all have their ups and downs. They have gotten more and more bizarre. The island [Cruise of Deception] was fun. That was my first adventure.
Missy: Probably the shipwreck and the island. With the whole train thing, we he had to be out in the wilderness and shivering. There was plastic snow going up my nose and down our throats. At least with the island, all we had to do is be wet and deal with a little bit of sand.

What words come to mind when you think of your courtship?
Missy: Crazy, unique, spontaneous, bizarre, unusual.
Matt: It has been a non-courtship. People from the outside say it's a courtship, but I could never approach it as that. Looking at from the inside, Jack was just trying to get by one day at a time. He would never sit down and say, 'I'm in love with her; I've got to have her.' He would wonder, "Where is she?' He doesn't consider how much he loves her. It's a more active, less reflective thing.

How does their relationship compare to your real-life ones?
Missy: It doesn't at all. Scott's really romantic and sweet. The character of Jack is not really open with his feelings. Scott and
I are really honest with each other, upfront. Jack and Jennifer are like, 'Well, how do you feel?'
Matt: Christina and I have fun; she can be very outrageous. The longer you get to know someone, the more dirt you have and you know just the right buttons to push. That's not a bad thing. Jenn pushes all the right buttons with Jack. They know each other without talking about it.

How has Jennifer changed because of her relationship with Jack?
Matt: She's grown up a bit. He always considered her the child, the student, and he still does. He always will — that's how he keeps his thumb on her. They're scrambling for seniority here. He gave up the power a long time ago — he just doesn't know it. Jennifer has come of age, become more challenging. She's grown as an individual. He created a monster because he was the one who encouraged her to go for what she wanted — and she wanted him.

How has Jennifer changed because of her relationship with Jack?
Missy: He was always very business-like, work should really be the important thing. But he knows [now] that he can be honest and admit his feelings to her. Even though he won't, he knows he can.


How has Jennifer changed because of her relationship with Jack?
Matt: Jack seemingly knows more, but she is definitely the wiser of the two.

How long do you give this marriage?
Matt: I don't know. They could easily go on for the rest of their lives. It's a big challenge for the writing and production staff to come up with exciting stuff. I don't want them to lose who they are.

What kind of parents will they be?
Matt: Bizarre. He'd be uptight.
Missy: Terrible.

Really?
Missy: Well, I don't know, it could be scary because we're both — not irresponsible, but sort bumbling. We would probably look at the baby a lot and go, 'What do we do with it?'

Who will take out the garbage?
Matt: Jack would hire someone.
Photos from the Magazine Issue





---





Last Licks

Remember the DAYS OF OUR LIVES storyline that had Jack, Jennifer, Frankie and Eve traipsing in the snow with blankets over their heads? Well, it's a story Melissa Reeves (Jen) and Matt Ashford (Jack) couldn't resist spoofing during this issue's cover shoot. Melissa teased Matt into donning her bridal train, as a reminder of those long days in the "woods"!