---
[Air date 12-29-87]
SCENE ONE: JENNIFER GIVES FRANKIE A BIRTHDAY PRESENT. SHE DOES NOT KNOW THAT HE IS WORKING AT THE TEEN HELP LINE AND THAT HE IS THE ONE SHE TALKS TO WHEN SHE CALLS. EVE IS INTERESTED IN FRANKIE AND QUERIES JENNIFER ABOUT HOW THINGS STAND WITH HER.
---
[Air date 12-30-87]
SCENE ONE: THE DEVERAUX MANSION. ANJELICA IS THERE AND MELISSA ENTERS. ANJELICA ASKS HER ABOUT THE PLANS FOR THE PARTY AND THEN GIVES HER A CHAT ABOUT HER BEHAVIOR TO KAYLA. HARPER OVERHEARS AND ENJOYS THE FACT THAT PEOPLE THINK MELISSA IS A BIT PARANOID.
---
SCENE TWO: JACK AND KAYLA HAVE BEEN AT THE HOSPITAL. THEY WALK INTO THE DOCTOR'S LOUNGE FOLLOWED BY BILL HORTON.
JACK: Well I'm counting on good news.

BILL: Well then you're in luck because that's all we have for you.

JACK: You okay honey?

KAYLA: Yeh I'm great. Bill said I'm gonna do fine.

BILL: My staff has checked her out from head to toe and the pneumonia is out of her system.

JACK: Oh that's great. (He hugs Kayla who squirms away.)

BILL: I would recommend however that she take it easy for a while. If she takes things slowly I think she can get back to a normal life.

JACK: That's the best news I've heard all day.

BILL: Well, I'll leave you two to celebrate. Kayla if you have any questions, please feel free to call.
BILL LEAVES AND KAYLA MOVES AWAY FROM JACK.
JACK: Honey what's wrong?

KAYLA: Wrong? Nothings wrong, why?

JACK: Well for someone who just got great news you don't seem very happy about it.

KAYLA: Well I'm just tired from all the tests, you know.

JACK: Well I'll take you right home.

KAYLA: Yes I think if I get back to my folks house and lie down for a while, I'll feel a lot better.

JACK: Aaaheeeee.... actually we're not going to your parents.

KAYLA: What do you mean? I thought we were going home.

JACK: Ah, well I've arranged a little surprise in honor of your recovery and ah well from now on we're going to spend every night.... alone!
---
SCENE THREE: MEANWHILE STEVE MEETS MARCUS ON THE PIER AND SHOWS HIM THE NEWSPAPER STORY ABOUT THE NEW YEAR'S EVE PARTY. HE IS WORRIED KAYLA WILL BE UNSAFE AT THE DEVERAUX MANSION AND ASKS MARCUS TO FIND A WAY TO GET JACK AWAY FROM KAYLA SO THAT HE CAN SPEAK TO HER ALONE.
---
SCENE FOUR: THE HOSPITAL CONTINUED.
KAYLA: What do you mean, alone together?

JACK: From now on it's just going to be the two of us. No parents, no maids, no servants, just the two of us.

KAYLA: Really. How, where?

JACK: Well I've been waiting to tell you this for some time. (He takes a set of keys out of his pocket.) You ought to recognize them. They used to be yours.

KAYLA: The loft....

JACK: Look I've been putting a lot of thought into this. Now we can't stay at your folks anymore. I love 'em and they're great but that place is just too crowded and we can't go to my folks either so the loft will be just perfect for us.

KAYLA: That's very sweet of you Jack but I don't think the loft is for us.

JACK: Ah well it won't be permanent you understand. We'll get a much bigger place in the future but you can feel comfortable there for the time being and what's more we can finally be alone.

KAYLA: Well, you heard what Bill said. He said I should take it easy right now and I don't think I can take a move.

JACK: Oh no that's the great part. The movers are moving all your stuff even as we speak. Everything out of storage, all my stuff, putting it all together, right now.

KAYLA: Really, great....

JACK: Look the best part is that we are going to be able to be there tonight!

KAYLA: Yeh....what about your parent's party?

JACK: Oh we're going to be at the party..... we're just going to leave early.... (He gently runs his finger down the side of her face.) I want to make sure this New Year's Eve is the best, most special, most romantic night of your life. (He kisses her.)
A NURSE WALKS IN.
NURSE: Sorry to interrupt.

KAYLA: Carol. That's alright. What is it?

NURSE: Dr. Hunter is on the phone for you.

KAYLA: Oh, I'll take it in here. I wonder what this is about?
SHE PICKS UP THE PHONE AND AS SHE DOES MARCUS HANDS IT TO STEVE.
KAYLA: Marcus?

STEVE: Hi Baby! I gotta see you right away.

KAYLA: I didn't expect to hear from you.

STEVE: You're not alone, are you baby?

KAYLA: No, Jack brought me to the hospital for my checkup.

STEVE: Listen to me. I need to see you right away.

KAYLA: Me too. How, where?

STEVE: I've got it all worked out. You just do what I tell you okay? You go to Jack right now and tell him that Marcus wants to see you at Shenanigan's and it's important. You just tell him it's about the new plans for the Emergency Center. Okay?

KAYLA: Okay I think I can do that.

STEVE: Can you get here without Jack?

KAYLA: What if that's not possible?

STEVE: Either way it doesn't matter. Just get here. Can you handle that?

KAYLA: Yep....

JACK: What's wrong honey? What does he want?

KAYLA: Uh....yes I think I can get there.

STEVE: You just get yourself here and don't worry about anything. You trust me don't you?

KAYLA: You know I do.

STEVE: Okay. See ya soon. Take it easy.

KAYLA: Bye.

JACK: What was that all about?

KAYLA: Well that was Marcus and he want's me to meet him at Shenanigan's now.

JACK: Now! On New Year's Eve?

KAYLA: Well yeh. He has these plans for the new Emergency Center. He'd like my advice I guess.

JACK: Well, I don't blame him. You've had so many emergencies lately, you've had a lot of experience.

KAYLA: Yeh, well I really should get going myself you know so I can meet him there.

JACK: Oh no, no, no. I'll go with you.

KAYLA: Nooo. You have so many things you want to take care of and....

JACK: It's alright. It's nothing that can't wait.

KAYLA: Alright then. We don't want to keep Marcus waiting. We should go.

JACK: Alright.
MELISSA WALKS IN.
JACK: Melissa! Hello!

MELISSA: Kayla.

KAYLA: Hi.

MELISSA: Jack, you have a minute? I need to talk to you.

JACK: Actually Kayla and I need to run. Maybe we can talk tonight at the party. Uh, if you have a moment, there's a huge favor I'd like to ask you.

MELISSA: Sure. What?

JACK: You know where Kayla's old loft is, right?

MELISSA: Yes.

JACK: Well if you could take these keys, open up, check with the movers, make sure that they're paid and make sure everything's not broken, I couldn't thank you enough.

MELISSA: Who's moving?

JACK: Well, we are.

MELISSA: Oh! When did this happen?

JACK: Oh just today. Look I'll tell you tonight at the party, alright? We really have to go. Come on Kayla. (To Melissa.) Thanks a million. You're a doll.
---
SCENE FIVE: MEANWHILE, ANJELICA HAS FOUND A LOVE LETTER TO JACK WRITTEN BY MELISSA. SHE IS READING IT TO HARPER AND FINDS IT DISTURBING. HARPER SEEMS TO THINK THAT IT IS "JUST A SIMPLE CRUSH ON OUR SON." ANJELICA TELLS HIM SHE HAS CALLED THE POLICE BECAUSE SHE THINKS "THIS HAS A LOT TO DO WITH KAYLA'S POISONING." HARPER IS SECRETLY PLEASED. ABE ARRIVES AND ANJELICA TELLS HIM ABOUT MELISSA'S OUTBURST AT KAYLA AT THE RESTAURANT. THAT REINFORCES ABE'S BELIEF THAT THIS COULD BE SERIOUS.
---
SCENE SIX: MELISSA IS AT THE LOFT AFTER THE MOVERS HAVE LEFT. SHE BEGINS TO DAYDREAM ABOUT LIFE WITH JACK. SHE WALKS INTO THE MAIN BEDROOM AND PICKS UP A ROSE. SHE IS DRESSED IN A BLACK NEGLIGEE HOLDING A SINGLE ROSE. JACK WALKS UP BEHIND HER REMOVING HIS SHIRT. HE BEGINS KISSING HER NECK, REMOVING HER ROBE AS HE DOES SO.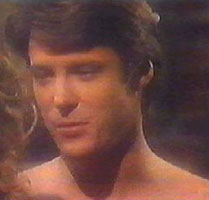 MELISSA: I've waited so long for this.

JACK: I wish I'd realized sooner how much you mean to me, how much I love you.

MELISSA: I love you too. I always have.

JACK: We've wasted so much time. Let's not waste anymore.
HE KISSES HER PASSIONATELY.

FADE BACK TO REALITY AND MELISSA SMELLING THE ROSE WITH TEARS IN HER EYES. SHE RUNS UPSTAIRS.
---
SCENE SEVEN: JACK AND KAYLA WALK INTO SHENANIGAN'S WHERE MARCUS IS WAITING.
MARCUS: Oh there you are. Glad you guys could make it.

KAYLA: Hi Marcus.

JACK: Dr. Hunter.

MARCUS: It's Marcus remember?

JACK: Right, right. Marcus.

KAYLA: Jack came along with me because he's interested in the Emergency Center plans.

MARCUS: Oh great. Well I'm glad to get some input from our future Assemblyman. So we should sit down and get started.

KAYLA: Sure.

JACK: Yes. I'd be very interested in seeing what you've got there.

JOEY THE BARTENDER: Excuse me Kayla, there's a phone call for you.

KAYLA: Oh. Excuse me just a second.

MARCUS: Jack why don't you just look....
KAYLA WALKS TO THE BAR WHILE MARCUS SHOWS JACK THE PLANS AT THE TABLE.
KAYLA: Hello?

STEVE: So far so good, sweetness?

KAYLA: Well not really. Jack's here.

STEVE: No problem baby. Look, just go back to the table and tell him you gotta go to the Ladies Room and slip out the back door to the alley. I'll be waitin.

KAYLA: I don't know....

STEVE: Come on baby, it'll work out fine. Marcus will take care of Jack. You said you trusted me.

KAYLA: Alright, give me a minute.

STEVE: Alright.
KAYLA PUTS DOWN THE PHONE AND RETURNS TO THE TABLE AND SITS DOWN.
JACK: Well what was that all about?

KAYLA: Well it was the hospital. They said someone left a sweater and they thought it was mine.

JACK: Right. Well you ought to take a look at this floor plan Marcus has. It's very interesting.

KAYLA: Well I'd love to but I really have to go to the restroom.

JACK: Are you alright?

KAYLA: I'm fine. I'll be right back.

MARCUS: (Distracting Jack) You know what I'm going to do. I'm going to show you these floor plans, right here.

JACK: Right.
---
SCENE EIGHT: KAYLA SNEAKS OUT BEHIND JACK'S BACK AND MEETS STEVE IN THE ALLEY. HE TELLS HER SHE CANNOT GO TO THE DEVERAUX'S BECAUSE SOMEONE THERE IS TRYING TO POISON HER. HE SAYS SHE CANNOT GO TO THE PARTY. HE GRABS HER AND KISSES HER. SHE SAYS SHE IS GOING ANYWAY AND SHE TELLS HIM THAT SHE AND JACK HAVE MOVED TO THE LOFT TODAY. STEVE TELLS HER SHE HAS TO FIND A WAY TO AVOID MAKING LOVE TO JACK.
---
SCENE NINE: INSIDE SHENANIGAN'S MARCUS IS STILL DIVERTING JACK'S ATTENTION.
MARCUS: As you can see we still have a few kinks to iron out but as you can see it's going to be really nice.

JACK: You know Kayla's been taking an awfully long time. I wonder what she's doing....

MARCUS: I just want to get your opinion on Phase One here.... Phase Two is only 8000 though....
KAYLA RETURNS TO THE RESTAURANT AND SITS DOWN AS IF SHE HAS JUST RETURNED FROM THE RESTROOM.
KAYLA: Hi.

JACK: Hi.

KAYLA: Sorry it took me so long.

JACK: Are you alright honey?

KAYLA: Sure. I'm fine. Let me see those plans.

MARCUS: See what you think about them here. Here's our phase one right here.
KAYLA AND MARCUS EXCHANGE KNOWING LOOKS ABOUT STEVE.
---
SCENE TEN: HARPER AND ANJELICA DISCUSS THE POSSIBILITY OF MELISSA BEING THE ONE WHO WOULD POISON KAYLA. CUT TO MELISSA READING ANOTHER LOVE LETTER TO JACK.
---
SCENE ELEVEN: JACK AND KAYLA COME DOWN THE STAIRS TO THE MAIN BEDROOM IN THE LOFT. JACK PUTS HIS HANDS LOVINGLY ON HER SHOULDERS.
JACK: Welcome home!

KAYLA: The place looks nice. (She shrugs away from him)

JACK: I guess it brings back a few memories doesn't it?

KAYLA: Yes it does.

JACK: Brings back a few memories for me too you know. Remember my first night in Salem, I came here.

KAYLA: Yeh, you surprised me.

JACK: I remember it was pouring down with rain. I remember the sound of the rain coming down on the roof and you said it was alright to stay the night. My life's never been the same since that night.

KAYLA: Neither's mine. (Pause) Champagne, flowers....

JACK: You like the flowers, right? I wanted to get it just right.

KAYLA: You really went all out didn't you?

JACK: Look I promised you that this was going to be the most special, most romantic night of your life and no matter what I'm going to keep my promise. This is going to be a night you'll never forget.

KAYLA: Jack I don't know what to say.

JACK: You don't have to say anything Kayla. I know that you're not comfortable and that's.... alright.... because I know something else.

KAYLA: What?

JACK: I know that things are going to be different for us.

KAYLA: Boy, you sound awfully positive.

JACK: I do because tonight's not just going to be new year. It's going to be a whole new life for us. You know other couples they celebrate the past....what's already happened....but we're going to celebrate the future and all those great and wonderful things that are going to come our way....Look I know you're nervous but believer me.... I'm nervous too. I promise you I'll be gentle, I'll be so careful and we'll take it so slow.... I'll do anything I can to make you happy Kayla.

KAYLA: Jack, um....

JACK: What is it honey?

KAYLA: Ah.... it's just that after everything that's happened already I think we just need to take it step by step, you know? I just don't want to promise anything about tonight.

JACK: I don't expect anything either. I....look I.... won't force anything on you. I won't push it. Most of all I could never hurt you Kayla....well look we're going to be late for the party. Let's get ready right?

KAYLA: Well why don't you go ahead. I'll catch up with you.

JACK: Alright I will.... Kayla I love you.

KAYLA: (Whispering to herself) Right.
---
SCENE TWELVE: STEVE AND MARCUS ARE HAVING COFFEE WHEN MELISSA COMES IN AND TELLS THEM HOW BUSY SHE AND JACK WILL BE AT THE PARTY. STEVE DECIDES TO GO TO THE PARTY TO PROTECT KAYLA.
---
SCENE THIRTEEN: HARPER CONVINCES ANJELICA THAT IT IS JUST SPECULATION THAT MELISSA COULD HURT KAYLA. ANJELICA LEAVES THE ROOM AND HARPER CALLS SOMEONE AND TELL THEM TO PUT THE PLAN INTO ACTION.
---
SCENE FOURTEEN: ABE GETS A SEARCH WARRANT TO SEARCH HER APARTMENT. CUT TO SOMEONE SWAPPING SOME HEADACHE PILLS IN MELISSA'S KITCHEN DRAWER FOR THE SAME PILLS THAT KAYLA WAS POISONED WITH.
---
SCENE FIFTEEN: KAYLA WALKS UP TO THE ROOF AND DAYDREAMS OF ALL THE TIMES SHE AND STEVE HAVE MADE LOVE. JACK FINDS HER THERE.
JACK: Kayla? Kayla what are you doing up here. I've been looking all over for you. (He puts his coat around her shoulders.)

KAYLA: I just wanted to see this place again. It's just special to me that's all.

JACK: Well this special place is going to give you another case of pneumonia. Come on, we've got to get inside and get ready for the party.

KAYLA: Right.
THEY GO BACK DOWNSTAIRS TO THE LOFT.