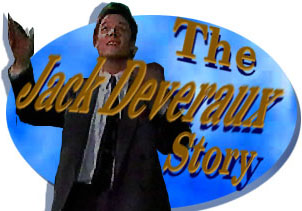 oldEpisode One-hundred-nine:
Jack Sets it up That Jennifer Hears
His Conversation with Emilio;
Steve Asks a Special Favor of Jack.
---
[Air date early February 1990]
SCENE ONE: THE NEXT DAY JACK GOES TO VISIT ISABELLA AND FINDS KAYLA IN WITH HER.

JACK: Kayla!

KAYLA: Ah....Jack.

JACK: I'm sorry. I didn't mean to startle you like that.

KAYLA: Well that's alright. I was just thinking.

JACK: Yeah....Isabella.

KAYLA: Yeah.

JACK: You feel bad because she got hurt, right?

KAYLA: I guess so.

JACK: Because she was helping you when she got hurt, you're starting to blame yourself.

KAYLA: No, that's not it.

JACK: That is it. Look you've got to stop doing that because you didn't hurt anybody.

KAYLA: Yes I did Jack. I did hurt somebody.
---
SCENE TWO: MEANWHILE JENNIFER PREPARES A FABULOUS BREAKFAST FOR EMILIO AND ASKS HIM TO LEAVE THE LOFT BECAUSE SHE DOES NOT NEED PROTECTION ANYMORE. HE SAYS THAT HE IS NOT LEAVING UNTIL HE TALKS TO JACK AND FINDS OUT IF SHE IS GOING TO BE SAFE FROM NOW ON. EMILIO LEAVES.
---
SCENE THREE: AND MAGGIE DROPS BY. THAT START TALKING ABOUT EMILIO. MAGGIE REALIZES THAT SHE CARES FOR JACK. JENNIFER WONDERS WHY SHE LOVES JACK WHEN SHE SHOULD LOVE EMILIO, HE IS THE BETTER GUY. MAGGIE TELLS HER THAT LOVE DOES NOT ALWAYS MAKE SENSE. JENNIFER REALIZES THAT MAGGIE DOES NOT LIKE JACK. MAGGIE DOES NOT SAY ANYTHING, BUT TELLS HER SHE DOES NOT WANT TO SEE HER HURT.
---
SCENE FOUR: MEANWHILE, STEVE IS ARRANGING TO MARRY KAYLA AGAIN, NOW THAT THEY KNOW THE FIRST MARRIAGE WAS INVALID. HE ASKS MARCUS TO BE HIS BEST MAN. MARCUS SAYS IT IS TIME HE MADE UP WITH JACK, BECAUSE HE REALLY IS TRYING TO CHANGE. STEVE SAYS HE CANNOT DO THAT AND DOES NOT BELIEVE THAT JACK WILL EVER CHANGE. MARCUS TELLS STEVE THAT JACK HAS MADE HIS MOVE TO BE FRIENDS AND NOW IT IS TIME FOR HIM TO DO SO.
---
SCENE FIVE: BACK AT THE HOSPITAL.

JACK: What do you mean? Kayla what do you mean by that? Look you could do about as much damage as Bambi hurting Godzilla [A possible reference to the animation short with credits longer that the cartoon,Bambi vs. Godzilla..]

KAYLA: I don't think I'm as nice as you think I am Jack.

JACK: Well what does that mean?

KAYLA: It just means that Isabella wouldn't be lying there if it wasn't for me.

JACK: This is the beginning of a guilt trip, isn't it?

KAYLA: No, if it wasn't for me she wouldn't have been in the wrong place at the wrong time. She risked her life for me.

JACK: She risked her life because that's what she wanted to do. She would have done it even if you'd told her not to.

KAYLA: Well I owe her a lot. She's been through a lot and she deserves better.

JACK: A lot of people deserve better. I think you deserve better. You deserve a break.

KAYLA: I'm not so sure about that.

JACK: Look Kayla. You've helped a lot of people. It's your time. Give yourself a break.

KAYLA: You mean the baby.

JACK: No, no, no....Yes the baby, you, Steve, everybody. I mean you haven't had any happiness in a long time. I think you're both overdue.

KAYLA: You're beginning to sound like Steve.

JACK: Well I guess that doesn't happen very often, does it?

KAYLA: Well he wants to move ahead so badly. He wants to put our problems behind us. In fact he wants to start by fixing the problem that we're not married anymore because of Marina.

JACK: Well that shouldn't be too difficult.

KAYLA: Well he wants to do it as soon as possible. In fact he's asked me to marry him again.

JACK: On bended knee, right?

KAYLA: Almost.

JACK: I figure....he's probably a Knight of the Round Table in a past life. (Beat) So when's the big day?

KAYLA: It's supposed to be Friday.

JACK: Right, I'll send flowers.

KAYLA: Don't bother.

JACK: Why is that?

KAYLA: Because I can't go through with it.

KAYLA WALKS OUT OF THE ROOM AND JACK FOLLOWS HER.

KAYLA: I don't want to talk about it right now.

JACK: Look, look, I don't get this. You just said you don't....you don't want to marry Steve again.

KAYLA: No, it's not that. It's....

JACK: Well I don't understand. I thought....I thought....I don't know, I thought that you loved him.

KAYLA: I do but love just can't fix everything.

JACK: I think it could help.

KAYLA: Look, Jack I appreciate what you're trying to do but I just can't go into this right now.

JACK: Well you're getting married Friday....when....when are you going to go into it?

KAYLA: Steve and I have some problems that we have to face and some of them are not going to be that easy.

JACK: Well wouldn't it be better to face them....you know, together, instead of apart.

KAYLA: For the first time I don't know that.

JACK: Look, a lot of people went through a lot to get that key, to get you back, to get you with Steve. Now I would advise you....I'd advise you to go ahead and get married unless you want a massive riot on your hands.

KAYLA: I can't Jack. Thanks for trying, really.

JACK: I....look I think it's time that you were happy. I was just trying to help it along, that's all.

KAYLA: I know. Goodbye.

JACK: Goodbye.

KAYLA LEAVES AND JACK GOES BACK INTO SEE ISABELLA WHO IS STILL UNCONSCIOUS. HE HOLDS THE DIARY UP IN FRONT OF HER AND LAUGHS.

JACK: Here I am trying to give advice to my ex-wife. Small wonder I don't know what to do with you.
---
SCENE SIX: JACK LEAVES AND HEADS BACK TO THE OFFICE WHERE HE IS CHASED IN THE DOOR BY JENNIFER.

JACK: There's no excuse.

JENNIFER: Alright, it's no excuse but I don't want to you talk to....

JACK: There's never an excuse to be late.

JENNIFER: Can you put it down for a minute.

JACK WALKS INTO HIS OFFICE AND SLAMS THE DOOR, LEAVING JENNIFER OUTSIDE. EMILIO IS WAITING FOR HIM.

JACK: Do we have an appointment?

EMILIO: Yeah I just made one. We got to talk.

JACK: Heh, I see. You expect me to stop and chat with you and not run the newspaper which is what I do here.

EMILIO: Right, that's because this is more important.

EMILIO THROWS A BOOK AT JACK WHICH HITS HIM IN THE FACE.

JACK: Don't strain yourself.

EMILIO: Hah!

JACK: Emilio, at this moment I have a whole roomful of able bodied people who would be more than happy, men who have a black belt in karate...who would be more than happy to throw you out of here. VERN?

EMILIO: Deveraux, just shut up man. I just came through and there's no Kung Fu dudes out there! Okay. So drop all this talk.

JACK: I have no intention of conversing with you.

JACK REALIZES THAT THIS CONVERSATION COULD GET PERSONAL SO HE PRESSES THE INTERCOM BUTTON FOR JENNIFER'S PHONE SO SHE CAN HEAR ALL HE HAS TO SAY.

EMILIO: Well you better send for the black belts okay because I got no intention of leaving until we converse.

JACK: My patience is wearing thin.

EMILIO: I want to talk about Jennifer.

JACK: There's nothing to talk about, no topic. End of discussion.

JENNIFER IS NOW LISTENING AT HER DESK.

EMILIO: What's the deal with you and Jennifer?

JACK: Jennifer? Deal? There's no deal. She's a....she's a....she's an employee.

EMILIO: Wait a minute. I know, she works for you. I heard that.

JACK: Right, right. She writes the articles. I send the checks. Period.

EMILIO: So why are you always putting her life on the line, man?

JACK: You mean in danger. She's not in danger. Not anymore.

EMILIO: Now how do you expect me to believe that?

JACK: Guess you'll have to believe whatever you want to believe.

EMILIO: Well I just want to know if she's in danger so I don't have to stay there.

JACK: Oh, oh, we're talking about Victor Kiriakis.

EMILIO: Oh Vicky boy! There you go.

JACK: Yes! Well don't worry about Victor anymore. She's perfectly safe. Of course if you want to keep protecting her, don't let me stop you.

EMILIO: No, no. If she's safe I got no reason to stay there.

JACK: If you stay there, it's no concern of mine.

EMILIO: Oh come on Deveraux! Quit pulling my string, alright.

JACK: Okay, look, seriously, as her boss, what she does at night in her private life is none of my business.

EMILIO: You know you keep saying that but how do I know that you really mean that?

JACK: Well I guess you'll have to take my word on it.

EMILIO: Well I'm going to tell you something. Your word don't mean Diddly.

JACK: Emilio. Alright, let's just talk man to man, alright. We both know that I've never approved of you as a suitor for Jennifer. I always thought she could do better. But that concern was purely professional. I want her to have success. Now if you can give her success in her private life, all the more power to you. I give you my total blessing. I know you're not going to believe me but I'm telling you, as long as you stay out of Jennifer's work here at the paper, I couldn't be happier about seeing the two of you together.

EMILIO: But how do you expect me to believe you when you lie every chance that you get?

JACK: Well the truth always serves a good liar and right now I'm telling the truth.

EMILIO: Okay, you're definitely not interested in Jennifer. That's what you're telling me?

JACK: Look, I'm interested in her doing her work. I cause her enough problems.

EMILIO: Now that's definitely the truth.

JACK: Which is why you're the best man for the job. You're the best man for her.

EMILIO: Look man, I'm the one who's always bailing her out of trouble. That's what I am.

JACK: I couldn't have put it better myself. I keep her locked in here all day and at night you bail her out. You're a prince.

EMILIO: Just cut the crap okay. I just know one thing okay. I know that I'm better for her, okay. That's what I know.

JACK: The truth always floats to the top.

EMILIO: Deveraux, I learned something today. I learned that you're even a bigger jerk than I thought you were.

JACK: And how is that?

EMILIO: Because a guy like you givin' up a girl like Jennifer? You got to be out of your mind.

JACK: Like I said. I just sign the pay checks.

EMILIO: Okay, so let me get this straight here. You're giving me the clear field.

JACK: Oh no, no, no. I'm giving you the whole runway. Shake on it.

EMILIO: Alright.

JACK: Alright.

EMILIO: May the best man win.

JACK: I think he already has.

EMILIO LEAVES AND SHUTS THE DOOR. HE REALLY IS SMUG ABOUT WHAT JUST HAPPENED, BELIEVING HE IS FAR SUPERIOR FOR JENNIFER THAN JACK IS. JACK SITS DOWN AND PRESSES THE INTERCOM BUTTON TO OFF. THROUGH IT SEEMS TO BOTHER JACK HAVING TO HURT JENNIFER, BUT HE FEELS UNWORTHY OF HER, SO THE SACRIFICE IS WORTH IT — MAKING HER BELIEVE HE DOES NOT CARE AND PLAYING THE JERK. THROUGHOUT THE OCCASIONALLY THE SCENE CUTS TO JENNIFER, WHO IS LISTENING IN, HER FACIAL EXPRESSIONS REVEAL HOW HURT SHE IS BY JACK'S REMARKS.

JACK: How's that fo r subtle Jennifer? If that doesn't convince you, nothing will.

---
SCENE SEVEN: JACK IS STILL SITTING ALONE IN HIS OFFICE THINKING OF JENNIFER WHEN STEVE WALKS INTO THE MAIN OFFICE OF THE SPECTATOR. HE HESITATES FOR A FEW SECONDS AND THEN POUNDS ON JACK'S OFFICE DOOR.

JACK: Come in.

STEVE OPENS THE DOOR AND A NERVOUS JACK LEAPS UP FROM HIS DESK.

STEVE: Spare a minute?

JACK: Yeah, sure. Sure. Grab a seat.

STEVE: No, no, no. I think I gotta do this standin' up.

STEVE SMILES AND JACK GIVES A HALF SERIOUS LAUGH.

JACK: Um....did I do something terrible that I don't know about?

STEVE: No, no, man. Not this time. (Beat) Ah.... I, er.... oh I don't know how to say....I guess we've thrown a lot of garbage at each other and....

JACK: Ah....yeah. I know that I've thrown my share. Yes.

STEVE: Well, me too.

JACK SMILES.

JACK: You know, ah, it's kind of funny, I don't know, maybe I read somewhere that, er, brothers, er, actually brothers do that sometimes.

STEVE: Is that right?

JACK BEGINS TO TOSS A PEN IN THE AIR. JACK IS TRYING TO ACT CASUAL, STEVE IS PERPLEXED BY JACK'S ACTIONS, AND IS NERVOUS.

JACK: And do you think that....ah....do you think that we ever could have been, you know, brothers? No. No. That's silly. No.

STEVE: This was a bad idea. I got to go.

STEVE TURNS TO LEAVE AND JUST AS HE IS ABOUT TO WALK OUT, HE TURNS BACK AS IF WHAT HE IS ABOUT TO SAY IS AN AFTERTHOUGHT.

JACK: Yeah, well you know, yeah.

STEVE: There's a wedding on Friday.

JACK: Yeah.

STEVE: We're having a wedding at my house and if you want to come by....

JACK: Oh sure. I'll come. Sure.

STEVE: Maybe you could be the best man.

JACK: Yeah, I could be the be....

JACK STOPS AND THE TINIEST HINT OF A SMILE CROSSES HIS FACE. BUT HE IS IN SHOCK, AND SINKS INTO HIS CHAIR.

JACK: Um....I'm sorry. I didn't....what did you say?

STEVE: You goin' to make me repeat it?

JACK: You want me to be the best man at your wedding?

STEVE: Unless you got something better to do. Whatever!

JACK: Um, wait a minute. Are you talking to me? Are you sure you've got the right guy?

STEVE: Is your name Billy Jack, Happy Jack, Deveraux Johnson?

JACK ROLLS HIS HEAD BACK LAUGHING.


JACK: Jo put you up to this didn't she?

STEVE IS LAUGHING TOO.

STEVE: No, she don't know anything about it.

JACK STOPS LAUGHING.

JACK: Well....what about Kayla?

STEVE: She's alright with it.

JACK: You talked to her?

STEVE: Before I came here.

JACK SLOWLY SITS DOWN ON HIS CHAIR.

JACK: I'm in shock!

STEVE: Listen, don't just leave me hanging here. If this is something you don't want to do, just tell me.

JACK: No, no, no, no. I, er....that's not it at all. I....er....I would be honored....to....be the best man.

JACK HAS TEARS IN HIS EYES.

STEVE: Good.

JACK: I'm glad....glad that you asked me.

STEVE EXTENDS HIS HAND TO JACK. TRYING TO BE COOL AND UNEMOTIONAL SO AS NOT TO REVEAL HOW IMPORTANT THIS IS TO HIM, JACK SLAPS IT IN A CASUAL GESTURE.

STEVE BENDS OVER AND TAKES JACK'S HAND AND SHAKES IT.

STEVE: Well I got to go. I've got a lot of things to do before Friday.

JACK: I'll see you later.

STEVE: At the wedding.

STEVE QUICKLY WALKS OUT THE DOOR. JACK COLLAPSES IN HIS CHAIR AND THEN FRANTICALLY SEARCHES FOR THE FRAMED PICTURE OF HE AND STEVE THAT JO GAVE HIM FOR CHRISTMAS. HE FINDS IT AND LOOKS LOVINGLY AT THE TWO LITTLE BOYS WITH TEARS IN HIS EYES.

JACK: At the wedding....
---
SCENE EIGHT: MEANWHILE, JENNIFER HAS GONE BACK TO THE LOFT WHERE EMILIO TELLS HER HE IS MOVING OUT BECAUSE JACK SAID IT WAS SAFE. HOWEVER, HE SAYS THAT HE WILL ALWAYS BE THERE FOR HER. SHE IS HURTING BECAUSE OF WHAT SHE OVERHEARD JACK >SAY BACK AT THE OFFICE. SHE TELLS EMILIO THAT HE IS A NICE PERSON. EMILIO LEAVES. TALKING TO HERSELF SHE SAYS WHAT A GREAT GUY EMILIO IS, AND WHAT A JERK JACK IS.

JENNIFER: Yeah, Emilio, you really are a good friend and Jack is a jerk. I guess it's time to confront the jerk!

UNABLE TO GET JACK OUT OF HER MIND SHE DECIDES TO CONFRONT HIM.
---
SCENE NINE: A SHORT TIME LATER JACK IS SINGING AS HE OPENS A BOTTLE OF CHAMPAGNE.

JACK: (Singing to the tune "I'm Gettin' Married in the Morning," from the musical My Fair Lady) He's getting married Friday morning Patched up and looking in his prime....Whoa, time for a toast. Toast from the best man, the best of best me. To Steve, take my ex-wife, Please! I'd like to say....

THE SHOT CUTS TO JENNIFER STORMING THROUGH THE SPECTATOR, DETERMINED TO CONFRONT JACK. SHE THROWS OPEN THE DOOR, AND STOPS SHORT SEEING JACK IN A GOOD MOOD.

JENNIFER: (Slightly teasing) Well, what have we got here?

JACK: What do we have here? We have....nothing. Nothing special. Nothing. Nothing at all.

JENNIFER: Champagne?

JACK: Yeah, I didn't want to drink the water....ah....

JENNIFER: I'll bet you're celebrating something Jack.

JACK: I....I'll bet this is none of your business.

JENNIFER: You know what? When I came in here I almost thought that you were smiling. I think you were smiling and you know what, never do that.

REALIZING THAT JACK IS REALLY HAPPY, AND HAS A REASON TO BE SO, SHE FORGETS ABOUT HER ANGER, AND CANNOT HELP BUT BE HAPPY FOR JACK.

JACK: I forgot, I just won the Lotto.

JENNIFER: You did not!

JACK: The newspaper publication is up 50% and boy are we happy!

JENNIFER: It is not. What happened Jack?

REALIZING HE CANNOT FOUL JENNIFER, HE RUNS HIS HANDS THROUGH HIS HAIR AND FINALLY DECIDES TO TELL HER WHAT HAPPENED, HE IS SO SHOCKED AND OVERJOYED THAT HE CANNOT SUPPRESS ADMITTING HIS FEELINGS, IF NOT JUST A LITTLE BIT.

JACK: It....oooooh, I can't put one over on you can I? (Beat) Something happened that I never....never....never really expected.

JENNIFER NOTICES THE PICTURE ON JACK'S DESK AND PICKS IT UP. REALIZING IT HAS SOMETHING TO DO WITH STEVE.

JENNIFER: So tell me.

JACK: Um....Steve asked me to be the best man at his wedding!

JENNIFER LOOKS UP AND SMILES TO HERSELF.

JENNIFER: Is that true?

JACK: Who would have thunk it? I mean, I....I never would have expected....

HE SMILES AT HER AND SHE SMILES BACK,

BOTH HAPPY TO BE SHARING THIS GREAT MOMENT.

JENNIFER: I'm really happy for you Jack.

JACK: Well that's why....that's why I thought that, you know....

HE WALKS UP AND PUTS HIS HANDS ON HER ARMS.

JACK: ....one shock to the system requires another shock to the system....ergo....the champagne.

JENNIFER: I know how much this means to you. I mean you've been wanting to get closer to your family. Now's your chance.

JACK: Now, wait a minute, tell me, what's going on here? Really, what's going on here? Are you just genuinely happy for me or what?

JENNIFER: I'm glad that things are going well for you.

JACK: Yeah?

JENNIFER: Huh, uh. And I'm glad that you're getting closer to your brother.

JACK: Oh, wait a minute. It's best man, not best friend.

JENNIFER: I know Jack but it's a start.

JACK: Er...."it's a start."

JENNIFER: Every relationship needs to take a first step or else they don't go anywhere. But like you said, it's a start. It's a start. (Beat) See you tomorrow.

JENNIFER SEEMS TO BE ALLUDING TO THE POSSIBILITY OF THEM HAVING A RELATIONSHIP, THAT THEY TOO NEED A "FIRST STEP."

JACK: (Jack seemed to have enjoyed opening up to Jennifer, but cannot openly admit, so he does a typical Jack joke.) See you in the funny papers.

JENNIFER LEAVES. JACK HAS AN OVERJOYED EXPRESSION ON HIS FACE.

THERE IS A SHOT OF JENNIFER STOPPING AT THE DOOR OF HIS OFFICE. SHE IS PENSIVELY THINKING ABOUT WHAT JUST HAPPENED. WISTFULLY SHE SPEAKS SOFT OUTLOUD, GLAD FOR JACK, AND HOPEFUL THAT THERE STILL MIGHT BE A CHANCE FOR THE TWO OF THEM.

JENNIFER: It's a very good start Jack.

THE SCENE CUTS BACK TO JACK. STILL GRINNING TO HIMSELF, THINKING OVER WHAT JUST HAPPENED, AND LOOKING AS IF HE IS BEGINNING TO BELIEVE THAT HIS LIFE IS FINALLY CHANGING FOR THE BETTER.
[Transcribed by Carol Vaughan
added material by Sally A. Wilson]
---