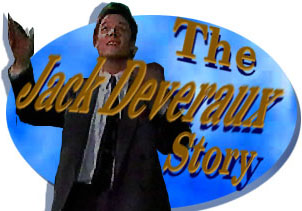 oldEpisode One-hundred-fourteen:
Kayla Gives Birth; an Excited Jack Is
There to Share the Event with his Family.
---
SCENE ONE: AT KAYLA'S TRIAL, SHE IS GIVING EVIDENCE WHEN SHE GOES INTO LABOR.
---
SCENE TWO: SHE IS RUSHED TO THE HOSPITAL AND ALL THE FAMILY ARRIVES AND WAITS FOR NEWS. JACK RUNS IN COMPLETELY HYPED ABOUT THE WHOLE THING.

JACK: Alright, everybody calm down, I'm here. Alright, she's on her way. I just talked to the reporters and....

JO: Jack, Jack, Jack. Catch your breath, she's already in there.

JACK: What do you mean? She's already here....she's having the baby?

JO: (Laughing) Yes.

JACK: We....we.....well what do we do know? What do we do know?

ROMAN: We wait Jack, just like everybody else.

JACK: We can't just wait. I mean we can't just sit here and wait. We have to....

ADRIENNE: Jack there is nothing else that we can do.

JACK RUNS OVER TO THE NURSE'S STATION ANYWAY.

JACK: (Trying to grab Kayla's file.) Just let me hold onto it for a second.

ISABELLA: Jack.

JACK: She's having the baby. She's having the baby right now.

ISABELLA: I heard. Maybe you should sit down or something.

JACK: I can't sit down. I'm too nervous. You know, I can't sit down. We've got to do something. I tell you what, I want you to stay right here and I'll be right back in just a second, okay.

ISABELLA: Jack where are you going?

JACK: I have to go. I've got to go.

JACK HURRIES OFF WITH EVERYBODY LAUGHING.
---
SCENE THREE: JACK FINDS STEVE.

JACK: Steve, Steve, wait a minute! WAIT A MINUTE! Wait a minute!

STEVE: Whoa! What the hell are you doing here?

JACK: Well you know everybody's too uptight out there and I figured maybe I could lend a hand.

STEVE: Hey, I'm busy. I'm busy. Okay. I'll hold your hand later.

JACK: I....I....

STEVE: Would you let me get in there, please?

JACK: Well isn't there something I could do? I mean, keepin' busy.

STEVE: You want to do something, you want to do something Jackson?

JACK: Yeah.

STEVE: You can keep the press away from us. We don't want the press around here, right.

JACK: I'm not here as the press.

STEVE: I'm not talkin' about you. You just keep your parasite buddies out of here so we can enjoy this like humans alright.

JACK: Yeah, I can do that.

STEVE: I'll hold you to it. Thanks.

JACK: Sure, I can do that. Sure. Yeah!
---
SCENE FOUR: JACK GOES OUT AND CALLS VERN.

JACK: Look, Vern, just do it, okay. No reporters, no photographers, we're not going to have anything in The Spectator today about Kayla, right? And I just wanted to make sure....just do everything you can to get The Chronicle off their backs too, okay. Thanks.

JO HAS OVERHEARD THE CONVERSATION AND IS BEAMING, JACK REALLY IS TRYING TO BE APART OF THE FAMILY. SHE GOES OVER TO TALK TO HIM.

JO: Jack.

JACK: Oh, oh, I just saw Steve. You know, he's okay, over there.

JO: You know I can hardly believe it. I'm going to be a grandmother.

JACK: Well congratulations.

JO: Oh you too. I know you must be excited about being an uncle. I understand that now.

JACK: Yeah, well....I....I'm hoping.

JO: I know what you're hoping for. You want to become a part of this family again and you're going to be. I keep praying for that Jack.
---
SCENE FIVE: A LONG WHILE LATER THEY ARE ALL STILL WAITING.

JACK: What time is it?

JO: 8:15.

JACK: 8:15 oh.

JACK WALKS AROUND JUGGLING DONUTS FOR A FEW SECONDS.


JACK: What time is it?

EVERYONE: 8:15!

JACK: I....I'm sorry. Just asking.

AS THEY ARE ALL WAITING A REPORTER COMES UP TO THE NURSE'S STATION AND ASKS ABOUT KAYLA. JACK GOES INTO ACTION.

ROMAN: Why that lousy....

JACK: No, let me handle it.

JACK STOPS ROMAN, JACK HAS AN IDEA. HE HURRIES TO THE PHONE AND MAKES A FAKE PHONE CALL THAT THE REPORTER CAN HEAR.

JACK: Give me the City Desk, quick! (Beat) City Desk? Vern, it's me, Jack Deveraux. Yeah, look, we got a hot news flash. I'm down here at the University Hospital. They just moved Kayla Brady over to the Salem Hospital . Yeah, they're trying to pull a fast one on us.


REPORTER: That's all I need to know.

THE REPORTER RUNS OUT WITH THE HOT NEWS ITEM.

JACK: And I think I just did! Yeah, yeah, yeah, yeah!

JACK CONTINUES TO JUGGLE HIS DONUTS IN DELIGHT. THE BRADYS, JO, AND ADRIENNE CHEER. JACK IS IMPRESSED WITH HIS LITTLE ROUSE, BUT HE TRIES TO PLAY IT OFF AS BEING NOTHING IMPORTANT.

JO: Jack what you did was just wonderful!

JACK: Yeah, well you know, it wasn't much. I mean they're the ones thatare really doing something in there. I wonder how they're doing?
---
SCENE SIX: IN THE DELIVERY ROOM KAYLA GIVES BIRTH WHILE EVERYBODY OUTSIDE IS STILL WONDERING WHAT THE BABY IS.
---
SCENE ONE: EVERYONE IS STILL WAITING FOR NEWS.

ADRIENNE: Has she had the baby yet?

JACK: I'm just getting out of the way.

STEVE COMES OUT WITH A BIG GRIN ON HIS FACE AND ANNOUNCES THAT THEY HAVE A BABY GIRL NAMED STEPHANIE KAY JOHNSON AND SHE IS 8 POUNDS 3 OUNCES. JACK STANDS BACK WITH A SATISFIED GRIN ON HIS FACE. NEIL ANNOUNCES THAT ONLY PARENTS CAN VISIT AND ALL THE OTHERS ARE DISAPPOINTED. HOWEVER JACK COMES UP WITH A PLAN.

MARCUS: Hey I'm sorry. It's the hospital. We have rules. What can we do?

JACK: Well that depends doc. Depends if you want to lend us your expertise.
---
SCENE TWO: A SHORT TIME LATER, MARCUS COMES INTO KAYLA'S ROOM AND WANTS TO BRING IN A GROUP OF NEW INTERNS TO SEE THE BABY. IN WALKS THE FAMILY ALL DRESSED UP IN HOSPITAL GOWNS AND MASKS. THEY ALL CUDDLE STEPHANIE. KAYLA THANKS MARCUS FOR BRINGING EVERYBODY IN BUT HE SAYS THAT IT WAS JACK'S IDEA.

STEVE: Jack? Well where is he anyway?

JACK: Right, smile everybody, smile.

JACK WALKS INTO KAYLA'S ROOM CARRYING A VIDEO CAMERA AND WEARING A NURSE'S UNIFORM AND HAT.


STEVE: Oh no! What the hell is this?

JACK: Hey, it's the 1990s. The age of births, lies and video tape. Alright, everybody line up right behind the happy mother. Okay, okay, Adrienne, that's right, keep moving. All of you. Oh this is wonderful >stuff. The little light's on. Let's get that little....that's great. Come on Marcus.

JACK CONTINUES TO VIDEO TAPE THE BABY AND ALL THE PEOPLE IN THE ROOM UNTIL NEIL COMES IN AND FINDS OUT THAT THEY HAVE ALL SNEAKED IN. HE TELLS THEM THEY ALL HAVE TO LEAVE EXCEPT JO AND STEVE BUT JACK HIDES BEHIND THE DOOR.

STEVE: Looks like everybody got busted, eh? It was a raid, huh. They all scurried out of here like little rats.

KAYLA: Yeah.

STEVE: Everybody's gone.

JO: Well not quite.

JACK: Ah.

KAYLA: I'm sorry. I didn't realize you were here.

STEVE: What on earth is Jacqueline still here?

JACK: Ah, I'm just about to mosey out. Steve?

JACK THROWS THE TAPE TO STEVE.

JO: Jack, couldn't you stay for just a minute and get a chance to hold the baby.

JACK: No, I....er....I'm really not into that sort of thing.

JO: Oh don't be silly. It's your niece. It's alright, isn't it?

KAYLA: Sure.

KAYLA HANDS THE BABY TO JO WHO WALKS OVER TO JACK.

JACK: I really don't think that....

JO: Come on this is your niece. Hold the back of her head.

JACK: Yeah.

JACK TAKES STEPHANIE.


JO: There you go.

STEPHANIE STARTS TO CRY AND JACK LOOKS HAPPY BUT AWKWARD.

JACK: Yeah. I'm through.

JO: Okay. Come to your grandma.

STEVE IS VERY EMOTIONAL ABOUT SEEING JACK WITH HIS DAUGHTER. JACK BACKS OUT OF THE ROOM, EQUALLY EMOTIONAL.

JACK: Um....yo....you did a good job. She's alright.

KAYLA: Thank you.

JACK: Steve, Kayla.

STEVE: Thanks for the tape.

JACK GOES OUTSIDE AND TAKES OFF HIS NURSE'S HAT.

JACK: (Talking to himself, impressed.) Yes. She's alright!
[Transcribed by Carol Vaughan
added material by Sally A. Wilson]
---