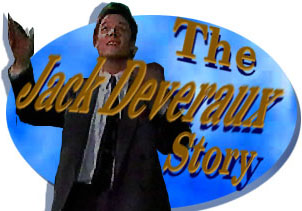 oldEpisode One-hundred-thirteen:
St. Valentine's Day 1990:
Jennifer Catches Jack in his Boxers;
Someone from Jack's Past Returns.
---
[Air date Valentine's Day, 14 February 1990]
SCENE ONE: JACK IS IN THE SHOWER SINGING WHEN JENNIFER KNOCKS THEN COMES INTO HIS BEDROOM. JACK IS NOT IN HIS BEDROOM, HE BE HEARD OFF CAMERA.

JACK: (Singing to "I am I Don Quixote," from the musical Man from La Mancha) I am I, Jack of Deveraux, the Lord of the Paper, my deadline's come and the....COME IN SHELDON!....and the wild winds of fortune.... SHELDON? Sheldon, my man, what is the problem?

JACK WALKS INTO THE BEDROOM, HE IS DRYING HIS HAIR WITH A TOWEL, AND THUS DOES NOT IMMEDIATELY SEE THAT IT IS IN FACT JENNIFER.

JACK (CONT.): You just bring the coffee in, set it down and then you can (Finally he notices it is Jennifer and not Sheldon) g....Jennifer!?

JACK IS STANDING IN BOXER SHORTS THAT ARE COVERED WITH BIG RED HEARTS.


JENNIFER: Happy Valentine's Day, Jack!

EMBARRASSED, JACK WHIPS THE TOWEL OFF HIS HEAD AND COVERS THE BOXERS.

JACK: Ah...it was the only pair I had....clean! (Beat) You should have saved me the trouble of getting out of the shower and just come right into the bathroom.

SHE SEEMS TO BE ENJOYING THE VIEW, AS WELL AS JACK'S DISCOMFORT.

JENNIFER: Oh, yeah, I should have said something.

JACK: It's a fine thing when a man can't get dressed in his own bedroom without people coming in.

JENNIFER: Jack are you really going to wear those?

JACK: Nobody hears about this! "For your eyes only!"

JENNIFER: Not that I really care.

JACK: I'm just glad that you didn't bring your little camera! Good for you! What are you doing here?

JENNIFER: I want to know why you took me off Kayla's trial.

JACK: Couldn't you have phoned with that question?

JENNIFER: Why Jack?

JACK: I have my reasons.

JENNIFER: Well tell me what your reasons were.

JACK: Because I'm covering that story!

JENNIFER: That is not fair.

JACK: You can read about it tomorrow morning with everybody else.

JENNIFER: Fine Jack, I'm leaving.

JACK: Have a nice day!

JENNIFER: You know what? I am going to have a nice day because you know what I'm going to do?

ABOUT TO LEAVE, BUT CHANGES HER. MIND.

JACK: Tell me.

JENNIFER: I'm going to take the day off. That's what I'm going to do.

JACK: Well, what are we going to do?

JENNIFER: You know slaves have their rights too.

JACK: I'm sure they do. Are you going to go march in the streets?

JENNIFER: No I'm not. I'm going to help my Uncle Mickey and my Aunt Maggie. I'm going to help decorate for the surprise anniversary party.

JACK: Well that's very sweet. That's better than carrying banners any day.

JENNIFER: Yeah, it is. Everybody's helping out, even Emilio!

JACK: Well, good. Maybe he can sing the Anniversary Waltz.

TRYING TO MAKE JACK JEALOUS.

JENNIFER: Maybe he will. He's a wonderful singer.

JACK: Huh, uh.

JENNIFER: He's a wonderful friend too.

JACK: Well, that's what you need, a wonderful friend.

JENNIFER: That's right. Someone I can count on.


HE IS TRYING TO NOT TO SHOW THAT HE IS IN FACT CARE, BUT HE REALLY DOES.

JACK: Yeah, like the song always says, "we all need somebody to lean on."

JENNIFER: Yeah we do. Everyone needs that.

JACK SAID THE LAST REMARK TRYING TO BE SARCASTIC, BUT HE SEEMS AFFECTED BY THEM, AND SO IS JENNIFER.THEY BOTH STOP AND LOOK AT EACH OTHER.

JENNIFER: I hope everything goes alright with Kayla today.

JACK: Well you and me both.

JENNIFER: I know how much she means to you and even though I can't be there, I hope it works out. I know it's important to you.

JACK: I appreciate that and....ah....I hope that your little soirée goes okay.

JENNIFER: Goodbye Jack.

JACK: Goodbye.

LEAVING.

JENNIFER: You know what Jack. I bet this time next year your heart will be in the right place.

JACK IS SURPRISED BY THIS. BUT IT IS OBVIOUS THEY BOTH HOPE THAT NEXT YEAR IT WILL BE TRUE.
---
SCENE TWO: A SHORT TIME LATER, ADRIENNE IS AT THE PENTHOUSE WHEN SHE HEARS A LOUD KNOCK ON THE DOOR. IT IS JACK AND JO.

ADRIENNE: Momma, Jack!

JO: Can we come in?

ADRIENNE: Sure but what are you doing here? I was supposed to pick you up.

JACK: There's been a change of plans.

JO: Jack stopped by Dr. Curtis' and he insisted that he take us to the courthouse.

ADRIENNE: That's very nice of you Jack.

JACK: Well, you know, I figured I might as well. Specially if I have you two with me they'll let me in to cover the trial.

IT IS OBVIOUS THAT HE IS NOT DOING IT FOR THAT REASON, BUT THAT HE HAS COME TO CARE ABOUT BOTH JO AND ADRIENNE AND WANTS TO GET CLOSER TO THEM. ADRIENNE FLASHES A KNOWING LOOK AT JO; BOTH JO AND ADRIENNE ARE NOT FOOLED THEY KNOW JACK'S REAL MOTIVES.

JO: Oh Jack has been doing a wonderful job on his articles about Kayla.

JACK: Well I just think that the girl needs a fair shake and the press can get kind of sensational about this kind of thing.

ADRIENNE: Is that why you're handling the story yourself Jack?

JACK: I'm just saying that the press can get out of hand and Kayla doesn't need any more sensation than she's already had.

JO: Well I think what you're doing is very loyal, Jack.

JACK: I...er....I think I'll just go get the car and bring it around and then you don't have to walk so far.

JO: We'll meet you downstairs.

JACK: Er...right.

JACK GOES TO THE CAR.

JO: I'm so glad we're going with him.

ADRIENNE: You know, so am I. I'm pretty proud to be around Jack these days.

JO: And you know what's wonderful, he doesn't even want any credit.

ADRIENNE: Yeah, you've got a pretty good son there Momma.

JO: He's becoming part of the family isn't he Adrienne.

ADRIENNE: Yeah, I know how happy that makes you.

JO: More than words can say.

ADRIENNE:Let's get going then.
---
SCENE THREE: AT WINGS, THE VALENTINE PARTY IS UNDERWAY. JENNIFER KEEPS THINKING OF JACK AND EMILIO TRIES TO DISTRACT HER. EMILIO IS RATHER SMUG AND SELF-ASSURED THAT JENNIFER IS WITH HIM ON VALENTINE'S DAY AND NOT JACK. HE TELLS HER THAT THEY MAKE A GREAT TEAM, HE WANTS HER TO AGREE, AND TELLS HER MORE THAN ASKS IF SHE IS NOT ENJOYING WORKING WITH HIM THAN WITH JACK. JENNIFER DOES NOT REPLY, BECAUSE IT IS OBVIOUS SHE DOES NOT THINK SO. SHE IS PREOCCUPIED WITH THOUGHTS OF JACK. SHE WANTS TO CALL HIM, BUT CHANGES HER MIND. THEY BOTH NOTICE THAT MAGGIE IS UNHAPPY BECAUSE MICKEY HAS NOT ARRIVED SO EMILIO ASKS HER TO DANCE.

MEANWHILE JENNIFER SLIPS OUT TO FIND MICKEY. BUT ALSO TO SEE JACK AS WELL?
---
SCENE FOUR: AT THE COURTHOUSE, CAROLINE BRADY HAS CONFESSED TO THE MURDER OF MARINA TO AVOID KAYLA GOING TO PRISON. JACK IS THERE WITH THE JOHNSONS, AND WHEN STEVE SAYS THE ONLY THING HE CAN DO NOW IS GET KAYLA HOME JACK HELPS OUT.

JACK: I don't think you want to go that way. You'll find the press all over you. But there is another way, round the judge's bench to the right. Nobody will see you go.

STEVE: Thanks .

JACK: Don't mention it.

STEVE AND KAYLA LEAVE FOLLOWED BY JO AND ADRIENNE.
---
SCENE FIVE: JACK IS ALONE IN THE COURTROOM FIDDLING WITH THE JUDGE'S GAVEL WHEN JENNIFER COMES IN. JACK IS FRUSTRATED AND IN PAIN BECAUSE HE CANNOT HELP KAYLA AND STEVE.

JENNIFER: Jack, hi.

JACK: Is the crowd still out there?

JENNIFER: Yeah. It isn't true is it. I mean Mrs. Brady didn't kill anybody.

JACK: Jennifer, think about it. It's pretty obvious. The mother confesses to save the child.

JENNIFER: People will do anything for someone they love.

THEY EXCHANGE ANOTHER LONG STARE. JENNIFER IS CLEARLY REFERRING TO MORE THAN JUST MRS. BRADY, BUT ALSO TO HERSELF AND JACK. JACK SEEMS TO GET HER MEANING.

JACK: I can tell by your taffeta that you're not trying to cover this trial.

JENNIFER: No I'm looking for my Uncle Mickey. We're having this big surprise anniversary party for them and I just want to make sure he gets there.

JACK: Well you can either look at the police station or his office. Either case he's not here.

JENNIFER: But I can't go anywhere. I mean I have to get back to the party.

JACK: What's the big rush? He'll show up.

JENNIFER: Jack it's an anniversary party. I want him to remember that his wife is there because if he doesn't show up this party's going to make her feel even worse.

JACK: Well you know what they say, neither rain, nor snow, nor Valentine's Day shall keep the lawyer from his appointed rounds.

JENNIFER: Right.

JACK: I do wish I could have been of more help.

SHE IS FRUSTRATED WITH JACK, PARTLY BECAUSE HE SEEMS UNWILLING TO HELP HER, BUT MORE SO BECAUSE SHE WANTS HIM TO RETURN WITH HER AND TO BE WITH HER.

JENNIFER: (Frustrated with Jack.) Yeah I do wish you could have been too.

JENNIFER LEAVES AND JACK HAS SECOND THOUGHTS.

JACK: Then again, maybe....
---
SCENE SIX: MICKEY IS SITTING IN HIS OFFICE WORKING ON KAYLA'S CASE. JACK SNEAKS IN AND DECIDES THERE IS ONE WAY TO GET MICKEY OUT OF HIS OFFICE: HE PULLS THE FIRE ALARM!

THE SECURITY GUARD TELLS MICKEY HE HAS TO EVACUATE THE BUILDING.

JACK LURKS IN THE BACKGROUND, FEELING SELF-SATISFIED.
---
SCENE SEVEN: MEANWHILE BACK AT WINGS, MELISSA ANDERSON HAS ARRIVED TO SURPRISE HER PARENTS.
---
SCENE EIGHT: BACK AT MICKEY'S BUILDING, HE IS TOLD HE CANNOT GET BACK INTO HIS OFFICE TONIGHT BECAUSE THEY HAVE TO CHECK THE WHOLE BUILDING. JACK *HAPPENS* TO BE WALKING BY.

JACK: (Feigning ignorance.) Pardon the pun, but where's the fire?

MICKEY: (Not too happy to see Jack.) What are you doing here Jack?

JACK: I was just driving by and I saw the smoke and I thought there might be a story.

MICKEY: There's no story. I might have time though to get over to Wings to see Maggie.

JACK: Wait a minute. Maybe I can give you a ride. I'm going that way.

MICKEY: No!

HE DOES NOT WANT TO BE WITH JACK, BECAUSE OF THE WAY HE FEELS ABOUT HIM. BUT MICKEY, STOPS, THINKS, AND IS FORCED TO CHANGE HIS MIND OUT OF NECESSITY.

MICKEY (CONT.): Yes. My car's trapped in the underground garage.

JACK: (Pleased that everything is going according to his plan.) Well my car's right over there!

MICKEY: (Reluctantly) Okay.

JACK: (Smug) You know it's kind of funny about this fire alarm thing, eh?
---
SCENE NINE: MICKEY ARRIVES AT THE PARTY AND THEN JENNIFER SEES JACK WALK IN. SHE RUSHES OVER TO HIM, OBVIOUSLY NOT WANTING HIM TO STAY.

JENNIFER: What are you doing here?

JACK: Well this is a restaurant. I'm here to eat dinner.

JENNIFER: No you can't stay here.

JACK: Oh this is Maggie and Mickey's anniversary party. Of course. So he made it?

JENNIFER: Yeah he did, so let's go. Come on.

JACK: Go where?

JENNIFER: Well if you want to eat dinner, I'll bring you. I'll buy you dinner.

JACK: Wait, isn't there food here?

JENNIFER: No.

JACK: A party with no food?

JENNIFER: Right. Everybody's dieting.

JACK: What is wrong with you Jennifer?

JENNIFER: There is nothing wrong with me. You just can't stay here Jack.

JACK: Why? It looks like a nice party. Plenty of f.....

JACK SPINS AROUND AND NOTICES MELISSA.
---
SCENE ONE: JACK'S FACE TURNS TO HURT AND ANGER.

JACK: Melissa!

MELISSA: Jack!

MICKEY: You want to dance honey?

MELISSA: Sure dad, why not?

JACK CONTINUES TO STARE AHEAD AND HAS A FLASHBACK OF HIS WEDDING TO MELISSA, AND THE WAY SHE JILTED HIM AT THE ALTAR AND LEFT HIM EMBARRASSED AND HURT.

JENNIFER: Jack! Jack, are you okay?

JACK: Yeah I'm okay.

JACK IS QUIET AND STILL SHOCKED ABOUT SEEING MELISSA. HIS WHOLE PAST HAS BEEN THROWN IN HIS FACE AGAIN.
---
SCENE TWO: EMILIO COMES OVER TO TALK TO JACK.

EMILIO: Hey you old Jack Rabbit you. You're not invited. I didn't see you on the list.

JENNIFER: Emilio, don't....

EMILIO: You probably coming here to wish.... Melissa.... a welcome home. Is that it?

JENNIFER: Emilio, don't start, alright.

EMILIO: You were engaged to her once, weren't you? But something happened. What was it Jackie?

EMILIO IS BEING A REAL JERK, AND ACTING SMUG ABOUT THE WHOLE BUSINESS. JACK'S EXPRESSION IS ONE OF HURT AND PAIN, AND GUILT OVER HIS PAST WRONGS. EMILIO KEEPS INSULTING HIM AND REFUSES TO LET UP.

JACK: What have you got to do to get a drink around here?

EMILIO: Oh, I remember now. She dumped you on the altar. You know between you and me, that's pretty humiliating. But sometimes you don't get the chick of your choice.

JENNIFER: Emilio, let's go. Let's dance.

EMILIO: But you probably forgot all about that, didn't you, Jackie!

JENNIFER DRAGS EMILIO ONTO THE DANCE FLOOR LEAVING JACK STARING INTO SPACE AT THE BAR. HE LOOKS ACROSS AND SEES MELISSA THEN TURNS AWAY FROM HER AND TALKS TO HIMSELF.

JACK: No, I didn't forget.... and I didn't forgive, either.

---
SCENE THREE: JACK IS STILL AT THE BAR DRINKING.

JACK: Set 'em up again Dave.

MELISSA COMES OVER TO TALK TO HIM.

MELISSA: Take it easy Jack.

JACK: Thank you for your concern.

MELISSA: It's not you I'm worried about. It's the person you might kill driving home.

JACK: Maybe I'll take a cab.

MELISSA: I was hoping I'd never see you again.

JACK: Funny, I was counting the minutes myself. I'm kind of surprised seeing you back in Salem so soon.

MELISSA: It is my home. I belong here.

JACK: Kind of a let down after Europe though, huh?

MELISSA: Europe's still there.

JACK: If you want to run away again.

MELISSA: Not my style.

JACK: No, I'd say it's become your trademark.

MELISSA: I've grown up Jack. I'm not the naive young girl stupid enough to fall for someone like you anymore.

JACK: We've both grown up. I just hope we can leave the past in the past.

MELISSA: That's where it belongs. But I haven't forgotten how you used me and I'll never forgive you for breaking my heart.

JACK: To each his own!

JACK DRINKS A SCOTCH IN ONE GULP AND MELISSA TURNS AWAY DISGUSTED.

JACK: Not that I've forgotten how you humiliated me or forgiven you for putting an end to my stellar political career. I'm just in fear your actions might come home to haunt you.

MELISSA: Are you threatening me?

JACK: Maybe....maybe just warning.

HE TURNS AND WALKS AWAY FROM HER. WHEN HE GETS OUT OF SIGHT, HIS WHOLE BODY SLUMPS AND HE IS LEFT FEELING DRAINED AFTER RELIVING HIS PAST.
---
SCENE FOUR: A SHORT TIME LATER HE ABOUT TO LEAVE WHEN HE OVERHEARS MELISSA TALKING TO JENNIFER.

MELISSA: Listen, Jen, um you and I better have a talk about Jack. It's time you learned what a jerk he really is.

JENNIFER: I don't think I need a lecture about Jack.

MELISSA: Come on Jen, I read your letters and you didn't write about Emilio.

JENNIFER: I didn't write about Jack either.

MELISSA: "Oh no! Jack's really changing The Spectator. He's really taking me under his wing. He's teaching me so much."

JENNIFER: Melissa, he was my boss.

JENNIFER TRIES NOT TO LET ON JUST HOW MUCH SHE *REALLY* CARES ABOUT JACK.


MELISSA: I've read between the lines Jen. It happened the same way with Jack and me. I was his Girl Friday and I thought I saw something in him that no one else did.

JENNIFER: Melissa, I'm not you, okay. Jack and I, we're co-workers.

MELISSA: He's bad news Jen. I know. I thought I could change him too but I couldn't. He hurt me. I just don't want to see the same thing happen to you.

JENNIFER: You don't have to worry about that.

MELISSA: I'd worry a lot less if you concentrated on Emilio. Now there's someone who really has changed. He's a great guy.

JENNIFER: I know he is but you see I....

EMILIO: Ready to hit the road?

JENNIFER: Yeah, sure.

EMILIO: (To Melissa) You need a ride?

JACK RUNS AWAY AND HIDES, BEFORE THEY SEE HIM.

MELISSA: Yeah if you don't mind.

EMILIO: And miss the chance to be with two beautiful ladies? Forget about it. Come on.

JACK COMES OUT OF HIDING AND WATCHES THEM GO. THEN HE WALKS BACK TO THE BAR AND THINKS OVER WHAT HE HEARD.

JACK: Nobody gets hurt! Maybe you're right after all Melissa. Maybe you're right after all.

JACK BELIEVES WHAT MELISSA SAID WAS TRUE, THAT HE IS NO GOOD AND ONLY CAUSES PAIN TO OTHERS.
---
[Air date 15 February 1990]
SCENE ONE: JACK IS SITTING AT JENNIFER'S DESK WHEN HIS PENCIL BREAKS.

JACK: Dammit!

MELISSA WALKS UP TO HIM.

MELISSA: Let me guess. You ran out of pencils so you though you'd steal some.

JACK: Melissa, contrary to popular belief, petty theft is one of the few crimes I haven't stooped to.

MELISSA: One of the very few. I know what you're up to with Jennifer, Jack. Leave her alone.

JACK: That's always been my intention in anything but business matters. You have nothing to worry about. There is nothing going on between myself and your cousin.

MELISSA: Oh really! So what's this?

SHE PICKS UP THE NOTE JACK WAS LEAVING FOR JENNIFER.

MELISSA: "Meet me for a late lunch. Wings, 2.30."

HE SNATCHES THE NOTE BACK FROM HER.

JACK: That's business!

MELISSA: Just like you and I were business at first Jack.

JACK: As I recall, you were the one who chased me.

MELISSA: I didn't see you running to get away.

JACK: Look, there's no point in going over the low lights in our personal history. Just suffice to say that there are no feelings between myself and Jennifer. I don't care about her.

HE WALKS TOWARDS HIS OFFICE THEN STOPS AND TURNS BACK.

JACK: I don't!

MELISSA: I heard you the first time.

JACK: Then you should have believed me the first time. After hours I don't give a damn what Jennifer does.

MELISSA SHAKES HER HEAD AND WALKS AWAY. JACK TALKS TO HIMSELF.

JACK: I don't!
---
SCENE TWO: OVER AT WINGS JENNIFER IS WATCHING EMILIO REHEARSE WHEN MELISSA ARRIVES. SHE TELLS HIM THAT IF HE EVER NEEDS A PARTNER SHE WOULD LOVE TO WORK WITH HIM. SHE GIVES JENNIFER A MESSAGE.

MELISSA: I was looking for you over at the paper earlier and I bumped into Jack. He's going to meet you later for lunch.

JENNIFER: Oh, he is.

MELISSA: You seem pleased.

JENNIFER: No, I'm not. I'm not looking forward to working through another lunch hour like I usually do.

MELISSA: Well maybe I was wrong to worry about you but just in case, let me warn you. Getting involved with Jack would be the biggest mistake of your life. The man is poison!

MELISSA WALKS AWAY AND JENNIFER JUST SHRUGS HER SHOULDERS.
---
SCENE THREE: JACK IS AT THE COURTHOUSE WAITING WITH THE OTHER PRESS TO FIND OUT WHAT IS HAPPENING WITH KAYLA NOW THAT CAROLINE HAS ADMITTED SHE DID NOT REALLY KILL MARINA.

JACK: Whoa, what is all this?

ROMAN: The judge ordered up a closed trial Jack. No press, no spectators.

JACK: That's kind of funny isn't it?

ROMAN: No, not really. They guy doesn't want this turned into a circus anymore than it already is.

JACK: Well I don't want that either but I've got to go in there.

ROMAN: I'm sorry partner, immediate family only.

JACK: Roman, you've got to get me in there.

ROMAN: Any reason why I should?

JACK: Because....er....because I know I can help.

ROMAN: Listen if you want to help, get rid of your friends here. They're acting a little nasty and it's the last thing that Kayla needs when she comes out that door. So I'll leave it to you buddy.

JACK: But can I....

ROMAN: Help out.

ROMAN WALKS AWAY.

JACK: Ah....well guys. I guess that's it. No story.

REPORTER: Oh sure, you just want us to go so you can get an exclusive.

JACK: Oh no, no, no. I gave up on all the exclusives. Actually I'm after a different story. The search for the perfect martini. I'm going over to Wings right now and you can join me if you like. It's on my tab.
---
SCENE FOUR: JENNIFER IS AT WINGS WAITING FOR JACK TO ARRIVE FOR THEIR LATE LUNCH. WHILE SHE IS WAITING, EMILIO COMES OVER AND ASKS HER HOW HE LOOKS FOR HIS OPENING PERFORMANCE. SHE SAYS HE LOOKS GREAT, BUT HIS SHIRT NEEDS ADJUSTING. SHE HAS HER ARMS AROUND HIS NECK FIXING THE COLLAR WHEN JACK WALKS IN. THE GLANCE AT EACH OTHER AND THEN JACK WALKS OVER TO A VERY ATTRACTIVE BRUNETTE WHO IS SITTING AT THE BAR.

JACK: Excuse me. Are you alone?

WOMAN: Actually I was hoping to meet somebody.

JACK: You just have. Actually there's a free dinner in it for you if you act like you like the idea.

WOMAN: Excuse me?

JACK LOOKS ACROSS TO SEE IF JENNIFER IS STILL WATCHING WHICH SHE IS.

JACK: Okay, change of plans. I'll throw in champagne and hors d'ouvres but for that you have to kiss me.

HE SWEEPS THE WOMAN INTO HIS ARMS AND GIVES HER A PASSIONATE KISS.


WHILE HE IS KISSING HER HE LOOKS ACROSS AND SEES THAT JENNIFER'S EYES ARE WIDE OPEN IN SHOCK. SHE FINISHES ADJUSTING EMILIO'S SHIRT AND HE WALKS AWAY LEAVING HER STARING AT JACK.

DAVE: Would you like a table Mr. Deveraux?

JACK: Ah....yes, we'd love one, wouldn't we? You lead....no I'll lead.

JENNIFER WALKS OVER IN FRONT OF THEM.

JENNIFER: I understand you wanted to meet me here.

JACK: Ah....I think there was a misunderstanding. Maybe you heard from Melissa that I said I was going to be here, at least if you....er wanted to....contact me. I don't think you've met my date, her name is....Lorna.

JENNIFER: Pleased to meet you. Enjoy your lunch.

JENNIFER HURRIES AWAY FROM THEM WITH TEARS IN HER EYES.

JACK: Oh we certainly will. We....

THE WOMAN DRAGS JACK OVER TO THEIR TABLE.

WOMAN: My name's Jill!

JACK: Oh Jill, Jill, so sorry about that. My name's Jack. I'm really glad that....

JILL PULLS JACK OVER BY HIS TIE AND KISSES HIM AGAIN WHILE JENNIFER WATCHES FROM THE BAR. MELISSA SEES WHAT IS GOING ON AND TALKS TO JENNIFER.

MELISSA: Are you okay?

JENNIFER: I don't know what you're talking about.

MELISSA: He's a jerk, Jen. He always was and he always will be. But you've got Emilio and trust me, you're better off.

JENNIFER SHAKES HER HEAD AS MELISSA LEAVES. EMILIO COMES ON STAGE TO BEGIN HIS PERFORMANCE AND JACK STRETCHES TO WATCH JENNIFER. SHE STARES BACK AT HIM AND EACH TIME HE CATCHES HER EYE HE TURNS TO JILL. JACK IS DOING THIS BECAUSE HE BELIEVES WHAT MELISSA TOLD JENNIFER ABOUT HIM VALENTINE'S DAY, JACK HAS BEEN PUTTING ON THIS SHOW, TRYING TO CONVINCE JENNIFER THAT HE IS NO GOOD, AND FOR HER TO GIVE UP ON HIM. JACK CONTINUES TO FIDDLE WITH JILL'S HAIR AND LET HER KISS HIS FINGERS AS JENNIFER GETS MORE AND MORE UPSET. HER EYES FILL WITH TEARS AS EMILIO SINGS.

JACK: (To Jill) Good song, very inspirational.

SHE KISSES HIM AGAIN.

EMILIO: How'd I do? Was I okay?

JENNIFER: You were better than okay. You were wonderful.

SHE PUTS HER ARMS AROUND HIS NECK AND GIVES HIM A HUG WHILE JACK WATCHES. JACK SEEMS TO BE AFFECTED BY THIS, AS MUCH AS JENNIFER IS BY HIS LITTLE ACT.

JILL: Come on, I live nearby.

JACK: No dinner, huhh? Let me tell you something, I think we better just stop at the doorstep. I'm feeling kind of shy.

JACK FOLLOWS JILL TO THE BAR AND AS HE WALKS PAST EMILIO, HE LAUGHS IN JACK'S FACE.

JACK STOPS AND IS ABOUT TO SPEAK TO JENNIFER. DESPITE PURPOSEFULLY TRYING TO MAKE JENNIFER DISLIKE HIM, HE SEEMS SADDENED THAT HE HAS APPARENTLY HURT HER. WHEN JILL GRABS HIM BY THE TIE AND PULLS HIM OUT OF THE RESTAURANT. BUT HE IS COMPLETELY UNINTERESTED IN JILL, AND TRIES TO DITCH HER NOW THAT SHE HAS SERVED HER PURPOSE.
[Transcribed by Carol Vaughan
added material by Sally A. Wilson]
---