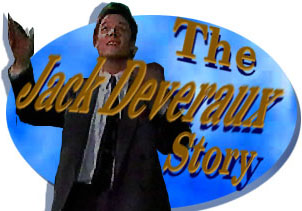 oldEpisode One-hundred-thirty-four:
Stephanie Is Kidnapped by her Psycho
Nanny; Jack Is Devastated, Old Feelings
of Anger Over his Adoption Resurface.
---
[Air date 4-10-90]
SCENE ONE: KELLY THE NANNY LOCKS JO IN A CLOSET AND KIDNAPS STEPHANIE. SHE HEADS TO THE AIRPORT AND FLIES TO AUSTRALIA.
---
SCENE TWO: STEVE, JO AND ADRIENNE ARE AT STEVE'S HOUSE WORKING ON A PLAN TO FIND HER. JACK KNOCKS LOUDLY ON THE DOOR.

STEVE: Oh Jack.

JACK: Is there any word?

STEVE: No nothin'.

JACK: I'm sorry to hear that.

STEVE: So am I.

JACK: Look, ah I've got some news.

STEVE: What?

JACK: I'm sorry it's not good news.

STEVE: What bad news?

JACK: The Chronicle came out with word about your baby.

HE HANDS STEVE A COPY OF THE NEWSPAPER WHICH HAS THE HEADLINE OF THE BRADY BABY BEING KIDNAPPED.

STEVE: Damn them!

JACK: I didn't think you'd want Kayla to find out this way.

STEVE: What's the matter with these people? Why can't they leave us alone? First the trial and now this. Don't they know they're hurtin' innocent people?

ADRIENNE: Jack is there something that you can do?

JACK: I can't do anything about the competition. I killed the story in my paper though.

STEVE: I appreciate that Jack. I don't know. If Kayla sees this I don't know what she'll do. And top of everything else now, the baby might be sick.

JACK: Why would the baby be sick?

STEVE: Well the doctor called and there was test that they ran that came back and they just have to see the baby and check her out again.

JO: Ooooh!

STEVE: That's right, she's got to see a doctor.

JO: Maybe you should lie down for a little while, son.

STEVE: Look I don't have time. I've got to go and see Kayla. I promised I see her in prison today. I've got to get cleaned up so she doesn't know anything's wrong.

JACK: How are you going to keep her from finding out that something's wrong?

STEVE: I don't know but I'm going to keep her from finding out.

ADRIENNE: Steve you have to know that everyone in this family is doing everything they can to get Stephanie back.

JACK: I'll do whatever I can too.

STEVE: Thanks Jack.

STEVE LEAVES.
---
SCENE THREE: JACK IS STILL AT STEVE AND KAYLA'S. JO COMES UP TO TALK TO HIM. JACK, HOWEVER, IS ALMOST TRYING TO AVOID JO, AND IS ACTING RATHER SHORT TEMPERED WITH HER. THEY ARE NEAR THE DOOR.

JO: It was nice of you to come by Jack.

JACK: You don't have to make such a big deal out of it.

JO: I'm not. I'm not Jack. It was nice.

JACK: Yes, it's nice, fine.

JO: You know the more I think about it, this is all my fault.

JACK: Why would you think that?

JO: I don't know. I was here.

JACK: You didn't take the baby, Kelly did.

JO: Well maybe there was something I could have done.

JACK: There wasn't anything you could have done. You were locked in that closet, remember.

JO: I know you're upset.

JACK: Are you surprised?

JO: No, of course not. But in times like these, we've got to stick together. We've got to be a family. We've got to be there for each other.

JACK: Wha...wait a minute. The only person I'm concerned about right now is finding the baby. That's the only person who needs something, alright. Finding the baby is the only important thing right now.

JO: Jack?

JACK: I wonder if Adrienne's found anything out. She's been on that phone long enough.

SENSING JACK'S ATTITUDE TOWARDS HER.

JO: Look at me. (Beat) What's going on?

JACK: I told you. All I'm concerned with right now is finding the baby. That's all anybody should be concerned with.

JO: Was it something that I said, something that I did?

JACK: Will you just drop this, PLEASE?

ADRIENNE WALKS INTO THE ROOM.

ADRIENNE: Drop what?

JO: Nothing.

ADRIENNE: Are you sure?

JO: Positive. Did Justin have any news?

ADRIENNE: No, no.

JO: Well I'm going to go see Dr. Curtis. He was supposed to put out some feelers and maybe he knows something.

ADRIENNE: Okay.

JO: Isn't it nice the way people just jump in to help. People can be so kind.


JACK: It's nice to know that somebody's feeling good about this.

ADRIENNE: Jack!

JO: I didn't mean it like that.

JACK: Then maybe you should stop talking about it that way then.

JO: Look I know that this is a difficult time for you but in difficult times the Johnsons keep their hope and and their courage. They think positive. That's how we get through these things.

JACK: I'm used to dealing with reality. I guess it's more a Deveraux way of thinking but that's what keeps me from being a Johnson.

JO: That's not true.

JACK: Look, there's no time to talk about this alright. I don't know what Steve's doing up there but it's time to get out there and find that baby. That's what needs.....I'm going to go find the baby.

JACK MARCHES OUT THE DOOR.

ADRIENNE: Mama, he didn't mean that.

JO: I'm not so sure.

ADRIENNE: Mama, he knows he's a Johnson. Jack knows deep inside that he's Billy Johnson. He's just too afraid to admit it.

JO: Maybe.

ADRIENNE: Definitely. And I'm going to prove it to him.

JO: How?

ADRIENNE: I'm going to help him look for Stephanie.

JO: Honey I think he wants to be alone right now.

ADRIENNE: Mama, if we want to be a family then we have to start acting like one and that means sticking together whether we say we want to be alone or not.

JO: Good luck.

ADRIENNE: Okay, mama. I'll call you alright.

ADRIENNE HURRIES OFF TO CATCH JACK.
---
SCENE FOUR: JACK IS ON THE PIER PUTTING UP FLYERS. HE STOPS A GUY WALKING PAST.

JACK: Hey, hey, hey. Look at this. Have you seen this woman with this baby?

THE GUY GOES TO WALK AWAY.

JACK: Wait a minute, you haven't even looked yet. Come on, woman....

MAN: No I haven't seen her.

BECAUSE OF HIS FRUSTRATION JACK GETS ANTAGONISTIC TOWARDS THE GUY.

JACK: How can you be sure? You haven't even looked.

MAN: I haven't seen her!

JACK: Come on, would you just try to look?

MAN: Don't bug me or I'll call a cop.

THE GUY TAKES OFF.

JACK: Well you wouldn't be the first you know.

ADRIENNE HAS BEEN WATCHING ALL THIS.

JACK: Call the Marines for all I care. You.....

JACK SEES ADRIENNE.

ADRIENNE: Jack!

HE TURNS AWAY.

ADRIENNE: Jack you can't ignore me.

JACK: I can't talk to you right now.

HE STARTS TO WALK AWAY AND SHE GRABS HIM.

ADRIENNE: Why not?

JACK: Look this isn't a Johnson family outing. There's something I'm trying to do here.

ADRIENNE: I know, that's why I'm staying.

JACK: Well if you stay, I'm going to go. I'm going to look over here.

ADRIENNE: Damn it Jack, we're both here to help Steve and Kayla find Stephanie. Wouldn't it be better if we worked together?

JACK: No!

ADRIENNE: Look I know you're out here looking for Stephanie because you care about our family. Now instead of berating me, why don't you just work with me?

JACK: Kelly?

ADRIENNE: What?

JACK ATTEMPTS TO HIDE BEHIND ADRIENNE.

JACK: Wait a minute, just.... she's seen me. (Determined) Just divert her, divert her. Go check.

ADRIENNE: Alright.

ADRIENNE WALKS OVER TO A WOMAN WHO IS LEANING INTO A STROLLER LOOKING AT A BABY.

ADRIENNE: Excuse me, do you know what time it is?

WOMAN: Oh sure. It's a quarter after.

MEANWHILE JACK SIDLES OVER TO LOOK IN THE STROLLER AND SEES THAT THE BABY IS NOT STEPHANIE. HE SIGNALS ADRIENNE. THE WOMAN WALKS OFF PAST JACK. JACK IS HOPEFUL, BUT HIS EXPRESSION CHANGES UPON SEEING THE BABY, WHICH IS NOT STEPHANIE.

JACK: Hi.

WOMAN: Hi.

JACK: Nice baby.

THE WOMAN WALKS AWAY.

JACK: Damn!

ADRIENNE: Well it was a good try.

JACK: Good tries only count on horse shoes. Look you better go, look.

ADRIENNE CAN SEE, DESPITE HOW MUCH JACK SAYS TO THE CONTRARY, THAT HE CARES VERY MUCH, AND DEEP DOWN WANTS TO BE A JOHNSON.

ADRIENNE: Ah I'm not going anywhere, not after what you just proved.

JACK: Alright, what did I prove?

ADRIENNE: That you really are a Johnson and we can work together.

JACK: Look just because you and I can both scam a woman and a little baby doesn't mean that we are both Johnsons.

ADRIENNE: I don't buy it Jack.

JACK: I guess that's your problem isn't it.

ADRIENNE: Alright, then what were you doing?

JACK: I saw a woman, a little baby, an opportunity....

ADRIENNE: You cared.

JACK: What?

ADRIENNE: The only reason you rushed up to that woman to check out that baby is because you cared, don't you? (Beat) Don't you?

JACK: Alright, okay I care. It's not going to change the course of Western civilization.

ADRIENNE: Jack why are you always so hard on yourself? Caring about Stephanie is a very big deal. We're all hurting Jack, even you. The only difference is, you're hurting alone.

JACK: So?

ADRIENNE: So it doesn't have to be that way. You have a family Jack. I'm your family. I'm here for you if just dammit let me in.

JACK: Okay. I guess it'd be okay if we work together.

ADRIENNE: Because we're a family?

JACK: No, because I know what it's like for a kid to be separated from its family. And I don't want the same thing that happened to Stephanie as what happened to me.

ADRIENNE FINALLY REALIZES WHY JACK IS ACTING THE WAY HE HAS BEEN.

ADRIENNE: Alright, alright. I see what's going on here. That's why you were picking a fight with Mama isn't it?

JACK: No. Cause I wanted to....for....

ADRIENNE: You're mad at her.

JACK: I'm not mad at anybody.

ADRIENNE: Yes you are! Stephanie's kidnapping has brought up the past for you. You're angry with her for abandoning you.
---
SCENE FIVE: MEANWHILE JO TELLS NEIL CURTIS ABOUT JACK'S ANGER AND SAYS THAT HE HAS A RIGHT TO BE ANGRY. NEIL TELLS HER THAT SHE DID THE BEST SHE COULD AND THAT JACK DID NOT MEAN WHAT HE SAID. JO IS NOT SO SURE.
---
SCENE SIX: BACK AT THE PIER.

ADRIENNE: You resent what Mama did, don't you?

JACK: The only thing I resent is people who try to tell me how I feel.

ADRIENNE: Let go Jack.

JACK IS FIGHTING HIS FEELINGS, AND PAIN. HE SEEMS TO WANT TO FORGIVE AND TO BE A PART OF THE FAMILY, BUT ALL THOSE FEELINGS OF ANGER ARE RESURFACING.

JACK: Let go of what?

ADRIENNE: All the hurt and anger inside you.

JACK: I'd appreciate it if we could can it with the armchair psychology.

ADRIENNE: Jack, you push everyone away who tries to get close to you. You pushed the family away. You even pushed Jennifer away. Would you look at me, please?


JACK RELUCTANTLY TURNS TOWARDS HER.

ADRIENNE: Ever since you found out you're a Johnson, you've been doing everything in your power to deny it. Well you can't Jack, it's impossible. What you have to do is forgive Mama and move on.

JACK: Why should I do that?

ADRIENNE: Because deep down inside you're desperate to be a part of a family, our family! You want to love us as much we love you. That's right Jack, we love you. Mama loves you, I love you and even Steve probably loves you some way. You can't deny your feelings Jack. It's not going to stop you from getting hurt. It's only going to keep you lonely for the rest of your life.

JACK: Well I don't understand what you're talking about. What do you want me to do? I'm just trying to find a baby that's all.

ADRIENNE: Alright, I want you to show Mama that you're not mad at her anymore. That you don't blame her anymore, for Stephanie, or for abandoning you.

JACK: I'm going to go look for the baby. If you want to come with me, you can.

ADRIENNE: No Jack, not until I get an answer.

JACK: I'm going.

ADRIENNE: BILLY!

JACK STOPS.

ADRIENNE: No matter what you decide, whether you decide to go to Mama or not and whether you decide to be part of this family or not, I'll always love you. I can't help it. You're my big brother and nothing will ever change that.

ADRIENNE WALKS AWAY CRYING. JACK THINKS OVER WHAT SHE SAID THEN TURN ROUND AND FINDS HER GONE.
---
SCENE SEVEN: A SHORT TIME LATER HE IS AT THE HOSPITAL AND GOES TO THE DOCTOR'S LOUNGE WHERE JO IS GETTING A CUP OF COFFEE.

JACK: Neil said that I could find you in here.

JO: You were looking for me?

JACK: Well I was in the neighborhood and Adrienne and I were....

JO: Adrienne said that she was going to catch up with you.

UNCOMFORTABLE. BUT TRYING TO OPEN UP TO JO.

JACK: Yeah. We didn't find anything. I just figured I'd start looking in those hotels down near the Riverfront next.

JO: That's a good idea.

JACK: Right, well....

HE TURNS TO LEAVE.

JO: Jack! Thank you for coming all this way to tell me. I appreciate it.

JACK: Yeah. Ah....there was another thing. (Beat) Ah (Hesitating)....I know that you loved that little baby. I know that you're probably just as good a grandmother as anybody could be and if there was anything that anybody could have done to stop that baby being kidnapped then you would have done it. I just....ah....I don't know, that's all.

JO IS NEAR TEARS. SHE IS SURPRISED AND PLEASED BY JACK'S REMARKS.

JO: Jack, I can't lose Stephanie. I can't.

SHE WALKS OVER AND BEGINS TO CRY ON JACK'S SHOULDER.

JO: I've let too many babies slip out of my life already.

JACK SLOWLY PUTS HIS HAND ON HER BACK.


JACK: It's not going to happen again. We'll make sure it doesn't.
[Transcribed by Carol Vaughan
added material by Sally A. Wilson]
---