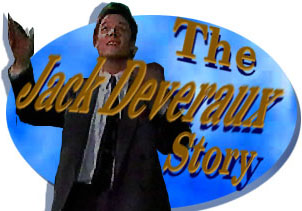 oldEpisode One-hundred-ninety:
Jack Meets "Katerina."
---
[Air date mid-September 1990]
SCENE ONE: IT IS THE NEXT DAY, JENNIFER IS HOME AT THE LOFT TAKING NOTES ON KATERINA FROM A TAPE SHE HAS BEEN WATCHING. SHE GOES UPSTAIRS TO GET SOMETHING. JACK COMES IN USING HIS KEY.

JACK: Hello, anybody home?

HE WALKS OVER AND STARTS TO WATCH THE TAPE.

JACK: Oh von Leuschner madness eh.

JENNIFER HAS COME DOWN UNBEKNOWNST TO JACK.

JENNIFER: Jack, what do you think you're doing?

JACK: (Surprised and embarrassed at being caught) What?

JENNIFER: That's breaking and entering. I could have you arrested.

JACK: Whoa, come on, whoa.

JENNIFER: You better have a heck of an explanation for this.

JACK: Okay, okay, just, just give me a minute here. Just give me one little minute.

JENNIFER: Why should I?

JACK: Well, um, because, I have finally struck on a plan. A plan to make you drop this story about the Von Leuschner heiress and get you out of trouble in the bargain.

JENNIFER: Oh really, let's hear it. Just what do you think you're going to get me to do to drop this story?

JACK: It's very simple really. I'm going to prove to you beyond a shadow of a doubt that there is no missing heiress because I happen to know that Katerina von Leuschner is right here in Salem.

JENNIFER: How do you know that Katerina is in Salem?

JACK: Oooh I just.... know.

JENNIFER: Meaning you're not really sure.

JACK: No, I'm pretty sure. See I've been doing a little research on my own.

JENNIFER: I don't believe that Jack. I think you're playing another one of your games and you're trying to manipulate me as usual.

JACK: No, no, no, no, no, no manipulations here. I know exactly what I'm talking about. I'm honest cross my heart. Now, here's the deal.

JENNIFER: What deal?

JACK: The deal that we're about to make. You're going to give me until the end of the day to prove to you that Katerina Von Leuschner is here in Salem. If I prove it to you, you drop this whole story before it blows up in your face.

JENNIFER: And what if you don't prove it?

JACK: Well....

JENNIFER: Well?

JACK: Well if I don't prove it.... ah.... you get the door prize. Me, out of your life, forever.

JENNIFER JUST STARES AT HIM.

JACK: Well, is it a deal?

JENNIFER: Yes Jack, it's a deal.

THEY SHAKE HANDS.

JENNIFER: But I already know who's going to win and it's not going to be you.

JACK: We'll just see about that won't we.

JACK BEGINS TO WALK TOWARDS THE DOOR.

JENNIFER: Where do you think you're going Jack?

JACK: To bring our little saga to it's conclusion.

JENNIFER: No, not just yet. Not until I'm finished with you.

JACK: You know I would like to sit here and chat with you, I really would, but the engine's running and the car....

JENNIFER: Jack, how did you get in here?

JACK: Well I.... I used my.... my key, the one that you gave me remember?

JENNIFER: Yes, yes, I do remember. I also remember why I gave it to you. Do you?

JACK: Yes, I vaguely recall.

JENNIFER: Well then don't you think it might be time to give it back.

JACK DOES NOT LIKE THIS AT ALL. GIVING BACK THE KEY IS THE FINAL BREAK.

JENNIFER: Jack?

JACK: You know I think.... no, I think it would be smarter if I held onto it and....

JENNIFER SHAKES HER HEAD.

JACK: And maybe it wouldn't be.

JENNIFER: I gave you that key when I thought we had a commitment, when we got past a lot of things and we were going to be open and honest with each other. But that didn't happen. I made a mistake. You see you already knew and I didn't. But now I know. And it's over between us. There is nothing between us now except for that key.

JACK: Jennifer, I....

SHE IS SILENT AND PUTS OUT HER HAND. JACK RELUCTANTLY REMOVES IT FROM HIS KEY RING AND PLACES IT FIRMLY IN HER HAND.

JENNIFER: This is what you want, right Jack?

JACK: (Beat) Yes.

JENNIFER: And you always get what you want as usual. I bet that feels pretty great, huh.

JACK: (Hurt) No actually it feels lousy. It feels lousy. It's going to feel lousy until I get you out of this von Leuschner mess. By the end of the day it's going to start feeling better. Then it's going to feel great. Then I'm going to feel terrific.

JENNIFER: Good for you Jack.

SHE SLAMS THE DOOR ON HIM. HE REFLECTS ON WHAT IS BEST ON THE OUTSIDE OF THE DOOR; SHE DOES THE SAME ON THE INSIDE.

JACK: Good for me.

JENNIFER: Good for you.

JACK: Good for both of us.
---
SCENE TWO: JENNIFER GOES TO WARNER'S. HE TELLS HER THAT SHE IS GOING TO MEET THE MOST SUSPICIOUS MAN HE HAS EVER MET THIS AFTERNOON. HE GIVES HER A DRESS TO PUT ON AND SAID THAT THIS WILL BE A TEST TO SEE IF SHE CAN PULL OFF THE IMPERSONATION. SHE GOES TO DRESS. WARNER CALLS JACK.

JACK: Spectator.

WARNER: Yes, Mr. Jack Deveraux please.

JACK: Speaking.

WARNER: This is Warner Bayer with the von Leuschner party.

JACK: Yes, hello, I've been waiting for your call.

WARNER: Yes, well you're waiting is over sir. If you would be so kind as to meet me in my hotel room shall we say in one hour, I will be very pleased to present to you the von Leuschner heiress, Katerina.

JACK IS PLEASED.
---
SCENE THREE: BACK AT THE HOTEL, JENNIFER IS NOW DRESSED. SHE IS WEARING A WHITE AND GOLD BEADED STRAPLESS GOWN WITH A FULL SKIRT. HER HAIR IS UP AND SHE IS WEARING A GOLD AND DIAMOND TIARA AND LONG WHITE GLOVES. WARNER IS PLEASED WITH HER APPEARANCE. HE TELLS HER TO "GET INTO CHARACTER" BY LOOKING AT HERSELF IN THE MIRROR AND IMAGINING WHO SHE IS. JENNIFER BEGINS TO DAYDREAM.

SHE IS IN A PALACE, SITTING ON A THRONE AND IS DRESSED IN A BLUE AND WHITE CHIFFON DRESS WITH A GOLD CROWN.

PRINCE: Diamonds, rubies, sapphires.

JENNIFER: No, no, no. Off with his head.

THE PRINCE IS DRAGGED OUT BY HER SERVANT.

JENNIFER: Pity. Next.

IN COMES ANOTHER PRINCE.

PRINCE: I offer thee a splendid ship in the name of thee.

JENNIFER: Oh pluheeeze, not another one. Away with him. Is there no suitor suitable for my dainty hand? Is there no man, man enough in all my kingdom?

SERVANT: Your highness, there is one more. Most unsuitable.

JENNIFER: They're all unsuitable. Bring him in. Bring the peon.

JENNIFER SITS BACK DOWN ON THRONE.

JENNIFER: Oh if only they had invented television I'd have something better to do with my afternoons.

SUDDENLY THERE IS A FANFARE AND A POORLY DRESSED PEASANT IS DRAGGED IN AND THROWN AT HER FEET.

JACK: Whoa, whoa, whoa, whoa. Ah excuse me highness. Loose marble on the rug.

JENNIFER: What are you? Who are you?

JACK IS STILL ON THE FLOOR IN FRONT OF HER. HE IS WEARING AN OLD VELVET CAP AND HAS A DEAD RAT ON HIS SHOULDER AND RAGS HANGING FROM HIM.

JACK: Well I'm glad you asked.

HE LIFTS ONE ARM IN THE AIR.

JACK: (Overly dramatic) "Oh, what a rogue in peasant slave am I."

HE STANDS UP.

JENNIFER: Oh pluheeeze, an actor! Guards!

JACK: Wait a minute, one word your highness I beg of you. One word.

JENNIFER: It's Friday, I'm prepared to be magnanimous.

JACK: Heh. I....

JENNIFER: That's it, one word. Guards!

JACK: I apologize, I apologize.

JENNIFER: Guards!

JACK: But this time I really mean it.

JENNIFER: You meant it last time too didn't you?

JACK: Yes but this time I know what I'm apologizing for.

JENNIFER: Oh yes, yes, of course you do.

JACK: Jennifer, I want you to take me back.

JENNIFER: Naturally.

JACK: Look I swear it's going to be different this time. I know I was a jerk.

JENNIFER: So who doesn't?

JACK: (To the guards) Look can we take the torches down a little bit? How about a little music over there?

JENNIFER: What do you think you're doing?

JACK: Look, I know it's your fantasy but I just want to change it a little bit.

HE REMOVES HIS HAT AND SMOOTHES HIS HAIR. HE KNEELS IN FRONT OF HER.

JACK: (Serious and contrite) I really want you to take me back Jennifer.

JENNIFER: Why should I?

JACK: Well.... I can think of a thousand reasons but the main one is this. I'm sorry. I'm sorry that I pushed you away from me. I'm sorry that I wouldn't let you help me when my father died. I'm sorry I forced you to take the job in New York. But most of all I'm sorry that I left you in that cold hard bed after such sweet love. I'm never going to forgive myself for that, no matter whether you forgive me or not.

JENNIFER: Jack you have moved me once. Your gift with words is a double edged sword at best. But look around you. The handsomest men in my kingdom have offered me riches beyond dream. But you, what have you to offer me.

HE LOOKS AROUND FOR A SECOND OR TWO THEN HE SURVEYS HIS CLOTHES RUNNING HIS HAND THROUGH HIS HAIR AS HE THINKS.

JACK: Only my love.... only my love.

HE REACHES UP AND STROKES HER FACE.

JACK: Only my love.

JENNIFER: Guards, attention.

GUARD: Oh goodie, a beheading. You're wish Melady. Whatever it is, it is thine.

JENNIFER: My wish is that you would all leave us. Begone, dismissed.

JACK TURNS TO LEAVE WITH THE GUARDS.

JENNIFER: Not so fast Jack.

JACK: Jennifer.

JENNIFER: Come to me Jack.

SHE EXTENDS HER HAND WHICH HE TAKES.

JACK: Sure, your highness.

JENNIFER: You finally said it. It's all I ever wanted to hear. Your love is all I ever wanted.

JACK RAISES HIS EYEBROWS AND GRINS THEN HE BENDS TO KISS HER. HE DROPS HIS HAT AND SITS ON THE THRONE AND SHE SITS ON HIS LAP.

THEY CONTINUE TO KISS AS JENNIFER'S DAYDREAM ENDS.

SHE REALIZES SHE IS BACK IN WARNER'S ROOM, DRESSED AS KATERINA.
---
SCENE FOUR: DOWN ON THE PIER, JACK IS FEELING VERY HAPPY WITH HIS PLAN.

CARLY: Jack.

JACK: Dr. Carly Manning. What can I do for you on this marvelous afternoon?

CARLY: Well I'm a little curious.

JACK: About what pray tell?

CARLY: Oh that spring in your step, that look of determination in your eye. What's going on?

JACK: Well, let's just say I'm on a.... mission. A good deed.... no, not a good deed, a great deed. And how often do we have that opportunity?

CARLY: Not often.

JACK: Oh not often enough. Almost never. But today I feel is a day of days.

CARLY: Why do I get the feeling that this has something to do with Jennifer?

JACK: Well let me put it to you this way. By the time I sit down to dinner tonight I will have accomplished two things. One, Jennifer will be out of trouble and two, Jennifer will no longer be involved in the von Leuschner story. Of course my noble act will have its price but....

CARLY: Well what do you think she's doing that is so dangerous?

JACK: I'm a little fuzzy on the details there but let me just say this. Our friend is playing with fire and it's fallen to me to keep her from getting burned. So wish me luck.

CARLY: Good luck.

SHAWN BRADY AND HIS GRANDCHILDREN ARE ON THE PIER FISHING.

JACK: Thanks! Mr. Brady, avante. Hey kids look, is it a bird, is it a plane, no it's JACK DEVERAUX.

JACK TAKES A FLYING LEAP ALONG THE PIER AND TRIPS.

JACK: I'M ALRIGHT, I'M ALRIGHT.

SHAWN: (Laughing, To Carly) What was all that about anyway?

CARLY: (Laughing) That's just Jack.
---
SCENE SIX: BACK AT THE PENTHOUSE, JENNIFER AND WARNER ARE WAITING FOR "THE REPORTER". THEY HEAR A KNOCK AT THE DOOR AND WARNER ASKS JENNIFER TO WAIT IN THE BEDROOM UNTIL HE INTRODUCES HER PROPERLY. WARNER ANSWERS THE DOOR.

WARNER: Oh please come in.

IT IS JACK READY FOR HIS APPOINTMENT; HE IS SMUG BECAUSE HE THINKS THAT HE WILL WIN AND THEN JENNIFER WILL BE FORCED TO GIVE UP, AND THUS BE SAFE.

JACK: Thank you. Nice place, lots of closet space, nice view. Alright I'm here. Bring on the heiress.

WARNER GOES TO SEE JENNIFER. JACK IS PACING THE ROOM.

JACK: Come on heiress, don't put on any special tiara for me.

WARNER: Katerina thanks you for your patience.

JACK: Well thank Katerina but tell I'm fresh out of patience.

WARNER: Sir, allow me to introduce, daughter to the august Henri von Leuschner, future mistress of the von Leuschner Alamain fortunes, the heiress Katerina von Leuschner.

JACK HAS HIS BACK TO THE DOOR AS JENNIFER COMES OUT. SHE WALKS OUT. NEITHER SEES THE OTHER.

JENNIFER: Charmed I'm....

JACK TURNS TO SEE HER. HIS FACE IMMEDIATELY SHOWS DISBELIEF THAT SHE WOULD TRY TO PULL SUCH A STUNT. HER EYES ARE READY TO POP OUT OF HER HEAD.

[Transcribed by Carol Vaughan
added material by Sally A. Wilson]
---