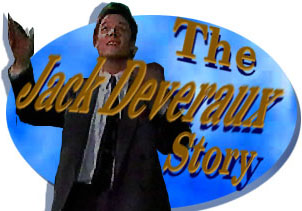 oldEpisode Two-hundred-forty-four: Hearing
about Anjelica Jennifer Goes to Comfort
Jack; However, He Tells Her It Is Time to
Move on. Meawhile, Jack Is Unable to Get
the Money; Eve Makes Him a Proposition.
---
[Air early February 1991]
SCENE ONE: IT IS THE NEXT DAY AND MICKEY ARRIVES TO SEE EVE WHO HAS ARRANGED THE MEETING IN JACK'S OFFICE.

EVE: Hi Mickey, thank you so much for coming over.

MICKEY: Well you said you had some questions about Nick's will. You seem awfully at home in here.

EVE WALKS AROUND BEHIND JACK'S DESK.

EVE: Yes Jack and I are working on a few things together. I've always been interested in journalism as a career.

MICKEY: Oh, so what can I do for you?

EVE: Oh, well why don't you have a seat?

SHE SITS IN JACK'S CHAIR.

EVE: After Nick.... died, you said it would take several weeks to settle things and to find out how much the estate was worth. And I was just wondering.... do you know yet how much it's worth, in real spendable money?

MICKEY: Yes as a matter of fact, the accountants have just finished their audit. So it's going to be in the neighborhood of ten million dollars.

EVE GASPS.

MICKEY: Perhaps a little bit more, certainly no less.

EVE IS DELIGHTED.

EVE: Oh, that's....

JACK WALKS IN AND IS ANNOYED THAT SHE IS USING HIS OFFICE.

JACK: Excuse me.... this is my office, isn't it?
---
SCENE TWO: BACK AT THE LOFT JENNIFER HAS JUST GOT THE MORNING PAPER WITH THE HEADLINE THAT ANJELICA AND ALEXANDER WERE NOT KILLED IN THE PLANE CRASH AND THAT ALEXANDER IS BACK IN SALEM. SHE DECIDES TO GO SEE JACK WHO MUST BE HURT THAT ANJELICA HID OUT FROM HIM TOO. FRANKIE THINKS SHE IS DOING THE WRONG THING BUT SHE GOES ANYWAY BECAUSE SHE KNOWS HE NEEDS HER.
---
SCENE THREE: AT THE SPECTATOR, JACK IS INSPECTING HIS OFFICE DOOR TO MAKE SURE THAT HIS NAME IS STILL ON IT.

JACK: Yes, yes, this is my office. I find the situation slightly reminiscent of a Twilight Zone episode. You know the one, the man comes to work and finds his office occupied and no one knows who he is.

EVE LAUGHS OFF JACK'S COMMENTS.

MICKEY: Evie had a few questions about....

EVE: Why don't we let Jack have his office back Mickey? Thank you so much for coming over. I really appreciate it.

MICKEY: Jack.

JACK: Mickey.

EVE: Have a good day.

MICKEY LEAVES.

JACK: Well since we've established this is my office, I believe the most obvious question presents itself. What are you doing in it?

EVE IS CASUALLY READING THROUGH ALL THE PHONE MESSAGES WAITING FOR JACK. HE SNATCHES THEM FROM HER.

JACK: Going through my messages.

EVE: I couldn't help but notice you seem to have contacted every bank in the city, Jack. In the country practically.

JACK: That's none of your business.

EVE: Regarding your request for a loan, the answer is no. Well it looks like you and Lawrence Alamain are going to be partners. You know what, this could work out really well. I mean, you guys have a lot in common. You were both dumped by Jennifer. Who knows, you might even go out for a beer after work reliving the old days with her.

JACK: Is there a point to this?

EVE: Actually Jack, yes. There is something I'd like to talk to you about.
---
SCENE FOUR: LATER, EVE SITS ON HIS DESK AND CROSSES HER LEGS.

JACK: Well, make yourself at home.

EVE: Jack, we each have a problem. You.... Lawrence hates you and is out to destroy you. Me.... Johnnie would fry in hell if he could get Nick's estate away from me.

JACK: You have a flair for imagery. Did anyone ever tell you that?

EVE: There's somebody out to get you and there's somebody out to get me. And they just might succeed.... unless....

JACK: My breathe is baited. Unless what?

JACK: Alone we're vulnerable Jack. But they don't have a prayer against both of us together. So if we team up.... I mean unless you still think there's a chance for you and Jennifer. I mean you don't think there's still a chance for you two, do you?

JACK: Look, Miss Horton has nothing to do with....

THERE IS A KNOCK AT THE DOOR AND JENNIFER ENTERS.


JENNIFER: Jack I....

EVE GETS OFF THE DESK. JENNIFERS SEEMS HURT SEEING THEM TOGETHER, SIMILAR TO THE WAY SHE AND HE USE TO WORK TOGETHER.

EVE: I don't believe it. Jen, you know what we're in the middle of something, so if you don't mind. JENNIFER: I'm really sorry.

JACK: Miss Donovan.

JENNIFER: Can I see you Jack?

EVE: What do you mean, Miss Donovan. We're in the middle of talking here.

JACK: Miss Donovan, please.

EVE: Oh great. Miss Manipulator walks in and you throw me out.

JACK: Thank you. Thank you very much.

EVE: Jack, think about what I said, okay.

JACK: Thank you.

JACK SHUTS THE DOOR AND TURNS TO JENNIFER. HE FEELS AWKWARD; HE DOES NOT SEEM TO LIKE THE IDEA THAT SHE THINKS THAT THERE IS SOMETHING GOING ON BETWEEN HIM AND EVE.

JACK: So.... what brings you here?

JENNIFER: I came as soon as I heard about Anjelica and Alexander.

JACK: Yes, an interesting turn of events, don't you think.

JENNIFER: Well I know this must be hard for you. I mean to think that she was alive the whole time, letting your mourn her and the baby.

JACK: Well I'm sure she meant to send me a postcard from the road.

JENNIFER: I know that you must be confused Jack.

JACK: Yes, confusion seems to be my middle name these days.

JENNIFER: Well I realize that we are both leading separate lives at the moment but that doesn't mean that I won't be there for you if you need me.

JACK IS ANGRY, CONFUSED AND HURT BY HER COMMENT.


JENNIFER: I mean that's why I came here. Because I know that you would do the same thing for me Jack, if you knew that I needed you.

IT FEELS TO HIM LIKE SHE IS TWISTING A KNIFE IN HIS GUT.

JENNIFER: You know I'd really like to believe that if one of us needs the other.... I mean if there is something that we can't turn to anybody else with.... that I would be there for you and you would be there for me. (Beat) Come on Jack, isn't that right?

JACK IS SILENT.

JENNIFER: I mean maybe things have changed for us lately, but there's one thing that hasn't. (Beat) When there's a problem, we can still count on each other Jack.

JACK: That's a nice sentiment. Should be on a card. (Beat) But on the reverse side it also says, separate is separate and apart is apart. There's no exceptions to the rule.

JENNIFER EYES FILL WITH TEARS.

JENNIFER: Well I kind of thought that we were.... ah.... well I guess you already know what I thought.

JACK NODS.

JACK: Frightening to find you're so far off the mark, isn't it? But I wouldn't worry. It gets easier every day.

JENNIFER: Well up to this minute, I.... I.... I still thought there was hope for us. I mean that's why I came here.

JACK: Now you feel differently?

HE FINDS IT HARD TO LOOK AT HER.

JENNIFER: Yeah!

JACK: Well I guess it was worth the wear on your tires then, wasn't it?

JENNIFER: So.... what? Is this really what you're telling me?

JACK: We're not going to be together. Not now and.... not ever.


JENNIFER: (Beat) Oh.... oh then I'm sorry that I bothered you then.

SHE WALKS TO THE DOOR. JACK DOES NOT LOOK UP AS HE SPEAKS.

JACK: Drive carefully.


SHE TURNS TO HIM WITH HER MOUTH OPEN. SHE IS CONFUSED, DESPITE ALL HE SAID, BY THIS LAST REMARK IT APPEARS THAT HE STILL CARES FOR HER. SHE QUIETLY WALKS OUT AND SHUTS THE DOOR. JACK SIGHS AND FROWNS.
---
SCENE FIVE: JENNIFER GOES TO WINGS TO MEET FRANKIE. EVE IS BACK AT WORK AND IS ANNOYED THAT JENNIFER IS THERE. FRANKIE AND JENNIFER SIT DOWN AT A TABLE AND EVE LOOKS ON IN DISGUST. JULIE COMES IN AND SEES EVE WATCHING JENNIFER AND FRANKIE.

JULIE: It still hurts doesn't it?

EVE: Julie, hi. You scared me. What hurts, Frankie? Do I have that look on my face again. You know I've been very tired lately. That'll teach me not to drink coffee before I go to bed.

JULIE: Oh, I don't think caffeine has a thing to do with it, darling.

EVE: Julie, Frankie and I have been history for a long time now.

JULIE: Oh is that so?

EVE: Yeah. (Beat) Actually, you know, there's somebody new in my life.

JULIE: Really.

EVE: You're going to be surprised. Actually it took me by surprise too. I've kind of known him all along but lately we've gotten.... very close.

JULIE: It all sounds marvelously intriguing darling. Whom are we discussing?

EVE: (Beat) Jack.

JULIE: JACK!

EVE: Yeah, well, you know I told you you'd be surprised. You know Julie he's really smart and the more I got to know him the more I found out he has a great sense of humor. I mean he keeps me laughing all the time.

JULIE: Oh I'm sure you're in stitches every minute.

JULIE IS JUST AMAZED AT EVE'S STUPIDITY IF SHE THINKS JACK WOULD BE INTERESTED IN HER.

EVE: You know I thought we were just going to be friends but the more I got to know him, I...did you ever notice how sexy his eyebrows are?

JULIE: Eve.... Eve....

EVE!

EVE: What?

JULIE: What are you up to this time?

EVE: Nothing.
---
SCENE SIX: JACK WALKS IN BEHIND EVE WITH HIS EYEBROWS RAISED.

JACK: That's a good question. What are you up to this time?

JENNIFER NOTICES THAT JACK HAS WALKED IN AND SHE CANNOT KEEP HER EYES OFF HIM.

JULIE: I'll leave the two of you alone.

EVE: Goodbye Julie.

JACK: Julie.

JULIE LEAVES.

JACK: So.... why don't you tell me what the two of you were talking about. You know you can confide in me.

EVE: Well I was just telling Julie that....

SHE TURNS TO SEE JACK STARING AT MISS HORTON. HE NODS IN ACKNOWLEDGMENT TO HER.

FRANKIE NOTICES THAT JACK IS THERE WITH EVE AND HE ASKS JENNIFER IF SHE WANTS TO LEAVE BUT SHE INSISTS ON STAYING BECAUSE SHE SAID SHE CANNOT HIDE FROM JACK EVERYWHERE IN TOWN.

EVE: You know Jack, you never answered my question before if you're going to keep trying with Jennifer. I mean is it over?

JACK IS STILL DISTRACTED BY JENNIFER.

JACK: Ah.... hmmm, yes, nothing's changed.

EVE: So then you're through.

JACK: Yes, yes, through. Now let's get back to what we were talking about earlier. You had a conversation with Julie and you said something that made her say Eve, Eve, Eve.

EVE: Yeah, I was just telling her that you and I are very involved in some projects together.

JACK IS STARING AT JENNIFER AGAIN.

EVE: Why don't we go someplace else and iron out the details? What do you say?

EVE GRABS JACK'S ARM AND MAKE A POINT OF FIDDLING WITH HIS TIE SO THAT JENNIFER CAN SEE.

JACK: I think we should have a little talk. But I believe in the hands-off approach.

HE REMOVES EVE'S HAND FROM HIS TIE.

JACK: This way.

HE WALKS OUT FOLLOWED BY EVE. JENNIFER IS REALLY HURT.
---
SCENE SEVEN: JACK AND EVE GO BACK TO HIS OFFICE.

JACK: Would you step into my.... or should I say.... your office? Now you can spare me the theatrics Miss Machiavelli. I know you. Would you just get to the point? Tell me what you're up to.

EVE: I have a proposal for you Jack.

JACK: You have a proposal. That's a good beginning. What is it?

JACK SETTLES DOWN IN HIS CHAIR.

EVE: A proposal of marriage to be exact.

HE LOOKS UP IN SHOCK.


JACK: What?

EVE: You and me.... what do you think?

JACK STAYS SEATED WHILE EVE PACES UP AND DOWN IN FRONT OF HIS DESK SETTING OUT HER PLAN.

EVE: You see if we get married and Julie approves of it, I will inherit all of Nick's money. That's why I met with Mickey before to find out exactly how much the inheritance was. The net amount comes to ten million give or take a few hundred thousand. That leaves you plenty to buy out Diana's share of The Spectator in exchange for helping me inherit. This way everybody wins.

JACK: Ah, if you consider winning waking up next to a tarantula every morning.

EVE: Well what do you think? Come on.

JACK: (Beat) No, no, it's nuts. It's crazy. For sure, it'll never work, it'll never work.

EVE: Jack....

JACK: Never.

EVE: Jack, do you have a better idea that will help solve our problems? Do you?

JACK: (Beat) Alright, tell me this. Who is going to convince Julie Williams that we are blissfully married?

EVE: We will.... honey, we will.

EVE STROKES JACK'S SHOULDER.

JACK: You know something, you have almost as much nerve as I have. Let me tell you something. What you are suggesting here is a match made in hell.

EVE: Jack, if we don't do this, you are going to lose The Spectator and I am not going to get my hands on my money. This way everybody's happy and everybody wins.

EVE WALKS TO THE DOOR.

EVE: Bye darling. I'll miss you.

SHE BLOWS HIM SOME KISSES THEN LEAVES. JACK BEGINS TO LOOK AT HIS MESSAGES FROM THE BANKS REFUSING HIM A LOAN. HE GIVES EVE'S IDEA SOME SECOND THOUGHTS.
[Transcribed by Carol Vaughan
added material by Sally A. Wilson]
---
---