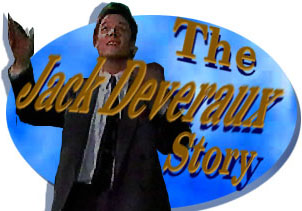 oldEpisode Two-hundred-ninety-five:"
Jennifer's Rape Trial Part I: "I
L
You:" The
Trial Begins; Remembering His Trial, and
Seeing What Jennifer Is Going Through, Tortures
Jack. Later, Jack Admits Something to Jennifer.
---
[Air date mid-June 1991]
SCENE ONE: IT IS THE FIRST DAY OF THE TRIAL, JENNIFER IS TIDYING UP AT THE LOFT WHILE SHE WAITS FOR JACK TO ARRIVE.

JENNIFER: Come on Jack, where are you? We're going to be late.

SHE PICKS UP THE PHONE TO CALL HIM BUT THERE IS A KNOCK ON THE DOOR.

JENNIFER: Jack?

SHE OPENS THE DOOR AND HE ENTERS.

JENNIFER: Oh I've been waiting for you to get here.

JACK: Yes.

JENNIFER: No don't even come in. I just.... I'm going to get my keys and my purse and we're going to leave for the courthouse.

JACK: No you're going to leave for the courthouse.

SHE TURNS AROUND IN SHOCK.

JENNIFER: What about you?

JACK: I'm not going!

JENNIFER: I don't understand. You're not going to go to Lawrence's trial with me?

JACK: Well you know me and long drawn out trials. I'd rather just show up on the day of testimony and put in my appearance then.

JENNIFER: And what about in the meantime?

JACK: In the meantime I'll be cheering you from the sidelines or great distance as it were.

JENNIFER: Well I can't believe this. Whatever happened to your promise to support me when I decided to go all the way with this Jack?

JACK: Well when I made that promise I didn't take into consideration a salient point.

JENNIFER: And what's that?

JACK: A queasy stomach. Things get kind of dicey and if I'm there in court with you and things get hectic, who knows what I might be capable of....

JENNIFER: Come on Jack. That is the lamest excuse I have ever heard. I know that you want to be there for me so why are you trying to back out?

JACK: The best way to help is not to be there.

JENNIFER: And why is that Jack?

JACK: Look even your attorney doesn't want me to be there.

JENNIFER: Look I don't care what my attorney says. I want you to be there.

JACK: Let's just be practical for a moment. Given my less than meritorious reputation in this town, the fact that you just want to.... show off your relationship with me is not going to help your case. It's going to hurt it.

JENNIFER: Well that's a risk I'm willing to take.

JACK: Okay, let's just add in the fact that I have not yet received a divorce. Not only am I a considered a moral deviant in this town, I happen to be a married moral deviant.

JENNIFER: Jack you keep forgetting something. Lawrence is the one on trial here, not you.

JACK: I think it won't take the lawyer very long to turn that around.

JENNIFER: Alright but we'll deal with that if and when it ever comes to that.

JACK: By the time we're aware of it and it comes to that, it'll be too late. Trust me.

JENNIFER: Look all I'm saying is that I really need for you to be there for me today.

HER VOICE BREAKS AS SHE TRIES TO SPEAK.

JENNIFER: Alright, I just....

JACK: In spite of everything we just said.... is it going to mean that much that I'm there?

JENNIFER: Yes. It's going to mean everything.

JACK THINKS FOR A FEW SECONDS.

JACK: Alright, let's get going. I don't want you to be late.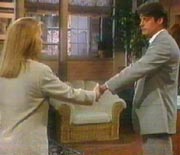 HE EXTENDS HIS HAND TO HER AND SHE GRASPS IT.

JENNIFER: Alright. Ready?

JACK: This way.

HE LEADS HER OUT.
---
SCENE TWO: THEY ARRIVE AT THE COURTHOUSE TOGETHER.

JENNIFER: Alright, so here we are. How do you feel? How's your stomach?

JACK: Oooh, it's been better, it's been worse. Yours?

JENNIFER: Well except for a few thousand butterflies, it feels fine.

GLYNNIS: Jennifer there's a couple of points that we need to go over again.

JENNIFER: Alright.

JACK: Right.

JACK GOES TO FOLLOW JENNIFER.

GLYNNIS: Sorry Jack, I need to talk Jennifer alone. Her testimony is crucial to the case and we don't need any distractions.

JACK: "Distraction?" You think I'm a distraction. Well, a disruption maybe, a pain in the neck perhaps, but a distraction, no.

JENNIFER: Jack, you know what, I'm going to be fine. You can just go inside, really. I'll be fine.

JACK: And we're all sure about that?

JENNIFER: Yeah, I'm sure. See ya soon.

JENNIFER LEAVES WITH GLYNNIS.
---
SCENE THREE: ALICE AND TOM ARRIVE AND JENNIFER TALKS TO THEM. THEY GIVE HER ENCOURAGEMENT AND TELL HER THAT BILL WANTED IT TO BE THERE FOR HER TOO, BUT HE HAS TO WORK. AFTER THEY LEAVE LAWRENCE ARRIVES. JENNIFER TRIES NOT TO BE INTIMIDATED BY HIM.
---
SCENE FOUR: JACK ENTERS THE COURTROOM. IT IS EMPTY AND HE PAUSES TO TAKE IT ALL IN. HE TAKES A SEAT RIGHT BEHIND THE PROSECUTION TABLE. SHANE AND KAYLA FOLLOW HIM IN. JACK HAS HIS HEAD HUNG LOW AND IS OBVIOUSLY DEPRESSED.

KAYLA: Jack, what's wrong?

JACK: I'll tell you what's wrong. My being here is wrong. This is not going to help Miss Horton, it's going to hurt her.

KAYLA: I don't believe that Jack. You do have a right to be here. We all do. We have a common goal and that's to see that Lawrence doesn't get away with the things he's done.

JACK IS NOT SO SURE ABOUT THAT.
---
SCENE FIVE: JENNIFER ENTERS THE COURTROOM AND SITS DOWN NEXT TO GLYNNIS WITH LAWRENCE SEATED ACROSS THE ROOM WITH HIS LAWYER. GLYNNIS TURNER MAKES HER OPENING STATEMENT FOLLOWED BY LAWRENCE'S LAWYER WHO SETS OUT TO PROVE THAT JENNIFER TRIED TO DECEIVE HIM. KAYLA GETS UPSET AT THIS AND LEAVES FOR A FEW MINUTES.
---
SCENE SIX: JACK IS SOLEMN AND QUIET AS JENNIFER IS CALLED TO THE STAND FIRST. JACK BEGINS TO FEEL THE STRESS AND LOOSENS HIS TIE AS JENNIFER BEGINS HER TESTIMONY. JENNIFER TELLS THE COURT ABOUT THE CHARADE AND THE FULL DETAILS OF THE SITUATION AND LAWRENCE'S THREATS AGAINST ALICE AND FRANKIE.


SHE EXPLAINS THAT JACK CAME TO RESCUE HER BUT WAS LOCKED UP INSTEAD. SHE SAYS THAT SHE PRETENDED SHE WAS INTERESTED IN LAWRENCE BUT THEN WHEN HE STARTED TOUCHING HER SHE SCREAMED FOR HIM TO STOP. JACK SHUTS HIS EYES AS SHE SAYS WHAT HAPPENED NEXT.


HE IS TRYING TO SHUT OUT THE PAIN. WHEN GLYNNIS IS FINISHED, LAWRENCE'S LAWYER BEGINS TO QUESTION HER. HE MAKES IT SEEM THAT JENNIFER WAS A SEDUCTRESS AND CONTINUED TO CARRY ON THE CHARADE AFTER THE WEDDING.

MARCHAND: Miss Horton, there is one more point here I would like to make. From your perspective is Lawrence Alamain on trial here because of your community's less than favorable opinion of him?

JENNIFER: No.

MARCHAND: No. He's on trial here for the crime of rape. A crime which in your own words you describe as horrible, contemptible and may I add even unforgivable. Is that right?

JENNIFER: Yes, that's right.

MARCHAND: Yes. Well I must say Miss Horton I'm a bit confused here. Perhaps you can enlighten me on this. You find this crime so unspeakable that you're willing to sacrifice yourself in prosecuting somebody whom you say has committed this crime against you. Is that not so?

JENNIFER: Yes.

MARCHAND: Yes. Can you explain then Miss Horton why, as we speak, you are presently involved in a relationship with an accused rapist?

JACK DROPS HIS HEAD TO THE FLOOR.
---
SCENE ONE: JENNIFER IS ON THE STAND AND MARCHAND, LAWRENCE'S LAWYER , IS ASKING HER WHY SHE DATING JACK WHO IS ACCUSED OF THE SAME CRIME AS LAWRENCE.

MARCHAND: Just answer the question Miss Horton. If you find rape such an unforgivable crime, how then do you justify being involved with an accused rapist yourself?

GLNNIS: Irrelevant.

MARCHAND: Not in my humble opinion your honor.

JUDGE: I'll allow the question. Miss Horton.

MARCHAND: Thank you. Shall I repeat it again? Third time's a charm.

JENNIFER: No that won't be necessary Mr. Marchand.

THIS ALL GETS TOO MUCH FOR JACK AND HE GETS UP AND RUNS OUT OF THE COURTROOM.

KAYLA: Jack.

KAYLA GETS UP AND FOLLOWS HIM.

JACK: I can see it coming.

KAYLA: Sssshhh.

JACK: You heard what he said. Everybody heard what he said.

KAYLA: Sssshhh! Take it easy.

JACK: I'm sorry, I can't do this. I really....

KAYLA: You have to. She needs you. Jennifer needs you.

JACK: Look I ca.... listening to her remember and seeing what she's going through.... and knowing what you went through when I sat in the same chair as Lawrence is sitting in now, I just.... I....

KAYLA: We really don't have to get into this Jack.

JACK: I do. I.... I.... I am sorry Kayla. I really.... I never had any idea what you went through. I guess I just.... I didn't want to.

KAYLA: Jack, look Steve was there for me. I don't think I could have got through it without him. But when I needed him, he was there. Jennifer needs you.... now.
---
SCENE TWO: BACK IN THE COURTROOM, JENNIFER IS ANSWERING THE QUESTION.

JENNIFER: Yes I heard you. Alright this has nothing whatsoever to do with what Lawrence Alamain did to me, but yes, the man I am seeing....

JACK WALKS BACK INTO THE COURTROOM.

JENNIFER: .... was once arrested for rape.

MARCHAND: And this man, Jack Deveraux I believe you said his name was.

JENNIFER: Yes.

MARCHAND: Do you have plans to marry? Are you dating?

JENNIFER LOOKS ACROSS AT JACK AS HE SITS BACK DOWN.

JENNIFER: Look Mr. Marchand, Jack is not the issue here.

MARCHAND: But he is Miss Horton, at least a part of it, yes he is. Your honor, I intend to prove here that the Salem Police department, an international organization known as ISA and the generally good hearted people of Salem as a whole, unable to reap their misguided revenge on Mr. Alamain, have consciously and willfully concocted this elaborate and ridiculous charge of rape as a last ditch effort to unjustly punish an innocent man.

JENNIFER: No, you wait a minute Mr. Marchand.

MARCHAND: Is this not true? Do you not hate Lawrence Alamain?

JENNIFER: It doesn't matter what we feel or don't feel here. What matters is that man forced himself on me. (Beat) That man forced me to.... he forced me when I said no and that is what we are trying to prove at this trial.

JACK NODS IN AGREEMENT. JENNIFER IS EXCUSED FROM THE WITNESS BOX AND GLYNNIS CALLS A RECESS. JACK STANDS UP AND FACES JENNIFER TO SHOW HIS SUPPORT.
---
SCENE THREE: AFTER RECESS THEY CALL CARLY TO GIVE EVIDENCE WHO OUTLINES THE DETAILS OF THEIR PREVIOUS RELATIONSHIP. MARCHAND MAKES IT SEEM AS THOUGH CARLY DELIBERATELY MISLED LAWRENCE.
---
SCENE FOUR: NEXT LILA IS CALLED AND JENNIFER IS FEELING POSITIVE ABOUT HER TESTIMONY. SHE SAYS THAT SHE SAW JENNIFER GO INTO THE BEDROOM WITH LAWRENCE. SHE HEARD LAWRENCE GET ANGRY AND THEN SHE HEARD JENNIFER SCREAMING. MARCHAND THEN QUESTIONS HER AND MANAGES TO UNCOVER THAT LILA WAS SECRETLY IN LOVE WITH LAWRENCE AND THIS MEANS HER PREVIOUS TESTIMONY LOOKS LIKE JEALOUSY. JACK AND JENNIFER ARE VERY UPSET THAT SHE DID NOT TELL THEM THIS BEFORE. BUT LILA CONTINUES TO SAY THAT JENNIFER SCREAMED AND LAWRENCE WOULD NOT STOP NO MATTER WHAT JENNIFER DID.

THE JUDGE CALLS A RECESS FOR TWO DAYS. THE FAMILY ALL WAITS AND GIVES JENNIFER SUPPORT WHILE JACK STAYS SEATED. AFTER THEY HAVE ALL LEFT HE MOVES OVER TO HER.

JACK: Miss Horton, I'm...I'm very sorry.

JENNIFER: I'm so glad you're here Jack.

THEY HOLD EACH OTHER TIGHT.
---
SCENE FIVE: BACK AT THE LOFT, LILA TRIES TO APOLOGIZE.

LILA: I hope you don't mind. They gave me a ride back here afterwards. (Beat) I'm really sorry.

JACK: Yes, there seems to be a lot of that going around.

JENNIFER: Jack.

LILA: You have to believe me. I never thought that that would come up.

JENNIFER: I know. We should.... let's just forget it really Lila. It's just that...

LILA: No, you've been so nice to me. I need to at least try to explain to you.

JACK: There's no need to explain. You had a thing for the guy.

LILA: It was a long time ago. At least I thought it was. I had no way of knowing they'd bring that up at the trial.

JENNIFER: Lila, listen to me. You did the best you could and I really appreciate that and no one can take that away from you. It's alright.

LILA: Well I needed to tell you that. I need to make sure you knew. I'll be leaving first thing in the morning so I won't be in your way any longer than I have to. I'll just be upstairs packing. Sorry.

JENNIFER: Lila, thank you very much.

LILA: I hope you win. I hope he gets exactly what he deserves.

LILA GOES UPSTAIRS.

JACK: Well I'd say we're this close to winning that case.

JENNIFER: Jack we are not going to win. And that was not my only reason for doing this. But I wanted to see it happen. I wanted.... I mean it should have happened.

JACK: It could have happened. It still could happen. (Beat) Excuse me, what ever happened to the Miss Horton I know?

JENNIFER: What?

JACK: The Miss Horton.... that I know. You know, blonde hair, blue eyes....

JENNIFER: They're green.... eyes.

JACK: Green eyes, five foot.... four.

JENNIFER: Four.

JACK: Yes. Always has just a little bit of hope for.... for anything even a better off dead jade plant. Yes I can picture her right now with a better off dead jade plant.

JENNIFER: Jack, come on.

JACK: (Hold the plant above his head) Holding it aloft, in the loft.

JENNIFER LAUGHS.

JACK: And just calling to it, telling it that no matter what, no matter how ugly and sorry it looks....

JENNIFER: Jack don't drop that plant.

JACK: .... it has a chance to blossom and grow.

JENNIFER: Jack let me have a look at it, Jack.

JACK: No, no excuse me. I'm waxing inspirational. Yah though it has aphids and cracked earth.... if the wind blows....

JENNIFER: Jack let me see it. Look.

SHE GRABS IT FROM HIM.

JACK: Look at what?

JENNIFER: It's a bud. It's a little bud.

JACK: What?

JENNIFER: There is a bud on our plant. (Beat) Jack, you said that if care for it and we give it enough attention and we love it, it would grow. And you were right, it blossomed.

JACK: Well it looks more like a pimple than a blossom.

JENNIFER: Jack, I have faith in this plant. Now if you care enough anything can happen.

JACK: So you're telling me that.... that little thing really cheered you up?

JENNIFER: Oh come on Jack, you know that I'm not just talking about the plant. And I know you don't like to talk about the way you feel and that's fine, that's alright. But I know that the day you came to me on the train with this plant, I know exactly what you were trying to say. I know exactly what was in your heart. And one day, I have no idea when that day is, you are going to say it. I know you're going to say it.

JACK: Well how.... how kind of you. Allow me please.

HE PUTS THE PLANT DOWN.

JACK: So you're going to be alright, I mean you're.... you're going to be alright?

JENNIFER: Huh, uh. I'm going to be fine.

JACK: Good, then you won't be.... you won't be needing anything. I mean you won't need anything here?

ACK: No. Thanks Jack.

JACK: That's very economic of you.

HE TURNS TO LEAVE THEN CHANGES HIS MIND.

JACK: Um.... there is one thing I wanted to say....

JENNIFER: Yes Jack.

JACK: Ah, you know, you know what I was going to say.

JENNIFER: Oh, are you talking about the L-word?

JACK: The L-word, yes the L-word, yeah. I tell you that I...ah.... I L you.

JENNIFER: Ah what the L-ell, I L you too Jack.

THEY BOTH GRIN.
[Transcribed by Carol Vaughan
added material by Sally A. Wilson]
---
---