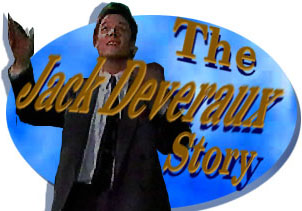 oldEpisode Three-hundred-sixty-nine:
The
Berlin Wall: Jennifer She Divides up the
Penthouse, Then Leaves for a Job Interview
in DC; She Threatens to Take the Job.
Jack Receives
Bad
News from the FBI.
---
[Air date late December 1991]
SCENE ONE: IT IS EARLY THE NEXT MORNING AND JACK IS ASLEEP IN THE HALL AGAINST THE DOOR OF THE PENTHOUSE. A NEWSPAPER HITS HIM IN THE FACE.

JACK: ARGH, don't hit me. Jennifer I hate surp.... I said I....

HE STOPS WHEN HE REALIZES IT IS A NEWSPAPER.

JACK: What the.... great now I've got a rival newspaperwoman with the arm of [It was 1991, Joe Montana was still the QB for the San Francisco 49ers] Joe Montana.

HE OPENS THE PAPER TO READ THE HEADLINES.

JACK: Oh, nothing like good news.

THE HEADLINE READS: "SPECTATOR OWNER DECKS MOHAWK CANDY HEIR."

JACK: At least they still think of me as the owner.

SUDDENLY THE DOOR OPENS AND JACK FALLS BACKWARDS INTO THE PENTHOUSE.

JACK: WHOA!
---
SCENE TWO: JENNIFER IS STANDING THERE.

JACK: Jennifer, you know I'm glad you gave me some time off and I gave you an evening to yourself. Now you can think it all over and forgive me, right?

JENNIFER: I didn't forgive you but I decided to let you stay here.

JACK: Good, because I need a shower like you wouldn't believe.

HE STARTS TO WALK IN BUT SHE PUSHES HIM BACK.

JENNIFER: Not so fast. If you're going to stay here there's a few rules that you're going to have to follow.

JACK: Rules? What rules?

JENNIFER: This is not one apartment anymore. It is two separate and distinct living areas. This is your half, that is my half.

SHE HAS STRATEGICALLY PLACED A WHITE RIBBON RIGHT THROUGH THE MIDDLE OF THE LIVING ROOM INCLUDING THE MIDDLE OF THEIR WEDDING PICTURE.

JENNIFER: This line is like the Berlin Wall. But it won't be coming down. Not in your lifetime. (Beat) So as you can see I've divided the apartment. I know it may not seem fair to you.

HE IS FOLLOWING HER AS SHE WALKS AROUND AND HIS FOOT IS ABOUT TO CROSS THE LINE.

JENNIFER: Don't step over that line Jack.

HE PULLS HIS FOOT BACK.

JACK: Wait a minute, you just stepped over that line. What about the rules?

JENNIFER: They're my rules.

JACK: Oh come on, be serious.

JENNIFER: I am very serious. Here's the blue prints of the apartment. I think it's very clearly marked which half is yours and which half is mine.

HE TAKES THE BLUEPRINTS AND STUDIES THEM FOR A FEW SECONDS.

JACK: Wait a minute, you have the whole kitchen to yourself.

JENNIFER: Yes I know.

JACK: What, you know. Come on, let's be fair. I don't have anywhere to eat. I can't eat....

JENNIFER: Would you like to sleep in a cardboard box because if these accommodations don't suit you, I can make other arrangements Jack.

JACK: You sure have enough tape to do it, don't you. But not that I mind, not that I mind, I'll just keep myself happy with my television set over here on my side.

JENNIFER: But the plug is on my side.

SHE HOLDS IT UP IN TRIUMPH.

JACK: That's it! Okay let's just talk for a minute. Let's just be adult about this and just talk.

SHE SIGHS AND DECIDES TO LISTEN. JACK THEN GOES DOWN ON HIS KNEES AT THE EDGE OF THE TAPE.

JACK: Spiachente? Pardonez moi? Ich Libe Diche?

THE PHONE RINGS.

JACK: Oh come on, I'm sorry. How many ways do I have to say it?

HE GOES TO ANSWER THE PHONE.

JENNIFER: The phone is on my side now Jack.

JACK: Well of course. How silly of me.

SHE ANSWERS IT.

JENNIFER: Hello. Dan, yeah hi, what's up?

SHE TURNS TO MAKE SURE JACK DOES NOT CROSS THE LINE.

JENNIFER: Yes, I'll be there as soon as I can. Okay.

SHE HANGS UP.

JENNIFER: I have to go over to the studio. Dan wants to talk to me.

JACK: Wait a minute, you're not going to leave me here with this abomination dividing my existence.

JENNIFER: This line represents the line that you crossed in our relationship and I am going to make sure that you never cross it again. So if you can't live by the rules then you find someplace else to live Jack.

SHE WALKS TO THE DOOR.

JENNIFER: Oh, and Jack?

JACK: Yes.

JENNIFER: If you cross that line while I'm gone, I will know.

SHE WALKS OUT. JACK IS FRUSTRATED AND SLUMPS DOWN ON THE SOFA WHERE HE NOTICES THE TAPE DIVIDING THEIR WEDDING PICTURE. HE WALKS HIS FINGERS ALONG THE TOP AND IS ABOUT TO PUT ONE FINGER OVER THE LINE WHEN HE CHANGES HIS MIND AND RESIGNS HIMSELF TO HER PLAN.
---
SCENE THREE: DOWN AT THE STUDIO, DAN TELLS JENNIFER THAT THE NETWORK PEOPLE LIKED HER WHEN THEY CAME TO TOWN AND THAT ALTHOUGH HE DOES NOT WANT HER TO LEAVE, HE CANNOT HOLD HER BACK. SHE HAS TO GO TO WASHINGTON DC FOR AN INTERVIEW AND POSSIBLE RELOCATION. SHE SAYS THAT IS *EXACTLY* WHAT SHE NEEDS.
---
SCENE FOUR: AT THE PENTHOUSE, THERE IS A KNOCK ON THE DOOR AND JACK RUNS TO ANSWER IT.

JACK: Yeah, just a minute, I.... hello.

THERE IS A VERY OFFICIAL LOOKING GUY STANDING THERE WHO HOLDS UP I.D.

FBI AGENT: Federal Bureau of Investigation. I'm Agent Mario Vitello. Are you Jack Deveraux?

JACK EXTENDS HIS HAND.

JACK: Call me Jack.

THE GUY DOES NOT SHAKE JACK'S HAND.

FBI AGENT: You can call me Agent Vitello.

JACK: Right, ah, Agent Vitello. Come right in.

FBI AGENT: Thank you.

JACK: Let me take your coat.

FBI AGENT: That won't be necessary.

JACK: Right.

FBI AGENT: Okay.

JACK: Ah, pay no attention to the line dividing the room. Just a little bit of interior decorating we're doing.

FBI AGENT: Which side?

JACK: Well both sides. But we're starting with this side. We just don't want to confuse the construction workers.

FBI AGENT: Huh, uh.

JACK: Do you have any information on who cashed in my missing stocks?

FBI AGENT: Well we don't really have a lot to go on actually.

JACK: Oh really.

FBI AGENT: The stocks were apparently cashed in a brokerage house in Muncie, Indiana.

JACK: Well that's the FBI talking. I thought that you were going to flag the certificates so that when somebody tried to cash them you would know what they were and you would....

FBI AGENT: Mr. Deveraux, bulletins were sent by the Bureau to brokers all around the country. Unfortunately the brokerage house in Muncie misplaced the communiquØ.

JACK: Misplaced the communi....

FBI AGENT: Huh, huh.

JACK: MISPLACED THE COMMUNIQUü! But that's five million dollars I've got missing because some stupid low level bureauc.... bureaucrat.... misplaced the communiquØ.

FBI AGENT: Yep, that's about the size of it.

JACK: I don't believe this. (Beat) Well you were hopefully able to identify the person who did this.

FBI AGENT: We've already send agents to Muncie to question all the employees at the brokerage house.

JACK: Well good.... I'm sure there's more that you could be doing.

FBI AGENT: Yeah, there's a few more things but I tell you what, before we get into that Mr. Deveraux, I have some questions for you.

JACK: Que.... questions about what?

FBI AGENT: Well according to the preliminary investigation by the Bureau on this case, it seems that you were a willing participant in a major stock swindle. That's violation of Federal law Mr. Deveraux. Are you aware of that?

JACK: Um.... there's been a little communication problem here. I'm the victim, not the perpetrator. I.... I.... I told you guys that.

FBI AGENT: Well to quote a clichØ, but that's kind of what they all say Mr. Deveraux.

JACK: Wait a minute, I am innocent. I'm not guilty. I didn't do anything.

FBI AGENT: I certainly hope not because if you're prosecuted you could be looking at a very long stretch in a Federal penitentiary.

THE GUY LEAVES.
---
SCENE FIVE: JACK ARRIVES AT ALICE'S RESTAURANT. HE GETS COMFORTABLE IN A BOOTH WITH A CUP OF COFFEE AND DOES NOT SEEM TO WANT TO LEAVE.

ALICE: Jack? What is going on here? Why are you dressed like that and why aren't you at work?

JACK: I can't go back to work until I get my money back.

ALICE: But don't you think the way to do that would be to try to get the paper back on it's feet again?

JACK: If I get my money back, I get a lot of things back on its feet, including the newspaper.

ALICE: But from what Jennifer told me, she doesn't think you'll ever get any of that money back.

JACK: Well that shows what Jennifer knows doesn't it? I tell you something, I'm not going to stop until I get the people who just screwed up my life for the last couple of months and I'll be able to prove to Jennifer that none of this was my fault.

ALICE: Now Jack, look, you had better get your act together and be responsible for the mistakes you made. That's all Jennifer wants. She wants you to be a responsible person.

JACK: Yes, that's what she says but she doesn't let me do it.

ALICE: She is still very hurt.

JACK: I never meant to hurt her but she won't even let me tell her that. She won't let me say anything to her.

ALICE: Stop trying to tell her. Show her.

JACK: What do you think I've been trying to do? I don't know what to do. You tell me what to do.

ALICE: Jack, I don't know either. But all I know is that no matter what Jennifer is telling you now, no matter what she's feeling, she loves you.

JACK: Heh, well the last 48 hours I wouldn't be so sure of that.

ALICE: Oh Jack, don't be silly. Of course she loves you. That's why she's been so hurt. But if you want her back, you have to prove yourself. You have to show her she can trust you.

ALICE LEAVES JACK TO THINK ABOUT WHAT SHE SAID. WHILE HE IS SITTING THERE, GINGER COMES OVER AND JUST SITS DOWN OPPOSITE HIM.

JACK: Excuse me, but this booth is taken.

GINGER: It is now. We have to talk.

JACK: I beg your pardon.

GINGER: I said we have to talk.

JACK: I can't imagine anything that we'd have to talk about that we'd have in common.

GINGER: Oh come on, everybody knows that you're having one hell of a time with Jennifer and part of it's due to Hawk.

JACK: Everyone knows? I see that you've been reading the papers.

GINGER: Yeah and you put on a nice show over at Wings.

JACK: I don't think that is any of your business.

GINGER: I'm making it my business because I can help you.

JACK: You can help me? (Beat) You know you actually could help me. I'm out of coffee. It does say here on the menu that you have a bottomless cup deal and I do believe I'm seeing the bottom.

GINGER: You better listen to me Deveraux because your financial future and your marriage is ridin' on this.

JACK: Look, Miss.... um whatever your name is, I appreciate your concern but not at this time thank you.

JACK GETS UP TO LEAVE.

GINGER: Now wait a minute.

JACK: No, no, I don't think I'll be needing that cup of coffee after all. If anyone comes looking for me, I'll be down at the bakery.... smelling the bread.

HE WALKS OUT AND GINGER IS MAD.
---
SCENE SIX: JACK RETURNS TO THE PENTHOUSE. HE HAS BORROWED A PALE PINK COAT OF JENNIFER'S TO KEEP OUT THE COLD AND HE IS STILL WEARING IT AS HE COMES IN.

JENNIFER: Ah, I was wondering where that coat went.

SHE HOLDING A SUITCASE. JACK IS WORRIED THAT SHE IS LEAVING HIM.

JACK: Yeah well.... what's with the suitcase? Where are you going?

JENNIFER: Going to Washington DC.

JACK: Washington DC?

JENNIFER: Huh, uh.

JACK: Why?

JENNIFER: Because I have a job interview first thing in the morning.

JACK: Wait a minute, you don't seriously plan to get a job away from Salem?

JENNIFER: Well that's why I'm going.

JACK: But what about us?

JENNIFER: That's why I'm going.

JACK: Wait, we have to be together.... to work this out. Jennifer we.... isn't that what you want to do? Work this out?

JENNIFER: I don't know. I really don't know.

JACK: Jennifer, you.... you.... I don't believe you.

SHE WALKS BACK TO THE BEDROOM.

JACK (CONT.): Wait a minute, don't.... listen, I'm telling you.... I'm changing.... I'm trying....

HE REACHES THE LINE DIVIDING THE APARTMENT AND STOPS.

JACK (CONT.): I wish I could change. Come on now, I don't believe any of this. I KNOW HOW YOU FEEL. I KNOW THAT YOU.... YOU LOVE ME.... because.... because.... because your grandmother told me so.

HE WAITS ON HIS SIDE OF THE LINE UNTIL SHE COMES BACK OUT.

JACK (CONT.): Come on Jennifer, alright. Enough of the silent treatment. I know you heard what I said.

JENNIFER: Yeah, you're right, I heard every word you said Jack. You obviously haven't heard a word that I've said.

JACK: No, no. I heard every word that you said. I just don't believe it because that's wrong.

JENNIFER: I am not wrong. You have not done one thing to show me that you are taking responsibility for your mistakes. You've done nothing to help the paper not to mention the people who work there, who work for you, Jack. All you care about is the money. That's it.

JACK: That's not true. I care.... yes I care about the money. I care about the money because if we can get that money back we don't have to worry about the paper or the people who work at the paper or any of those.... any of the other problems that....

JENNIFER: That's it! That's it Jack. I am out of here.

JACK: No, Jennifer, you don't....

JENNIFER: DON'T YOU STEP OVER THAT LINE! (Beat) Now I am going to Washington and I am going to see what this job is all about and I will be back. And there better be a drastic change in you when I get back or we have no future.

JACK IS TERRIFIED, THAT SHE IS FINALLY LEAVING HIM FOR GOOD.

JACK: When will you be back?

JENNIFER: When I get here. That's when I'll be back! (Beat) In the meantime you have a choice to make and if you make the wrong choice, I'm taking that job.

JACK: Jennifer....

JENNIFER: I mean it. You have let me down for the very last time Jack.

SHE PICKS UP HER THINGS AND WALKS OUT. AS SHE GETS IN THE ELEVATOR, SHE FEELS SOME REGRET.

INSIDE JACK IS LOOKING ONCE AGAIN AT THE DIVIDED WEDDING PICTURE.



HE IS SAD AND LONELY.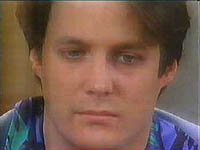 [Transcribed by Carol Vaughan
added material by Sally A. Wilson]
---
---