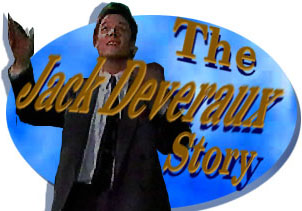 oldEpisode Three-hundred-sixty-nine:
New
Year's Eve 1991: Jack Slugs Baby Howie;
Later, He Wishes Jennifer a Happy New Year's.
---
[Air date December 31, 1991]
SCENE ONE: IT IS LATER THE SAME DAY, DECEMBER 31ST, JENNIFER HAS WALKED OUT ON JACK AND HAS GONE TO ALICE'S RESTAURANT; HOWEVER, JACK HAS BEEN FOLLOWING HER.

JACK: Jennifer!

JENNIFER: Will you please? I don't want to listen to you, I don't want to talk to you, I don't even want to see you.

JACK: Huh, huh.

JENNIFER: I want to eat and I want to eat alone. And if I can't do it here then I...

JACK: Where are you going to go? Everywhere you go I can go too. You're going to go to Julie William's little party over at Wings? I'll go there too.

JENNIFER: If you show up there, you're going to have to take her on.

JACK: Really.

JENNIFER: Huh, huh.

JACK: I tell you one reason you're not going to go. You're not in the mood to go to a party right now.

JENNIFER: Maybe I'm not but it's better than standing her arguing with you Jack.

JENNIFER WALKS OUT AND VERN COMES IN TO HAVE A COFFEE WITH JACK.

VERN: Don't even ask Jack. I don't do favors for people who walk out on their friends. And after what you did to Jennifer, you don't deserve it. So Mr. Deveraux, if you'll excuse me, I have to go take care of what's left of a great metropolitan newspaper.

JACK: Wait a minute Vern. Things have changed.

VERN: Oh give me a break!

JACK: No, I have changed. I realize what I did was wrong. Was absolutely totally wrong. Even if I did it for the best of reasons.

VERN: Now look Jack....

JACK: Because I did it to protect.... to protect Jennifer. So take me out and shoot me. I don't care because deep down my heart was in the right place. And it always has been.... except.... except sometimes.... some.... every now and then some little.... Vern, the point is, I never stopped loving her, never.

VERN: So the longer you were away, the deeper your emotions grew, right?

JACK: That's right. That's abso....

VERN: Heheh!

JACK: Vern, why don't you believe.... (Dejected) well if I can't convince you I know I can't convince Jennifer.

VERN: Oh please.

JACK: Look I understand you. Your feelings about this whole thing. I understand why you feel the way you do about me.

VERN: No.... no I don't think you understand Jack. I'm not sure I do. Quite frankly, I never thought, not on this earth, I'd ever be saying these words again. But heaven help me, I believe you.

JACK: You do?

VERN: Well look at you.

JACK: Careful, remember this suit is yours.

VERN: You see, you make no sense out of anything so you must be telling the truth.

JACK: I...I am. Vern I am telling the truth. You know you're an astute judge of character, you know that? Did anyone ever tell you that?

VERN: Oh here we go again.

JACK: If you believe me and I know that you do, deep down you want to help me. Deep down you want to get to the bottom of this thing. Now who is responsible for this whole mess? I mean for taking my money and coming between Jennifer and myself?

VERN: Hawk!

JACK: See, that's right. You like him even less than I do.

VERN: Okay, okay, if it'll get you off my back, I'll show you where he lives.

JACK: Wait a minute. Vern, from the bottom of my heart, thank you.

VERN: Jack do me a favor.

JACK: Yeah.

VERN: Don't be sincere. It gives me heartburn.

JACK: Oh really? Don't worry Vern, I'll take you to the pharmacy and we'll get you something for that. Come on, just follow me. Right this way.

JACK AND VERN LEAVES ALICE'S.
---
SCENE TWO: JUST ABOUT THE TIME THAT JENNIFER ARRIVES AT JULIE'S PARTY AT WINGS.

JENNIFER: Well since our conversation I think the last place Jack is going to show up is here.

JULIE: Oh I'm sure you're right.

JENNIFER IS ENJOYING WATCHING ALL THE PEOPLE DANCING WHEN HAWK WALKS UP BEHIND HER. HE IS ALL DRESSED IN A TUX AND IS BACK TO HIS USUAL SMOOTH LINES.

HAWK: I'm not much for crowds, I guess. Are you?

JENNIFER: I'm doing fine on my own.

HAWK: Ah, still angry at me, huh? Stupid question.

JENNIFER: But you asked anyway, right?

HAWK: Just tell me, am I public enemy no 1 or 2?

JENNIFER: What's that supposed to mean?

HAWK: Are you still angry at Jack?

SHE TURNS AWAY.

HAWK: Well I guess that answers that question. Now, anyway I'm not going to bother you anymore tonight.

HE BEGINS TO WALK AWAY BUT HAS ONE MORE COMMENT.

HAWK (CONT.): But you know what, I tell you what, if you ask me, I think you ought to just give the guy a break. I mean not all of those bonds, they weren't all cashed in right? I mean you and Jack could still end up getting some of the money back.

JENNIFER: For your information, they have all been cashed.

HAWK: They have?

JENNIFER: Yes, they have. And they have no leads on who stole them from us. And our marriage is as good as over and I would really like to be left alone for the rest of the night.

SHE WALKS AWAY.
---
SCENE THREE: MEANWHILE, JACK AND VERN ARE INSIDE HAWK'S APARTMENT AND JACK IS SEARCHING FOR SOME CLUE TO HAWK'S CON.

VERN: Jack hurry up before we're arrested for breaking and entering.

JACK: Just give me two more minutes. It's not easy to think like Howie. I've got far too many brain cells for the job.

VERN: Hehe ! Meanwhile he took you for everything you're worth.

JACK: Vern, I am not leaving this apartment until I find the clues that are going to lead me to my money and my stocks. It's just not easy to do with all these damn decorations around here. I never figured this guy for a deck the halls type.

VERN: Hey I think I found something.

JACK: Where, where, don't touch it, don't touch it. It's a clue. It's a clue.

VERN HAS FOUND A NOTE PAD.

VERN: What?

JACK: Yeah, look at this, look at this.

THEY BOTH LEAN IN TO LOOK AT THE PAD.

JACK: Okay, I'm going to rub it with this pencil and the indentation will bring up the little note. I learned this in the Cub Scouts.

VERN GIVES HIM A LOOK.

JACK: I did.

JACK RUBS THE NOTE PAD.

JACK: See, right there. Look it says "Dear Jennifer".... Dear Jennifer? (Beat) "Dear Jennifer, thank you for the decorations. It makes me feel a little less".... "lonely"...." this holiday season."

JACK IS SOMEWHAT HURT THAT JENNIFER WENT OUT OF HER WAY TO DO THAT FOR HAWK.

VERN: So Jennifer did all this then.

JACK: That's the way it seems.

VERN: Jack.

JACK: Well I guess he was after a little more than just my money wasn't he?

VERN: What the hell are you talking about?

JACK: That little lying snake in the grass.

JACK PICKS UP THE PHONE.

VERN: Who are you calling?

JACK: That little lying snake in the grass.

MOLLY: Happy New Year, Wings. How may I help you?

JACK: Hello, this is Jack Deveraux. Is my wife there?

MOLLY: Oh hi, yes she sure is.

JACK: Good, ah, if she's not too busy, could she come to the phone?

MOLLY: Oh I sure will get her. I think she's talking with Hawk. Hold on just a second.

JACK: Hawk! Howie, Hawk, you mean Howie Chicken Hawk Howie?

MOLLY: Oh yeah but I'm sure she wouldn't mind.

JACK: Don't worry about it. I never called. Forget about this call.

MOLLY: Are you sure?

JACK: Dead sure.

JACK HANGS UP.

VERN: What, what?

JACK: You go back to the newspaper. I've got to make a.... I've got to make a visit.... a personal visit.

VERN: What, what?

JACK RUNS OUT WITH VERN FOLLOWING.
---
SCENE FOUR: DOWN AT WINGS IT IS GETTING CLOSE TO MIDNIGHT WHEN JACK ARRIVES.

CARLY: Jack, hi!

JACK: Hi, happy, happy New Year.

AT THAT MOMENT, JENNIFER DROPS HER BAG AND HAWK IS THERE TO PICK IT UP.

JACK STARES AT HIS ANTICS.

HAWK: I've got it. It's the least I can do.

JENNIFER: Thank you.

HAWK: You bet.

JACK: Excuse me.

JACK HAS HAD ENOUGH. HE WALKS UP, PULLS HAWK AROUND TO FACE HIM AND HITS HIM SQUARE ON THE JAW WITH A HARD LEFT. HAWK FALLS TO THE FLOOR AND KNOCKS OVER SOME GLASSES.
---
SCENE FIVE: JACK HAS JUST RUN INTO WINGS AND SAW JENNIFER AND HAWK TOGETHER, GETTING THE WRONG IDEA, HE HAS JUST PUNCHED HIM SQURE IN THE JAW. EVERYBODY SCREAMS INCLUDING JENNIFER.

JACK HAS REALLY HURT HIS HAND AND IS HOLDING IT TIGHT AND BLOWING ON IT. MARCUS RUNS TO HELP HAWK.

JENNIFER: What in the world are you doing Jack?

JACK: What do you mean, what do you think I'm doing?

JENNIFER: What is wrong with you?

JACK: There is nothing wrong with me. He was....

JENNIFER: Marcus is he going to be alright?

MARCUS: Actually....

HAWK IS NOT THAT HURT, BUT HE USES THE OPPURTUNITY TO PRETEND HE IS AND THUS GAIN SYMPATHY FOR EVERYONE THERE, ESPECIALLY JENNIFER; AND TO TRY AND GET JACK INTO EVEN MORE TROUBLE.

HAWK: Oooooh I might have pulled my back out again.

JACK: Oh don't even start that. Don't even try it this time Howie.

MARCUS: I think if we put a little ice on that eye and a little heat on that back, I think you'll be alright Howie.

BRIAN: Okay, okay, time out here, alright. Jack, what's going on here? Obviously, Mr. Hawkins you want to press charges here?

JACK: Charges!

BRIAN: What's going on?

HAWK: Ah, well I think that will be alright I guess. I just want to get out of here and get home.

MARCUS: Here let me help you. Come on.

JENNIFER: Is he going to be alright?

MARCUS: Yeah he'll be alright.... Jack.

MARCUS GIVES JACK A LOOK OF DISGUST.

JACK: What ?

JENNIFER: Do you want me to help you Marcus?

JACK: Jennifer, listen we'll just go right now. We'll just get out of here. We can go and we can....

JENNIFER: No we can't just get out of here. I want to make sure he's alright.

JACK: Listen we'll just go and we can....

JULIE: Not so fast Mr. Deveraux.

JACK: Don't worry. I will write you a check first thing in the morning.

JENNIFER: Well I hope it's not on The Spectator account.

JACK: Just take it easy. I'll just get you some cash for that.

JULIE: In full by the end of the business day tomorrow or you have a permanent job as my dishwasher Jack.

JACK TURNS TO JENNIFER.

JACK: Ah, madam, you wouldn't mind if I got an infinitesimal, a temporary loan if you will.

JENNIFER: No!

JACK: What's the matter with you? YOU'RE MY WIFE!

JENNIFER: This is hardly the time for insults Jack.

JACK: Wait a minute, Jennifer....

SHE TURNS AWAY FROM HIM JUST AS JULIE ANNOUNCES THAT IT IS ALMOST MIDNIGHT.

JACK: Look at least do me the honor of looking in my general direction when I beg.

JENNIFER: If I look in your direction I will kill you.

JACK: Jennifer, please.... please? Let's just call a truce. Just for now, just for this moment. Just for midnight.

JENNIFER: No.

JACK: Why not?

JENNIFER: Because I'm not going to be here for midnight Jack. I'm going home.

SHE WALKS OUT.

JACK: Ah, wait a minute.
---
SCENE SIX: HE FOLLOWS HER OUT ONTO FISHERMAN'S WHARF.

JACK: Jennifer, wait a minute, wait. Listen you have to know how dangerous it could be walking out here.

JENNIFER: Yeah it could be just as dangerous inside sometimes too Jack.

JACK: Jennifer, you....

JENNIFER: Goodnight.

JACK: Wait a minute! (Beat) I know what you think of me. But no matter what you think, or what you're thinking or what you're thinking about thinking I....

JENNIFER: You what?

JACK: I love you.

JENNIFER: (Beat) So you say.

JACK: So I say. (Beat) I say it because I mean it. I do.

JENNIFER: Well maybe you do Jack but you still have a long way to go to prove it. A long long way.

JACK: Wait a minute, look I know that maybe words aren't everything. I mean sometimes they aren't anything at all but.... sometimes talk comes cheap, I know that.

JENNIFER: For some people.

JACK: Yes, for some people talk does come cheap. (Beat) I know what it's going to take to make this up to you. I know what it's going to take. I know what it's going to take to show you how I feel and it's.... oh I don't know, maybe.... maybe this is a start.

HE LEANS DOWN AND KISSES HER TENDERLY AND PASSIONATELY. HE THEN TAKES HER FACE IN HIS HANDS AND CONTINUES TO KISS HER WITHOUT ANY RESISTANCE FROM HER.

HE BREAKS AWAY AND LOOKS INTO HER EYES.

JACK: Maybe.

HE WALKS AWAY LEAVING HER FEELING LONELY AND SAD WITHOUT HIM.

[Transcribed by Carol Vaughan
added material by Sally A. Wilson]

---

---