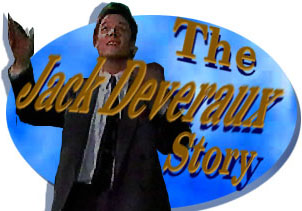 oldEpisode Four-hundred-five:
Jennifer Has an Ultrasound, Jack Is
Overcome with Emotion Hearing Their
Baby's Heartbeat; It Makes Him More
Depressed That He Never Will See the Baby.
---
[Air late April 1992]
SCENE ONE: JACK AND JENNIFER HAVE GONE TO THE HOSPITAL FOR AN ULTRASOUND. JENNIFER IS SITTING ON THE BED READING A MAGAZINE WHILE JACK PACES.

JENNIFER: Well that's about the tenth time that you've checked your watch Jack.

JACK: They lied to us. I mean it's as plain as the nose on your face. They lied to us. I mean if they had said that we were going to be here for five or six hours, then I would have brought some snacks and some reading material.

JENNIFER: Jack I told you that the hospital has been understaffed since all the layoffs. We just have to be patient.

JACK: You be patient. I have to go.

JENNIFER: Oh no. You're not getting out of this Jack.

JACK: Look this is your appointment. I don't know why you need me here.

JENNIFER:

I always need you. And so does this baby. And like it or not Jack Deveraux we are in this together and from now on we are going to share every moment of our child's life.
SCENE TWO: SOME TIME LATER, THEY ARE STILL LEFT WAITING AND JACK TAKES A PEEK OUTSIDE THE DOOR TO SEE IF ANYBODY IS COMING.

JENNIFER: You know it's funny because I hear my grandparents talking about how wonderful it is growing old together and having grandchildren together and I used to think what's so wonderful about that. It sounds so boring.

JACK:

I'm sorry but is there a point to all this?

JENNIFER:

Well yeah, I'm just saying that being pregnant has changed me so much Jack. I mean I think I suddenly understand what it means to look forward to your children growing up and building a family and thinking about your children's future. I mean growing old together suddenly has a nice ring to it.

JACK: Ah, what, I don't understand. You really.... you want to believe that we're going to live forever? Is that it?

JENNIFER: No, I mean I know that that's not possible. I would hate to think what life would be like without you.

JACK: Heh, I'm sorry, I mean you.... you go the other way that you want. Sure it's fine, if we're going to live together.... forever.

JENNIFER: I didn't mean to bring it up. I mean I was just thinking about it with the baby and all.

JACK: Yes, the baby. Of course. It's all about the baby and you're worried about the baby.

THE DOCTOR ENTERS.

DOCTOR: Hi there. Sorry to keep you waiting.

JENNIFER: Hello Dr. Lovett.

JACK: You know somehow I don't think you're really that sorry, doctor. Otherwise why would you keep us waiting in this claustrophobic little room so long unless you really thought that people out here don't have anything better to do with their time. I mean some of us have other things to do than WASTE OUR PRECIOUS TIME.

JACK IS MAD.

JENNIFER: Dr. Lovett, this is my husband Jack. Um, he's not one of the more patient people in the world but especially since I've gotten pregnant. You know he's a first time father. You know how it is and he's just very anxious to make sure that everything's going smoothly. That's all.

JACK: Yes, I'm anxious to leave. That's what I really am.

DOCTOR: Jack, clichØ as it sounds, try to remember, this baby is a new beginning.

JENNIFER: You know Dr. Lovett is right Jack. We have a lot of exciting years ahead of as a family. The best is yet to come.

DOCTOR: Ready for the fun part?

JENNIFER IS LYING DOWN WITH HER TUMMY EXPOSED READY FOR THE ULTRASOUND. JACK IS FIDDLING WITH EQUIPMENT IN THE ROOM.

JENNIFER:

Yeah. Jack, Jack, come here, stop playing with that. Come over here.

JACK: Yes, ah, excuse me, is this going to take very long? I mean I have....

JENNIFER: Sssssh. Stop it Jack, just hold my hand, okay. Just pay attention.

THE DOCTOR STARTS THE ULTRASOUND.

JACK: What is that? It looks like a....

SUDDENLY THE FETAL HEART BEAT COMES OVER THE SPEAKER.

JENNIFER:

Is that it? That's really.... do you hear that? Jack do you hear that? That's our baby moving around inside.

JACK IS PRETTY DUMBFOUNDED.


JACK: It's our baby.... it's our baby.... ours.
JACK:

I heard a child's heartbeat. Of the child I'll never get to meet.

JO: Jack don't say that. Now that's just not true. There has got be some mistake.

JACK: I told you there is no mistake. I told you earlier. I have proof. I saw my medical records at the hospital. Black and white. Just four little words. Six months to live.

JO: Oh my god.... oh my God.

JACK: Yes.

JO: Oh Jack, what did.... say when you told her?

JACK: I didn't tell her. No point in telling her, she already knows.

JO: Oh son, you don't still believe in that conspiracy theory, do you?

JACK: Perhaps I was wrong about you and possibly even Vern but not Jennifer. She knows. There's no doubt about it.

JO: Why don't.... why don't you talk to her about it?

JACK:

Why won't she talk to me about it? She can't. She's upset, she can't admit it. She keeps talking about.... the two of us growing old together. (Beat) Well if that's what she wants to believe, then that's fine. Far be it for me to ruin if for her. I'll just do my best with the time I have left. Try to create some value. Perhaps.... leave something that Jennifer and the child can be proud of after I'm gone.
SCENE FIVE: IT IS LATER THAT DAY, JACK IS ON THE PHONE AT THE APARTMENT.

JACK: Vern, look, I just want you to talk to those bankers/owners and convince them that it's time to get to work on this paper. Tell them that we will work around the clock to make The Spectator the best paper in Salem. We'll do.... no listen.... not one of these days. I don't have time for one of these days.

JENNIFER COMES HOME.

JACK: Ah.... Vern could you hold for a minute. (Beat) Ah, yes. Thank you.

HE HOLDS THE PHONE AWAY FROM HIS EAR.

JACK: Hi.

JENNIFER: Hi.

JACK: Long time no see. I missed you.

JENNIFER: Well we just saw each other a couple of hours ago.

JACK: Well I.... guess a couple of hours seems like a lifetime.

JENNIFER: Was that Vern you just put on hold?

JACK: Ah, yes.

JENNIFER: Well why don't you finish your conversation with him and I'll go get changed.

JACK: Yes.

SHE GOES INTO THE BEDROOM AND JACK GETS BACK ON THE PHONE.

JACK:

Vern? You still there.... yes. Now look as I was saying, we've got to get.... we.... listen. I don't care. We have to convince them that now is the time to do something with

The Spectator

. With bigger, louder, flashier, splashier headlines. I mean something that will make the people of Salem stand up and make them think that their day is not complete without

The Spectator

. And the important thing, tell them.... tell them that now is the time. We can't wait. I can't wait.