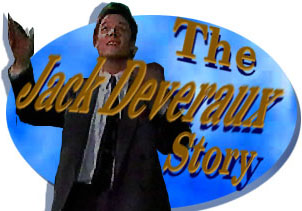 oldEpisode Four-hundred-thirty-six: " Think
of the Ratings:"Jack Surprises Jennifer
in New York; They Spend a Wildly
Passionate Afternoon Making Love.
---
[Air date early September, 1992]
SCENE ONE: JACK HAS JUST ARRIVED IN NEW YORK TO VISIT A VERY PREGNANT JENNIFER. SHE GIVES HIM A HUGE HUG WHEN SHE SEES HIM AT THE DOOR. SHE HOLDS HIM SO TIGHTLY, SHE NEARLY CHOKES HIM.

JENNIFER: (Laughing with excitement) Oh Jack.... I can't believe it..... I can't believe your really here.

JACK: (She is choking him) Jennifer.... Jennifer.... uhhh.... uhhh...

JENNIFER: What?

JENNIFER LOOSENS HER GRIP ON HIM. SHE FINALLY REALIZES THAT SHE WAS SQUEEZING HIM SO HARD SHE WAS CHOKING HIM.

JENNIFER: I'm sorry.... I'm sorry, I'm just so happy to see you! I can't believe that you're here

JACK: Ahh, perhaps you'd be happier to see me inside.

JENNIFER LEADS JACK INSIDE THE ROOM, HE STUMBLES IN, CARRYING HIS HEAVY SUITCASE AND THE FLOWERS HE BOUGHT FOR HER.

JENNIFER: Oh, I'm sorry. I'm sorry.

JACK: Yes.

JENNIFER: Come on in.(Giggling) Okay.

JACK HAS PUT DOWN HIS SUIT CASE, AND IS ABOUT TO GIVE JENNIFER THE FLOWERS, BUT THEY ARE SQUASHED. HE TRIES TO REARRANGE THEM.

JACK: Ah, these.... or what's left of them are.... (He clears his throat) for you.

JENNIFER IS LEERY. JACK NOTICES HER LESS THAN EXCITED REACTION.

JACK: Flowers?

JACK:Yes, ahh.... if you don't like them (He motions with his hand) I can return them to the vendor down the street.

JENNIFER: No!

JACK: He only charged me....

JENNIFER: (Slightly worried) ....no, you see the only time you give me flowers is when you do something to make me mad. (Beat) What is it Jack?

JACK: Nothing! I haven't done a thing. The only thing I could be guilty of is missing your presence in my daily life.

JENNIFER IS RELIEVED.

JACK (CONT.): That's it. You believe me, don't you?

JENNIFER: (Holding onto the bouquet) Yes. Yes I do believe you.

JACK: Good.

JENNIFER: (Looking at him with great love) And I love you. I love you so much.

JACK: (Staring back with great love) I love you too.

JENNIFER GIVES HIM ANOTHER BIG BEAR HUG.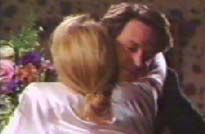 JENNIFER: Gosh, this is just.... I can't believe that you surprised me like this. I mean you must have been reading my mind. I have.... I have been so lonely for you.

JACK: Well I.... actually I can't take all the credit for it. This was some of your grandparent's doing.

JENNIFER: Really?

JACK: Not that I don't think about it day and night. I mean I've thought about getting here but....

JENNIFER: Well I know, but....

JACK: But we both realize that with my new position at The Spectator I can't afford to save money and take expensive trips at the same time so your.... your grandparents insisted that I take the ticket.

JENNIFER: Well you know Jack I think that was very sweet of them to do that. How long are you going to stay?

JACK: Would you believe a week?

JENNIFER GASPS IN DELIGHT.

JENNIFER: Oh, well that is going to give us plenty of time to get reacquainted.

JACK: That's my thinking exactly.
---
SCENE TWO: AFTER A FEW SECONDS OF AWKWARD STARING SHE RUNS INTO HIS ARMS AGAIN BUT AS THEY HUG THE BABY KICKS UP A STORM.

JENNIFER: Heheheh. (Beat) Oh.... oh.

JACK: Oh.

JENNIFER: Did you feel that?

JACK: I most certainly did.

JENNIFER: Hahahahah.

JACK: I think the baby's grown and.... so have you.

JENNIFER: I know. I know Jack, I'm huge right now. You don't mind, do you?

JACK: Why would I mind?

JENNIFER: Well it's hard. I mean, I'm fat and I'm bloated and....

JACK: You're beautiful!

JENNIFER: Jack, I'm big! And I'm going to keep getting bigger. I mean I still have two months left.

JACK: Two months, two months. Let's see this.... that's.... why that's sixty shopping days to the big event. So the question is, would it be more prudent to buy something for you first and the baby next or something for the baby first and then get something for you.

JENNIFER: I thought that you were trying to save money.

JACK: Well I am but um, there are always somethings worth wasting money on.

HE BENDS DOWN NEXT TO HER STOMACH.


JACK: You did hear that didn't you? In there?

JENNIFER: You know I don't think he cares about money.

JACK: Well if that's the case, he's not mine. (Beat) That's a joke.

JENNIFER DOES NOT FIND IT AMUSING. SHE IS HURT.

JENNIFER: I know but it's not a funny one.

JACK: Yes, but it was a joke just the same, so sorry.

JENNIFER: And I'm forgiving you only because I'm so glad that you're here. And Jack.... oh Calliope's going to be so excited to see you. I mean this is going to be so great. I'm going to bring you to the studio later and you can watch us tape a whole show and....

JACK DOES NOT LOOK TOO HAPPY ABOUT THAT.


JACK: How much later is later?

JENNIFER: Well I mean not for a couple of hours, why?

JACK: Well I.... had some other ideas of how I'd like to spend the time right now.

JENNIFER: (Pretending not to know what he means) Oh, really, how?

JACK: Perhaps I could illustrate it for you.

HE TAKES HER FACE GENTLY IN HIS HANDS AND KISSES HER PASSIONATELY.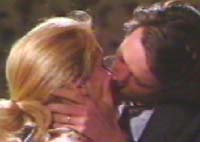 JENNIFER: Oh, that! I remember that.

JACK: Yes, yes, that.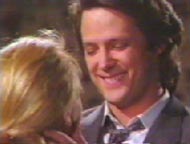 HE KISSES HER AGAIN BUT THE ROSES SHE IS HOLDING GET IN THE WAY. HE PUTS THEM ASIDE. AFTER ALL THEIR HUGGING THE FLOWERS ARE NOW IN REALLY BAD SHAPE.

JACK: Yes, well for the flower vendor.

JACK THROWS THE FLOWERS AWAY AND GOES BACK TO KISSING HER.
---
SCENE THREE: CLOTHES ARE STREWN ALL OVER THE FLOOR AND BED. JENNIFER CAN BE HEARD GIGGLING WITH PLEASURE. JACK AND JENNIFER ARE IN BED, CUDDLING, AFTER HAVING MADE LOVE. JENNIFER CONTINUES TO GIGGLING. JACK HAS HIS ARM AROUND HER.

JACK: (reacting to her giggling) I beg your pardon. Excuse me, is this appropriate response ma amour?

JENNIFER: I'm sorry if I'm a little--

JACK: Giddy?

JENNIFER: I mean it has been awhile Jack.

THROUGHOUT THERE CONVERSATION, JACK CONTINUES KISSES HER FACE AND PLAYS WITH HER HAIR; AND CARESSING HER; JENNIFER GIGGLES.


JACK: (Thinking) Yes this is true.

JENNIFER: You know what I hope the hotel doesn't charge us for (Looking down towards the floor) breaking that lamp.

JACK: Ohhhh, I wouldn't worry about that I sure when the star of the big TV show explains they'll understand.

GIGGLING, JENNIFER TAKES A PILLOW AND PLAYFULLY HITS JACK IN THE FACE.

JENNIFER: Yeah, right!

JACK: One thing you better understand. Is when you hit someone one they are very liable to hit back.

JENNIFER: (Trying to hide) No. Jaaaaaacccck!

JACK PICKS UP THE PILLOW AND PRETENDS TO HIT HER, BUT INSTEAD LEANS OVER AND GIVES HER A PASSIONATE KISS ON THE MOUTH.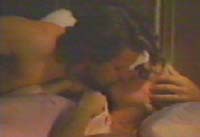 THEY CONTINUE TO KISS PASSIONATELY. JACK THEN KISSES HER FACE, AS JENNIFER SIGHS WITH PLEASURE.

JENNIFER: This is sooo nice you know. (Sighing) Being together and lying here like this.

JACK CONTINUES TO KISS HER.

JACK: Yeah I know. (Still kissing her) One wonders what every afternoon would be like if we could do this.

JENNIFER: Hmm Hmmm.... Do you think we'll get a chance to lounge around like this once the baby is born?

JENNIFER GRINS. JACK STOPS KISSING HER AND THINKS [THIS SEEMS LIKE AN IN-JOKE BETWEEN MATTHEW AND MISSY]

JACK: I'd say that's rather doubtful.

JENNIFER SMILES AND SHAKES HER HEAD. JACK KISSES HER SHOULDER.

JENNIFER: Well, then maybe we should enjoy it while we can.

JENNIFER GRABS JACK'S WRIST AND BRINGS HIM ON TOP OF HER.

JACK: Ehh.... uhhh.... (Hesitating)

JENNIFER: What?

JACK: Ai Ah..... Are you sure there's really.... time for this?

JENNIFER: Yees, there's plenty of time. I still have probably an hour before I have to start getting ready for the show.

JACK IS NOT TOO SURE, BUT HE OBVIOUSLY LOVES THE IDEA OF MAKING LOVE AGAIN.

JACK: Well what if one or both was to fall asleep?

JENNIFER: Jack not to worry, I have the alarm set. (Grinning mischievously at him) We're fine. Any more objections?

JACK: I Can't think of a one.

JENNIFER: (Grabbing his wrist and pulling her towards him) Be quiet and kiss me?

SHE GIGGLES AS THEY KISS. THE CAMERA THEN PANS TO THE FLOOR, THERE IS THE BROKE LAMP, AND HER ALARM CLOCK, WHICH IS UP PLUGGED.
---
SCENE FOUR: SOME TIME LATER, JENNIFER FLOPS BACK ON THE BED EXHAUSTED.

JENNIFER: WELL!

JACK IS FACING THE OTHER WAY IN THE BED AND IS JUST AS EXHAUSTED. THEY ARE BOTH COVERED IN SWEAT.

JACK: Yes, well indeed.

JENNIFER: I don't mean to brag Jack....

JACK: Well young lady, neither do I.

THEY ARE BOTH TOO BREATHLESS TO SPEAK PROPERLY.

JENNIFER: I really have missed you.

JACK: And I you. However I don't feel sorry for you in the least since you had this little bundle of joy to keep you company.

JENNIFER: This is true. But if I know you, you have been working so hard, you've hardly had time to miss me. I mean I'm really having a ball with Calliope and I love doing the show but I'm really getting homesick. And seeing has made me realize that all the more.

JACK: Well, you don't regret coming here do you?

HE TURNS AROUND SO HIS HEAD IS UP THE PILLOW END WITH HER AND HE CAN HOLD HER.

JENNIFER: No, no, I mean I love doing the show. I really do and the ratings are doing so well.

JACK: Well how could they be doing otherwise with you at the helm.

JENNIFER: Jack, it's not because of me. It's Calliope. I mean she's so funny.

JACK: Well she hasn't changed a bit, has she?

JENNIFER: No, I think New York has made her even crazier.

JACK: As long as it doesn't rub off on you.

JENNIFER: No, I am maintaining my sanity. I don't think the world could handle more than one Calliope. But you know what, this job is really going to look good on resume and maybe it'll help when contract negotiation time comes round at WTGB.

JACK: Maybe it will.

JENNIFER: I mean you're always talking about your dreams for the future and how you want to take care of us and I just want to do my part.

JACK: And you will, you always do.

JACK'S EXPRESSION CHANGES. IT AFFECTS HIM THAT SHE HAS SUCH TRUST IN HIM, AND HE BELIEVES THAT HE IS LETTING HER DOWN BY NOT HAVING A HOME FOR HER.


JENNIFER: I just want you to know how much it means to me that you are working so hard to make those dreams come true. Because they will Jack, you'll see. We are going to do it together.

THE PHONE RINGS JUST AS JACK IS ABOUT TO SPEAK.

JENNIFER: Hold that thought.

SHE PICKS UP THE PHONE.

JENNIFER: Hello. (Beat) What? (Beat) What time is it? (Beat) Oh my gosh, okay. We'll be right down, okay bye.

JACK: Wh.... what is it?

JENNIFER: Oh my gosh Jack. (Beat) Oh the clock. We must have unplugged the clock when we were making love and.... oh my gosh. My driver's downstairs waiting for us. We've got to hurry. Let's go.

JACK: Whoa.... whoa.

JENNIFER: What?

JACK: So much for our leisurely afternoon in bed.

JENNIFER: Heheheh.

JACK: They can wait.

HE BENDS DOWN AND KISSES HER AGAIN WHILE SHE GIGGLES.

JENNIFER: No, let's go.

JACK: Let them get this on camera.

SHE GIGGLES EVEN MORE.

JENNIFER: We have to go Jack!

JACK: Think of the ratings.

[IT IS OBVIOUS THAT MATTHEW WAS DELIBERATELY PROLONGING THEIR FIRST BIG SCENE TOGETHER AFTER MISSY'S SIX WEEK BREAK TO HAVE HER BABY.]
[Transcribed by Carol Vaughan
added material by Sally A. Wilson]
---
---