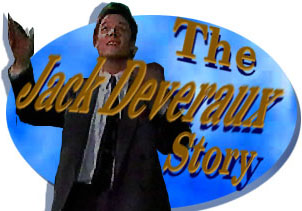 oldEpisode Four-hundred-ninety:
Billie Finds Jack's Manuscript and
Thinks It Might Be the Perfect Way to
Make Money, Jack Refuses; but She
Steals It. A Mysterious Woman Becomes
Interested in Jack and Jennifer's House.
---
[Air date mid-February 1993]
SCENE ONE: IT IS A COUPLE OF DAYS LATER AND LAWRENCE HAS CONFESSED TO KILLING LISANNE GARDNER TO PROTECT NICKY. JACK IS DESPERATE FOR THE FULL STORY AND HE'S PESTERING JENNIFER.

JACK: Jennifer, you are supposedly Carly Manning's best friend. You talk to her all the time. You must know some details of what's going on.

JENNIFER: Jack, Carly is in a lot of pain. I am not going to use my friendship with her to get a story for you.

JACK: She doesn't use yours? Come on now. She's in pain because something's going on with Lawrence. He's arrested for murder....

JENNIFER: Jack, this is Carly and Bo we're talking about. Just leave it alone. If your circulation does not double, it's no big deal. We do not need the money that badly.

JACK: It's not just about circulation.

JENNIFER: I'll be right back. I've got to check on Abby.

SHE RUNS UPSTAIRS.

JACK: We don't need the money. That's a sick joke.

THERE IS A KNOCK AT THE DOOR AND JACK ANSWERS IT.
---
SCENE TWO: JACK IS NOT PLEASED TO SEE THAT BILLIE IS AT THE DOOR.

JACK: Yes, I.... what are you doing here?

BILLIE: We have business to take care of Jack.

JACK: No.

BILLIE: Yes we do.

SHE WALKS RIGHT IN.

BILLIE: If we don't get that $100,000, you and I are both going to end up in cement shoes.

JACK: You can't stay here. We.... we have....

JENNIFER: Jack! Have you seen Abby's snow suit?

JACK: (To Billie) Remember, nothing about the money. Remember. (To Jennifer) I think you should look in the kitchen. I think that's where I....

JENNIFER: Hi there.

BILLIE: Hi.

JENNIFER: I didn't know we had company. Look I'm really sorry I rushed out on you yesterday. I didn't get a chance to talk. I was in a hurry.

JACK: Aaaah.

BILLIE: That's all right.

JACK: Actually she was at The Spectator to see me, ah, about.... about a job.

BILLIE: Yeah that's right and I came over to see if he'd made up his mind yet.

JENNIFER: Oh well I really hope you find something for her.

BILLIE: You do?

JENNIFER: Yeah, why wouldn't I?

BILLIE: Well you know, your grandmother. I thought she would have told you why I work at the hospital and my.... drug addiction and my community service.

JENNIFER: Billie, my grandmother doesn't gossip.

JACK GIVES JENNIFER A LOOK OF DISBELIEF AT THAT COMMENT.

JENNIFER: And whatever happened in your past is your business. Believe me, Jack and I both know what it's like to make mistakes.

JACK: Yes, we certainly do.

JENNIFER: So did you find her a job?

JACK: I'm.... certainly trying.

JENNIFER: Well good. I'm sure hope you find her one. I need to go shopping. I'm going to leave Abby with you while she's sleeping. There you go.

JACK: Wonderful.

JENNIFER: Bye Billie. See ya later.

BILLIE: Bye.

JACK: I.... ah, it's nothing certain, you understand. I mean.... yes, goodbye.

JENNIFER LEAVES.

BILLIE: Tell me this. How did a really nice girl like Jennifer end up with a husband like you?

JACK: If you think she's so nice, why are you trying to ruin her life?

BILLIE: I am not going to ruin her life. I would ruin your life. You're the one that told everyone you had this backer. When they find out where you got this money, you're going to lose the paper, you're going to lose the credibility of your family, you're going to lose Jennifer's respect, you're going to lose everything man.

JACK: That's ridiculous. Absolutely ridiculous.

BILLIE: No, it's the truth and you know it. You just won't admit it. But don't worry, I'm not going to go to Jennifer for the money because I like her. And I don't know how you got so lucky.

JACK: I think we can just dispense with all these little personal trivialities. It's time to get down to business. How are going to get this money to pay back Tony when he gets back to Salem?
---
SCENE THREE: DOWN AT THE MALL JENNIFER ARRANGES FOR HER SHOPPING TO BE DELIVERED. A STRANGE WOMAN OVERHEARS THE ADDRESS AND IS OBVIOUSLY INTERESTED. THE WOMAN TELLS JENNIFER THAT IT MUST BE A NICE PLACE TO LIVE. JENNIFER THINKS SHE LOOKS FAMILIAR BUT THEY HAVE NEVER MET.
---
SCENE FOUR: BACK AT THE HOUSE, JACK AND BILLIE ARE GOING OVER IDEAS WHILE JACK HOLDS ABBY.

JACK: No.

BILLIE: Well what about this? What about you take out a second mortgage on your house?

JACK: Heheheh.

BILLIE: Well that way we'd have half the money at least. And then maybe you could give Tony a note. No, better yet, why don't you just give him a percentage of The Spectator?

JACK: Absolutely not. First of all I don't have enough equity in this house and second of all I don't intend to give some.... some thumb twisting knuckle head any part of my newspaper.

BILLIE: Fine, then you think of something.

JACK: I certainly will. It just takes a little more time to think of something better.

HE LOOKS DOWN AT ABBY WHO IS TRYING TO CHEW HER BIB.

JACK: Ah, could you look on the desk or in the desk for something she could chew on. It's teething time.

BILLIE GOES TO THE DESK DRAWER AND SEES THE MANUSCRIPT.

JACK: On second thoughts, never mind. I'll.... I'll just take her upstairs. Maybe she'll go to sleep. I'll be right back.

JACK GOES UPSTAIRS WITH ABBY AND BILLIE PULLS OUT THE MANUSCRIPT.

BILLIE: What do we have here?
---
SCENE FIVE: DOWN AT THE MALL, THE WOMAN TALKING TO JENNIFER SAYS THAT SHE'S NOT SURE IF SHE'S GOING TO STAY IN SALEM. SHE THEN GETS A CAB AND GIVES THE DRIVER THE ADDRESS OF JACK AND JENNIFER'S HOUSE.
---
SCENE SIX: BACK AT THE HOUSE, BILLIE IS READING THE MANUSCRIPT WHEN JACK COMES BACK DOWNSTAIRS.

JACK: What are you doing with that manuscript?

BILLIE: I got it from the drawer. Did you write it?

JACK: I.... I, yes I did some work on it, yes.

BILLIE: In the Midnight Hour. It sounds like a murder mystery.

JACK: Actually it's more of a.... a romance novel.

BILLIE: You wrote a romance novel! Hahah, that's amazing. Is it any good?

JACK: I suppose if you're into that sort of thing. Unfortunately the publishers.... weren't.

BILLIE: Wait a minute, it says Miranda Miller here. Who's that?

JACK: Miranda Miller is a pen name. A lot of writers use them. I used it because I didn't want people thinking I wrote this sort of thing. Unfortunately it didn't make any difference because nobody cared anyway.

BILLIE: Well who did you show it too? Maybe you should show it other people because if it's any good at all we could make big bucks out of this.

JACK: You don't understand. I have shown it to a lot of people. A lot of publishers. And all of them turned it down with the exception of one woman.

BILLIE: So?

JACK: So, she was fired.

BILLIE: Well let me read it.

JACK: NO! Out of the question.

BILLIE: Why not? Afraid I'm going to hate it and your ego won't be able to take it?

JACK: You'd be surprised what my ego could take.

BILLIE: Well come on, maybe it's interesting and I'll like it.

SHE GRABS IT FROM HIM.

JACK: No.... no. Listen, you don't understand. Jennifer's coming, can you hear?

HE GRABS IT BACK.

JACK: Can.... that's enough about the manuscript. Leave it alone and when she comes in don't say a word about a book to her. Jennifer doesn't know I wrote it.

BILLIE: Boy, you sure keep a lot of secrets from your wife.

MEANWHILE JENNIFER IS ABOUT TO OPEN THE DOOR.
---
SCENE SEVEN: AS JENNIFER OPENS THE DOOR, JACK PRETENDS TO BE TALKING TO BILLIE ABOUT THE JOB.

JACK: Ah so I think that about covers all the information for the application.... oh Jennifer, you're back. How was the shopping?

JENNIFER: It was fine, thanks.

BILLIE: Hi.

JENNIFER: Hi.

JACK: Well as I was saying, that's everything I need. You can probably go now. I think I heard someone crying upstairs for you.

JENNIFER: Right, I'll be up there in a minute.

JACK: Good.

JENNIFER RUNS UPSTAIRS AND WE SEE THE STRANGE WOMAN LOOKING IN THE WINDOW. INSIDE BILLIE TRIES TO TAKE THE MANUSCRIPT.

BILLIE: I want this.

JACK: No, no. Billie, if Jennifer comes downstairs and sees you here she's going to get very suspicious. She's....

BILLIE: Jack, just let me take it. If there's anything I know, it is trashy romance novels.

JACK: Who said it was trashy?

BILLIE: Look I could take this book and get it published.

JACK: You don't....

BILLIE: And then we'd be home free.

JACK: You don't know the first thing about publishing. One publisher could take months and months to try this project through. And I thought your friend Tony was supposed to be showing up any time now.

HE PUSHES HER TOWARDS THE DOOR.

BILLIE: Tony is in Vegas.

JACK: You're not sure. Look I've seen....

THEY BOTH HEAR SOMETHING OUTSIDE THE DOOR.

JACK: Why that could be Tony right now, right outside the door. That could....

BILLIE: Come on, Tony thinks you're a cop. He doesn't know your name. He doesn't know where you live.

JACK: Just go. Just go.... please.

BILLIE: I'm going. Just get your hands off me.

JENNIFER: Jack, could you warm up a bottle for the baby for me?

JACK: Ah yes. Yes I can.

JENNIFER: Can you do it as quick as you can?

JACK: I can do it as quick as....

BILLIE: Goodbye.

JACK: Just go.... go.

BILLIE: Okay fine.

JACK GOES TO GET THE BOTTLE AND BILLIE CLICKS THE LOCK SO THAT SHE CAN GET BACK IN LATER.

JENNIFER: Jack, hurry.

JACK: I'm doing it, yes.
---
SCENE EIGHT: THE WOMAN HIDES IN THE BUSHES WHEN BILLIE LEAVES. JACK AND JENNIFER GET ABBY READY AND LEAVE THE HOUSE. JENNIFER NOTICES THAT THE LOCK HAS BEEN CLICKED AND FIXES IT

AFTER THEY LEAVE BILLIE COMES BACK AND CANNOT OPEN THE DOOR. SHE GETS OUT A CREDIT CARD AND USES THAT TO OPEN IT. SHE GOES INSIDE AND STEALS JACK'S MANUSCRIPT.
[Transcribed by Carol Vaughan
added material by Sally A. Wilson]
---
---