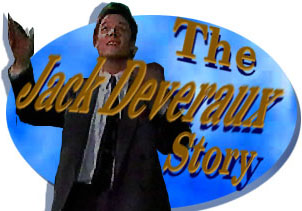 oldEpisode Four-hundred-ninety-six:
St. Patrick's Day 1993: Jack Is
Preoccupied Worrying About Victor
Getting the Paper, Jennifer Is Frustrated
About Jack and Their Love Life.
---
[Air date mid-March, 1993]
SCENE ONE: IT IS ST. PATRICK'S DAY AT THE BRADY PUB. BILLIE TALKS TO AUSTIN WHO IS STILL LOOKING FOR A JOB TO PAY FOR CARRIE'S HOSPITAL BILLS.
---
SCENE TWO: BILLIE SEES JACK AND JENNIFER COME IN AND DECIDES TO TALK TO HIM AGAIN ABOUT AUSTIN GOING ON JENNIFER'S SHOW. SHE WAVES AT JACK.

JENNIFER: What is it with you and Billie? Why do you always act like you're trying to avoid her?

JACK: I'm not avoiding anyone. I'm just.... I'm just hungry, that's all. Let's go find Mr. Brady. Perhaps he can get us a table in this sea of green. I'm starved.

HE MANAGES TO AVOID BILLIE IN THE CRUSH AND SHAWN GETS THEM A TABLE.

SHAWN: And that's two corn beef and cabbages, right?

JACK: Yes sir, that's right.

SHAWN: Okay, listen how would you like a green beer to go with that?

JENNIFER SHAKES HER HEAD.

JACK: Ah I think we'll just settle for the green coffee, thank you.

SHAWN: All right, all right, come along.

SHAWN LEAVES TO GET THEIR ORDER.

BILLIE: Hi Jack and Jennifer, how are you doing?

JENNIFER: Hi Billie.

JACK: Ah Ms Reed, if you'll excuse us. We're in the middle of having a lunch.... alone.

BILLIE: Oh well it's really important Jack.

JENNIFER SEES MICKEY AND MAGGIE ARRIVE AND GOES OVER TO THEM.

JACK: All right Miranda Miller. What is this about? Is Kate Roberts interested in doing something with your book?

BILLIE: No, not yet. I haven't heard anything. It's about my brother getting on your wife's show, remember?

JACK: Well if you'll excuse me, my wife is coming back. We'll talk later.

JENNIFER: Well they're going to meet grandpa and grandma later.

JACK IGNORES BILLIE.

BILLIE: All right, fine, fine.

SHE WALKS AWAY.

JENNIFER: Why do you keep her on as your assistant if she annoys you so much?

JACK: It's not that she annoys me. It's just that I'm trying to have a civil dinner here with you. I mean this so seldom.

JENNIFER: It's very fun, isn't it?

JACK: Sometimes.

BILLIE IS AT THE BAR MOUTHING WORDS AT JACK.

BILLIE: [ASK HER, ASK HER RIGHT NOW]

JACK: Jennifer, I was wondering if you'd decided anything about my suggestion?

JENNIFER: What suggestion?

JACK: You know, the one about the show, your show. I was thinking about musical guests.

JENNIFER: You know Jack I really haven't had time to think about that.

JACK: Well I think you should. I mean the more I've thought about it, the more I've thought it's a good idea.

JENNIFER: Okay. I'll think about it.

JACK: You will then?

JENNIFER: Sure.

JACK: Good. I mean it's something that....

SHAWN CALLS JENNIFER TO THE PHONE.

JENNIFER: Oh excuse me.

IT IS THE STUDIO AND THERE ISAN EMERGENCY. SHE GETS HER LUNCH AS TAKE OUT AND RETURNS TO THE TABLE.

JENNIFER: I've got to go Jack.

JACK: What?

JENNIFER: Emergency at the studio. Goodbye. I'll see you at home.

SHE RUSHES OUT.
---
SCENE TWO: AFTER JENNIFER LEAVES, BILLIE TAKES HER SEAT. NOW SHE CAN TALK TO JACK ABOUT THEIR MUTUAL PROBLEM.

BILLIE: What she say, what she say?

JACK: Ah, other than the fact she was leaving, she was very amenable to a musical guest on the show, one of these days.

BILLIE: No, Austin needs the job today.

JACK: Well I don't know about that. She's only thinking about it.

BILLIE: Well you're going to have to think a little harder about this Jack because if you don't come up with this job, I'm going to have to just tell wifey what you've been up to lately.

JACK: I think you're just going to have to trust me.

BILLIE: Huh, right.

JACK: You know I don't understand this. Here I try to take care of you. I give you a nice decent pay check when you're dangling at the end of your rope.

BILLIE: Are you on drugs or something? I mean you have quite an imagination going here. You used me as a cover for your wife so she would have no idea why you were talking to me and you haven't even paid me yet.

JACK: Oh I'm sorry. You're such a hard worker I want to make sure I gave you your St. Patrick's Day reward.

HE HANDS HER AN ENVELOPE.

BILLIE: Heh. You mean my threats paid off.

JACK: Of course they did.

BILLIE: Well, well, well.

SHE OPENS IT AND LOOKS AT THE CHECK.

BILLIE: No, you're kidding right? You're just kidding. Forty-seven dollars and fifty cents.

JACK: Yes, well I mean it's the first pay check. I mean I've deducted Social Security. It's minimum wage and you only did work part-time.

BILLIE: You are such a jerk, you know that. What, do you expect me to show this to Tony Becker and say, here it's for the $100,000.

SHE THROWS IT BACK AT JACK.

JACK: It wasn't 100,000. It was ninety-seven five. Now it comes to ninety-seven four fifty two fifty.

SHAWN: Oh here we go Jack. Here we go. I'm sorry that the missus had to leave.

HE GIVES JACK HIS LUNCH.

JACK: You know, I just.... I got a call. I have to run too. Why don't you just give this to Ms Reed or is it Ms Miller. Put it on her check.

HE PUTS THE CHECK DOWN ON THE TABLE AND LEAVES.
---
SCENE THREE: DOWN AT THE STUDIO, AUSTIN DECIDES TO TAKE THINGS INTO HIS OWN HANDS AND GOES TO SEE JENNIFER WHERE HE TELLS HER THAT HE'D LOVE A CHANCE TO PERFORM ON THE SHOW. SHE SAYS THEY HAVE NOT MADE UP THEIR MINDS YET. WHILE HE IS STILL THERE, PHILIP TELLS HER THAT THEY NEED SOMETHING SPECIAL FOR ST. PATRICK'S DAY. AUSTIN STEPS FORWARD AND SUGGESTS HE PLAYS SOME IRISH JIGS. PHILIP DECIDES TO GIVE HIM A GO BUT DOES NOT TELL JENNIFER UNTIL THE SHOW BEGINS.
---
SCENE FOUR: JACK GOES BACK TO THE OFFICE TO WORK ON HIS FIGURES MORE. HE IS SITTING AT HIS COMPUTER.

JACK: I want to see something good here. I want to see advertising revenues up. And let's see those expenses down. All right, show me the magic.... damn. I said something good.

ONE OF HIS STAFF KNOCKS ON THE DOOR.

MORTY: Jack, can I see you for a minute?

JACK: Only for something good.

MORTY: Well I think it is. I was able to track a huge supply of rolling stock. Top quality newsprint too. I think we might be able to get a good price for it.

JACK: Let me see that.

JACK LOOKS OVER THE FIGURES.

JACK: Heee haaah, that's good. That is good. Good thinking Morty. That's the kind of thinking we need around here. Industrious. Vern , I got a good idea.... oh well Vern will like your idea when he hears it. Let's see, that's good. Let's see if we can get.... good that's rolling stock. At these prices.... that would cut our expenses enough to actually see a little profit. Something I haven't seen in quite some time. Listen, this is....

MORTY: Baxter and Bart Mills.

JACK: Baxter and Bart Mills. You need to improve your writing there. Fortunately I've got them on a speed dialler here.

HE CALLS THE MILL.

JACK: Hello, hello, this is Jack Deveraux, Spectator. I want a meeting with Mr. Baxter, right away. It's very important. Oh good he's in. Good, good, he'll see me right away. That's good. Yes I was hoping we could see each other right away. Good. I'll be right over.

HE HANGS UP.

JACK: Good. We're going to see a little profit here for once. I'm on my way to making a full down payment on this newspaper.

HE RUNS OUT THE DOOR.
---
SCENE FIVE: SOME TIME LATER, JACK ARRIVES AT THE BAXTER MILL.

BAXTER: Come right in. What can I do for you?

JACK: On the contrary, I think I can do something for you Mr. Baxter.

BAXTER: Oh.

JACK: I understand you have an oversupply of rolling stock. I have a little bit of storage space over at The Spectator and if the price is right I'll just take it off your hands.

BAXTER: Well thank you very much Mr. Deveraux but I'm afraid that won't be necessary.

JACK: Excuse me but I assure you it's no problem for us.

BAXTER: Well I'm afraid it's a problem for us. You see I've already sold the stock at a very good price too, I might add.

JACK: Ah, I'm sorry. You sold it?

BAXTER: Yes just a short time ago.

JACK: To whom?

BAXTER: To Victor Kiriakis.

JACK: Victor Kiriakis! Wait a minute, Victor Kiriakis doesn't even own a newspaper. He doesn't even publish one. He's just.... gearing up to publish one.

AT THE STUDIO, JENNIFER IS VERY ANGRY THAT THEY PUT AUSTIN ON THE SHOW BUT THE SPONSORS LOVED IT.
---
[Air date mid-March, 1993]
SCENE ONE: IT IS LATER ON ST. PATRICK'S DAY AND JACK AND JENNIFER ARE BOTH GETTING HOME FROM WORK. JACK IS CARRYING ABBY IN A CAR CARRY SEAT.

JENNIFER: You know I still can't believe it Jack. I really can't. I get my show back, right? All by myself without Philip's help and now he's acting like it's the Philip Collier show. He hired Austin to play music on the show. Irish songs. I hate Irish songs. And where did Austin get the idea that he could be on the show anyway.

JACK LOOKS A BIT GUILTY.

JACK: Ah, what are you looking at me for?

JENNIFER: Did you tell Billie that I would hire Austin to play music on the show? JACK: No, no. I didn't say anything about hiring Austin Reed. You were the one who said you were interested in having music as a part of your show.

JENNIFER: You said to me that I should probably....

JACK: No, I'm sorry Jennifer. I have so many problems with my own show right now. I had a chance to buy a large amount of rolling stock at a very good price and all of a sudden Victor Kiriakis comes along and buys the whole thing out from under me.

JENNIFER: Are you saying that your problems are more important than mine are Jack?

JACK: No I am not saying....

ABBY STARTS TO CRY.

JACK: I'm not.... I'm not saying that.... I'm not saying that at all. I.... I can't say anything as long as she's crying like this.

HE LEANS OVER TO SOOTHE ABBY BUT JENNIFER BRUSHES HIS HAND ASIDE AND PICKS HER UP.

JACK: I just.... Jennifer I....

JENNIFER: I'll be upstairs.

IT SEEMS JACK CANNOT WIN.
---
SCENE TWO: AWHILE LATER, JENNIFER COMES DOWNSTAIRS. JACK IS READING OVER SOME PAPERS. HE SIGHS AS HE HEARS HER COMING.

JENNIFER: Well Abby finally calmed down and went to sleep.

JACK: Well that's one of us. (Beat) How are you doing?

JENNIFER: I'm okay. I'm sorry I blew up like that. It's.... I've been so stressed out lately. I don't know what's wrong with me.

JACK: Well I would say that we both have been under a great deal of stress lately. But that shouldn't be for much longer. Not if I can help it.

JENNIFER: I think that I know a way to work off some of this stress.

SHE WALKS OVER AND RUNS HER HANDS AROUND HIS NECK AND CUPS HIS CHIN. THEN SHE TWISTS HIS NECK ONE WAY AND THEN THE OTHER.

JACK: Oooooh.... ooooh, that feels good.

SHE BEGINS TO KISS HIS NECK AND EAR.

JACK: A little more.... more to the right.

SHE PULLS HIS TIE UNDONE.

JACK: What.... what are you working on now?

JENNIFER: Do you know how long it's been Jack since we....

SHE WHISPERS IN HIS EAR AND HE FROWNS.

JACK: Wait a minute.... what? It hasn't been that long!

JENNIFER: It's been longer than you realize. I think that's what's been making us so.... edgy.

JACK: You know something? This is all going to come to an end as soon as I get this paper back under my control. And the sooner the better as far as I'm concerned. All I need is a plan and if you've got any ideas please just let me know.

HE GOES BACK TO HIS CALCULATIONS AND JENNIFER SIGHS.

JACK: Oh, oh, I'm sorry. A phone call here. Carly Manning called you.

HE HANDS JENNIFER THE MESSAGE.

JENNIFER: Did she say what she wanted?

JACK: Aaah, um no. It was just something about giving you a call or you call her. Something like that.

JENNIFER: Maybe I'll go see her. Be around someone who wants me around.

SHE TOSSES THE MESSAGE ON THE DESK.

JACK: Jennifer?

SHE TURNS TO HIM.

JACK: Ah, it's getting really dark out. Make sure you drive carefully.

SHE IS NOT HAPPY WITH THAT COMMENT AND GETS HER COAT.
---
SCENE THREE: JACK IS HOME ALONE WORKING AND THE PHONE RINGS. JACK: Hello.

BILLIE: Hi Jack. It's Billie.

JACK: What do you want?

BILLIE: Nice talking to you too.

JACK: Sorry I'm very busy in the middle of something so please state your business and get on with it.

BILLIE: Well, I was just calling to thank you for getting my brother on your wife's show.

JACK: Yes, you're very welcome. Now if that's all?

BILLIE: No, actually, I also wanted to let you know that I haven't heard anything on In the Midnight Hour.

JACK: I didn't think you'd hear anything tonight.

BILLIE: Well I actually didn't think so either but you know I have this feeling I'm going to hear something tomorrow so if I do our troubles are over because we'll have the money before Tony gets back to town.

JACK: Yes, yes, well that's wonderful. Now if you'll excuse me, I'm very busy. I need to work and I'm sure you need to talk to someone else about this so please just talk to them. Good evening.

HE HANGS UP.
---
SCENE FOUR: MEANWHILE, JENNIFER VISITS CARLY IN HOSPITAL. (SHE HAS BROKEN HER LEG) BO IS THERE WITH CARLY AND JENNIFER CAN SEE THE SEXUAL REACTIONS THEY HAVE TO EACH OTHER. WHEN BO LEAVES SHE TELLS CARLY THAT IT IS NOT LIKE THAT WITH HER AND JACK AND IT NEVER HAS BEEN. SHE SAYS THAT JACK IS NOT DEMONSTRATIVE. CARLY TELLS JENNIFER TO TAKE THE INITIATIVE AND JENNIFER DECIDES TO SEE IF SHE CAN AROUSE HIS INTEREST. SHE LEAVES IMMEDIATELY TO GO HOME TO JACK.
---
SCENE FIVE: WHEN JENNIFER ARRIVES HOME, JACK STILL IS BUSY WORKING ON FIGURES TO GET MORE PROFIT AT THE PAPER.

JENNIFER: I'm back.

JACK: Oh.

JENNIFER: Is Abby still sleeping?

JACK RUBS HIS EYES.

JACK: Ah, she woke up and I fed her and she went back to sleep.

JENNIFER: Carly says hello.

JACK: Huh, huh.

JENNIFER: Oh she's doing just fine.

JACK: Good, good, good.

SUDDENLY JENNIFER MOVES OVER TO HIM AND BEGINS KISSING HIS EAR, NECK AND FACE.

SHE THEN KISSES HIM HARD ON THE LIPS. HE LEANS BACK SURPRISED. SHE KISSES HIM AGAIN THEN LOOKS HIM STRAIGHT IN THE EYE.

JENNIFER: I'll be upstairs. Don't be long!

HE WATCHES AS SHE STEPS BACK, LOOKS AT HIM AGAIN AND SLOWLY UNBUTTONS HER BLOUSE REVEALING A BLACK LACE CAMISOLE. SHE WALKS SLOWLY UP TO THE BEDROOM AND JACK SHAKES HIS HEAD AND RUBS HIS FACE WHERE SHE KISSED HIM.

JACK: I'll be up.... up.
---
SCENE SIX: A WHILE LATER, JENNIFER COMES BACK DOWNSTAIRS TO SEE WHERE HE IS. SHE'S WEARING A WHITE LACE NEGLIGEE AND ROBE. JACK IS ASLEEP ON THE COUCH WITH PAPERS IN HIS HAND AND A PENCIL IN HIS MOUTH.

JENNIFER: Jack.

SHE MOVES THE PAPERS AND TAKES THE PENCIL OUT OF HIS MOUTH THEN SHE COVERS HIM WITH A RUG AND GOES BACK UP TO BED.
[Transcribed by Carol Vaughan
added material by Sally A. Wilson]
---
---