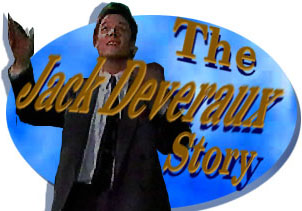 oldEpisode Four-hundred-ninety-seven: Jack
Works on a New Case, and Continues
to Try and Stop Billie. Jennifer Seeks
Help from Alice for Her and Jack's Love Life.
---
[Air date late March 1993]
SCENE ONE: THE NEXT DAY AND JACK AND JENNIFER ARE AT THE BRADY PUB. JENNIFER HASN'T LOST HER DESIRE TO GET JACK IN BED AND SHE SPENDS HER TIME GIVING HIM EXTREMELY SEXY LOOKS AND RUNNING HER HAND UP HIS THIGH UNDER THE TABLE.

JACK: Jennifer, what's come over you?

JENNIFER: Did I finally get your attention?

JACK: Well you got a lot.... of attention (He looks down at his lap).... and a lot more besides.

JENNIFER: Good. Now the first thing I want us to do is go to that new French Restaurant. I hear it's very romantic.

SHE SLOWLY REMOVES HIS SCARF OVER HIS HEAD THEN SHE STARTS TO STROKE HIS TIE AND UNDO IT.

JENNIFER: Then I want us to go to Wings where we're going to have a nightcap and twirl around the dance floor for a while.

JACK PULLS OUT A NOTE PAD AND STARTS TO WRITE SOMETHING DOWN.

JENNIFER: And then we're going to go home and we're going to turn down the lights.... are you writing this down Jack?

JACK: Oh yes, yes.

JENNIFER: What are you doing?

SHE GRABS THE PAD FROM HIM.

JACK: I'm sorry. You mentioned the French and I remembered there's a French newspaper I wanted to tell Vern about. They've managed to shave 10-15% off their monthly budgets as far as ad rev....

JENNIFER: You have not been listening to a word I've been saying, have you?

JACK: I was listening to every.... I'm sorry. When these ideas come to me I can't afford to let them go. I literally can't afford it. You know what, I realized I'm getting a little nervous about leaving that printing press running all by itself. I have to get back there.

JENNIFER: JACK!

JACK: I'll get something to eat there, all right. And I'll talk to you a little later. I'll be home a little late tonight.

HE RUNS OUT. JENNIFER CALLS ALICE AND ASKS IF SHE CAN SEE HER IMMEDIATELY.
---
SCENE TWO: ALICE TAKES A BREAK AT THE HOSPITAL AND JENNIFER TELLS HER THAT SHE AND JACK HAVE A PERSONAL PROBLEM.
---
SCENE THREE: MEANWHILE JACK ARRIVES AT THE HOSPITAL TO FIND OUT MORE ABOUT THE DRUG BUSTS GOING ON IN TOWN. IT SEEMS THAT BO HAS BEATEN UP A GUY. ACTUALLY LAWRENCE HAS A BO LOOK ALIKE DO THE BEATING SO THAT BO IS IN TROUBLE AND HE CAN GET CARLY BACK FOR HIMSELF. BO IS TALKING TO AUSTIN AND BILLIE.

JACK: I heard that Cash Bowman was a victim of police brutality.

BILLIE: Police brutality?

BO: That is a lie Jack. I did not put him in the hospital.

JACK: Oh no, no, no. These aren't my words. This is just what I've heard from our police beat reporter.

BO: Fine, fine. You just make sure that your police beat reporter gets his story straight before you print it Jack.

JACK: Right. Absolutely. But the fact remains that somebody beat Cash Bowman and if not you, then who?

BO IS MAD AND HE ASKS TOM IF CASH IS CONSCIOUS YET.
---
SCENE FOUR: IN THE NURSE'S LOUNGE, JENNIFER IS TRYING TO EXPLAIN TO ALICE WHAT IS HAPPENING. ALICE TELLS JENNIFER THAT SHE AND JACK ARE NOT LIKE OTHER COUPLES AND MAYBE SHE'S MISSING SIGNALS FROM JACK.
---
SCENE FIVE: OUTSIDE, JACK TAKES TOM ASIDE TO FIND OUT MORE ABOUT CASH.

JACK: Days. We could talk about his injuries, couldn't we?

WHILE THEY ARE TALKING BILLIE GETS A CALL FROM KATE ROBERTS WHO SAYS THAT THE READER LIKED THE BOOK AND WANTS TO OFFER A HOLDING DEAL TO BILLIE. SHE SAYS IT IS WORTH ABOUT $20,000. JACK OVERHEARS SOME OF THE CONVERSATION AND CHASES AFTER BILLIE.

JACK: Ah, thanks for all the info. I'll talk to you later doc.

BILLIE GETS IN THE ELEVATOR BEFORE JACK CAN REACH IT.

JACK: (To Austin) Excuse me, do you have any idea where your sister went?

AUSTIN: No, I have no idea where she went. Listen what did Dr. Horton say about Cash's condition?

JACK: Not much. Just that he was critical.... critical.

JACK GOES OVER TO THE PHONE BOOTH THAT BILLIE TOOK THE CALL ON AND FINDS THE MESSAGE TO CALL KATE ROBERTS.

JACK: Kate Roberts.

HE RUNS OUT JUST BEFORE JENNIFER COMES OUT OF THE NURSE'S LOUNGE WITH ALICE.

JENNIFER: Grandma, there's Jack right now. Hold on. JACK?

JACK: I'm sorry Jennifer, bye. The presses are down again.

THE ELEVATOR CLOSES.
---
SCENE SIX: BILLIE HAS CHANGED INTO AUTHOR CLOTHES AND TURNS UP AT KATE'S OFFICE. SHE PUSHES HARD FOR MORE MONEY AND THEY AGREE ON $25,000 AS AN ADVANCE.
---
SCENE SEVEN: JUST AS KATE LEAVES HER OFFICE, JACK ARRIVES.

KATE: Jack, what are you doing here?

JACK: Ah Billie Reed, my assistant. I'm looking for her. Have you seen her?

KATE: Oh she's here. She's in her Miranda Miller mode. She's a wild one, isn't she? Listen I'd love to stay here and chat but I've got staff waiting for me in the photo lab. Good night.

JACK THEN HEARS BILLIE LAUGHING AND TALKING WITH VICTOR AND HE HIDES TO LISTEN. VICTOR SAYS THAT SHE'S GOT $25,000 FIRST FOR THEM TO CONSIDER AND HOLD THE BOOK. SHE'LL GET ANOTHER $25,000 IF THEY PUBLISH IT AND AFTER THAT THE SKY'S THE LIMIT. HE WARNS HER THAT USING HIS FAKE RECOMMENDATION WORKED THIS TIME BUT SHE SHOULD NEVER DO IT AGAIN. THEN VICTOR LEAVES AND JACK COMES OUT OF HIDING.

JACK: Weeeell, how independent of you to go talk to Kate Roberts all by your lonesome. What did she have to say and why were you and Victor Kiriakis laughing like a couple of old sailors on leave?

BILLIE: Kate wants to option the book and Victor just happened to walk in and he found out that I'm the one that forged the note.

JACK: But you were laughing like a couple of old sailors?

BILLIE: Yes we were. He thinks I have chutzpah and the more good reports he gets about the book, the sooner he's going to publish it. We are close Jack. We are real close.

JACK: Well let's just hope that your chutzpah doesn't encourage him to get so close that he figures out that your not the one who wrote the book.

BILLIE: How can he? I mean you even said that the woman who wrote this book or whoever wrote this book is long gone. They're not going to come crawling out of the woodwork now.
---
SCENE EIGHT: BACK AT THE HOSPITAL, JENNIFER TALKS SOME MORE TO ALICE AND ALICE OFFERS A BOOK CALLED, WHEN THE ROMANCE DIES. JENNIFER DECIDES TO HAVE THE AUTHOR ON HER SHOW. ALICE MEANWHILE TELLS HER THAT WHEN IT COMES TO JACK, ACTIONS SPEAK LOUDER THAN WORDS. JENNIFER LEAVES AND ALICE GOES OVER AND GIVES TOM A BIG KISS AND TELLS HIM HE HAS TO BE HOME EARLY FOR DINNER BECAUSE SHE HAS A PLAN THAT HAS NOTHING TO DO WITH DINNER.
---
SCENE NINE: JENNIFER GOES HOME AND OPENS A BOTTLE OF RED WINE. SHE'S JUST POURING THE SECOND GLASS WHEN JACK ARRIVES HOME.

JENNIFER: Hi, how did it go?

JACK: Good, good. I think one of our little ships might have finally come in.

HE GIVES HER A QUICK HUG.

JENNIFER: Well that's a great start.

JACK: Start of what?

JENNIFER: The start of something good. That our ship's coming in. So why don't we toast our luck with your favorite wine?

JACK: Oh I.... could you put that on hold? I really.... I need to get to the office.

JENNIFER: Jack, hold on. I just want to talk to you about something.

JACK: I know. It's just.... I'm sorry. You know it's those printing machines. They're down again and I've got to get them back up.

JENNIFER: There's something I want to talk to you about.

JACK: And Vern has been up for days and I've got to spell the man. I'll eat at work. I'll just get something there.

HE RUNS OUT LEAVING HER HOLDING TWO GLASSES OF WINE. JENNIFER PUTS THEM DOWN AND IMMEDIATELY CALLS THE STUDIO AND ASKS THEM TO CONTACT THE AUTHOR OF THE BOOK ALICE GAVE HER BECAUSE SHE WANTS TO INTERVIEW HER ON THE SHOW.
[Transcribed by Carol Vaughan
added material by Sally A. Wilson]
---
---