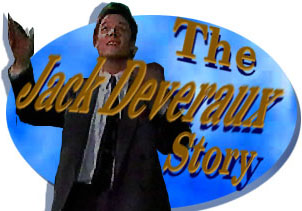 oldEpisode Five-hundred-thirty-eight:
Kate Continues to Manipulate Jack
to Make Victor Jealous. Jack Is Forced
to Attend Lucas' Birthday Party. Meanwhile,
Jennifer and Austin Work Undercover at an
Adult Motel, Jack Finds out and Rushes to Help.
---
[Air date early August, 1993]
SCENE ONE: JACK AND JENNIFER ARE AT THE MALL. JENNIFER WALKS OVER TO JACK HOLDING TWO CUPS.

JACK: Alright.

JENNIFER: I forgot, did you want coffee or tea?

JACK: I wanted, aaaah....

JENNIFER: I got coffee.

JACK: That's what I wanted. I wanted coffee actually. I didn't realize it but deep down I knew I really wanted it. Your ESP is really returning. I think you're getting better.

JENNIFER: I'm feeling better. This walk definitely helped.

JACK: Well it definitely helped my hips and my.... heheheh.... my lumbago. It's been quite some time since we did something like this.

JENNIFER: You know what I was just thinking about. You know when Carly would come to the house at six o'clock in the morning.

JACK: All too well.

JENNIFER: And take me jogging. Drag me out of bed.

JACK: Huh, huh.

JENNIFER: I miss her so much sometimes.

JACK: I know that. I know you do.

HE PUTS HIS ARM AROUND HER AND HOLDS HER CLOSE.

JACK: Just.... just think about time. Just give it the time and pretty soon you're going to feel better. In the meantime we will walk, run, jog, do hand springs, whatever it takes to make you feel better.

JENNIFER: I love you so much Jack. And I appreciate everything you're doing but unfortunately you need to get to the newspaper and I need to get to the studio.

JACK: Are you sure you're quite ready for this?

JENNIFER: Yes. I have to be round people right now. I can't be by myself. I'll just feel worse.

JACK: I don't think either one of us is ready to go to work.

THEY HOLD EACH OTHER AGAIN AND WHILE THEY ARE EMBRACING JACK SEES A COPY OF THE SPECTATOR ON THE BENCH. HE CASUALLY CHECKS HIS WATCH OVER HER SHOULDER. THEY BOTH HEAD OFF TO WORK.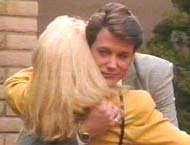 ---
SCENE TWO: JACK ARRIVES AT TITAN PUBLISHING, KATE'S OFFICE.

JACK: Good morning campers!

KATE: Is it morning? I thought it was well past noon by now.

JACK: My aren't we tightly wound this morning. What's the matter? Do you have another out-of-town advertiser to sell?

KATE: Jack, what we did in Chicago is child's play compared to what we're up against now. The Spectator is at stake.

JACK: It seems I've heard that somewhere before. You sure we're not exaggerating things a tiny bit.

KATE: Jack I mean it. I want to talk to you.

SHE DRAGS HIM INSIDE AND CLOSES THE DOOR.

JACK: Alright.

KATE: Listen I just talked to some of my contacts in the financial world. Victor is secretly trying to buy The Chronicle. He's got people fronting for him so that it looks like a friendly take-over.

JACK: It seems like a good thing. Let Victor get his own newspaper and leave mine alone.

KATE: No, no, no, you don't understand. Victor will do anything and everything to get The Spectator no matter what the price. Even if he has to buy The Chronicle so he can undercut us and put us out of business. You see then he can buy The Spectator for a song.

JACK: Wait a minute. He could give The Chronicle away and people will still use it just to line bird cages. People will always read The Spectator first! You have to understand that.

KATE: Jack I appreciate your enthusiasm. The reality is Victor has unlimited capital. We cannot go head to head with him if he wants to throw his money around like this.

JACK: Alright, alright. I understand that point. I understand it very well. This is serious.

KATE: Well all may not be lost.

JACK: Oh I see! I see. We do have a plan here. What is it?

KATE: Well there may be a way to beat Victor but it's not going to easy.

JACK: Huh, huh.

KATE: And it's going to take a lot of work on your part, on my part. It will mean burning the midnight oil, many a late night.
---
SCENE THREE: KATE IS DOING ALL SHE CAN TO TRY AND SEDUCE JACK, WITH THE ULTIMATE GOAL OF MAKING VICTOR JEALOUS. HOWEVER, JACK'S CONTINUED DEVOTION TO JENNIFER AND ABIGAIL IS FRUSTRATING HER.

JACK: Okay. Wait a minute, I see where this is heading. You have to understand something. I will do just about anything to hold onto The Spectator and keep my name on it. But at this time in my life, my wife and child need me and this does not exactly justify abandoning them.

KATE: I understand that Jack. Don't you think I know why you left Chicago so quickly. To get back to Jennifer.

JACK: What you don't understand is that Jennifer's never let me down. I've tried to do the same for her.

KATE: But isn't that why you bought The Spectator in the first place? Or at least tried to buy The Spectator. And then finally agreed to work with me? Because you didn't want to let Jennifer down.

JACK: Yes.... but...I never....

KATE: Please.... please, work with me now. You'll see. In the end it'll be better. You do trust me don't you?

JACK: In this evolved age, must we choose between work and family? What I'm trying to say is CAN'T WE HAVE THEM BOTH AT THE SAME TIME?

KATE: Yes you can but not at first. You have to work at having it all.

JACK: Believe me, I am.

KATE: And you're doing a wonderful job. But you know there has to be some kind of sacrifice made along the way and believe me Jennifer will understand.

JACK: You know there's something that I don't understand.

KATE: What's that?

JACK: Why don't you chuck it all? I.... I mean the newspaper. Just.... just sell your 90% of The Spectator to Victor. I mean you're certainly not holding onto it for my measly 10%. Why don't you just get rid of it all?

KATE: I have my reasons. And if we win, in the end it will be better for all of us.

JACK: For all of us, uh? Well I for one will be satisfied if I could see Victor rue the day he tried to take down The Spectator just to show off his money and power.

KATE: Then Jack, work with me. He won't get away with it.

JACK: Alright, what do you have in mind to stop him?

KATE: It's rather complicated.

JACK: Good, good. Complicated is good. Victor's a very complicated man. He may sit there and seem like he's not looking or caring what's going on but he will turn around and shut you down without blinking an eye.

KATE: Don't worry about me. I can handle myself. But I need to know one thing.

JACK: Huh, uh.

KATE: Do you hate Victor enough to do something a little underhanded.... not illegal.... just not quite cricket?

JACK: I tell you what Kate, when the enemy's at the gate, I'll be there also. The important thing is to fight fire with fire.

KATE: YES!!! I'm glad we feel the same way because right now I need that old Deveraux drive. First thing I want you to do is call your friends at The Chronicle. Quietly warn them, without naming any names, that there is a hostile takeover in the makes.

JACK: I suppose I could do that.

KATE: Alright, second thing. Call Washington contacts. Find out if Victor would be breaking any anti trust laws by owning two newspapers in this town. Then set up a meeting between you and me and the FCC.

JACK: Still using The Spectator as the ultimate bait. I guess we're really playing hardball now, aren't we?

KATE: Are you up for it?

JACK: I'm up for taking on Victor Kiriakis.

KATE: Good, let me see how soon I'll be free in case we have to meet in Wash.... oooooh, dammit.

JACK: Something else, right?

KATE: Yeah I forgot something. Jack I need to ask you a question. It's Lucas's birthday. He's 18.

JACK: Really? Well congratulations. However I'm very sorry if you don't have a present because I am not a shopper. I don't do that.

KATE: Oh Jack, I got his present ages ago. No I want to do something more than that. I want to do something really special.

JACK: Hmmm.

KATE: You know 18 is a milestone.

JACK: Oh yes, yes, yes, yes, yes. And since all 18 year olds are so lofty and no one is as shallow, do something very special for him. Throw him a party. He'd like that.

KATE: I can't do that. I mean it would seem so last minute to him.

JACK: Well then make it a surprise party.

KATE: A surprise party.

JACK: Yes, a surprise party. (Beat) Harper threw me a surprise party. I was 18 years old and we were going through our teenage troubles and.... I don't know whether he planned it the day before, two minutes before or a year before. But the important thing was he did it. I don't think I was ever as close to the man as I was at that time. When he stood up in a room full of people and.... and toasted me and said how much he hoped and wished and dreamed for my future.

KATE: He'd be very proud of you today Jack.

JACK: Yes, I suppose I should be very appreciative of that but considering what became of the man I'm not.

KATE: Jack, regardless of what kind of person you are, you always want better for your child.

JACK: Yes, that's very true. You do. That's why I want to succeed at The Spectator with me at the helm.

KATE: I'm sure that's why your father did a lot of what he did. He just wanted you to have a better life.

JACK: (Beat) Yes. Well in any event, it was a hell of a party.

KATE: Well that's exactly what I want for Lucas. Now who do I invite?

JACK: Who do you invite. Well if you're still planning to pave the way for the boy to get to the White House I suggest you start inviting politicians. Tell them there's free food and drink. That always brings them in like flies. You know the important thing is to start getting those favors in early.

KATE: That's a good idea.

JACK: Uh, huh.

KATE: I'll start right now.

JACK: Now that I think of it, favors that is. I recall that Harper did a couple of favors for someone who's now working at the FCC.

KATE: Oh good.

JACK: Perhaps if I give the guy a call he can tell me if we can stop Victor from getting control of The Chronicle and The Spectator.

KATE: Alright.

THEY BOTH HEAR VICTOR OUTSIDE KATE'S OFFICE AND SUDDENLY SHE TURNS FROM ALMOST NOT LISTENING TO JACK TO HOLDING HIS ARM AND SHOWING FULL ATTENTION TO HIM.

KATE: Jack, you're incredible. I don't know what I'd do without you.

VICTOR OPENS THE DOOR AND SEES HER HOLDING JACK'S ARM.
---
SCENE FOUR: KATE JUST SET UP A COMPROMISING POSITION BETWEEN HER AND JACK, UNBEKNOWNST TO JACK, TO MAKE VICTOR JEALOUS — HER ULTIMATE GOAL IS TO WIN VICTOR, AND USE ALL HIS POWER AND MONEY TO HELP LUCAS.

JACK: Well thank you.... I.... I.... I think I could say the same about you.

VICTOR: Hello Kate, Jack.

KATE: Victor.

VICTOR: I'm not interrupting anything, am I?

JACK: No, not at all.

KATE: No.... we were just actually talking about Lucas's surprise party. He's 18 today.

VICTOR: Oh wonderful. Where's it going to be? I wouldn't want to miss it.

KATE: Well that's what I wanted to talk to you about. Victor, I haven't had time to make any arrangements. Could I use your home?

VICTOR: Don't give it a second thought. As long as you're staying in my house, my house is your house. You can invite as many people as you'd like.

KATE: Oh thank you. I don't know what I'd do without you.... or Jack.

SHE TAKES JACK'S ARM AGAIN AND VICTOR NOTICES.

VICTOR: Jack, how's Jennifer doing?

JACK: Why do you ask Victor?

VICTOR: Well this is obviously a very difficult time for her. She and Carly were very close.

JACK: It's been a difficult time for all of us.

VICTOR: Especially with you being away for the funeral. We all missed you.

JACK: I appreciate the sentiments. I did want to be there.

KATE: I'm afraid it's my fault. I insisted that Jack go to Chicago with me.

VICTOR: Yes, so I heard. Well I won't keep you two any longer. I just wanted to drop this off to you.

KATE: Oh thank you.

VICTOR LEAVES.JACK REALIZES THAT HE IS CAUGHT IN THE MIDDLE SOME LITTLE GAME THAT KATE AND VICTOR ARE PLAYING.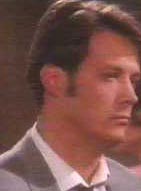 ---
[Air date mid-August, 1993]
SCENE ONE: JACK IS STILL WORKING WITH KATE IN HER OFFICE. HE IS ON THE PHONE TO HIS FRIEND AT THE CHRONICLE.

JACK: Look Reginald. I'm just telling you what I heard. My sources tell me there's going to be a hostile takeover of The Chronicle. No, no, I can't tell you who told me but I'm sure your legal department, once it is alerted, will be able to get right on it and get all the information they need. (Beat) Yes, yes. You can thank me when the whole thing is done. And remember, you didn't hear it from me.

JACK HANGS UP AND CHECKS HIS WATCH.

KATE: Well done Jack, now who else? Washington. Call your contacts in Washington.

JACK: What do you mean call Washington? Don't you realize how late it is? I thought you had an 18th birthday party to plan for Lucas.

KATE: Well I do. That's why we're working at Victor's. I can have the party while we work.

JACK: No, no, no. Let's just forget about the working. We'll just.... we'll just put this whole takeover thing until tomorrow. You concentrate on your party. Besides, people in Washington have probably already left their offices.

KATE: Well then call them at home. Jack, whatever happened to that anger we were talking about, that old Deveraux fire? The enemy's at the gate you know.

JACK: As long as the enemy doesn't have a key, I'd be happy.

KATE GIVES HIM A LOOK.

JACK: Alright, I'll tell Jennifer I'll be a little later.

KATE: You can use my phone if you like. Unless you need privacy.

JACK: Thank you.

JACK PICKS UP THE PHONE.

JACK: Hello, it's me. Obviously you're not at home and I hope you're out having a good time. Listen I'll be.... I'll be home a little bit later than I thought. Take care, I love you. Bye.

HE HANGS UP.

JACK: Alright, I'll be downstairs with my car if you want to join me.

KATE: Great. Meet you down there.

JACK: Alright.

JACK LEAVES THE OFFICE.
---
SCENE TWO: MEANWHILE JENNIFER HAS BEEN INVESTIGATING A REPORT THAT HOUSEWIVES IN SALEM ARE INTO PROSTITUTION TO MAKE EXTRA MONEY. SHE HAS DECIDED TO GO UNDERCOVER AS A PROSTITUTE. AUSTIN DOES NOT LIKE THE IDEA BUT SHE DRESSES UP IN A BROWN CURLY WIG, TOO MUCH JEWELRY AND A TIGHT CUT OUT DRESS IN DEEP PINK. AUSTIN AND JENNIFER GO TO THE SLEAZY PART OF TOWN AND RENT A ROOM IN A CHEAP HOTEL.
---
SCENE THREE: JACK GOES BACK TO VICTOR'S WITH KATE. LUCAS' SURPRISE PARTY BEGINS. JACK IS HAVING A LOUSY TIME SURROUNDED BY TEENAGERS.
---
[Air date mid-August, 1993]
SCENE ONE: THE PARTY IS STILL UNDERWAY.JACK IS STILL HAVING A LOUSY TIME.

JACK: Happy, happy, happy. I'm going to go back in the other room and get to work. Excuse me.
---
SCENE TWO: MEANWHILE JENNIFER AND AUSTIN GET THE ROOM AND IT HAS A LARGE ROUND BED IN THE MIDDLE AND PORN MOVIES TO WATCH ON TV. THEY TAKE PICTURES FOR THEIR STORY.
---
SCENE THREE: AT THE PARTY, JACK IS TRYING TO TALK TO KATE BUT VICTOR IS THERE.

JACK: If you'll excuse us. I need to speak with Kate.... in private.

VICTOR: I'll just go get a drink, can I get you something?

KATE: No, thanks.

JACK: Nothing for me.

VICTOR WALKS AWAY.

JACK: This way. I finally got a hold of this friend of Harper's and he's agreed to help us with this problem with the FCC.

KATE: That's wonderful.

JACK: In addition, I got hold of some heavy hitters on Wall Street. If all else fails they should be able to convince Victor that buying The Chronicle would be a very unwise choice.

KATE: You are a genius Mr. Deveraux. You know that, a genius.

SHE GLANCES ACROSS TO MAKE SURE THAT VICTOR CAN SEE HER UP CLOSE AND PERSONAL WITH JACK.

KATE: Doesn't this make you feel exhilarated?

JACK: It gives me that certain lift, yes.

KATE: I tell you I'm starving. Let's get some food. Come on fix me a plate, will you?

JACK: A plate. Alright.

SAMMI IS AT THE BUFFET.

SAMMI: Hi Jack.

JACK: Oh, hello.

SAMMI: How's the party? You having a good time?

JACK: Ah yes, yes, very nice.

SAMMI WALKS AWAY.
---
SCENE FIVE: JACK EVENTUALLY GETS AWAY FROM THE PARTY AND JUST AS HE'S ABOUT WALK OUT THE DOOR, HENDERSON, VICTOR'S BUTLER STOPS HIM.

HENDERSON: Mr. Deveraux, I was just coming to look for you. You have a phone call.

JACK: Thank you.

JACK TAKES THE CALL IN THE LIBRARY.

JACK: Hello.

JO: Oh Jack, it's Jo. Gosh I've had a heck of a time trying to track you down.

JACK: Why, what's wrong?

JO: Nothing's wrong. I just wanted to let you know that Jennifer's going to be working late. I didn't want you get home and find that she and Abby weren't there.

JACK: Oh so Jennifer has her with her?

JO: Well no, no Abby's with me. We're over at Brady's. We were just visiting with Caroline and Shawn and now we're having some supper. By the way, what are you doing at Victor's?

JACK: Ah, rather a long story. I came over here to work and got tied into a birthday party for Lucas Roberts. But I'm all wrapped up now and ready to go. So I'm just going to swing by the studio and pick up Jennifer.

JO: Oh, well she's.... she's not there.

JACK: Well where is she?

JO: Ah.... she's working.

JACK: Working where?

JO DOES NOT ANSWER.

JACK: Jo, where is she working?

JO: She's on assignment.

JACK: What kind of an assignment?

JO: Oh you don't want to know.

JACK: Excuse me Jo, I believe I do want to know. Why don't you tell me right now?

JO: Well she's at the Meet and Greet Motel on Highway 19. It's.... it's an adult motel.

JACK: I know exactly what it is. What is she doing there?

JO: Well then you know that they rent rooms by the hour and....

JACK: I know what they do by the hour. What is she doing there?

JO: Well Jennifer is in disguise.... as a hooker.

JACK: Good god.

JO: Jack, really there's nothing to worry about.

JACK: Thank you, thank you. I know that. Thank you for the information. I'll talk to you later.

HE HANGS UP.

JACK: Henderson, let Ms Roberts know that I'm leaving. I will talk to her later.

JACK WALKS OUT MAD.
---
SCENE SIX: AT THE MOTEL, AUSTIN IS HIDING IN THE CLOSET WHILE JENNIFER PICKS UP A JOHN AND QUESTIONS HIM. THE GUY DOES NOT WANT TO TALK AND JENNIFER TRIES TO STALL HIM. IN THE END AUSTIN HAS TO COME AND GET RID OF THE GUY. HOWEVER SHE GETS IT ALL ON TAPE AND SHE AND AUSTIN ARE HUGGING IN EXCITEMENT AS JACK COMES IN THE DOOR.

JACK: Jennifer.... what's going on here?
---
SCENE SEVEN: JACK, JENNIFER,AUSTIN ARRIVE BACK AT THE BRADY PUB. JO IS THERE WITH ABBY. JENNIER TRIES TO EXPLAIN WHAT HAPPENED.

JENNIFER: Okay, if you could have seen the look on that guy's face when Austin jumps out of the closet and says hello I'm Austin Reed.

JO THINKS IT IS FUNNY BUT JACK IS NOT AS THRILLED ABOUT IT AS THEY ARE.

AUSTIN: He was ready to have a heart attack.

JENNIFER: Are you kidding? I almost had a heart attack when I couldn't get any information out of him. I mean I almost knocked on the closet to get you out. Oh wait, here.

SHE GETS OUT THE GUY'S MONEY.

JENNIFER: Here you go. Half the money.

AUSTIN: I don't want that.

JENNIFER: No, come on. I want to keep my bodyguards happy. It's only fair.

AUSTIN: Alright but I'm going to take my money and run because I've got to get down to the studio and edit that tape.

JENNIFER: Oh okay.

AUSTIN: You did a fantastic job today.

JENNIFER: Hey, you did too. Thanks.

AUSTIN: I'll see you tomorrow. Jo.... Jack. Bye. JO: See you Austin.

AUSTIN LEAVES. JACK HAS BEEN VERY QUIET WATCHING JENNIFER AND AUSTIN.

JO: Oh Jennifer I want to apologize for laughing at you earlier. I'm really very proud.

JACK: Actually when Jo told me what was going on I was.... um.... I wasn't quite sure that you could handle it.

JENNIFER: Is that why you came racing over there?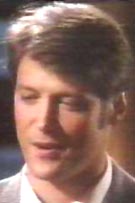 JACK: Yes, yes, and you surprised me. Or actually you reminded me of the cub reporter that I came to know and love. I'm proud of you.
THEY HUG AS SHE HOLDS ABBY.

JACK: Very proud of you.
[Transcribed by Carol Vaughan
added material by Sally A. Wilson]
---
---