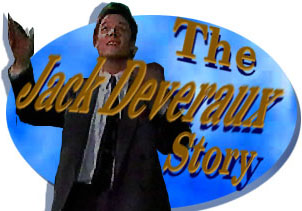 oldEpisode Five-hundred-forty-nine: The Fall
of Jack Deveraux Part V: Jack Believes
He Will Finally Nail Victor. Victor Tells
Jack If He Betrays Him, He Will Pay.
It Is Jennifer's Birthday, Will Jack Show up.
---
[Air date late September, 1993]
SCENE ONE: THE NEXT DAY AND JACK IS AT HOME ON THE PHONE TO VERN. IT'S ALSO JENNIFER'S BIRTHDAY.

JACK: Vern, go ahead and go to the dentist right now if you have to but I want you to be back at the office when I get there to take care of those computer disks of Victor's. We've got to break that code.

VERN: What's the point? Victor owns the paper now.

JACK: Listen, Victor is up to his eyeballs in something illegal. Something he not quite sure he can slip out of. We know that. The sooner we figure out what that is, the sooner we'll be rid of the man.

VERN: I wish I could believe that.

JACK: Vern, it's going to work. It's going to work. Believe me. But we've just got to take care of the disks, alright. See you later.
---
SCENE TWO: JENNIFER COMES DOWNSTAIRS.

JENNIFER: I thought you said that you weren't going to go after Victor. (Beat) I thought you told me that you weren't going to go after Victor Kiriakis.

JACK: Right.

JENNIFER: Then what were you saying on the phone to Vern. You were saying something about those disks, that you were going to do something with them.

JACK: I said take care of the disks. That's what I said.

JENNIFER: Well good. I'm glad that you're not going to do anything reckless because we need that insurance for Abby right now.

JACK: Jennifer, that's the only reason I haven't quit the job already.

JENNIFER: Look when Abby's well we will come up with an alternative plan so you don't even have to work for The Spectator anymore. How's that? Look I know that you're sacrificing a lot for us. I know that. And I love you for that Jack.

JACK: The sacrifice is nothing. It's nothing. I.... I just want to give the two of you everything.

JENNIFER: All we want is you. That's all we want. We want you to love us.

JACK: I do. More than I can say.

HE KISSES HER.

JACK: I gotta go.

JENNIFER: You know what I would love. I would love it if you would help me with my aplastic anemia research. I would really love that.

JACK: Well certainly. I'll do everything I can but isn't Austin around here anywhere helping you out?

JACK LOOKS UNDER THE DESK FOR AUSTIN AND SMILES.

JENNIFER: Yes, he'll be by this morning and you know what we were discussing is there are several other diseases that could be caused by environmental factors Jack and that's what we are going to find out.

JACK: It would be maddeningly ironic to find out my child was sick because a company was dumping toxic waste into the river. I tell you that right now. I'll do everything I can.

JENNIFER: It's maddening and horrifying Jack and that's what we have to figure out.

JACK: I'm going to go through every file that I can find at work, study it and bring it back to you.

JENNIFER: Thank you.

JACK: No, thank you.

JENNIFER: So I guess I'll see you later at the hospital.

JACK: At the hospital.

JENNIFER: Okay. Bye.

JACK: I love you.

JENNIFER: I love you.
---
SCENE THREE: AFTER JACK LEAVES, JENNIFER BEGINS WORK AND HER HAIR KEEPS FALLING ON HER FACE. SHE PICKS UP THE SCISSORS AND BEGINS TO CHOP IT OFF SHORT. WHEN AUSTIN ARRIVES SHE'S WEARING A HAT BECAUSE SHE DOE NOT LIKE IT SHORT.
---
SCENE FOUR: AT THE SPECTATOR, JACK AND VERN HAVE ARRIVED TOGETHER.

JACK: No, no cavities, eh Vern. Good for you. Good for you.

VERN: Oh yeah.

JACK: Now remember we have an advantage here Vern and that's a good thing. So let's not blow it.

VERN: Listen Jack, don't you think you should be a little bit more careful about what you talk about round here now?

JACK: Ooooh, you're saying that maybe Victor's already planted some spies?

VERN: It's possible, isn't it?

JACK: Well knowing Victor it's not only possible, it's probable. Alright, agreed. From here on in we'll be a lot more careful.

VERN: Oh I wish we could forget the whole damn thing before we get in too deep.

JACK: Vern, the lion-hearted. Just remember one thing Vern, Victor would not have gone to all the trouble to get The Spectator just to rub my nose in it. There's something else going on here and whatever that something is, it's on one of these disks.

VERN: Oh Jack, look, you need this job and so do I. Don't go off half-cocked and ruin it for us.

JACK: On the contrary, I think I'm being very careful with my investigation.

VERN: Look, you own 10% of the paper.

JACK: Yes.

VERN: Why don't you surprise Kiriakis? Why don't you lay back and quietly build the success of the paper and your own reputation? That way you can take yourself anywhere in the industry. Take yourself as high as you want to go.

JACK: Vern this is where I want to go, to The Spectator. Because The Spectator is mine. So we're not going to stop until we bring Victor around to our way of thinking.

VERN: Alright, alright, alright, yeah, yeah, yeah. Just one more little tiny piece of advice, I promise.

JACK: Huh, uh.

VERN: Victor's a pretty busy man. He's probably going to let you do pretty much what you want to do around here.

JACK: Huh, uh.

VERN: But, when he comes in for the first time, swallow your pride Jack. Kiss his....


JACK STARES AT VERN.

VERN: .... his ring and make sure that he knows that you know he's the boss.

JACK: Alright.

VERN: What does that mean?

JACK: It means alright. You said go with the flow and I agreed.

VERN: I hate when you agree so quickly.

JACK: Don't sweat it Vern. Just enjoy your lollipop.
---
SCENE FIVE: JACK OPENS THE DOOR TO HIS OFFICE AND THREE OF HIS STAFF ARE IN THERE.

JACK: Okay, coffee break's over everyone. What are you all doing in my office?

VICTOR IS SITTING IN JACK'S CHAIR.

VICTOR: You're a little late for work aren't you Jack?

JACK'S MOUTH FALLS OPEN.

JACK: As I said before, coffee break's over. You can go now.

THEY ALL LOOK AT VICTOR.

VICTOR: You can go now.

THE STAFF LEAVE.

VERN: Welcome Mr. Kiriakis. Welcome to The Spectator.

VICTOR: Thank you Vern. I suggest you go out now and keep an eye on things in the city room.

VERN: Right. (Beat) Mr. Deveraux.

JACK: Mr. Scofield.

VERN LEAVES.

JACK: Alright then. Why don't we just get this over with?

VICTOR: I beg your pardon.

JACK: Come now Victor, there's no need to impress me with imagined gentility. We both know what this is about. Why don't we just fire me and have done with it?

VICTOR: Oh I have no intention of firing you. I made a promise to my bride that I would keep you on as Editor-in-Chief. So you have no reason to fear for your job.

JACK: Oh I have no fear. However I am feeling a little claustrophobic imagining the two of us behind that desk so if you don't mind?

VICTOR: I think first we should establish some ground rules.

JACK: Ground rules?

VICTOR: Yes. I know you detest the idea of working for me and that's perfectly understandable.

JACK: Is it?

VICTOR: Oh absolutely. I think you'll find that I know a lot more about human nature than you think. And I certainly know you Jack Deveraux.

JACK: What's your point Victor?

VICTOR: My point is if you want to continue working at this newspaper, you'll back off and stop threatening me.

JACK: Have I been threatening you?

VICTOR: I perceive that I'm being threatened and I don't like it. So do we understand each other, or not?
---
SCENE SIX: AT HOME, JO ARRIVES AND SHE AND AUSTIN PLAN TO GIVE JENNIFER A LITTLE PARTY FOR HER BIRTHDAY. AUSTIN SAYS HE WILL KEEP JENNIFER OUT OF HOUSE WHILE JO GETS A CAKE READY AND TELLS JACK WHAT THEY HAVE PLANNED. AUSTIN TAKES JENNIFER TO THE MALL AND CONVINCES HER TO LET THE HAIRDRESSER TIDY UP HER NEW DO.
---
SCENE SEVEN: BACK THE PAPER.

VICTOR: I want you to give me your word Jack.

JACK: My word. Would you believe my word Victor?

VICTOR: I would if you gave it because you're a smart man. You know you'd be wasting your time to continue this quest of yours.

JACK: And what is this quest of mine Victor?

VICTOR: Ah, you think you can uncover something that you can use against me. Save your energy Jack. It's a waste of time.

JACK: Are you saying that our tracks are too well covered?

VICTOR: I'm saying that you should leave it alone. You know one of your father's major flaws was he couldn't accept good advice when it was given. I hope you won't be as stupid.

JACK: It's funny. I've come to believe that one of my father's major flaws was his business association with you.

VICTOR: I always liked Harper. It's a shame that our association turned sour there at the end.

JACK: Sour, yes. If you'll excuse me I do have work to do.

VICTOR: Just do your job well and we'll get along just fine. Don't try and make right things that you perceive to be wrong.

JACK: I'll keep that under advisement.

VICTOR: You make this paper a success and we both win. You make one move against me and I'll crush you like a bug. Does that sound fair?

JACK: I just do my job and let bygones be bygones.

VICTOR: All I wanted to hear. I'd hate to disappoint Kate. You have a good day Jack.

JACK: Likewise.

VICTOR LEAVES QUIETLY.

JACK: I'll just smile and smile while you play the villain. Until that day when you are nailed to the wall Victor. And you will be nailed to the wall.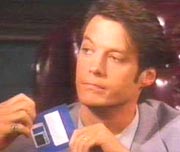 ---
SCENE EIGHT:AT HOME, JO HAS CALLED VERN BUT SHE CANNOT GET HOLD OF JACK. JENNIFER ARRIVES HOME WITH HER NEW HAIRSTYLE. SHE RUNS UPSTAIRS AND JO PUTS OUT THE PARTY THINGS.
---
SCENE NINE: JUST WHEN IT SEEMS HOPELESS THAT JACK WILL SHOW UP, JACK ARRIVES.

JACK: Oh hi, there you are Vern. What's.... I was wondering where you were.

JO: Yeah and we were wondering where you were. I have been calling the office and....

JACK: I know. I just came over with some notes for Jennifer on this research and what is all.... Jennifer's birthday of course. I knew this special day was coming up. Thank you, thank you so much all of you.

JENNIFER COMES DOWNSTAIRS.

JENNIFER: Okay I'm ready to go. (Beat) Hey there.

JACK: Hey.

JENNIFER: I didn't expect you to be home.

JACK: Well guess what, SURPRISE!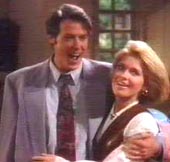 JACK KISSES JENNIFER AS THEY ALL SCREAM SURPRISE.

JENNIFER: Well look at all this. This is so sweet of you. I can't believe that you remembered.

JACK: I wish I had been the one to remember but I think we'll have to chalk this up to Jo and Vern and I guess even Austin over there. Thank you all. Actually a gift from me will be coming in later today.

JENNIFER: Well that's alright. I know you have a lot on your mind right now.

JACK: I don't have a lot on my mind.

HE LOOKS AT HER HAIR.

JACK: But what's this. What did you do with your hair?

HE RUNS HIS FINGERS THROUGH IT.

JENNIFER: I'm not quite sure.

JACK: I'm sure.

JENNIFER: You like it?

JACK: I love it. I love it. I think you should have done it years ago. This looks wonderful. It looks wonderful. I'll tell you what, I know there are some matches in the kitchen. I'm going to light these candles. Happy birthday.

HE GIVES HER A BIG KISS AND RUNS TO THE KITCHEN.
[Transcribed by Carol Vaughan
added material by Sally A. Wilson]
---
---