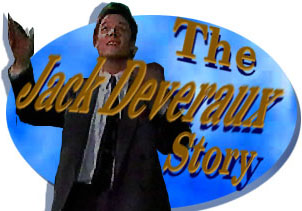 oldEpisode Five-hundred-fifty:
The Fall of Jack Deveraux Part VI:
Jack Continues to Investigate
Victor, but Victor Is on to Jack. Jack
Gets Busted; Victor Fires Him.
---
[Air date early October, 1993]
SCENE ONE: A FEW DAYS AFTER JENNIFER'S BIRTHDAY AND JACK IS HARD AT WORK WITH VERN WHILE JENNIFER IS VISITING ABBY IN HOSPITAL.

VERN: Listen Jack....

JACK: Vern, just tell me one thing. Have we been through this combination before?

VERN: No, but nothing works anyway. I mean come on Jack, we're going to have to face it. We're not going to break this code and get into these files.

JACK: Vern, just remember, there is a reason why Victor went to all the trouble to have all these files encoded and scrambled. It's because there is sensitive material on there. There is a reason why he had his entire law firm throw away the originals. It's because of something he didn't want to be caught with.

VERN: Look you don't have to convince me that Victor's up to no good, alright. But these damn codes. It's impossible to break them.

JACK: Vern, nothing is impossible. Not if we want it that bad. We've got to want to break these codes. Because when we do we're going to be able to get Victor Kiriakis out of Jennifer's and my life forever.

VERN: All you do is work work work. You take a break in the middle of the night and you run over to the hospital for a few hours and then you come back here and work work. Jack that's not a way to live.

JACK: I know that Vern. I have two priorities in my life at the moment. One is my wife and child and the other is keeping Victor Kiriakis away from my wife and child. When we're all safe and well and at home together and Victor is out of the equation, then I'll relax.

VERN: Okay, so we get lucky and break the code right. We come up with all this dirt on Victor. So what? The man owns the paper Jack.

JACK: He owns 90% of the paper. Ninety percent. Maybe there will be something on these disks that will be hot enough to force him just to step back just a little bit. I know it's a long shot but it's all we've got. The important thing Vern is that we have got to win this time and ever more importantly, Victor's got to lose.

VERN: Well he sure as hell doesn't look like a loser to me.

VICTOR WALKS IN THE OFFICE.

JACK: No he doesn't. But the question remains, what is he doing here?
---
SCENE TWO: JACK SECRETLY HANDS THE DISKS TO VERN BEHIND HIS BACK AS VICTOR APPROACHES.

JACK: Victor.

VICTOR: Jack, Vern. Sorry for not calling first but as the new owner of The Spectator I'll be dropping by from time to time.

JACK: Oh!

VICTOR: You'll have to get used to seeing me around here.

JACK: Oh certainly. It's always a pleasure to meet with a fellow owner.

VICTOR: So what are you working on?

JACK: Oh, just a little project for Jennifer and myself. Something near and dear to our hearts.

VICTOR'S LAWYER COMES IN TO SPEAK TO VICTOR ALONE.

VERN: He's suspicious of you Jack. That's why he came by without calling first.

JACK: I realize that Vern but we really have no choice. We're being as careful as we can with these disks. As long as we get the information out. Please, you can worry but don't look too worried. You're going to give us away. Now come on.
---
SCENE THREE: MEANWHILE VICTOR ASKS HIS LAWYER IF THEY HAVE BEEN ABLE TO PLUG INTO JACK'S COMPUTER YET AND FIND OUT EXACTLY WHAT HE'S DOING. THE LAWYER SAYS THAT THEY KNOW THAT JACK IS WORKING ON DECODING VICTOR'S PRIVATE FILES. VICTOR IS VERY ANGRY BECAUSE THE FILES WERE SUPPOSED TO BE DESTROYED. HE DECIDES TO LAY A TRAP FOR JACK THAT HE'LL WALK RIGHT INTO.
---
SCENE FOUR: A WHILE LATER, AFTER VICTOR HAS LEFT THE OFFICE, JACK FINDS A DISK ON HIS DESK.

JACK: Vern, what is this?

VERN: It came from Victor's files.

JACK: No, I mean you numbered all the disks.... didn't you?

VERN: Well I thought I did. I tried to be careful.

JACK: Vern!

JACK PUTS THE DISK IN HIS COMPUTER.

VERN: Oh come on partner, enough of this. Let's take a break. Go on home, get some sleep. We can start all again tomorrow, okay.

JACK LOOKS AT HIS COMPUTER SCREEN.

JACK: Wait.... wait.... wait a minute Vern.

VERN: What?

JACK: I think we may have just gotten something here.

VERN: What?

JACK: The code.

VERN: You broke it?

JACK: No, no, I didn't break it. There's a little bit of it coming out here. Almost a broken English sentence here. Just a minute. Never say never say never.

VERN: What did you find?

JACK: Look at this. It's some kind of an inventory list of the.... wait, this is an inventory list of the files. The original files.... the original files are still back in that basement over at Titan Publishing. Do you know what this means?

VERN: It means they may as well be on a Pacific island.

JACK: No Vern, this means we're not going to waste the rest of our lives trying to get these decoded. We can go.... we can go right to the original files.

VERN: Oh you'd be better off sticking to the disk Jack.

JACK: You don't seem to understand. We don't have time to go through all these disks. We don't have the time. It's going to be more expedient to go to the originals.

VERN: But this is safer. So what if it takes a little more time.

JACK: Vern, I don't the time. I have to get back to my wife and child. What good is it going to be if I get Victor if I don't have Jennifer. Don't you understand? I have to do this. I'm sorry. I have to go to Titan Publishing.

VICTOR'S LAWYER IS HIDING AROUND THE CORNER AND LISTENING TO JACK.

JACK: Alright?

VERN: Yeah.

JACK: Just to be on the safe side, you take care of these.

HE HANDS VERN A STACK OF DISKS.

JACK: I'll see ya.
---
SCENE FIVE: MEANWHILE AT THE HOSPITAL, JENNIFER AND AUSTIN HAVE BEEN DOING RESEARCH ON ABBY'S ILLNESS AND THEY HAVE REALIZED THAT MANY CHILDREN HAVE GOT SICK IN THE SAME AREA. THEY TRACE IT BACK TO AN AREA WHERE THERE HAS BEEN SOME TOXIC DUMPING IN THE PAST. THEY DECIDE TO GO OUT AND INVESTIGATE THE SITE.
---
SCENE SIX: JACK ARRIVES AT TITAN AND GETS INTO THE BASEMENT. HE IS HOLDING A SMALL FLASHLIGHT IN HIS MOUTH AS HE GOES THROUGH FILING CABINETS.

JACK: Huh, huh, right here.

SUDDENLY THE LIGHTS COME ON AND VICTOR IS STANDING THERE.

VICTOR: Shame on you Jack. Security is on the way.

JACK: Why am I not surprised? You realize of course that I do have a legitimate purpose for being here.

VICTOR: Oh what is it?

JACK: Working on a story.

VICTOR: Yes, go on.

JACK: There is really nothing more I can say at this time. I have to protect those sources.

VICTOR: Well then you won't be able to protect yourself, will you Jack? I'll forego my right to have you arrested as a courtesy to an ex-colleague. You will of course pay a price though.

JACK: EX.... colleague?

VICTOR: Oh yes, as of right now you are now longer the editor of The Spectator. You're fired Jack.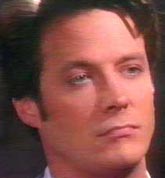 [Transcribed by Carol Vaughan
added material by Sally A. Wilson]
---
---