NURSE: We're losing her, Doctor.
Sam is confused, and disorientated.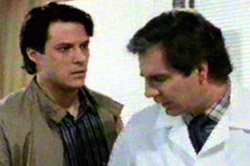 HUSBAND:
(Frantic) Do something!
NURSE:
Doctor, are you alright?
SAM:
(Looking at her chart)Yeah, I just need a second to figure... out... what
...

Monitor starts to beep.
NURSE: She is in full arrest.
Monitor flatlines.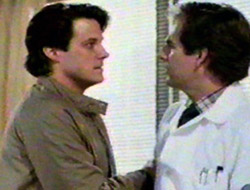 NURSE:
She's gone.
HUSBAND:
No! She can't be. (Angry, he grabs Sam). It's your fault.
SAM:
What?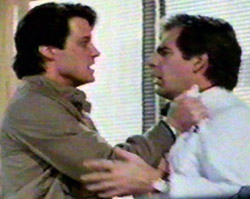 HUBAND:
She trusted you! And you killed her! (He grabs Sam by the collar) You
bastard
. (He pushes him against the wall, and starts to strangle him). You murdered my wife!
SAM:
Oh, Boy!



Scene Two: Sam is still being strangled by the distraught husband.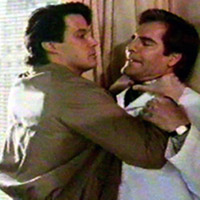 HUBSAND:
I
trusted
you and you killed her. You
killed
my wife.
SAM:
I didn't (gasping for breath). I swear!
HUSBAND:
You're a doctor, you're suppose to save lives.
SAM:
(Breaking free) Well, let be go, and I'll try.
NURSE:
(Confused) Doctor, what are you doing?
SAM:
(Trying to revive the patient) She's still alive.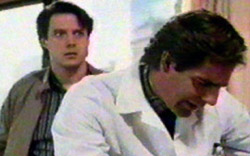 HUSBAND:
(Really confused) What? Are you sure?
SAM:
I'm a doctor! I know if someone is dead or alive or not. Give me adrenaline,
NURSE:
(She is doing nothing, very confused) Some what?
SAM:
Adrenaline! Now!.. Go on!
NURSE:
(Oddly annoyed) Okay!
Sam begins to give the patient CPR.
HUSBAND: What the hell are you doing?

SAM: Trying to save her life!
Suddenly the patient awakens and starts kissing him very passionately.
HUSBAND:
(Disgusted) I'm sorry, could
someone
tell me what is going on here?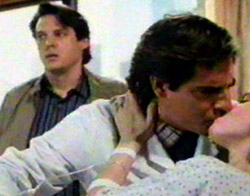 Well here a voice shout cut. It appears that Sam has not leapt into a doctor but a popular soap actor. The actors and crew are all annoyed by what has happened.

Later Sam is kidnapped by couple who are obsessed fans of his. They want him to conceive their baby.