---
[Air date 11-1-88]
SCENE ONE: JACK ARRIVES AT BLONDIE'S
JACK: Dave, is Melissa here yet?

DAVE: She called earlier. She said she'd be a little bit late.

JACK: Great, great. Just get me a table and I'm going to make some phone calls.
JACK WALKS BACK TO THE PHONE WHERE KRISTINA IS JUST FINISHING A CALL.

Jack flirts with Victor's houseguest;
1 Min; 980K
JACK: Kristina? We have to stop meeting like this.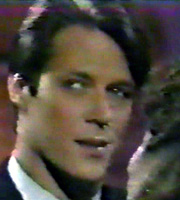 KRISTINA: Hello, Jack. Where's your fiancée or are you here alone?

JACK: Oh.... I'm alone, for the moment. You know I've always been one to.... seize the moment.

KRISTINA: What a coincidence. So have I.

JACK: Anyone ever tell you, you have lovely lips.

KRISTINA: Not lately.

JACK: Well.... consider yourself told.... lately. You have very lovely lips.
JACK KISSES KRISTINA AS MELISSA WALKS UP BEHIND THEM.

SHE WATCHES FOR A FEW SECONDS AND THEN WALKS AWAY.
---
SCENE TWO: JACK AND KRISTINA ARE STILL FLIRTING.
KRISTINA: You like to live on the edge. I find that very attractive in a man.

JACK: That's funny, I find you very attractive.

KRISTINA: Mmmmm.

JACK: Very attractive....
JACK BEGINS TO KISS HER AGAIN, VERY SENSUALLY.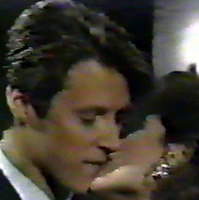 JUST THEN MELISSA POPS UP, FLUSTERING JACK. SHE SEEMS TO KNOW THIS AND SEEMS TO BE ENJOYING HIS DISCOMFORT.
MELISSA: Jack, hi. Sorry I'm late.
JACK DRAWS AWAY FROM KRISTINA AND WIPES HIS MOUTH.
JACK: (Trying to be cool, thinking he can fool Melissa, yet again) Melissa! Hi. Well, Melissa (pointing to Kristina) this is Kristina Andropolous. Kristina, (pointing to Melissa) Melissa Anderson.

MELISSA: Hi, it's nice to meet you.

KRISTINA: It's nice to meet you.

JACK: Actually Kristina is staying with the Kiriakises. She just volunteered to help my campaign in the Greek American community. Look I'm going to have my office send you all the paper work and political.... you know.... stuff that you could ever want and more.

KRISTINA: Well, thank you, Jack. It was really nice to see you again.

JACK: Good to see you.

KRISTINA: And it was a pleasure to meet you.

MELISSA: Thank you.

KRISTINA: Congratulations on your engagement.

MELISSA: Thank you.

JACK: Thanks.

MELISSA: Well, she's very pretty isn't she?

JACK: Well do I detect a note of jealousy in that?

MELISSA: I don't know. Should I be?

JACK: No, not of Kristina or anybody else.

MELISSA: Well you seem very close.

JACK: Look, Kristina is just helping me out to get a block of votes and that is all. There's only one beautiful woman for me. I can't wait till the day that I marry her.

MELISSA: Jack, I can't wait either. (Hug)
---
SCENE THREE: TOM AND ALICE ASK JENNIFER TO MEET THEM AT THE HOSPITAL WHERE THEY GIVE HER A TELEGRAM SAYING SHE IS GETTING A SPECIAL AWARD FROM THE CITY BECAUSE OF HER ARTICLE ON GANGS AND IT IS CONTRIBUTION TO THE WELFARE OF THE COMMUNITY.
---
SCENE FOUR: BACK AT BLONDIE'S.
MELISSA: Jack let's not order just yet. I'm still too excited to eat.
MELISSA KNOCKS OVER SOME GLASSES.
DAVE: Don't worry about. I'll take care of it.

MELISSA: I'm sorry, I'm sorry.

JACK: Are you alright?

MELISSA: I'm fine. Jack I just can't stand not being married any longer.

JACK: Well what can I say? I mean you're the one who wanted to wait. I wanted to get married right away if we could.

MELISSA: Yeah? How about Friday?

JACK: Fri.... what?

MELISSA: Well I have been thinking about it and there really is no reason that we should wait. That is if it's alright with you?

JACK: Alright? I mean, come on, the timing couldn't be better, just before the election.... I.... I could.... I could face whatever happens with you by my side. I'm telling you Melissa, that.... that would be the best present ever.
THEY KISS AS MAGGIE AND MICKEY WALK UP.
MAGGIE: Oh this looks suspiciously like a celebration?

MELISSA: Guess what? I can't wait any longer. Jack and I just agreed to move up our wedding date to this Friday.

JACK: Surprise!

DAVE: Excuse me, Mr. Deveraux. There's a phone call for you in the office.

JACK: Oh, don't go way!

MELISSA: I won't.
JACK LEAVES TO TAKE THE CALL AND MICKEY ASKS MELISSA WHY SHE CHANGED HER MIND. SHE ASSURES THEM THAT THIS DECISION IS THE RIGHT ONE AND THEY SHOULD TRUST HER.
---
SCENE FIVE: A BIT LATER AT BLONDIE'S THEY HAVE ALL JUST FINISHED DINNER.
MAGGIE: So Jack who is going to be your best man? Have you asked anybody yet?

JACK: Ah.... I er.... well not really. What I mean to say is.... that it's been a very busy year in Salem and I haven't got a chance to make a lot of.... friends. Well, I can't ask Mike again. That would be bad luck, two times with the best man..... And I can't ask my brother. That would be.... inappropriate.

MELISSA: Jack, you know I know somebody you could ask.

JACK: Who?

MELISSA: Marcus. He's been a good friend to me and I'd love to have him in the wedding party.

JACK: Marcus?

MELISSA: Yes in fact I'm going to the hospital now with mom to volunteer. I'll ask him if you like?

JACK: Aah.... sure.... why not? Go ahead.... great.

MELISSA: Bye Jack.

JACK: Bye. I'll see you over there later.

MELISSA: Bye.

MICKEY: Well, well, well, I think I have to be going to.

JACK: Oh, oh, Mickey. I wanted to....to say something to you first. Um, your giving away Melissa at the ceremony, well that means a lot to me. I mean I really feel that you're starting to accept me.

MICKEY: I'm doing it for Melissa, Jack. If you know what's good for you, you will treat Melissa like a princess every day of her life.

JACK: Well that's exactly what I plan to do Mickey. Melissa is going to be the happiest bride of the luckiest groom that Salem has ever seen.
---
SCENE SIX: LATER AT THE HOSPITAL, MELISSA ARRIVES TO TALK TO MARCUS. SHE ASKS HIM TO BE THE BEST MAN AT THE WEDDING AND THEN SHE EXPLAINS SOME DETAILS THAT SHE WANTS HIM TO KEEP SECRET.
---
SCENE SEVEN: MEANWHILE AT BLONDIE'S, KRISTINA MAKES SURE THAT JACK SEES HER.
KRISTINA: Assemblyman?

JACK: So, where were we?

KRISTINA: Before we were so rudely interrupted by your fiancée.

JACK: Well it's just you and me now.

KRISTINA: You're a very brave man when Melissa's not around. You jumped a mile when she walked in before.

JACK: You don't have to worry about Melissa.

KRISTINA: Oh, so where would she be after you're married. Off picking curtains or something?

JACK: I said, don't worry about Melissa. I'm going to make her happier than she's ever been. (Beat) I could also make you.... happier than you've ever been.

KRISTINA: Mmmmm.

JACK: How about if we have dinner some night.... late?
KRISTINA SUCKS JACKS KNUCKLES.
KRISTINA: I don't know. I've heard a lot of big talk from you. Why don't you try me again when you're ready to prove it?
KRISTINA WALKS AWAY.
JACK: They don't call me Happy Jack for nothing.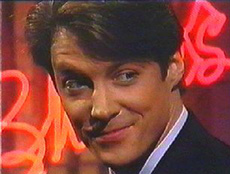 ---
SCENE EIGHT: AT THE HOSPITAL, MELISSA FINISHES TELLING MARCUS HER PLAN AND THEY HUG.

JACK SEES THEM THROUGH THE DOOR AND IS A LITTLE SUSPICIOUS.

JACK WALKS IN, ACTING NON-CHALANT.
MARCUS: Jack.

JACK: I hope I'm not interrupting anything.

MARCUS: No, no, no. I was.... just leaving.

MELISSA: Bye Marcus. (To Jack) Hi.
MELISSA RUNS TO HIS ARMS BUT HE STOPS HER.
MELISSA: Jack, what's the matter with you?

JACK: I don't know. Why don't you.... why don't you tell me what's going on in here?

MELISSA: Ah, Jack, come on. You're being silly.

JACK: Oh I don't know. I walk in. I see you in another man's arms. You think that's being silly?

MELISSA: Well it is when I tell you how much I love you.

JACK: Tell me.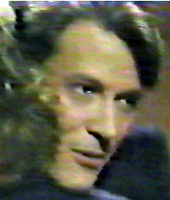 MELISSA: Jack I love you.

JACK: Oh I'm not being an idiot. It's just because I love you and I start being silly myself. You forgive me?

MELISSA: Yes, you're forgiven.

JACK: (Thinking he has fooled her, smug in his belief things are working as planned) Good. I don't know. Love makes you do some pretty silly things. Now I understand why this morning you got jealous when you saw me and Kristina together. Yeah, love makes you do some pretty silly things.

MELISSA: Yes, it certainly does.

JACK: You know I can't wait until next Friday.

MELISSA: Neither can I Jack.
---
SCENE NINE: AT CITY HALL, JENNIFER IS PRESENTED WITH HER AWARD AND ASKED IF SHE WANTS A FUTURE IN JOURNALISM. SHE SAID THAT SHE IS NOT SURE AT THIS POINT.
---
SCENE TEN: MEANWHILE EMILIO AND ADRIENNE MEET IN VICTOR'S STABLES AND LATER HAVE SEX.
---
SCENE ELEVN: AT A SECLUDED HOTEL. EMILIO SEES JENNIFER MAKE HER SPEECH ON TELEVISION ABOUT THE AWARD WHERE SHE THANKS HIM ANONYMOUSLY FOR HIS HELP.