---
[Air date 11-8-88]
SCENE ONE: ELECTION DAY. ANJELICA IS READING THE PAPER.
JACK: Good morning.

ANJELICA: I don't think so. Have you seen this? "Melissa Anderson Spurns Groom." Says Deveraux is devious and manipulative. Yep, they are reading this on the way to the voting booth.

JACK: Yesterday you said it wouldn't matter.

ANJELICA: Alright, so I was trying to cheer you up. This my friend is going to cost you the election.

JACK: I don't know about that.

ANJELICA: Oh Jack, the exit polls say they are turning away from you in droves. Mickey Horton's going to win that election.

JACK: The election's not over yet. (Beat) I happened to stop at the hospital on my back from the polling place and I picked up on some very interesting information. I only hope that the Horton's don't break open their victory champagne quite yet.
---
SCENE TWO: THE DEVERAUX MANSION.
ANJELICA: So there is going to be an investigation into Rosa Ramirez's death. So what? What does that do for you?

JACK: It's very simple. Something fishy went on in that room. Now who was her doctor.... Michael Horton. Who was in her room at the time of her death.... Michael Horton.

ANJELICA: Of course he was. He's her doctor.

JACK: Word around the hospital is that there was somebody else walking by that room at the time the alarm went off. That person saw the whole thing. That person was none other than.... Maggie Horton.

ANJELICA: Jack, that family is tight as sardines in a can. Even if Maggie did see something, she's not going to tell on Mike.

JACK: Do you happen to remember which prominent attorney happens to be the legal counsel for University Hospital?

ANJELICA: Oh. Now this is getting good.... Mickey Horton.

JACK: It's all in the family. Mickey asks Maggie questions about Michael. She lies, she doesn't lie, it doesn't make any difference. She implicates her son, so what? She tries to cover it up. Then she's covering up for somebody close, somebody tight. Tight as....

JACK AND ANJELICA TOGETHER: ....sardines in a can.

ANJELICA: Very good, but what if they don't call Maggie? Whose going to make sure they do?

JACK: I will. Remember now I'm on the board.... thank you Harper.... so I will be there this afternoon and I will make sure Maggie is called.

ANJELICA: This is good. Having a little mud slung at the Horton's is definitely a refreshing change of pace.

JACK: And we all know that most of the voting is done late in the afternoon after work. So, (kissing her on the cheek)....

ANJELICA: Darling.

JACK: I'm off to work. Have to get to a meeting. You know I think I'm going to do my civic duty. I think I'll drop by and talk to a couple of ladies and gentlemen of the press first. I mean before the meeting. It's very important that all the voters get all the information so they can.... make an informed choice. Like I said, the election's not over yet. (Slight wave) Bye, bye

ANJELICA: Bye, bye.
JACK WALKS OUT WHISTLING THE TUNE WHISTLE WHILE I WORK. AND ANJELICA WHISTLES ALONG WITH HIM.
---
SCENE THREE: TOM, NEIL AND MICKEY ARE IN THE HOSPITAL BOARD ROOM DISCUSSING THE DEATH OF EMILIO'S MOTHER WHEN MAGGIE AND MELISSA COME IN. MAGGIE SAYS THAT SOMEBODY CALLED HER TO ANSWER SOME QUESTIONS. THEY ALL DENY CALLING HER WHEN JACK BOUNCES IN.
JACK: I did. Good afternoon. You see word around the hospital is that Maggie Horton knows who killed Rosa Ramirez.
MIKE COMES IN TO GIVE HIS STATEMENT THEN JACK INTERRUPTS.
JACK: Let's stop wasting any time. Let's ask Mrs. Horton about the respirator. She was there. Ask her what she saw in the room? (Beat) Well go ahead. I'm not going away until you do. So much for any attempt to cover up, Mickey.

TOM: That's enough Jack. There'll be no cover up in this hospital as long as I'm head of it.

MICKEY: Maggie, may I ask you a question or two? (Beat) Maggie were you in Rosa Ramirez's room the night she died?

MAGGIE: No.

JACK: Please ask her what she knows about it?

MICKEY: Jack! Board member or not, if you keep up with these interruptions, I'll have you thrown out.

TOM: Mickey, leave this up to the chair, please.

MICKEY: Maggie were you anywhere near Rosa's room?

MAGGIE: I was passing by.

MICKEY: And what did you see?

MAGGIE: I saw Mike trying to put the plug back in the wall.

JACK: He was covering his tracks. That's what he was trying to do.

MAGGIE: He wasn't. He was plugging it back in. He wasn't pulling it out.

JACK: Oh, come on.

MICKEY: Maggie, did you see Michael take the plug from the wall?

MAGGIE: No.

JACK: I don't believe this! I don't believe this! He knew how much she was suffering. He was trying to put her out of her misery.

MIKE: Jack it's a lie.

JACK: He helped her die.

TOM: Jack sit down.

JACK: He helped her die.

TOM: Be still.

MICKEY: Maggie, in the time leading up to Mrs. Ramirez's death, as far as you know, what was Mike's state of mind regarding Mrs. Ramirez?

JACK: Did he say anything? Did he.... did he.... say anything to you about....

TOM: Jack you will leave the questioning to Mickey.

MICKEY: Did he ever discuss with you mercy killings in general or Mrs. Ramirez in particular?

MAGGIE: Mike always told me that he thought mercy killings were wrong. He said that no one had the right to end a life and that as a doctor, he had to fight and save every life that he could. So he said that lately with the suffering of Mrs. Ramirez and the suffering of her family, he wasn't so sure anymore. He said he could understand why April Ramirez was pleading with him to let her mother die.

JACK: Yep, there we have it. Mike pulled the plug on Rosa Ramirez to help.... to make score points with his girlfriend. What can you say?
MIKE MAKES A LEAP TOWARDS JACK BUT MICKEY RESTRAINS HIM.
JACK: Look at him, it's very simple. It's very simple. Look it's very simple Mickey.

MELISSA: I know what you're doing Jack. You're trying to get back at me and my whole family. You make me sick.

JACK: What?

NEIL: Look as far as I'm concerned we can close this meeting and just go home.

TOM: We can't do that.

MICKEY: No we can't. I have to ask Mike a question. Excuse me. Can you give us some explanation for this? Is it true that you did handle the plug for the respirator?

MIKE: Yes, but I didn't pull it out of the wall.

JACK: No, no. It just leapt out of the wall all on it's own and danced into your hands.

MIKE: It was already out.

JACK: What?

MIKE: When I heard that code blue go off I ran into the room and I saw that the plug was lying there, so I put it back. The crash team came in and we tried to save her life but we didn't. Now I may have my doubts sometime because I am human but it never effects my judgment as a doctor. I took an oath and in that oath is says, first do no harm and I take that oath very seriously. I have never broken it. I have never deliberately hurt a patient and I have never helped a patient die and that includes Rosa Ramirez.
JACK APPLAUDS.
JACK: Excellent speech, Doc but we have an excellent witness too who saw what you did.

MIKE: I didn't pull that plug Jack.

JACK: Well if you didn't, who did? You were the only one there in the room.

MIKE: I don't know but it wasn't me. And I didn't see anybody pull that plug either.
MIKE WALKS OUT THE CONFERENCE ROOM, AND STOPS OUTSIDE THE DOOR.
MIKE: (Muttering to himself) April, come on!
---
SCENE FOUR: A SHORT TIME LATER JACK GOES INTO THE DOCTOR'S LOUNGE.
JACK: Oh, Melissa, excuse me.

MELISSA: No just a minute Jack. There's a few things I'd like to say to you.

JACK: I'm sure there are! (He begins to leave.)

MELISSA: Come in here, you coward.
JACK WALKS RIGHT BACK TO FACE HER.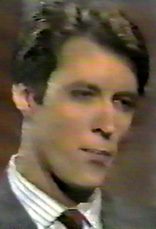 MELISSA: I must have been out of my mind.

JACK: Look why don't you just admit it. Your family is trying to stage a cover-up.

MELISSA: You know damn well Mike didn't pull that plug. But you don't care. You're willing to destroy a brilliant and dedicated doctor, just to get a few votes.

JACK: I'm a member of the board and acting as such.

MELISSA: You know you have a very short memory Jack. Do you realize where you'd be today without Mike? You're in remission because of him. He saved your life.

JACK: Wrong! I saved my own life. I'm in remission because I would not die. I did not give up. Because I fight. I don't have to take this crap anymore.

MELISSA: Oh yes you do Jack. You have to take this. You earned it. Every time you said you loved me, you earned it. You don't love anybody. You're not capable of love. The only thing you're capable of is manipulating and lying and trying to hurt people.

JACK: Just like you..... You through?

MELISSA: Yes I'm through. Through with you. I'm leaving Salem tonight. I'm going to use the ticket you paid for and I'm going to Europe and I'm going to have one heck of a good time because I have a lot to celebrate. First I'm going to celebrate not marrying you. God help me if I'd done that. And then when I'm through celebrating maybe I'll come back to Salem but wherever I am I know one thing for sure. No man is ever going to treat me the way you did again. I'm nobody's victim. Thanks for a good lesson Jack.
SHE IS ABOUT TO WALK OUT BUT TURNS BACK AND REMOVES HER RING.
MELISSA: Oh by the way.... choke on it. (Beat) It's probably fake anyway.
SHE WALKS OUT AND JACK LOOKS AT THE RING, HAS HER WORDS AFFECTED HIM?
---
SCENE FIVE: JACK IS HOME POURING HIMSELF A CUP OF COFFEE WHEN HE HEARS THE TV ANNOUNCER.
ANNOUNCER:
A surprising upset in today's election campaign to fill the senate seat left vacant by Harper Deveraux. Both front runners, District Attorney Mickey Horton and Assemblyman Jack Deveraux, appear to be trailing in the exit polls. Horton looked like a shoe in after yesterday's dramatic denunciation of Jack Deveraux by Horton's daughter Melissa who left the Assemblyman at the altar and threw her support to her father. However, Horton's chances have been tarnished by today's late breaking rumors that Horton's son, Dr. Mike Horton, of University Hospital, has been accused of euthanasia and that candidate Horton may be involved in an attempted cover-up. This station predicts an upset victory by Miss Jane Dobbins the almost unknown third party candidate.
JACK STANDS UP AND STARTS TO WANDER ABOUT THE ROOM. HE PUTS HIS HANDS IN HIS POCKETS AND FINDS THE WEDDING AND ENGAGEMENT RINGS HE HAD FOR MELISSA. HE THROWS THEM TO THE FLOOR AND STANDS THERE SAD AND ALONE.
JACK: Oh Melissa.
---
SCENE SIX: MELISSA SAYS GOODBYE TO HER PARENTS AND LEAVES FOR EUROPE.
---
SCENE ONE: THE NEXT DAY THE HEARING ABOUT ROSA'S DEATH CONTINUES.
JACK: Well doctor would you care to sit down?

MIKE: No. I want to get this over with.

JACK: Alright, we'll make this as brief as possible although you should know we've given this a great deal of time and thought. Naturally a case like this requires as much time and thought as possible.

MICKEY: Just get on with it Jack.

JACK: Okay. After careful consideration of Rosa Ramirez's case, the board has decided unanimously to absolve you of any responsibility in her death. However there is the small matter of the cover-up.

MICKEY: Alleged cover-up.

JACK: The cover-up. The board has found that you're guilty of withholding evidence in this inquiry and therefore you have been suspended from the staff, indefinitely.
MIKE SAYS THAT HE DID EVERYTHING HE COULD AND THAT HE WILL TAKE THIS TO COURT IF HE HAS TO.
JACK: Well that is your right of course. But I wouldn't advise it.
MIKE STORMS OUT AND THEN APRIL ASKS THE BOARD IF SHE CAN MAKE A STATEMENT.
APRIL: It's not fair to accuse him of something he had nothing to do with.

JACK: Well Miss Ramirez, we've heard all this before and quite frankly your opinion is irrelevant in these proceedings.

APRIL: I heard you say something about a cover-up and it's a lie.

JACK: Are you accusing this board? Is that what you're doing?

VICTOR: Jack, let the girl talk.
APRIL GOES ON TO TELL THEM THAT SHE WAS THE ONE WHO PULLED THE PLUG ON HER MOTHER'S MACHINE.
JACK: What?
---
SCENE ONE: THE NEXT DAY JACK GOES TO SEE KRISTINA AT VICTOR'S HOUSE.
JACK: Kristina? (Beat) Well I hope that look's for me and that you're ready for our lunch date.

KRISTINA: Yes and in fact there is something I've been dying to ask you.
JACK SEEMS INTRIGUED.
---
SCENE TWO: THE PREVIOUS SCENE CONTINUES, AND KRISTINA ACTS DEMURELY AS SHE ASKS HIM HER QUESTION.
JACK: You have some questions? Go ahead, ask.

KRISTINA: Well I was just wondering how you keep yourself warm on these cold and lonely winter nights, now that your fiancée's gone?

JACK: I don't know. I'm always open for suggestions.

KRISTINA: I was thinking of warm and cozy fires. And back rubs?

JACK: That definitely has possibilities.
SHE BEGINS TO UNBUTTON HIS SHIRT AND RUN HER FINGERS OVER HIS CHEST.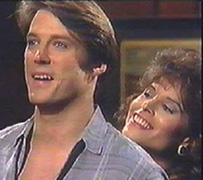 KRISTINA: And um champagne....

JACK: Hmmm....

KRISTINA: Warm baths....

JACK: Even warmer....

KRISTINA: And massages.... the kind that make you tingle all over. (Her hands travel down his body.) Interested?

JACK: Aaaah.... well it all depends on who's giving and who's receiving?

KRISTINA: That's negotiable. There's only one problem. I brought this wonderful oil with me from Greece. It's guaranteed to make you feel sensational and I'm just dying to try it out.

JACK: But?

KRISTINA: But living here with Victor and Justin and Adrienne, well it's a bit cramped for.... for the kind of entertainment I had in mind.
JACK REMOVES HER HANDS FROM HIS BODY.
JACK: I'll tell you what. Why don't we go over to my mansion? It's a hell of a lot bigger than this place.

KRISTINA: You wouldn't mind?

JACK: I wouldn't mind one bit. (He kisses her neck.)

KRISTINA: You don't think that you being alone, by yourself, you wouldn't mind it?

JACK: What? Being alone?

KRISTINA: Well that you're used to being alone.

JACK: Ah.... wait a minute, wait a minute. What are we talking about here?

KRISTINA: Um.... we're talking about living together. But if you think that's too soon after your breakup with Melissa, politically speaking of course.

JACK: I don't know. Maybe I'm mistaken here but we were getting ready to go on a lunch date, right?

KRISTINA: I'll make you forget her Jack, promise. (Kiss)

JACK: Look, alright, alright, okay. Now we've had our fun. Let's talk. What's going on here?

KRISTINA: What's going on here is that I just want to pursue our relationship with a little bit more privacy.

JACK: Uh, huh. And.... ah.... your Uncle Victor wants you to go home? Go home to your daddy. Isn't that right? (Beat) That is right isn't it? Tell you what. Let me give you a little bit of advice. Maybe you should rethink your decision about staying here in Salem?

KRISTINA: Why?

JACK: I don't know. If I had an Uncle Victor who was telling me to get out of town, I think I'd get out of town.

KRISTINA: Oh you would, would you?

JACK: Oh, well, I don't know. I mean Victor's a pretty powerful guy and.... er.... I know I wouldn't want to cross him.

KRISTINA: Maybe because you're a coward.
JACK GRABS HER.
JACK: I hardly think so. (He kisses her.)
THE CLOCK CHIMES.
JACK: Well excuse me. I hate to kiss and run but next time you're in town give me a call and we'll get together in that hot tub, okay?
KRISTINA SWEARS AT HIM IN GREEK.
JACK: Well I guess that means.... hold on the oil. (Beat) Bye, bye.
---
SCENE ONE: JACK IS WALKING THROUGH THE PARK WHEN HE BUMPS INTO KAYLA.

Jack/Jack;
1.3 Min; 2 Meg
KAYLA: Excuse me. Oh it's you.
JACK: Oh it's you. Well that's a charming welcome.
KAYLA: Excuse me Jack.
JACK: Wait a minute. Doesn't your Ex get a chance to say welcome back.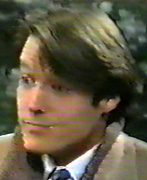 KAYLA: You know Jack, I don't have time for this.
JACK: You really are testy aren't you? Of course I'd be testy too if all I had to go home to was Handicaps 'R US? (Beat) Look, I'd be upset too if I was stuck with a loser like Steve. I really....
KAYLA: Stop it. (Beat) Excuse me.
JACK: Well...hey wait a minute. At least I shower and shave. No I'm sorry, that was a low blow. It really was. It was uncalled for but I thought you wanted more out of life. You see I thought you wanted a life like you read about in the magazines, you know.
KAYLA: Or a life like you could give me Jack? No thank you.
JACK: Look at least you wouldn't be stuck in a loft that smells like old machine parts.
KAYLA: Look I don't come from a life of privilege like you and it suits me just fine.
JACK: You see that's why you deserve a big house with a great big yard and a couple of golden retrievers running through it.
KAYLA: Jack you don't know anything about me or where I belong.
JACK: Okay, why don't you tell me about it? Why don't you tell me what makes Kayla happy? Does it make Kayla happy to come home to a little handicapped kid, to a guy with one eye who can't even spell J-O-B?
KAYLA: Stop it. Stop it. Don't you dare say that about Steve or Benjy. I love them just the way they are.
JACK: I'm just lookin' out for your welfare, just like the old days.
KAYLA: No, what you are is unhappy. Unhappy with yourself and with your life. You have no idea what it's like to love somebody or to want to build a life with them. And you especially don't know what it's like to love a child.
JACK: I'd love my own child.
KAYLA: Do you think I'm sacrificing in loving Benjy? You're wrong. Benjy gives me much more than I could ever give him.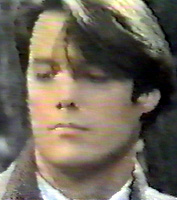 JACK: You know if Norman Rockwell were alive today I think he'd put you on the cover of Life magazine. I really think he would. I really do.
KAYLA: No you wait a second. I'm not done with you Jack. There's something else you know nothing about. That's what Steve and I have. We love and respect each other. Those are two words you've never even heard of. You've cut yourself off from your family. Who are your friends? Can you name one? (Beat) You can't because you have alienated anyone who has ever been trying to get close to you or reach out to you. You deserve everything you're getting Jack. You deserve to be alone. (Beat) Well I gotta go pick up Benjy. The family's waiting for us.



---
SCENE TWO: LATER THAT DAY JACK IS HANGING AROUND THE COMMUNITY CENTER. HE WATCHES A PARTY THROUGH THE DOOR BUT JO SEES HIM AS HE WALKS AWAY AND FOLLOWS HIM TO THE PARK.

Jo and Jack;
2:55 Min; 6.5 Meg
JO: Jack.

JACK: Mrs. Johnson. How are you doin'?

JO: Good thanks.

JACK: I see the parties started early this year. One big bash after another. Well, me, I'm just out taking a little breath of fresh air between soirees if you know what I mean.

JO: You don't have to pretend with me. I know that you haven't been to a fancy party. I saw you outside the Community Center.

JACK: So, I was walking by the Community Center? Is that a crime?

JO: Oh, you weren't walking by. I saw you looking through a window. Jack, it's not so bad to want to be a part of your family's celebrations.

JACK: Why would I want to go.... why would I want to be at a dinky little party like that at the Community Center, eh?

JO: Because it's your family's party. I think you're drawn to us. You know what, I think you're drawn to your family.

JACK: This is starting to sound like a broken record, you know that? I'm not a member of your family. I'm a Deveraux.

JO: Say what you will, the fact is you are a Johnson.

JACK: Alright, come here, let me show something. Take a look at this, okay. See that picture, that's me. See the name underneath. Can you read those letters? What does that say?

JO: I don't care what that driver's license says.

JACK: Jack Deveraux.

JO: I don't care what it says. By birth you are a Johnson. Steve, Adrienne, me. We are your family. For better or for worse.

JACK: I think for worse. Yeah, I think for worse.

JO: Denying your own family. That must be a lonely road to travel son.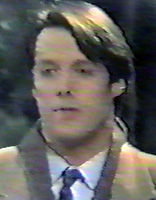 JACK: You think I'm lonely, huh?
JO: Yes.....
JACK JUMPS, STARTLED.
JO: ....(Cont.) I think you're lonely. think you're lonely.I think you have brought it on yourself. Some of the things that you have done and still we hold our arms out to you. Still I give you my heart.
JACK: Little late for that, isn't it? About twenty-five years too late.
JO: Look I'm sorry for what I did. I always will be but stop using it as an excuse. I made a mistake. Okay it's done but stop wallowing in your own self pity. That's your own doing. (Beat) Look, I want what's good for you. I'm your mother.
JACK: You had a chance to be my mother and you threw it away.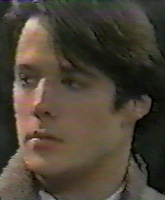 JO: Because I wanted you to have a better life. I gave you to some people because.... because they had money and I thought they could give you advantages that I couldn't. Well, I was wrong. I wish had it to do over. I wish I could raise you because you would be a different man today. I would see to that.

JACK: Wait a minute. I've taken a lot of things from you but one thing I don't want is your pity. Don't feel sorry for me.

JACK IS AFFECTED BY HER WORDS.

JO: I'm not going to give up on you Billy and you are Billy. Deny it or not, you are Billy. And I know that there's a lot of good things in you. And Son, I'm going to find them. (Grabbing his collar.) I promise you I'm going to find them.
JO RUNS HER HAND OVER HIS CHEEK AND WALKS AWAY. JACKS SEEMS TO BE THINKING OVER WHAT SHE SAID, AND MAYBE BELIEVING THAT WHAT SHE TOLD HIM WOULD HAPPEN.
---
SCENE THREE: AT THE PARTY AT THE COMMUNITY CENTER, EMILIO DANCES FOR THE CROWD AND JENNIFER IS VERY IMPRESSED.
---
SCENE ONE: JUST BEFORE CHRISTMAS, ANJELICA AND NEIL GET MARRIED. JACK WALKS INTO THE ROOM ALL READY FOR THE CEREMONY AND IT REMINDS HIM OF HIS WEDDING TO KAYLA.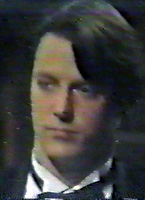 JACK: Kayla....

JO: Brings back some old memories, doesn't it?

FOR ONCE JACK DOES NOT FIGHT HER AND ACTUALLY SEEMS TO LIKE CONFIDING IN HER. IS HIS RESENTMENT THAWING?

JACK: The room looked just like this when I....when I got married to Kayla. But I guess it's just not my style to be the married type, you know.

JO: I'm not giving up on you son. I think I know what's in your heart even more than you do.

ANJELICA: Did that nitwit get here with my gown? I just stopped him from putting it in the trunk. He was within seconds. You know you just can't get good help these days. even though Neil does pay a fortune. How are you sweetheart?

JACK: Fine.

ANJELICA: Mrs. Johnson, can you sew?

JO: Yes ma'am.

ANJELICA: Oh, silly me. What a question? Of course you can sew. I remember those fabulous little numbers you used to whip up for Adrienne before she discovered what charge accounts were for. Would you do me a favor and see if that twerp tore any buttons off my gown? Thank you.

JO: Excuse me, Jack.

JACK: Certainly. (Beat) Well you're in fine form today aren't you?

ANJELICA: I thought this day would never come.

JACK: Are you happy?

ANJELICA: Jack, Neil's a wonderful man. Very kind, dashing. I think my baby and I will do very well here. For the first time I can look at my future and it doesn't seem scary.

JACK: You still haven't mentioned the word, happy.

ANJELICA: Jack, I can assure you that when I say those two words I do to Dr. Neil Curtis, I will be the happiest woman in the world.
ANJELICA WALKS AWAY LOOKING SAD.
---
SCENE TWO: THE CEREMONY TAKES PLACE WITH JACK AS ONE OF THE GUESTS. LATER AT THE RECEPTION, JACK TALKS TO MAGGIE.
MAGGIE: Hello, Jack.
JACK: Nice.... er.... nice wedding party.
MAGGIE: Yes.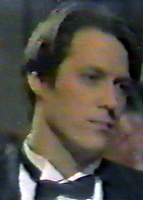 JACK: Er.... I just wanted to tell you that if you ever talk to Melissa.... um.... maybe you could just tell her that I hope everything's working out for her.

JACK IS SINCERE IN HIS APOLOGY, AND SEEMS TO HAVE SOME SHAME FOR WHAT HE DID TO MELISSA.

JACK: Hello Maggie.

MAGGIE: Yes, I will.

JACK: Thank you.