---
SCENE ONE: SHANE DECIDES TO TELL ANDREW A STORY ABOUT EVE, WHO IS MISSING, AND HE MAKES UP A FAIRYTALE THAT INCLUDES ALL THE CAST OF SALEM

PRINCESS EVE IS MISSING AND HE OFFERS A REWARD TO WHOMEVER FINDS HER. SIR ROMAN OF BRADY (ALWAYS IN FULL ARMOR), AND HIS LOYAL FRIEND ABE, AND STEVE HOOD, HE HAS A BAND OF MERRY MISTRAL MEN, MARCUS, EMILIO AND JULIO, ARE THE GOODGUYS. PRINCESSES KAYLA AND DIANA ARE THEIR PRINCESSES. JACK PLAYS, LORD JACK OF DEVERAUX, AKA BILLY JACKETH, AN EVIL LORD WHO IS PRETENEDING TO REDEEM HIMSELF. COUNT VICTOR IS AN EVIL COUNT WHO WANTS THE REWARD FOR HIS OWN EVIL REASONS; HE IS JOINED BY HIS LOYAL SERVANT NICO. CALLIOPE IS THE COURT JESTER, TO KING SHANE AND QUEEN KIM, AND YOUNG PRINCE ANDREW. ALICE AND WIZARD TOM ARE MAGICAL SPIRITS. EVERYONE IS A CARICATURE OF THEIR DAYS' PERSONALITIES, AND EVERYONE SPEAKS IN FAKE ELIZABETHAN/SHAKEPEAREAN ACCENTS.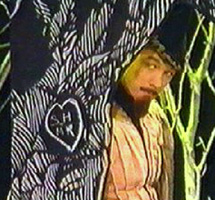 STEVE HOOD, PRINCESS KAYLA AND STEVE'S MERRY MISTRAL MEN ARE CELEBRATING IN THE WOODS, HOPING TO BE THE ONES TO FIND PRINCESS EVE. KAYLA IS LIKE THE HELPESS DAMSEL IN DISTRESS, A RATHER DENSE, DUMB BLONDE. UNBEKNOWST TO THEM, THE EVIL LORD JACK OF DEVERAUX IS SPYING ON THEM. JACK IS LIKE A BASIL RATHBONE TYPE VILLAIN, IN TIGHTS, AND A LONG, POINTY GOATEE. HE IS VERY SMARMY, WITH SQUINTY EYES.
DAYS Fairy tale: The evil Lord Jack of Deveraux lies about wanting to make up with his brother;
1:45 Min; 3.8 Meg
STEVE AND KAYLA ARE DANCING, AND MARCUS, EMILIO AND JULIO ARE DOING A CHAIN DANCE, SINGING, "STEVEN HOOD, HOOD, HOOD." LORD JACK SNEAKS INTO THE END OF THE LINE AND JOINS THEM, SINGING ALONG WITH THEM. STEVE SPOTS HIM, AND PUTS HIS HAND ON LORD JACK'S SHOULDER.
LORD JACK: (Still singing) Steven Hood, Hood....
STEVEN HOOD MAKES A CUTTING MOTION UNDER HIS CHIN...
LORD JACK: (Continuing) Hood, Hood.... Hood.... (A little annoyed that he was stopped).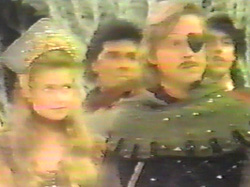 STEVEN HOOD: What doest thou ruinest thou here, Billy Jacketh (Sound like Jack-ass)?
LORD JACK: It's a free forest, isn't it? Besides, hearing the glad tidings, (oozing fake charm, and acting smarmy) I thought I'd congratulate you both.
STEVEN HOOD: (Not buying into his act) "Congratulate" me, huh? (Talking to his men) Would anyone buy a used ox from this man?
MARCUS: (Shaking his head and laughing ironically) Nooooo!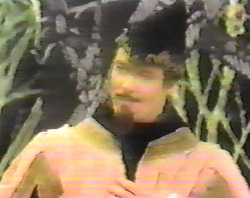 EMILIO: Neevvveerr!
JULIO: Noo Waayy!
LORD JACK: (In an affected speech, pretending to be hurt) You cut me to the quick, noble sibling. All I ever wished was to redeem myself. To be looked upon with favor in your eye.... (melodramatically, putting his hand to his breast) To feel once again the warmth and companionship of our youth.
STEVEN HOOD: (Scoffs) Huh!
MARCUS: (Scoffs) Huh!
EMILIO NODS, APPARENTLY BUY THE ACT.
LORD JACK: (Putting out his hand, acting contrite) Let me work with you. (Putting out his two hands) Together you and I shall find Princess Eve. (Pointing to him) With your guile and (making a fist) my smile we will share the half kingdom. And--
STEVEN HOOD: (Interrupting) GET THEE VILLAIN! GET THEE HENCE!
MARUCS NODS. PRINCESS KAYLA REMAINS SILENT.
STEVEN HOOD: (Pointing) Every man before you knows would wouldst thou do. What atrocities thou wouldst commit (pointing) if you owned half the kingdom. NEVER I SAY! (Beat) Never!
LORD JACK: (Stretching out his arms in acceptance) All right. Forget it. I may not have half a kingdom to (rolling his "r") rrrrreek my revenge on you and your antiquated idealisms. And I shall have my revenge, dear Brother. Wear ye. I shall have my revenge.
SIR JACK WALKS OFF WITH A SATISFIED SMIRK.
---
SCENE TWO: STEVEN HOOD AND HIS MERRY MINSTRALS ARE IN THE WOODS SINGING.

Lord Jack sings "Mac the Knife";
25 sec; 890K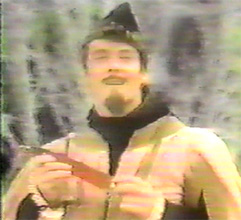 LORD JACK SPIES ON THEM. AFTER THEY WALK OFF, HE COMES OUT FROM BEHIND A TREE, HOLDING A KNIFE IN IT SHEATH.
LORD JACK: Sing what you may, while you may, dear Brother. For by the end of this day, much to your dis-may, you'll be singing another song altogether. [Lord Jack starts to Bertolt Brecht's "Mac the Knife" from his operetta The Threepenny Opera in the style of a lounge singer, though it appears he is making up his own words) "For the shark bites with his teeth dear...." (walking out into the clearing) ".....scarlet bellows for to spread. Fancy work...." (taking the knife from his sheath.) "....though is my sheath dear,.... (as he sings this part he slams the knife back into its sheath, menacingly) "....for there's not a trace of red!"


---
SCENE THREE: PRINCESSES KAYLA AND DIANA ARE ALONE IN THE WOODS, THEIR MEN THINKING THEY ARE TOO DAINTY TO HELP THEM FIND EVE. THEY TALK ABOUT THE MEN'S EGOS BEING BRUISED WHEN THEY FAIL, SO THEY DECIDED TO GO HELP THEM. JUST AS THEY START TO WALK OFF, JACK APPEARS.

Lord Jack and evil Count Victor capture the princesses;
1:40 Min; 3.6 Meg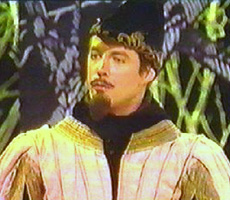 LORD JACK: I'm afraid.....
THEY SQUEAL.
LORD JACK: (Cont.) ....that neither of you is going anywhere, mi ladies.
PRINCESS KAYLA: (With a baby doll voice) Jack of Deverauxes.
LORD JACK: (Mock bow) At your service. And, by the way, in case you're wondering, you're both my prisoners now. (Smugly) And there's nothing that anybody can do to change that!
PRINCESS KAYLA: Oh, Yeeaah!
SUDDENLY ANOTHER VOICE IS HEARD, NICO, COUNT VICTOR'S MAN.
NICO: Oh, Yeah!
THEY ALL TURN. THE WOMEN SQUEAL, AND JACK MAKES A NERVOUS GIGGLE. NICO HAS A CROSS-BOW AIMED AT THEM, AND COUNT VICTOR IS FOLLOWING HIM.
LORD JACK: (Scared, stuttering) ahhh, careful (he bends behind the ladies for protection) that bow is loaded.
COUNT VICTOR: It certainly is! And I'm afraid, these two are my prisoners now, Jack!
LORD JACK, PRINCESSES KAYLA AND DIANA: (Simultaneously) Oh, Yeah!
COUNT VICTOR: (Smiling with pleasure) Oh, Yeess!
LORD JACK, PRINCESSES KAYLA AND DIANA: (Simultaneously, making faces) Eeewwww (and laughing nervously)!
---
SCENE FOUR: COUNT VICTOR WITH HIS MAN NICO HAS ONE-UPPED JACK AND TAKEN THE PRINCESSES KAYLA AND DIANA AWAY FROM HIM. JACK SUDDENLY TRIES TO MAKE A DEAL WITH HIM.
LORD JACK: We.... well, Count we appear to have the same plan, using these winches to convince their dull-witted lovers, whichever appearst to be the victor -- No pun intended --....
COUNT VICTOR: None taken.
LORD JACK: (Cont., in a sycophantic voice.) ....to turn over the half-kingdom as a reward in exchange for their safety, yes? (Becoming more animated, impressed with his own evil plans) And turn that half-kingdom into a powerful empire, powerful and evil enough to devour the remainder of the empire.
PRINCESS KAYLA LOOKS AT HIM NOT BELIEVING HE IS ACTUALLY SAY THIS.
LORD JACK: (Cont.) And then (gesturing) ....and then---
COUNT VICTOR: (Getting bored) Yes, yes you would indeed be a man after my own heart, Lord Deveraux, if I had one (grins).
LORD JACK: (Toadying) Ehh, thank you. Thank you, (pushing back Diana's veil and moving towards him) and.... and a splendid one it is too. And yet, (gesturing) there is always room for improvement, is there not?
VICTOR MOVES CLOSER TO LORD JACK, PASSING BY NICO WHO IS STILL BENDING DOWN ON HIS KNEES AND AIMING HIS CROSS-BOW AT THEM.
COUNT VICTOR: I'm Listening. (Motioning to Nico) Park that thing!
LORD JACK: Why don't you and I join forces. We could solve this story in half the time, creating twice as much evil, twice as quickly, and having twice as much fun.
COUNT VICTOR: I'm tempted.
PRINCESS KAYLA: (Rather dense) So, what's your plan for us?
LORD JACK: (Motioning to them) Uh, patience, mi ladies, patience.
COUNT VICTOR: Yes, you'll have an answer to that question soon enough.
COUNT VICTOR BEGINS TO LAUGH MALICIOUSLY, AND JACK JOINS HIM. PRINCESS DIANA SEEMS BORED BY THEIR ATTEMPTS AT VILLANY. SHE TURNS TO PRINCESS KAYLA.
PRINCESS DIANA: (Annoyed) Men!
THE VILLAINS CONTINUE TO LAUGH. UNBEKNOWST TO THEM, CALLIOPE THE COURT JESTER IS BEHIND A TREE AND HAS HEARD EVERYTHING.

IT IS GETTING LATE AND SHANE TELLS ANDREW IT IS TIME FOR BED. THEY WILL CONTINUE THE STORY THE FOLLOWING EVENING.
---
SCENE ONE: KAYLA AND MIKE ARE HAVING A CUP OF COFFEE AT THE CAFE. JACK SEES THEM AND CALLS STEVE, HOPING TO CAUSE TROUBLE BETWEEN PATCH AND KAYLA.
STEVE: Patch's Pasta Kitchen.

JACK: Hi.... Hi it's me. It's Jack. Look I really need to see you. Um.... look.... I'm down at the café. Could you meet me here right away?

STEVE: Oh, no, man I'm busy.

JACK: Steve, please. I'm really trying here. I'm.... er.... I really need to see you. Could you meet me right away?

STEVE: Alright.

JACK: So, you'll be here soon?

STEVE: Yeah, soon.
JACK HANGS UP THE PHONE.
JACK: Not soon enough.
---
SCENE TWO: A SHORT TIME LATER STEVE COMES DOWN THE STEPS OF THE CAFÉ. HE STOPS AND SAYS HELLO TO STEVE AND KAYLA AND TELLS THEM THAT HE IS HERE TO SEE JACK.
JACK: Hey, pull up a chair.

STEVE: What did I rush over here for, Jackson? (Beat) Come on, what did you want to talk about?

JACK: I want to talk about Jo. Look I care about her welfare
whether you believe it or not.

STEVE: Okay, so you woke up this morning and you decided it was a good thing after all that you found your mother.

JACK: No, no. We're not discussing my timing. The fact remains that she's living in a dump and I'm the only one who's concerned about getting her a new place.

STEVE: Old news. She doesn't want to move. She doesn't want your charity. Now you got that. Now, you got something else on your mind?

JACK: Well, you're certainly not making this easy now are you?
JACK LOOKS ACROSS AT MIKE AND KAYLA.
JACK: Er.... Mike and your wife must be very good friends, eh?

STEVE: Yeah, they are. So?

JACK: So..... I don't know. To each his own.

STEVE: Look, if you've got something to say. Say it.
JACK JUST SMILES AND STEVE GETS UP TO LEAVE.
JACK: No, Steve. I do.... I do have something to say. (Beat) Ah.... er....I.... er.... you were saying they were.... they were close.... they used to be close. They used to be very good friends once.

STEVE: Once yeah. Once. Once upon a time. (Beat) You better quit while you're behind Baby Brother.

JACK: I don't know what you're talking about. I.... I tried.... I'm going to go.

STEVE: Oh, no, you stay right here. I'm on to you. (Beat) You just don't give up do you? I tell you to stop messing around in our lives. I tell you to leave us alone but you can't do that can you?

JACK: Look I made an observation about Kayla and that's....

STEVE: Will you shut up about Kayla. I'm sick of hearing it.

JACK: I don't have to stand around here and listen to....

STEVE: You do. You have to stand here until I'm finished with you now.

JACK: What do you mean? I'm finished with you.

STEVE: No, no. See that's the problem. You're not finished. That's why you dragged me down here today. That's why you do half the crap that you do.

JACK: You're right. My mistake. I'm sorry. I'll see you around Johnson.

STEVE: Yeah, Johnson.
JACK LOOKS BACK AT STEVE.
---
SCENE THREE: SHANE CONTINUES THE STORY HE WAS TELLING ANDREW THE NIGHT BEFORE.

THE STORY CONTINUES WHERE IT LEFT OFF, COUNT VICTOR AND LORD JACK OF DEVERAUX HAVE DECIDED TO TEAM UP AND KIDNAP PRINCESSES KAYLA AND DIANA AND THEN RANSOME THEM OFF TO EITHER STEVEN HOOD OR ROMAN, WHOEVER FINDS EVE AND WINS THE REWARD, HALF OF KING SHANE AND QUEEN KIM'S KINGDOM.
PRINCESS KAYLA:
(In a whiney voice) How much more of this do we have to take?! Thy have been standing there all night leering at us with evil intent.
LORD JACK OF DEVERAUX: Was not our idea to take a break in the story.
PRINCESS DIANA:
Well, if it is all the same with you, we'll be going now.
PRINCESS KAYLA NODS IN AGREEMENT.
PRINCESS DIANA: (Cont.) Our men need us, and who knows what misfortunes might befall them.
PRINCESSES KAYLA AND DIANA DEFIANTLY TURN THEIR HEADS AND START TO WALK OFF. HOWEVER, VICTOR HAS OTHER PLANS.
COUNT VICTOR:
Thou goest nowhere (he trusts his sword at Princess Diana's neck). Thou art our prisoners, and ye shall remain until we have no further use of thee.
LORD JACK ALSO DRAWS HIS SWORD AND TRUSTES IT AT PRINCESS KAYLA'S NECK.
PRINCESS KAYLA:
Ah. (Touching the point of the sword) Eee. Me thinks they mean business (looking down at the sword).
SHANE TELLS ANDREW AND KIM, THAT "INDEED THEY DID."
---
SCENE FOUR: THE STORY CONTINUES.

MEANWHILE, CALLIOPE THE COURT JESTER HAS RUN TO TELL STEVEN HOOD AND SIR ROMAN ABOUT THEIR FAIR LADIES. THEY, HOWEVER, ARE FIGHTING, BUT STOP AND JOIN FORCES TO SAVE THEIR PRINCESSES.

PRINCESSES KAYLA AND DIANA HAVE BEEN PREVENTED, AT SWORD POINT, FROM ESCAPING.
COUNT VICTOR: The bait is set. It's only a matter of time ....
LORD JACK:
Hmmmmm.
COUNT VICTOR: (Cont.) ....before your hapless heroes walk into our lair, whilest we lie in wait.
LORD JACK:
They'll have not a choice, but to do our bidding.
BOTH LORD JACK AND COUNT VICTOR BEGIN TO LAUGH MENICALLY.
PRINCESS KAYLA:
(To Princess Diana) Are these two for real?
PRINCESS DIANA: (To Princess Kayla) This is a fairytale, none of us are for real.
PRINCESS KAYLA:
Oh!
JUST THEN CALLIOPE HAS ARRIVED WITH STEVEN HOOD AND SIR ROMAN. THE VILLAINS ARE TOO BUSY LAUGHING TO NOTICE. HOWEVER, PRINCESS KAYLA HAS SEEN THEN.
PRINCESS KAYLA:
Hark! Is that who I think it is?
PRINCESS DIANA: (Out of the corner of her mouth to Princess Kayla) Leave it to them to screwist things up!
PRINCESS KAYLA:
(Out of the corner of her mouth in reply) You think our services will come in again?
THEY LOOK AT EACH OTHER AND THEN TRY TO USE THEIR CHARMS TO DISTRACT THE VILLAINS.

Princesses Kayla & Diana flirt with the villains to so they do not notice the good guys arriving;
40 sec; 2 Meg
PRINCESS DIANA:
Oh, Victor.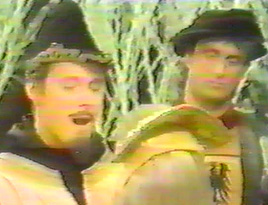 COUNT VICTOR:
Ah, hmm.
PRINCESS DIANA: I just love the way thy twirls thy mustache.
PRINCESS KAYLA: (Running her hands over Lord Jack's chest) And the way thy lips curls and shivers up and down my spine.
LORD JACK: (Nervously) Ah, uh.... P.... Perhaps we could share.... uh, spare, thy ladies after all.
COUNT VICTOR:
(Looking lustfully at Princess Diana) And share these spoils of war to ourselves (laughs).
BOTH OF THE PRINCESSES PUCKER UP THEIR LIPS, AND CLOSE THEIR EYES. BEFORE THEY HAD TO GO ALL THE WAY AND KISS THEM, THEIR NOBLE LOVES SAVE THE DAY. JACK AND STEVEN HOOD BEGIN TO DUAL.
LORD JACK:
What ho! What ho!
COUNT VICTOR AND SIR ROMAN FIGHT. NICO THRUSTS OUT HIS CROSS-BOW AS A SWORD.

KIMBERLY ASKS WHAT THE WOMEN WERE DOING DURING ALL THIS. "DON'T TELL ME THEY WERE STANDING AROUND, SHAMELESSLY SHRIKING IN FEAR?"

THAT IS EXACTLY WHAT CALLIOPE, AND THE TWO PRINCESSES WERE DOING.

THE LADIES HEAR THE VOICE OVER.
PRINCESS KAYLA: She's right!
CALLIOPE: Come on, fair ladies, let us be butch!
CALLIOPE TAKES HER JESTER'S WAND AND KNOCKS OUT NICO. SHE THEN GIVES IT TO LADY DIANA WHO KNOCKS OUT COUNT VICTOR. PRINCESS KAYLA WAVES TO STEVEN HOOD.
STEVEN HOOD: (To Lord Jack) Look out for the lawn mower!
HE TURNS AROUND, AND DOES NOT SEE PRINCESS KAYLA WHO KNOCKS HIM OVER.
LORD JACK: Whoa, whoa, whoooaaa! Ohh.... (falling down).
THE FOUR OF THEM RUN AWAY. POOR SIR ROMAN HAS DIFFICULTY RUNNING IN HIS ARMOR. CALLIOPE IS CRADLING NICO, AND ASKS, "IS IT TRUE WHAT THEY SAY ABOUT MEN WITH LARGE CROSS-BOWS?", AND THEN RUNS AFTER THE GANG.
---
SCENE FIVE: SOME TIME LATER, SHANE EXPLAINS HOW THE TWO GROUPS DIVIDED UP. "UNBEKNOWST TO OUR UNWITTING FRIENDS, LORD JACK AND COUNT VICTOR WERE LURKING IN THE SHADOWS.

THE TWO OF THEM, AND NICO, CREEP FROM BEHIND THE TREE WHERE THEY HAD BEN HIDING. LORD JACK LAUGHS MENACINGLY.

Lord Jack's tongue twister;
55 sec; 2Meg
LORD JACK:
Let them be on their merry way, for the fun has yet to begin!
HE HAS WISKED OUT A MAGICAL DONUT WHICH THE MAGICAL ALICE AND THE WIZARD TOM HAD GIVEN STEVEN HOOD.
COUNT VICTOR: 'Tis not time for a donut break!
LORD JACK: Aahh, but what I have here is no mere dough-nut. Whilest no one was peeking (making a grabbing motion).... I pluckily picked the pocket of that proud, patched pauper. (Looking at the donut) This puffed pastry promises to provide a potent potion (spitting while talking) making puny.... people.... powerful!
COUNT VICTOR FLICKS THE SPITTLE FROM HIS FACE.
COUNT VICTOR:
I too possess such magic! In the heat of battle did I take this medallion....
HE HOLDS OUT THE SPECIAL, MAGICAL MEDALLION GIVEN TO SIR ROMAN BY ALICE AND TOM.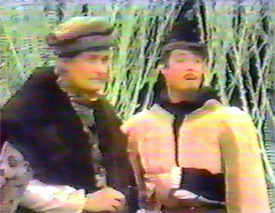 COUNT VICTOR:
(Cont.) ....from the neck of Sir Roman. He who wears it is all powerful. Being thus invincible, no thing or no man can stop us!
LORD JACK: And that half-kingdom shall be ours!
COUNT VICTOR: Half-kingdom, Pshaw! Once we get the Princess Eve into our grip, we shall not settle for less than the entire kingdom!
LORD JACK: Ha!
THEY HIGH-FIVE AND KEEP THEIR ARMS RAISED, THEIR HANDS TOUCHING, AND DANCE AROUND. THEN THEY INTERTWINE THEIR ARMS AND THEY DO A LITTLE JIGG. NICO JIGGS TOO. THEN THE DANCE AROUND SWITCHING HANDS, AND LAUGHING EVILY.
---
SCENE SIX: QUEEN KIM, KING SHANE, YOUNG PRINCE ANDREW, CALLIOPE AND TWO PAGES, ONE OF WHO IS IS DAVE THE MAITRE D' AT BLONDIES, THE OTHER [LOOKS LIKE] JOEY THE BARTENDER AT SHENANIGANS; THEY HAVE SINCE MET UP WITH STEVEN HOOD AND HIS FAIR LADY, PRINCESS KAYLA, AND SIR ROMAN, AND HIS FAIR LADY, PRINCESS DIANA. THEY FIND A DOILEY, AND REALIZE IT IS FROM PRINCESS EVE'S DRESS. THEY FIND A FEW MORE, AND FOLLOW THEM. LURKING BEHIND A TREE IS THE VILLAINS, LORD JACK AND COUNT VICTOR.
LORD JACK:
Lady Luck is indeed our bed fellow.
THEY BOTH EMERGE INTO THE CLEARING.
LORD JACK:
(Cont.) Well, just follow their lead, and follow them straight to the princess.
COUNT VICTOR: And then I'll dawn the Magic Medallion.
LORD JACK: And then I partake of the Magic Morsel.
COUNT VICTOR: Together we overtake the princess.
LORD JACK:
And the kingdom will be ours!
MORE EVIL LAUGHTER.
---
SCENE SEVEN: THE GANG HAVE ARRIVED AT A TOWER, AND ARE STARTLED WHEN PRINCESS EVE STICKS HER HEAD FROM A WINDOW AT THE VERY TOP. EVERYONE IS PLEASED TO SEE HER. KING SHANE ASKS HER HOW SHE GOT UP THERE. SHE TOLD THEM SHE DOES NOT KNOW, ONLY THAT THE DARK LORD CAST AN EVIL SPELL ON HER, AND SHE AWOKE IN THE TOWER. KING SHANE VOWS TO SAVE HER. SHE TELLS HIM THAT THERE "IS NO WAY IN OR OUT." SIR ROMAN STUMBLES FORTH SAYING HE WILL RESCUE HER. STEVEN HOOD CALLS HIM, "CAN MAN" AND TELLS SIR ROMAN TO LET HIM RESCUE HER, SINCE HE KNOWS WHAT HE IS DOING. THEY BEGIN TO FIGHT AGAIN. TOO BUSY FIGHTING EACH OTHER THEY DO NOT SEE LORD JACK AND COUNT VICTOR APPEAR.
LORD JACK: NEITHER OF YE WILL SAVE HER!
COUNT VICTOR:
For the princess is ours!
STEVEN HOOD AND SIR ROMAN FINALLY STOP FIGHTING.
STEVEN HOOD: For someone they call "Count" (pointing with his sword) you're having a little trouble aren't you! (Gesturing with his sword) You're out numbered!
COUNT VICTOR:
Aaahhhh, but you underestimate our power (he flashes the Magical Medallion).
EVERYONE GASPS IN SHOCK. THE WOMEN SHRIKE, AND KING SHANE IS HORRIFIED.
LORD JACK:
And, the Magic Morsel (he flashes the donut).
AGAIN EVERYONE GASPS IN SHOCK. LORD JACK GIVES AN EVIL CHUCKLE.
STEVEN HOOD:
(Laughs, pointing with his sword) Did thy really fall for that hocus-pocus? Ha!
SIR ROMAN: (Gesturing with his sword) Mumble-jumble! (Laughing)
LORD JACK:
Well, we shall find out soon enough, shall we!
LORD JACK MOTIONS TO COUNT VICTOR THAT IT IS TIME. EVERYONE WATCHES WITH BAITED BREATH, GASPING. COUNT VICTOR PLACES THE MAGICAL MEDALLION AROUND HIS NECK; THEN PATS IT. LORD JACK, SQUINTING HIS EYES, BEGINS TO SENSUALLY EAT THE MAGICAL MORSEL.

AGAIN EVERYONE GASPS, AND THE LADIES SHRIKE. LORD JACK HAS A SATISFIED LOOK AS HE CHEWS ON THE DONUT, AND GESTURES WITH THE UNEATEN HALF.
CALLIOPE:
(Starved, biting her nail, gestures) Can I have just a little bite?
SIR ROMAN: Thou wilt not take the princess without a fight.
STEVEN HOOD:
(Extended his sword) En Guard, my lily livered brother!
COUNT VICTOR DRAWS HIS SWORD. EVERYONE GASPS AGAIN. BEFORE HE CAN USE IT HE STARTS TO STAGGER. EVERYONE REACTS TO THIS WITH "AHHH, OHHH." HE FALLS DEAD, "AAHHH!" THEY LAUGH.
LORD JACK:
En Guard thou kidney kindred! (Drawing his sword) HA! Huh.... eh.... (starts to stagger as well) ....ehh (falling to the ground) ....eh!
THEY GASP AND THEN CHEER AND APPLAUD AS JACK FALLS INTO A SITTING POSITION. JUST THEN THE GOOD SPIRITS WIZARD TOM AND ALICE APPEAR. WIZARD TOM TELLS THEM THAT THE DONUT AND MEDALLION ONLY WORK FOR "THE GOOD AND THE JUST." HOWEVER, ALICE TELLS THEM "THE GREEDY AND THE ANGRY THEY ONLY SERVE TO.... BUST!" THEY LOOK AT HER BECAUSE OF HER BAD PUN. SHE TELLS THEM, "`BUST,' `JUST!' WELL, THEY RHYMN ANYWAY."
LORD JACK:
'Tis indeed a Grimm fairytale.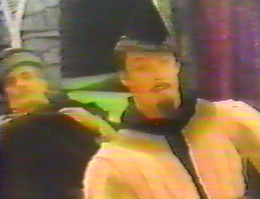 WITH THAT JACK KEELS OVER, AND DIES.

THE WIZARD TOM REMEMBERS THAT THE INNOCENCE OF A CHILD IS THE ANSWER. IT IS PRINCE ANDREW WHO SAVES HIS SISTER. THE TWO SETS OF LOVERS WERE EVENTUALLY MARRIED; CALLIOPE RAN OFF WITH THE MERRY MEN MISTRALS. EVE IS REUNITED WITH HER FAMILY, AND TE KINGDOM IS SAVE. PRINCE ANDREW WANTS HIS REWARD, AND KING SHANE PLACES THE MAGICAL MEDALLION AROUND HIS NECK.
---
SCENE EIGHT: MEANWHILE, EVE HAS BEEN KIDNAPPED BY EDDIE REED WHO WAS A FORMER PARTNER OF NICK CORELLI'S. THEY HAD STOLEN ABOUT FIVE MILLION DOLLARS FROM HARPER DEVERAUX YEARS EARLIER. EDDIE WANTS HIS SHARE OF THE MONEY, AND IS USING EVE. HE HAS TAKEN HER TO AN ABANDONED HOUSE. NICK, HAS LEFT THE BASEMENT APARTMENT WHERE STEVE HAD BEEN HIDING HIM, AND IS HIDING OUT THERE AS WELL. THIS BEGINS A PHANTOM OF THE OPERA TYPE STORYLINE WITH EVE SINGING, AND THE SCARRED AND MASKED NICK HELPING HER [NOTICE: THE STORY HAD BEEN PITCHED BY MATT FOR JACK, THE WRITERS LIKED THE IDEA, BUT NOT FOR JACK, AND GAVE IT TO NICK INSTEAD].