---
[Air date early June 1989]
SCENE ONE: JENNIFER IS AT THE LOFT WITH HANNAH SHOWING HER THE NEW TOY SHE BOUGHT FOR HER. SHE THEN DECIDES TO TAKE HANNAH TO SEE HER MOTHER SALLY AT THE PRISON.
---
SCENE TWO: MEANWHILE JACK IS IN HIS OFFICE DECIDING HOW TO TELL JENNIFER THAT THEY ARE GOING TO TAKE HANNAH AWAY.
JACK: (To himself) Jennifer, did I happen to tell you that Sally's parents are going to take Hannah? That's right, that's right, just forget all about motherhood. I mean it's really over rated anyway. I don't think she's going to take that. No. Jennifer I'm going to tell you something.It's probably the hardest thing I've ever had to tell anyone. I'm pregnant. I'm losing it. What am I doing? Come on, get a grip, you can do this. Okay.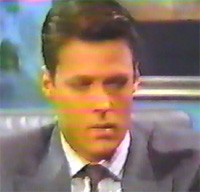 JACK: Hello, get me Jennifer Horton. What do you mean she's not here? Yeah, I know that all employees can take three personal days a year. Perhaps you know where she's taking this one? (Beat) Reinhart Prison? Ah, cancel all my appointments. I'll be out for the day. Thank you (Frantic, he gets up and rushes off to try to get to Jennifer before she finds out).


---
SCENE THREE: JENNIFER IS AT THE PRISON SEEING SALLY. SALLY IS THRILLED THAT JENNIFER BROUGHT HANNAH WITH HER. SHE CANNOT BELIEVE HOW MUCH HANNAH HAS GROWN. SALLY TELLS HER THAT IT IS A BIG THING TO DO TO TAKE IN A BABY, CARING FOR HER, LOVING HER. JENNIFER TELLS HER THAT "LOVING HER" WAS SO EASY TO DO, "WHO COULDN'T HELP BUT LOVE HER." SALLY IS SO GLAD THAT JENNIFER FEELS THAT WAY; SHE ADDS, "I JUST HOPE MY PARENTS FEEL THE SAME WAY." ALL THIS TIME JENNIFER IS LOOKING DOWN AT THE BABY WITH GREAT LOVE. SHE IS CONFUSED BY SALLY'S REMARKS AND WONDERS WHAT SHE MEANS. SALLY THEN REPLIES, "YOU KNOW, WHEN THEY TAKE HER HOME TO LIVE WITH HER." HANNAH IS CONFUSED, SHE TELLS JENNIFER THAT MRS. SIMMS TOLD HER SHE WAS GOING TO CALL AND HER (JENNIFER) AND TELL HER. SHE TELLS JENNIFER THAT HER PARENTS CAME BY AND THEY ALL TALKED FOR THE FIRST TIME IN A LONG TIME, ABOUT THE PAST AND THE FUTURE -- HERS AND HANNAH'S. SHE CONTINUES, HER PARENTS WANT TO TAKE HANNAH, AND THEY ALSO HIRED A LAWYER AND SHE WILL BE GETTING OUT EARLY. JENNIFER'S VOICE CRACKS AS SHE AGREES WITH SALLY THAT THINGS ARE WORKING OUT WELL. SHE NOTICES THAT JENNIFER DOES NOT LOOK HAPPY. JENNIFER TRIES TO HIDE HER FEELINGS AND TELLS HER SHE IS HAPPY FOR HER. IT IS TIME FOR HER TO GO BACK TO HER CELL, SHE TELLS JENNIFER THAT NOTHING SHE CAN SAY CAN THANK HER FOR HOW THANKFUL SHE IS FOR ALL SHE HAS DONE. SALLY LEAVES AND JENNIFER RISES TO GO, JUST THEN JACK ARRIVES.
---
SCENE FOUR: JACK ARRIVES JUST AS JENNIFER IS LEAVING THE PRISON.
JACK: Oh, Jennifer. I found you. Look we have to talk. It's about (stops, realizing she knows) ....it's about Hannah.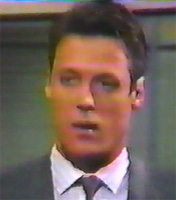 JENNIFER: (On the verge of tears.) You knew?

JACK: Ah.... listen.... er--

JENNIFER: How could you.... how could you Jack? How come you never told me?

JACK: I... I tried.... t... t... to tell you.

JENNIFER: Oh, really? When? Were you going to tell me after they already took Hannah away from me?

JACK: Look.... let me explain....

JENNIFER: No, save it Jack.

JACK: Please, if you just.... .

JENNIFER: No, Jack. I will never forgive you for this. Never.
JACK IS WOUNDED BY HER WORDS. JENNIFER RUNS OUT.
JACK: (Guilty, and grieving for her.) Jennifer, Jennifer. Damn it!
---
SCENE FIVE: JACK FOLLOWS JENNIFER BACK TO THE LOFT AND UNLOCKS THE DOOR AFTER SHE HAS GONE IN.

Jack tries to explain why he did not tell Jennifer about Hannah;
2 Min; 4.6 Meg
JENNIFER: How did you get in here?

JACK: I still have a key remember.

JENNIFER: Give me the key.

JACK: Look Jennifer we....

JENNIFER: I said, give it to me!
JACK RELUCTANTLY HANDS JENNIFER THE KEY.
JACK: Jennifer look....

JENNIFER: Jack, get out, right now!

JACK: We still have to talk, Jennifer.

JENNIFER: I have nothing to say to you.

JACK: Alright! Then just sit do....
JENNIFER WALKS PAST JACK AND HE SHUTS THE DOOR.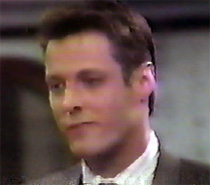 JACK: Sit down and listen. Look, this wasn't easy for me either you know.

JENNIFER: Oh, Jack, my heart bleeds for you.

JACK: A couple of days ago when you were out, Social Services called and told me about Sally's parents.

JENNIFER: Haven't you heard Jack? They've invented these new clever things called a pen and a piece of paper. You could have left me a message.

JACK: Teah, I could have left you a message. What would I have written? Jennifer, your brother called, your laundry's due, it's all ready and by the way, they're going to take the baby on Monday. I wanted to tell you in person Jennifer.

JENNIFER: Why didn't you?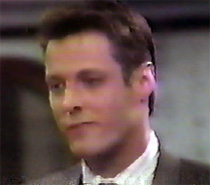 JACK: (Trying to explain) I tri.... I.... I tried.
JENNIFER: Oh, I know. At the last minute you thought it would be more fun if I found out as they were taking Hannah out of my arms.
JACK: (Hurt that she thinks he did it on purpose) No, th.... that is not true Jennifer.
JENNIFER: How could you do this to me Jack? You know how much Hannah means to me.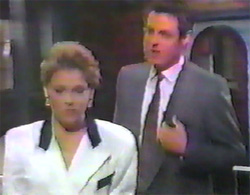 JACK: Yes, I know what she means to you and maybe that's why I didn't want to be the one who was going to hurt you like this.
JENNIFER: I guess none of this really matters anymore.
JACK: I guess not.
JENNIFER: I just wish that I'd known sooner, you know. Maybe I could've talked to someone. Maybe I could've talked to Mrs. Simms, to Sally's parents.
JACK: It wouldn't have done any good Jennifer.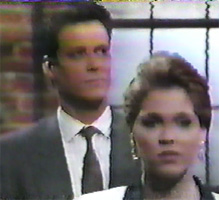 JENNIFER: Jack it's just not fair. Where were they when Hannah was born? Did they even go to see her at the hospital? Did they even call to see if they were alright? They never cared about this baby. Why should I think it will be any different now?

JACK IS AS EMOTIONAL, HURTING FOR JENNIFER, AND WISHING HE COULD DO SOMETHING FOR HER.

JACK: It doesn't matter what you think anymore Jennifer. What's important is what.... is what Sally wants. Sally's the mother.

JENNIFER: I know. It doesn't make it hurt any less though. (Beat) When are the Wales coming to pick up Hannah?

JACK: Today.
---
SCENE SIX: A SHORT TIME LATER JACK AND JENNIFER ARE WAITING AT THE LOFT FOR SALLY'S PARENTS TO ARRIVE. JENNIFER IS SAYING HER GOODBYES TO HANNAH.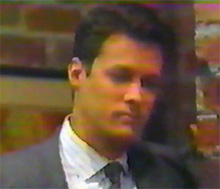 JACK IS COMING DOWN THE SPIRAL STAIRCASE THAT LEADS UP TO JENNIFER'S ROOM. HE STOPS UPON HEARING JENNIFER. HE LEANS AGAINST THE BRICK WALL. AND HIS HEART IS BREAKING FOR HER. JACK SEEMS DEVASTATED THAT HE DID THE ONE THING HE DID NOT WANT TO DO, HURT JENNIFER.

JENNIFER: I love you Hannah. I love you with all my heart. I know that you'll never remember me but I just wish.... I just hope that somehow when your older you'll know that someone else loved you. I guess it's all I can hope for, uh? That and maybe you can smile for me? Maybe you can just smile for me before you go, uh? Give me a little smile here, come on.
THERE IS A KNOCK AT THE DOOR. JACK IS DRAWN BACK TO THE PRESENT AND GOES TO ANSWER THE DOOR. JENNIFER OBSERVES THEIR CONVERSATION AND HIS FACE SHOWS HOW HE IS HURTING FOR JENNIFER.
JACK: I'll.... I'll get it.

MR. WALES: Hello, we're looking for Jennifer Horton.

JACK: Hi. Yes, you must be the Wales. Yes. Ah.... look come on in please. Ah.... Jennifer, this is the Wales.

JENNIFER: Yes, I heard. Hi.

MR. WALES: This is my wife Margaret.

MRS. WALES: And that adorable creature must be Hannah.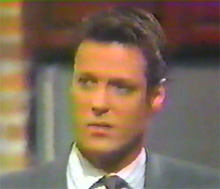 JENNIFER: Yes, this is Hannah.

MR. WALES: Well, I guess we should be going.

JACK: Yes, Jennifer.

JENNIFER: Jack, um, did you pack all the diapers that I bought?

JACK: Yes.

JENNIFER: What about all of her new toys?

JACK: All of them, right here.

JENNIFER: Are you sure? Are you sure you have everything?

JACK: Everything.... is right here.... Jennifer, they have to go.

JENNIFER: Okay. You be good for your granma and grandpa okay honey. Don't keep them up all night like you do me, okay?
JENNIFER HANDS THE BABY TO MRS. WALES.
JENNIFER: Sometimes at night, if she can't sleep, if you just hold her hand and sing to her, it helps.

MRS. WALES: Thank you.

JENNIFER: Please spend a lot of time with her. I think that's what Sally might have needed you know.

MRS. WALES: We know.
JACK HANDS THE BAG TO MR. WALES.
JACK: Mr. Wales, here.

JENNIFER: Wait, wait.
JENNIFER PICKS UP THE TOY RATTLE SHE JUST BOUGHT FOR HANNAH AND GIVES IT TO MRS. WALES.
JENNIFER: I love you Hannah. I love you.
JACK SHOWS THE WALES TO THE DOOR WHILE JENNIFER STARTS TO CRY.
JACK: Take care.
Jennifer falls into Jack's arms, Jack does not know what to do;
20 sec; 850K

UNABLE TO WATCH, OR ALLOW HERSELF TO BE SEEN JENNIFER'S BACK IS TURNED FROM THEM. SHE NO LONGER CAN HOLD BACK HER PAIN AND BEGINS TO SOB. JACK WALKS TOWARDS HER. HE IS ABOUT TO PUT HIS HAND ON HER SHOULDER FOR SUPPORT, BUT IS RELUCTANT.

SHE TURNS TO HIM AND FALLS SOBBING INTO HIS ARMS. HE WANTS TO PUT HIS HAND ON HER SHOULDER TO COMFORT HER. HE HESITATES FOR AN INSTANT, BUT SEEING HER PAIN, HE GENTLY PLACES HIS HAND ON HER SHOULDER, BARELY TOUCHING HER.
---
SCENE SEVEN: A SHORT TIME LATER STILL AT THE LOFT. SHE IS PUTTING THINGS AWAY. JACK IS HOVERING BY HER. THE LOOK ON HIS FACE INDICATES THAT HE IS TRYING TO FIGURE OUT WHAT TO DO, WHAT TO SAY. FINALLY HE DOES.

Jack talks how his & Jo's situation was similar;
1:25 Min; 3.1 Meg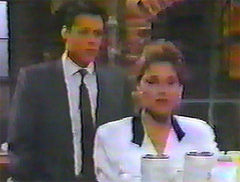 JACK: (His voice is emotional) Jennifer, I know you must be feeling pretty rotten right now.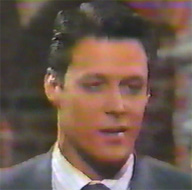 JENNIFER: (Lashing out at him) Oh, really Jack? How do you know how I feel? How could you possible know what I'm going through?
JACK: (Stung by her words.) I lived it.
JENNIFER: (Realizing what she said. Her expression is apologetic and sympathetic.) I'm sorry.
JACK: My mother, Jo, has been trying to tell me for a long time how hard it was for her to give me away and I never really knew what she meant. Until now.
JENNIFER: I don't know how she ever got through it.
JACK: (His voice cracking.) She got through it with strength, just like you will.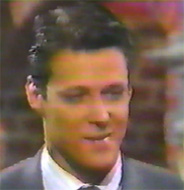 JACK: (Slight smile) By thinking about how much that she and...um, how much she cared. Not how little time they spent together.
JENNIFER: Is that how you feel? Does it matter that you only had a short time with your mother?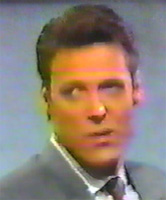 JACK: (Emotional, he turns away) No, it really wasn't the same thing.
JENNIFER: (Hoping it matters) Jack, I need to know.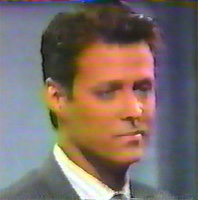 JACK: (Sighing) Honestly?.... No.
THOUGH IS IT REALLY THE CASE? IT SEEMS BY HIS EXPRESSION THAT HE WANTS TO, BUT IS SCARED THAT IT WILL NEVER HAPPEN. JENNIFER LOOKS AT HIM, UPSET BY WHAT HE SAID.
---
[Air date June 1989]
SCENE ONE: A FEW DAYS LATER, KIMBERLY AND DIANA ARE BACK AT ROMAN'S, WHERE ROMAN WAS SHOOT; ROMAN AND ABE ARE THERE AS WELL. KIMBERLY IS TRYING TO HELP DIANA REMEMBER. DIANA'S MEMORY RETURNS AND SHE IS HORRIFIED TO LEARN THAT SHE WAS THE ONE WHO SHOT HIM. BECAUSE OF THIS, SHE IS ARRESTED.
---
SCENE TWO: JACK HAS ARRIVED AT THE OFFICE AND ASKS HIS SECRETARY IF SHE HAS HEARD FROM JENNIFER. BECAUSE OF HIS CONCERN FOR JENNIFER HE IS GIVING HIS SECRETARY A HARD TIME. [HE ALSO HAS A COLD]
JACK: Have you got word from Jennifer Horton yet?

SECRETARY: Oh, no, Mr. Deveraux and this is the second message I've left her on her answering machine. She's got the cutest message....

JACK: Did you try her grandparents?

SECRETARY: I've contacted everyone you asked me to.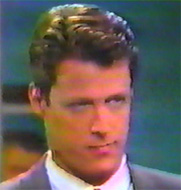 JACK: (Glaring at her) Try them again.

SECRETARY: Yes, sir (leaves).

JACK: Look, just cancel any calls I have for the day and let me know as soon as she gets in.
AS SHE LEAVES. CAL BURSTS INTO THE OFFICE. JACK RETURNS TO HIS SARCASTIC, SOMEWHAT SLIMEY SELF WITH CAL.
CAL: I want to talk to you.

JACK: Well, Lieutenant, welcome back to work.

CAL: Just what are you trying to do to Diana?

JACK: I don't know what you're talking about.

CAL: I'm talking about this.
CAL THROWS A NEWSPAPER ON JACK'S DESK.
JACK: A little angry aren't we for having just got out of prison and having a whole new future?

CAL: Yeah, I'm talking about the trash you wrote about Diana and me.

JACK: I thought it was something I said.

CAL: I can't believe you would write such twisted lies.

JACK: Lieutenant, I wrote what I wrote, with your best interests at heart.

CAL: The hell with my best interests. Man I confessed to you that I shot Roman and then you turn that whole story around and you point the finger at Diana and you make it look as if she forced me to shoot Roman.

JACK: Well?

CAL: Well, I told you I was guilty.

JACK: Lieutenant, I write the truth as I see it and unfortunately we didn't see things eye to eye.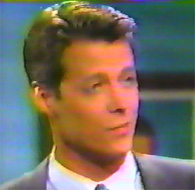 CAL: Yeah, well, you are nothing but scum Deveraux.

JACK: (Affected by his words. A little ashamed.)The truth hurts, right? Well, the truth is in today's paper. The headlines: "Diana Confesses." So I guess this "scum" was right all along. What really amazes me is that she actually fired that gun.

CAL: Oh, yeah I just bet it does. What are doing? Just waiting around here to pick up Diana's share of the paper. Is that it? You're nothing but a vulture Deveraux. You destroy them and then you sit around to pick up the garbage. I don't know how you look at yourself in the mirror man.

JACK: Just a brave soul I guess.

CAL: Yeah, just a brave soul. I can't stay around here. It's starting to smell. It's making me sick. And by the way, if you think that you can get to Diana and hurt her anymore by going through me you can forget it. You can take your lousy paper and your so called honesty and you can stuff it. I quit.

CAL WALKS OUT THE DOOR AS JENNIFER COMES IN. JACK TRIES TO ACT SOMEWHAT ALOOF, BUT HE IS VERY GLAD TO SEE HER.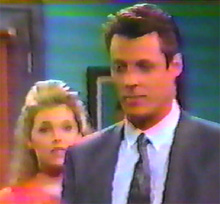 JENNIFER: Excuse me. (Beat) Was that Cal Winters?

JACK: (Glad to see her( Jennifer. Ah.... yes, the same man.

JENNIFER: What was he so mad about?

JACK: Someone canceled his subscription.

JENNIFER: Jack, what did you say to Lieutenant Winters?

JACK: I have no idea what you're talking about.

JENNIFER: The man's obviously upset and in your office. It's not too hard to figure out.

JACK: Cal Winters cannot handle the truth.

JENNIFER: He must really love Diana if he's willing to risk jail in order to protect her. I mean having someone so in love with you that they'd give up their life for you has to be incredible.

JACK: Well, I guess we'll find out the real story when we go to the arraignment. You are going to the arraignment with me, you know that. So I hope you brought a change of clothes.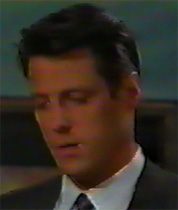 JENNIFER IS QUIET, AND JACK NOTICES SHE IS THINKING ABOUT HANNAH.
JACK: (Cont.) Ah, Jennifer are you alright?
JENNIFER PICKS UP ONE OF HANNAH'S TOYS FROM JACK'S DESK. AS JENNIFER TALKS ABOUT MISSING HER JACK'S EXPRESSIONS SHOWS HOW FEELINGS FOR WHAT SHE IS GOING THROUGH. HE SIGHS.
JENNIFER: (Trying not to cry.) Um yes. I found this toy of Hannah's under the bed this morning. It just makes me feel like a part of me was taken away. The first night was the worst. I mean I'd wake up in the middle of the night thinking that I heard her crying and when I'd go to the room to check on her, she wasn't there. There was no Hannah.
Jack offers to be Jennifer's roommate;
2:10 Min; 4.9 Meg
JACK: (Hurting for Jennifer, his voice is cracking and he clears his throat to hide how emotional he is) Um.... yes, (walking away) but you're going to be okay now, right?
JENNIFER: Look, Jack what do you want me to do with loft? I mean there's no reason for me to be there without Hannah.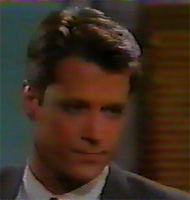 JACK: Well, I wouldn't worry about that. Just stay there. I mean payroll's going to pick up the rent.

JENNIFER: I can't do that Jack.

JACK: Look, you were hired for this job, for this assignment and it's not that you're.... I mean it's not your fault that the whole thing fell through.

JENNIFER: But it's not a problem. I can handle it.

JACK: How?

JENNIFER: I don't know. I'll move in with my granma and grandpa again or Mike, if I have to.

JACK: You really want that?

JENNIFER: No, I mean I like being on my own. I like having my own schedule.

JACK: So, you need.... another resident paying rent.

JENNIFER: Jack you're right. That's it. I'll get a roommate and then I can afford it and I won't have to move back home. That's a great idea.

JACK: Where do you think you're going?

JENNIFER: To find a roommate.
JENNIFER RUSHES TO THE DOOR.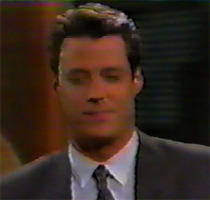 JACK: How about me?
SHE TURNS AROUND IN SHOCK.
JENNIFER: You?
JACK FLASHES HER A LOOK.
---
SCENE THREE: JACK HAS JUST SUGGESTED THEY BE ROOMMATES. SHOCKING JENNIFER.
JENNIFER: Are you serious about us living together Jack?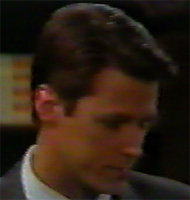 JACK: Ah.... er.... well, who said I was being serious? I was.... (his voice catches) er.... joking.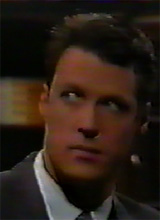 JACK SAYS HE IS JOKING, BUT HIS FACIAL EXPRESSION SEEMS TO REVEAL THAT DEEP DOWN HE WOULD NOT MIND IF IT WERE SO. BUT THAT WOULD BE TOO MUCH TO HOPE FOR. SO HE PRETENDS TO BE JOKING TO HIDE HOW HE REALLY FEELS, WHAT HE REALLY WANTS.

AS SHE READS JACK LOOKS AS IF HE IS TRYING TO MUSTER UP THE COURAGE TO ASK AGAIN.

JENNIFER: Okay well, let's see. How does this sound? "Roommate wanted. Male or female to share loft apartment by Riverfront. I work part time and go to Salem and need roommate to help share responsibilities of this great home. I don't smoke, do drugs or own any pets."
AGAIN TRYING TO BE NONCHALANT, HOPING SHE MIGHT AGREE, BUT WHEN SHE DOES HE PRETENDS THAT IT WAS A JOKE, NOT WANTING TO REVEAL HIS TRUE FEELINGS, AND THE FACT THAT HE IS DISAPPOINTED SHE DID NOT TAKE HIM SERIOUSLY. THOUGH THERE ALSO IS A HINT THAT JACK IS TESTING HER AS HE ALWAYS DOES TO HER.
JACK: It sounds like a Personals ad. Besides, I thought I already volunteered my services.

JENNIFER: Um.... I'm.... um.... going to finish this and I'm going to put it on the office bulletin board, okay.

JACK: Bad move. Instead, let's put it in the newspaper since that's where we work and millions of people will see it every day. Besides I won't charge you.
JENNIFER SMILES.

Jack offers some wise advice about finding the right person;
2 Min; 4.4 Meg
JENNIFER: You know Jack, you're okay sometimes.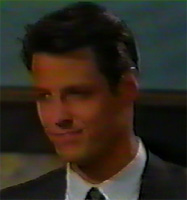 JACK: I know that.
JENNIFER: No. I really mean it. You know I never got a chance to thank you for all your help with Hannah.
JACK: No, you didn't.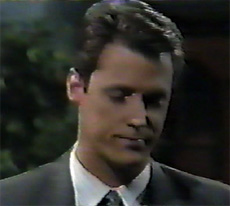 JENNIFER: I really wanted to take Hannah, Jack. And I'm not sorry for one second that I did, even though it was a lot harder than I thought it would be. But I would never have made it without you.

JACK: (Not wanting to see her upset, and not wanting to show that he misses Hannah too he tries to change the subject.) Look we.... we've got a lot of work to do.

JENNIFER: I miss her.

JACK: I know you do.

JENNIFER: Look, I know this is going to sound really dumb but having Hannah with me reminded me of a dream that I've had since I was a little girl.
JACK HAS DISPENSED WITH HIS JOKING, AND LISTENS INTENTLY TO WHAT SHE HAS TO SAY.
JACK: Oh, really. What's that?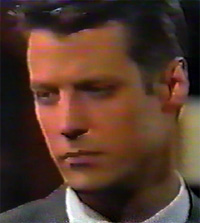 JENNIFER: Well, I never had a real family. You know like a home with a picket fence and a dog and all that. But I always imagined that's what I would have when I grew up. I mean I really thought I was destined to devote my life to being a wife and a mother. And when I met Frankie, I thought this is it. I'm going to marry him and we're going to have that family. But that never happened. Then I actually thought that it might happen with Emilio. Boy, I guess I can be really stupid sometimes, huh?

JACK WOULD NOT ADMIT IT, BUT HIS EXPRESSIONS REVEAL THAT DEEP DOWN HE DREAMS OF THE SAME THINGS.BUT BECAUSE OF WHAT HE HAS DONE, HE CAN NEVER HOPE TO SEE HIS DREAMS FULFILLED.

JACK: There's nothing stupid about wanting to have the right person in your life.

JENNIFER: Where do you find them?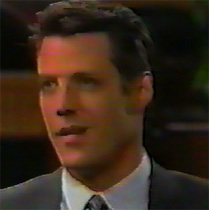 JACK: Well, I.... I don't think you really find them. I think the important thing is to find yourself and then.... er.... once you've become the right person, the right person will find you.
JACK IS PENSIVE. AND DROPPING HIS DEFENSES HE IS ABLE TO GIVE JENNIFER SOME GOOD ADVICE. [ADVICE WHICH EVENTUALLY WILL BE PROPHETIC SINCE HE AND SHE WILL GROW AND DISCOVER THEMSELVES, AND WILL THEN DISCOVER THEIR LOVE FOR ONE ANOTHER.]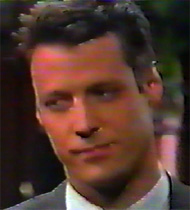 JENNIFER: (Smiling at Jack. She definitely realizes that there is more to him than he lets people think.) Jack Deveraux, if you keep this up, you're going to spoil your image.

JACK: (Smiling back at her.) Oh, we wouldn't want that to happen.

JENNIFER: (Smiling in return) No, we wouldn't, would we?
SHE SEEMS TO BE MORE AND MORE TAKEN BY HIM. SHE IS ONE OF THE FIRST PEOPLE TO SEE THROUGH JACK'S DEFENSES AND BEYOND HIS PAST. AND SHE KNOWS WHY HE ACTS THE WAY HE DOES.