---
[Air date late-May 1989]
SCENE ONE: TWO DAYS LATER JACK'S ARTICLE APPEARS IN THE SPECTATOR. TITLED "HE DID IT FOR LOVE,"IT SCARES DIANA BECAUSE SHE STARTS TO RECALL WHAT REALLY HAPPENED AND REMEMBER THAT SHE WAS THE ONE WHO SHOT ROMAN.
---
SCENE TWO: JENNIFER IS AT THE LOFT GETTING READY FOR WORK. SHE IS WAITING FOR ALICE TO ARRIVE TO MIND HANNAH. THERE IS A KNOCK AT THE DOOR.
JENNIFER: Granma, I love you, I'm so glad you
SHE OPENS THE DOOR TO SEE JACK LEANING THERE.
JENNIFER: Oh, it's you.

JACK: Yes, just me.

JENNIFER: I was expecting somebody else. What are you doing here Jack?

JACK: I'm checking on the transit story. I wanted to see if it was ready.

JENNIFER: It's not. I have one more interview that I have to do.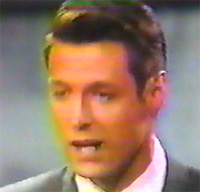 JACK: You're not going to make the deadline are you?

JENNIFER: No, not if I have to stand here talking to you I won't.

JACK: I'm not the problem Jennifer. The problem is the kid.

JENNIFER: Hannah is not a problem. I love taking care of her.

JACK: Why don't you face the facts? You're not going to be able to be a working mother. You can't work and take care of the baby.

JENNIFER: Look I know this isn't as easy as I thought it was going be but I'll manage. You'll see.

JACK: (Feigning this attitude because he wants to prepare Jennifer, he does not want to see her hurt.) You're fooling yourself. You're screwing up your whole life for the kid.

JENNIFER: I don't care. Hannah's worth
THE PHONE RINGS AND JENNIFER ANSWERS IT.
JENNIFER: Hello. (Beat) Well, I can't possibly be there in.... yes, I understand.
SHE HANGS UP.
JENNIFER: I can't believe that this is happening.

JACK: What? What's happened?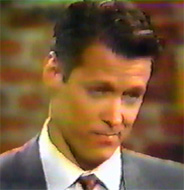 JENNIFER: If I don't get to City Hall in 20 minutes the whole interview is off. My grandmother's not here. I can't leave Hannah alone. What am I supposed to do Jack?

JACK: Relax. Just relax. I'll rock the cradle till Gram gets here.

JENNIFER: Really? You wouldn't mind?

JACK: I'd mind it a lot more if you miss out on this interview. Go on, get out of here.

JENNIFER: Thank you so much. I won't forget this.

JACK: Don't worry. I won't let you.
JENNIFER LEAVES AND JACK WALKS OVER TO TALK TO HANNAH.

HE BENDS OVER THE STROLLER.

Jennifer watches Hannah, gets bad news;
1 Min; 2.3 Meg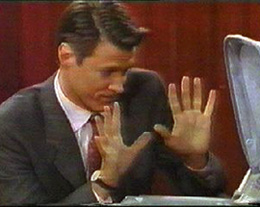 JACK: I'm going to give you ten big ones, ten big ones (Flashing ten with his fingers), if you sleep until your foster grandmother gets here. In fact I'll give you twenty big ones (Flashing twenty with his fingers) if you leave me off of diaper detail.
THE PHONE RINGS.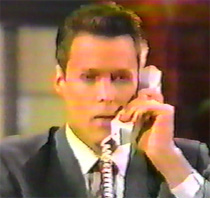 JACK: (Speaking rapidly at first.) Remember that okay. (Beat) Jennifer Horton. Hello she's not here, let me take a message. Well, this must be Social Services. You're wondering about the baby right? Oh, me? (Speaking in a deep voice) I'm Dr. Mike Horton. I'm Jennifer's sister.... I mean brother. (His voice changes, and so does his expression) Ah, What? When? Look I mean you're not serious. They don't really have the right to do that do they?
ALICE COMES IN THE DOOR. SHE IS NOT PLEASED TO SEE HIM.
JACK: You're sorry about it. You're not going to be the only one who's sorry about it.
HE HANGS UP.
JACK: (Hurting) This is going to kill Jennifer.
---
SCENE THREE: JACK HAS JUST DISCOVERED THAT JENNIFER IS GOING TO LOSE HANNAH. HE DOES NOT REALIZE THAT ALICE HORTON HAS COME IN AND HAS BEEN LISTENING AND THAT SHE IS NOT HAPPY SEEING HIM THERE.

Alice is not happy that Jack is at Jennifer's;
1:45 Min; 3.9 Meg
JACK: (Finally noticing Alice) Mrs. Horton?
ALICE: What are you doing here? And where's Jennifer?
JACK: Actually she's conducting the interview and I was looking after the baby until you got here.
ALICE: And was that her call that you were answering?
JACK: Yes, that was Social Services. They just told me that Sally has reconciled with her parents and they're going to get custody until Sally gets out of prison.
ALICE: Oh, Jennifer is going to be heartbroken.
JACK: I know she is. I don't know how I'm going to tell her but
ALICE: Well, you needn't be concerned about that. As a matter of fact I think you better leave right now.
JACK: Excuse me?
ALICE: And you shouldn't have been answering Jennifer's phone.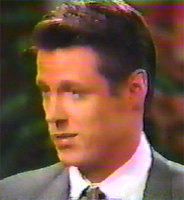 JACK: Wait a minute, wait a minute. I just want you to know something. Jennifer asked me to stay here. You may not believe this Mrs. Horton but (His voice cracking.) Jennifer and I are friends.... Sort of.
ALICE: Well, I find that very hard to believe because I remember what you did to Melissa and to Kayla.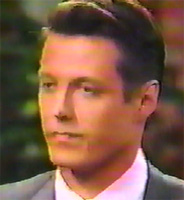 JACK: (Affected by her words.) I'm not asking you to believe it but I'm telling you that I'm not going to hurt Jennifer.
ALICE: Jennifer's going to be very hurt with this news about Hannah.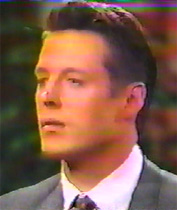 JACK: I know. That's why I think I should tell her.

ALICE: Why?

JACK: Well, I.... I've been with this thing since the beginning. Also II knew it was going to happen sooner or later.

ALICE: Well, maybe it is better for Jennifer in the long run.

JACK: I agree with you. And I also think that I should be the one to tell her please?

ALICE: Alright. But Jack, if you ever hurt Jennifer, I want to warn you, you'll have to answer to me.
JACK NODS.
---
SCENE FOUR: THAT NIGHT JACK IS OUTSIDE THE LOFT DOOR HOLDING A PIZZA AND BANGING THE DOOR WITH A FALSK OF CHIANTI. JENNIFER OPENS THE DOOR. HE IS CASUALLY DRESSED, WEARING A BLUE SILK SHIRT, WITH DARK BLUE STRIPES, AND LEVIS, AND LOOKING EXTREMELY GORGEOUS.

Jack drops by to tell Jennifer about Hannah;
50 sec; 1.9 Meg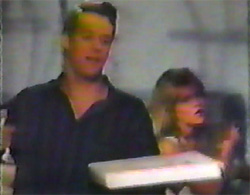 JENNIFER: No Jack the article is not done and I will give it to you first thing in the morning. I promise.

JACK: Fine. You haven't eaten yet have you?

JENNIFER: No I had to give Hannah a bath and I had to type some notes and then I put her to bed. I'm completely wiped out.

JACK: (With a concerned, sympathetic expression.) I can tell. Please sit down.

HE DROPS THE PIZZA BOX ON THE COUNTER. AND PUTS DOWN THE WINE. HE IS BEING VERY GALLANT. JENNIFER SITS OPPOSITE HIM, ON A BAR STOOL. JACK LEANS OVER PUTTING DOWN TWO WINE GLASSES.
JENNIFER: Let me get some plates and

JACK: No let me do it. I'll get something. I think you've just been working too hard. I think you should take things a little easier.

JENNIFER: Jack, I can handle it.

JACK: Maybe you shouldn't be handling it. I think if you keep going like this you're going to burn yourself out.

JENNIFER: Jack, don't. Look I know that you're trying to be nice alright, but you don't understand. I love Hannah.

JACK: That's not the thing. Maybe you shouldn't be getting so attached to Hannah.

JENNIFER: It's too late. I don't expect you to understand. I don't think anybody would.

JACK: (Jack looks at Jennifer intently, his expression is sincere) I might if you give me a chance.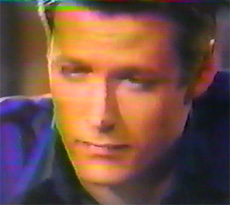 JENNIFER LOOKS INTENTLY BACK AT JACK. IT APPEARS THAT LOOKING AT HIM SHE KNOWS SHE CAN TALK TO HIM AND HE WOULD UNDERSTAND.
---
SCENE FIVE: JACK IS POURING JENNIFER ANOTHER GLASS OF WINE. SHE WALKS OVER TO HER COUCH AND SITS DOWN. JACK FOLLOWS AND SITS NEXT TO HER.

THEY BOTH BEGIN TO TALK OPENING TO EACH OTHER ABOUT THEIR FEELINGS, AND FAMILIAL EXPERIENCES. JACK'S GUARD IS DOWN. THEY BOTH SEEM AT EASY WITH EACH OTHER.

Jack tries to tell Jennifer about Hannah;
3:45 Min; 8.3 Meg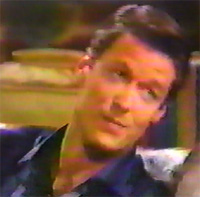 JENNIFER: Jack, no, no. Jack I have work I have to do tonight.

JACK: Forget about the work. Beside like they say. There's truth in the wine.

JENNIFER: Why, do you think I've been lying?

JACK: No. No. I think you haven't been telling the truth, the whole truth and nothing but the truth. Jennifer, come on. We all grew up alone and lonely at some point but not all of us ran out being foster parents the minute we got out of college.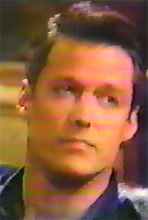 JENNIFER: I don't know. I think it's because of my mom. I mean I know she must have loved me but I never felt it. And now it looks like I never will.
JACK: (Feeling for her.) It must hurt a whole hell lot.
JENNIFER: What is worse is that she'll never know how I feel. I mean I love her and I can't show her that. I can't give her anything at all.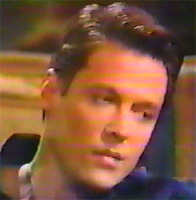 JACK:
(Confining in her. Comfortable enough to be honest for a change.) I know.
I never knew my father. My real father. Of course from what I hear, I'm not missing much, but still
JENNIFER: There's something missing in your life.
JACK: (A smile of recognition.) Yeah. Yeah. And then there's my mother. Of course you know all about her.
JENNIFER: Don't you ever want to get close to her Jack?
JACK: (Uncertain) I can't too much history.
JENNIFER: You mean with Steve.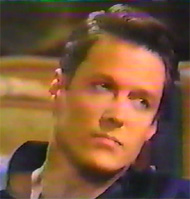 JACK: Yeah, (Avoiding the question.) look we're talking about you not about me. And you still haven't told me how Hannah fits into all this.
JENNIFER: I don't know Jack. I'm not sure. She needs me and I need to love somebody unconditionally.
JACK: We all need that.
JENNIFER: And it doesn't matter why I feel the way I do ab out Hannah. I just know that taking care of her is the most important thing in my life. Nothing I've ever done has made me feel happier or more fulfilled.
JACK: I'm sorry to hear you say that.
JENNIFER: Why?
JACK: I think I need a glass of wine.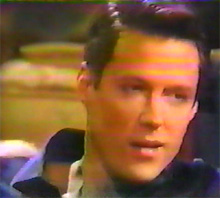 JACK GOES TO THE KITCHEN TO POUR A GLASS OF WINE. JACK THINKS LONGINGLY OF HER. HE IS TRYING TO FIND AWAY TO TELL HER, BUT IT IS OBVIOUS BY HIS FACIAL EXPRESSIONS THAT CAUSING HER PAIN WOULD KILL HIM.
JACK: Actually, Jennifer, it's about Hannah. Um you don't know everything and I well,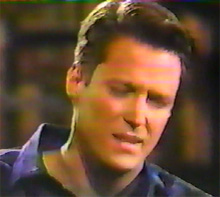 I hate to be the one to always say this but I told you so. You got you got too attached to her and no wand now Sally's parents have reconciled with Sally and you know what that means It means that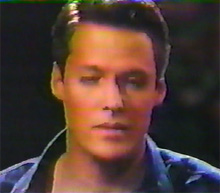 HE TURNS AROUND TO SEE JENNIFER ASLEEP ON THE COUCH. SIGHING.
JACK: Jennifer it means you're not going to hear yet. (Beat) Not yet.
THERE IS A BLANKET HANGING OVER THE BACK OF THE COUCH. HE LOVINGLY PUTS IT OVER JENNIFER. AND BENDING OVER FROM BEHIND THE COUCH, IS LEANING OVER HER, WATCHING HER, HIS HANDS RESTING ON THE BACK OF THE COUCH [THOUGH IT WILL TAKE WELL OVER A YEAR FOR HIM TO ADMIT IT TO HIMSELF, IT APPEARS THAT JACK HAS ALREADY FALLEN DEEPLY IN LOVE WITH HER.]