---
[Air date early December 1989]
SCENE ONE: JACK IS IN HIS OFFICE PACKING HIS BRIEFCASE WHEN VERN COMES IN.
VERN: Excuse me, Jack. I need this file.

JACK: Oh, Vern, while you're at it, can you confirm these two tickets for me?
JENNIFER WALKS IN AS JACK HANDS VERN THE TICKETS.
VERN: Italy, again?

JACK: Yeah, well. I figured I need a little vacation besides it'll give you a chance to take that little lunch break you've been talking about.

VERN: Lucky me.

JACK: Yeah.
VERN WALKS OUT, AND JENNIFER WALKS INTO THE OFFICE.
JENNIFER: So, planning a little time off Jack?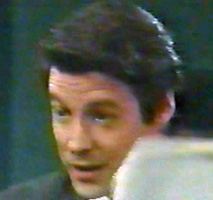 JACK: Yes. Well, you're the one that was saying I was a little grumpy lately. I figured that a little rest would do the trick.
JENNIFER: You're in trouble Jack.
JACK: No. You're the one that's going to be in trouble if you don't stop sticking your nose where it doesn't belong.
JENNIFER: You can't fire a reporter for asking questions. And what would you say if I told you I had proof that you were definitely involved in something?
JACK: I would say, what in your mind, constitutes proof?
JENNIFER: The gun in your top desk drawer. What's it doing there Jack?
---
SCENE TWO: KIMBERLY LOOKS LOVINGLY AND CARESSES A PHOTO OF HER AND SHANE.
---
SCENE THREE: SHANE, STILL WANDERING AROUND WITH AMNESIA, HOLDS ONTO A LOCKET, AND SEEMS TO BE ABOUT TO REMEMBER.
---
SCENE FOUR: BACK IN JACK'S OFFICE, JENNIFER HAS JUST QUESTIONED JACK ABOUT THE GUN IN HIS DESK.
JACK: Gun.... gun. Oh yes the rubber gun in my top desk drawer.

JENNIFER: Jack, you know very well that I am not talking about the rubber gun in your drawer.

JACK: I think you've been doing a little too much work on those Riverfront gangs.

JENNIFER: I saw the real gun. I had it in my hands.

JACK: Huh!

JENNIFER: Jack, I'm worried about you.

JACK: Moi?

JENNIFER: You're doing this to help someone else.

JACK: Oh, now I think you're really imagining things.

JENNIFER: It's a woman in the Bayview Sanitarium. I figured it out Jack, just like you taught me. Okay. And judging by the sound of her voice, whoever she is, she isn't all that crazy.
JACK BEGINS TO HUM ONE OF THOSE SPOOKY, OLD TIME SOAPERISH THINGS "OOOOEEEEEEEAHHH" WHILE JENNIFER IS TALKING.
JACK: Now we're jumping to one of our melodramatic conclusions again.
JACK CONTINUES THE EERY SOUND EFFECTS.
JENNIFER: You're going to get her released aren't you? That's what this little vacation is all about. You're going to take her away.

JACK: No, the only one who's being taken away is me. I'm going on a vacation, alone. By myself.

JENNIFER: I just want to help you. Can't you understand that? Alright! I don't know the details but I know that whatever you're mixed up in is dangerous. Don't go into this alone.

JACK: There is nothing dangerous about going on a vacation. And that is exactly what I'm going to do. Period. Now if you don't mind I've got a little bit of work I need to do before the plane takes off. If you don't mind.

JENNIFER: Alright Jack, if you say so.

JACK: I do say so.

JENNIFER: Fine. Have a nice trip Jack.

JACK: Thank you. And Jennifer if you could close the....
SHE SLAMS THE DOOR AS SHE LEAVES.

JACK GOES TO HIS DRAWER AND TAKES OUT THE REAL GUN AND LOOKS AT IT
---
SCENE FIVE: VICTOR KIRIAKIS IS READING THE ITALIAN PAPER "IL GIORNALE," THERE IS A PHOTO OF MARINA, AND AN ARTICLE ABOUT MARINA'S DEATH AND WHAT WILL HAPPEN WITH THE TOSCANO FORTUNE, WITH THE DEATHS OF ERNESTO AND MARINA.
---
SCENE SIX: BACK AT THE PAPER, JACK IS WALKING AROUND HIS OFFICE, PLAYING WITH HIS GUN.
JACK: Nah, why ask for trouble.
HE PUTS THE GUN AWAY. JUST THEN JENNIFER COMES BACK INTO JACK'S OFFICE.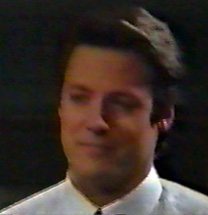 JENNIFER: So, when will you be back?

JACK: Ahh.... Who knows? That's the advantage of being the publisher and owner of this rag. Besides with you and Vern on the job, I've got nothing to worry about.

JENNIFER: (Sadly) I'll miss you. (Beat) It's not the same when you're gone.

THEY BOTH ARE SILENT FOR A FEW MOMENTS, LOOKING INTENTLY, AND EMOTIONALLY AT EACH OTHER, BUT TOO AFRAID TO ADMIT THEIR REAL FEELINGS FOR EACH OTHER.

JACK: I'll bet. (Beat) You can save the strokes. Your job is safe.

JENNIFER: I meant what I said Jack, about everything.

JACK: Ah....well, so much for the long goodbyes.
HE PICKS UP HIS SUIT JACKET AND AS HE PUTS IT ON, HIS WALLET FALLS UNDER THE DESK. HE SEEMS TO WANT TO TELL HER THAT HE WILL MISS HER AS WELL, BUT DOES NOT.
JACK: Ah, I tell you what. I'll write when I get work.

JENNIFER: Jack, will you please listen to me for a minute?

JACK: I want you to work hard, okay. Work hard.

JENNIFER: Jack?
JACK OPENS THE DOOR AND EMILIO IS STANDING THERE.
JACK: Ah.... I tell you one thing. If you kids want to play in the desk, it's open. It's easier on the locks.
AS HE IS TALKING HE IS STRUGGLING TO PUT HIS COAT ON SO EMILIO TRIES TO HELP.
JACK: Just leave it alone right.
JACK LEAVES.

JENNIFER TELLS EMILIO THAT JACK WOULD NOT LET HER HELP HIM. EMILIO TELLS HER TO GET THE HINT AND STAY AWAY FROM HIM.
---
SCENE SEVEN: SCOTT ARRIVES AND THE TWO GUYS DECIDED TO ORDER PIZZA BECAUSE JENNIFER SAID SHE CANNOT GO OUT UNTIL SHE FINISHES HER ARTICLE. SHE SITS AT JACK'S DESK AND TRIES TO READ ANY INFORMATION SHE CAN FIND ON HIS DESK. SHE IS PREOCCUPIED THINKING ABOUT JACK AND TRYING TO FIND OUT WHAT HE IS PLANNING. SHE FINDS JACK'S COPY OF THE ITALIAN NEWSPAPER ON MARINA'S MURDER.
---
SCENE EIGHT: IN HER ROOM, ISABELLA IS LOOKING AT JACK'S COAT, SHE TAKES IT AND GENTLY RUBS IT AGAINST HER FACE SNIFFING IT, SHE LAUGHS AND SMILES; SHE APPEARS TO HAVE FEELINGS FOR JACK.
---
SCENE NINE: JACK ARRIVES, AND IS WALKING DOWN THE HALLWAY WITH THE MALE NURSE.
MALE NURSE: There have been people here asking about your friend. People in fancy suits who ride in big shiny cars that somebody else drives.

JACK: Wait a minute, give me a description. License plates.

MALE NURSE: I don't know. The day guy let me in on it.

JACK: Well, thanks for not making me pay him.

MALE NURSE: I thought you'd want to know.
THE NURSE WALKS AWAY LEAVING JACK WORRIED. HE GOES INTO ISABELLA'S ROOM. JACK MUTTERS SOMETHING AND THEN CAUTIOUSLY OPENS THE DOOR. HE CLEARS HIS THROAT.
ISABELLA: Jack, you're here. Did you talk to your lawyers?

JACK: Whoa, whoa, whoa, whoa, whoa. (Jack is worried, he seems as if he has to tell her something but does not know how) Ah, yeah, I talked to the lawyers. Look I was hoping to get.... ah.... get through this thing on the up and up.

ISABELLA: Was?

JACK: Yeah. I don't think we can wait around for the wheels of justice. I think we have to walk you out of here tonight.
---
SCENE TEN: A COUPLE OF MOMENTS LATER, JACK IS LOOKING OUTSIDE ISABELLA'S WINDOW.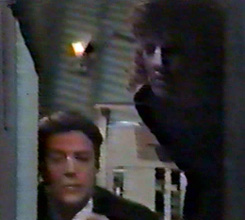 ISABELLA: Tonight (Walking over to Jack)?
JACK: Yeah, somebody's getting a little too nosey for my tastes.
ISABELLA: Do you think it's Victor Kiriakis?
JACK: Could be. But I'm not going to wait around to find out. I tell you what. Get only the things that are most important to you. Nothing that will raise suspicion. I'll be back in a couple minutes.
ISABELLA: How are you getting out of here (reaches for his arm)?
JACK: Well you tell me. You're the one that walked out of here before. You see the secret is to get out without anybody knowing and the for us to get out with nobody seeing us together. That shouldn't be too hard. I mean how many attendants are there around here anyway?

ISABELLA: Jack.

JACK: Yep.

ISABELLA: Thank you.

JACK: Oh, save it until you're out of here for good.
JACK LEAVES HER ROOM TO SCOPE THE PLACE.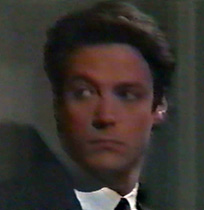 ---
SCENE ELEVEN: MEANWHILE JENNIFER IS CLEANING UP AFTER THE PIZZA. SHE SITS DOWN AT JACK'S DESK AND OPENS THE DRAWER. SHE LOOKS AT THE GUN AND DECIDES THAT JACK MUST WANT HER HELP OR HE WOULD HAVE LOCKED THE DRAWER. SHE LOOKS OVER THE NEWSPAPER WITH AN ARTICLE ABOUT THE TOSCANO FAMILY AND SEES THE NAME OF ISABELLA. SHE REALIZES THAT SHE MUST BE THE WOMAN IN THE SANITARIUM. SHE GOES THERE TO SEE IF SHE CAN FIND JACK, "ALRIGHT JACK, I'VE GOT YOU NOW."
---
SCENE TWELVE: AT BAYVIEW JENNIFER TRIES TO SPEAK TO THE DOCTOR IN CHARGE BUT THEY TELL HER THAT IT IS IMPOSSIBLE UNTIL WORKING HOURS. SHE THEN SAYS THAT HER BOSS IS THERE AND THEY TELL HER THAT THERE ARE NO VISITORS THERE AT ALL. SHE TAKES OUT HER COIN PURSE AND TELLS THE ATTENDANT THAT SHE HAS SOME CHANGE AND WILL PAY HIM. HE TELLS HER THAT IF SHE DOES NOT LEAVE HE WILL CALL THE COPS.
---
SCENE THIRTEEN: ISABELLA IS PUTTING HER THINGS TOGETHER. SHE FINDS JACK'S COAT AND PICKS IT UP AND GENTLY TOUCHES IT. JACK COMES BACK.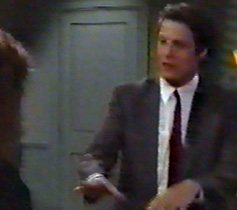 JACK: Alright, are you all set?

ISABELLA: Yes I think so. I guess I didn't think you'd back so soon.

JACK: Just get everything together and let's go.

ISABELLA: Okay. I want to take my book and I need to get my....

JACK: No, no. Calm down. First thing is calm down. We don't want to arouse suspicion, alright. I want you to go downstairs, go through the lounge to the Emergency Exit. I'll meet you there. You know where that is?

ISABELLA: Yes. I know where it is.

JACK: Good, good. Let's go. Right, let's get out of here. Remember the important thing is not to arouse any suspicion.
JACK OPENS THE DOOR AND TWO MALE ATTENDANTS ARE STANDING THERE.
JACK: Gentlemen, I don't believe we've been introduced. I know it's after visiting hours but you don't understand.
ATTENDANT: Your plans are cancelled! You and your friend aren't going anywhere!
JACK LOOKS AROUND NOT KNOWING WHAT TO DO NOW.