---
[Christmas Day 1989]
SCENE ONE: JO AND ADRIENNE ARE ON THE PIER.
ADRIENNE: I mean it's just the two of us. I hope Dr. Curtis likes my present.
JO: That's the thing I like best about today, delivering presents.
ADRIENNE: You know what the best present would be, if Steve could find Kayla.
JO: I hardly think about anything else.
ADRIENNE: I know.
JO: You know, next year at this time I'm going to be looking after my grandchild.
ADRIENNE: And maybe this time next year the whole family will be together again.
JO SMILES AT THAT HAPPENING.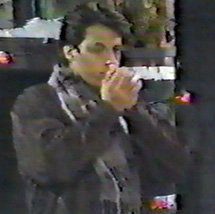 SHE THEN LOOKS OVER AND SEES SOMETHING. IT IS JACK IS ALONE ON THE PIER, LOOKING LONILY, RUBBING AND BLOWING ON HIS HANDS.
JO: (To Adrienne) It looks like we are not the only two people alone today.
ADRIENNE LOOKS OVER TO SEE WHAT SHE MEANS. THEY WALK OVER TO JACK.
JO: What are you doing out here all by yourself?
JACK: Oh, Happy Holidays, ladies.
ADRIENNE: Merry Christmas Jack.
JO: Jack, well this isn't exactly the day to be at the pier.
JACK: I was just out taking a breather. You know I've been running around a lot today.
ADRIENNE: Oh, places to go, people to see Jack.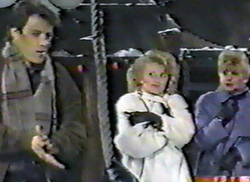 JACK: Yeah, yeah, you know that sort of thing.
JO: Why don't you spend the day with us?
ADRIENNE: Yeah, we're going over to Neil's and then we're going over to my place to cook dinner.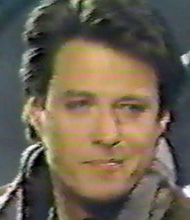 JACK: Ah, I'm sorry, I can't.
JO: Maybe next time.
JACK: Ah, yeah. Maybe next time.
ADRIENNE: Merry Christmas Jack.
JO: Merry Christmas.
JO AND ADRIENNE LEAVE WHILE JACK PONDERS WHAT IT WOULD BE LIKE TO HAVE A FAMILY CHRISTMAS.
---
SCENE TWO: A SHORT TIME LATER, STEVE ANSWERS THE DOOR AT NEIL'S. JACK IS STANDING THERE.

STEVE IS WEARING A SANTA CAP AND TINSEL ON HIS PATCH. HE PULLS OFF THE CAP WHEN HE SEES IT IS JACK.
STEVE: I thought I felt a cold breeze.
Johnsons together for Christmas;
1:50 Min; 4.5 Meg

JACK WALKS IN CHUCKLING AT STEVE'S COMMENT.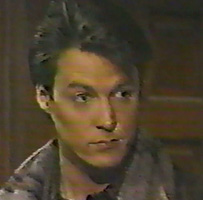 JACK: Ha! You caught right there in the holiday spirit.
STEVE: Huh, uh. Yeah.
JACK: (Sounding concerned) So.... have you seen Kayla?
STEVE: You care?
JACK: Yeah.
STEVE: I'm still lookin'.
JACK: So am I.
STEVE: Oh, is that right?
JACK: Huh, uh.
STEVE: Yeah? What are you doin' Jack? Lookin' for Isabella?
JACK: No, I'm not looking for Isabella. I'm helping you look for the damn key, that's what I'm doing.
STEVE: Is that right? Well I don't believe you.
JACK IS FRUSTRATED AND HURT.
JO: Who's at the door? (Beat) Jack!
JACK: Ah, I know I said I had other plans but....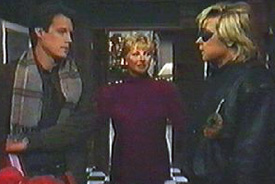 JO: Isn't this wonderful? My two sons under the same roof at Christmas.
STEVE: Yeah, that's great Mamma but I gotta go.
JACK: Look, I got this got this little thing I got to give Neil. That's all I know.
JO: No, no. Come on please. Have some egg nog. Come on. Dr. Curtis is here. Adrienne is here. She's going to be so happy to see you.
JO DRAGS THEM BOTH INTO THE LIVING ROOM.
JO: Look who's here.
ADRIENNE: Jack!
JACK: Hey, it's the girl on the pier.
NEIL: Merry Christmas, Jack.
JACK: Neil.
JO: Isn't it wonderful? All of us together.
NEIL: Is this a first?
JACK: Yeah! You better write it down in one of those.... Believe It Or Not books, huh.
JO: This is one of the happiest moments of my life.
NEIL: Well, I think a moment should be on film.
JO: Yeah.
STEVE: Well, you keep that camera out of my face, here.
NEIL: Oh, come on Steve. It's new.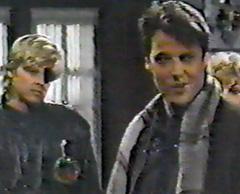 JACK: You gonna do one of these group things, right?
NEIL: Gather yee in front of the tree!
JACK: Huh.
NEIL: Pronto.
JACK AND STEVE LOOK AT ONE ANOTHER HALF SMILING. NEITHER WANTS TO SEEM TOO ANXIOUS FOR THIS PICTURE EVEN THOUGH THEY BOTH WANT IT.
JO: (Dragging Steve with one had and Jack the other) Well, come on everybody. You heard the doctor.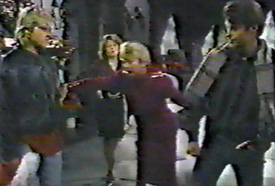 ADRIENNE: Come on you guys, you can do it. Stand shoulder to shoulder, right.
NEIL: This is not going to hurt.
JO ARRANGES THEM WITH JACK ON THE LEFT AND STEVE ON THE RIGHT, THEN HERSELF IN BETWEEN THEM IN FRONT WITH ADRIENNE.
NEIL: That's it. Get closer together. Smile! Good. Once more for posterity.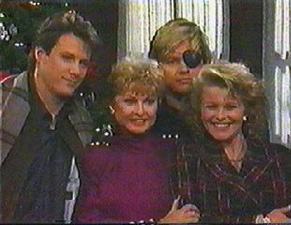 ---
SCENE THREE: AFTER THE PICTURE JACK WANTS TO LEAVE.

Jo gives Jack a gift; Jack gives her a kiss;
1:40 Min; 3.5 Meg
JACK: Thanks but I've got to go.
ADRIENNE: Jack, thanks for coming. It really meant a lot.
JACK: You not going to cry are you?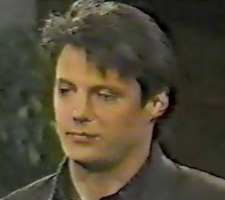 ADRIENNE: No way!
JACK: Oh good.
ADRIENNE GIVES HIM A KISS ON HIS LEFT CHEEK AND A BIG HUG AND THEN SHE CRIES.
JO: I'll walk you out.
JACK: Oh no, that's not necessary.
JO: No, really.
JACK: See ya Neil.
NEIL: So long Jack.
JO: Jack, Jack, I have something for you.
JACK: Look.
JO: Here.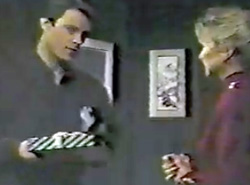 JACK: It's heavy. It must be lead, huh. No it's gold, right?
JO: Sort of. Open it.
JACK OPENS THE PRESENT AND IT IS A FRAMED PICTURE OF STEVE HOLDING A BABY JACK.
JO: That's you in diapers and that's Steve when he was five. You meant everything in the world to him and he did to you too.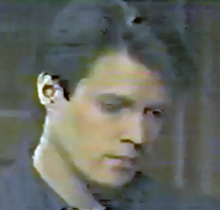 JACK: (Affected by the gift) That was a long time ago.
JO: That kind of love doesn't die. Make peace with your brother.
JACK: (Visibly shaken and after a long pause) I'll try.
JACK LEANS OVER AND KISSES JO ON HER LEFT CHEEK.
JO: Merry Christmas son.
JACK IS OVER COME WITH EMOTION, IT SEEMS HE WANTS TO SAY MORE BUT CANNOT,

AND HURRIEDLY WALKS OUT THE DOOR. WHEN IT IS SHUT HE STOPS AND LOOKS DOWN AT THE PICTURE WITH TEARS IN HIS EYES.
JACK: I'll try. (Beat) Oh, Mamma!