---
[Christmas Day 1989]
SCENE ONE: A SHORT TIME LATER JACK ARRIVES BACK AT THE LOFT.
ISABELLA: Jack, what are you doing here? Why aren't you out celebrating Christmas?
JACK: I was. I just didn't think I should leave you here alone, that's all.
ISABELLA: Don't worry about me. Christmas is no big deal.
JACK: Well, maybe in your country but here in America, it is. I think it's time to get with the Christmas spirit.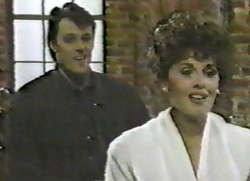 ISABELLA: It's a little hard to find the Christmas spirit this year.
JACK: Shoot, I'm sorry. All you want to think about is your family. I mean, your sister and all. I'm sorry.
ISABELLA: I miss Daddy Jack. Marina and I wanted to find the key for him. Now they're both gone. But I'm here so I'm going to do it. And that's what I want to think about today. We have a lot of work to do and I think we should get to it.
JACK: Well, wait a minute, there's nothing to....Isabella....what a way to spend a Christmas.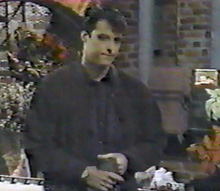 ISABELLA RUNS TO HER ROOM.
JACK: Wait up.
JACK GOES UP TO FIND ISABELLA.
---
SCENE TWO: AT THE HORTONS SCOTTY BANNING APPEARS JEALOUS AS HE WATCHES FAITH TAYLOR GIVE MARCUS A BIG CHRISTMAS GIFT.
---
SCENE THREE: JENNIFER SNEAKS DOWNSTAIRS.
JENNIFER: Time for Santa's elves to get to work.
JENNIFER PREPARES A LOVELY CHRISTMAS FEAST FOR JACK AND ISABELLA. SHE IS JUST COVERING IT WITH A CLOTH WHEN ISABELLA COMES DOWN AND SURPRISES HER.
ISABELLA: What's this?
JENNIFER: Hi. It was suppose to be a surprise.
ISABELLA: Oh, for Jack.
JENNIFER: (Beat) No, for you and Jack.
ISABELLA: Hmmm. What are you doing?
JENNIFER: I'm going to spend the day with my family.
ISABELLA: You didn't have to go to all that trouble. Not for me anyway.
JENNIFER: It wasn't any trouble, really.
JACK COMES DOWNSTAIRS, NOT NOTICING THAT JENNIFER IS THERE TOO.
JACK: Hey,I got an idea. Maybe Marina hid the key in the.... (Beat) Jennifer, I didn't think you were still here.
JENNIFER: Ah, I was just leaving. There we go. Ah.... have a merry Christmas Jack. Bye.
JACK: Ah.... merry Christmas.
JENNIFER RUSHES PAST A DISAPPOINTED JACK.
JENNIFER: Lock the door.
SHE RUNS OUT. SHE STOPS AND WATCHES JACK, JUST AS ISABELLA SLIDES THE DOOR CLOSE.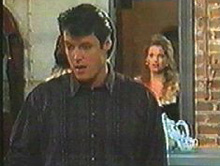 JACK: Here's your hat, what's your hurry.
ISABELLA: I'm hungry. How about you? What do you say we eat?
JACK: Well I don't think there is anything to eat.
ISABELLA: Why don't you see?
JACK: Okay, I will.
JACK WALKS INTO THE KITCHEN.
JACK: Well I can see right now that Jennifer left a bottle of champagne to eat. (Beat) What is this?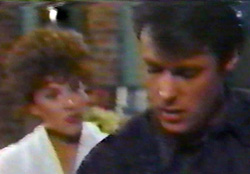 HE PICKS UP A NOTE STUCK TO THE CLOTH COVERING THE FOOD.
JACK: "MERRY CHRISTMAS."
HE PULLS THE CLOTH OFF THE FOOD AND IS SURPRISED.
JACK: Now wait a minute. I didn't think you were in the mood to celebrate.
ISABELLA: I wasn't. I didn't do that.
JACK: Well, if you didn't do it, (Beat) who did? (Beat) Jennifer?
ISABELLA: She's pretty special to do something like that, isn't she?
JACK: (Agreeing, but not want to show just how special he believes she is.) Um.... yeah!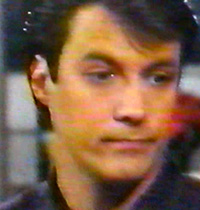 ---
SCENE FIVE: JENNIFER IS AT THE HOSPITAL FOR THE ANNUAL HOSPITAL CHRISTMAS PARTY FOR THE CHILDREN. NICK CORELLI NARRATES THE NATIVITY STORY.
---
SCENE SIX: IT IS LATER IN THE DAY AND JACK AND ISABELLA ARE ENJOYING THE MEAL THAT JENNIFER HAS PREPARED. THEY HAVE TWO SINGLE GREEN CANDLES ALIGHT ON THE TABLE.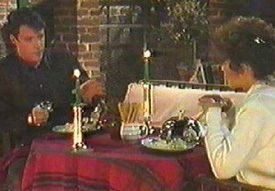 ISABELLA: I think it's called Turkey Tetrazini.

JACK: Turkey Tetrazini. Don't tell me. Turkey for Christmas and Tetrazini....

ISABELLA: (Gets up to get more Champagne) For me!

JACK: Yeah. Well, I would leave it to Jennifer to think of something corny like that.

ISABELLA: I think it's sweet.

JACK: Yeah?

ISABELLA: And so do you. Admit it!

JACK: (Trying to hide a wistful smile.) Okay. I admit it. It's sweet. Corny but sweet. Sweet, corny, how about that?

ISABELLA: Hmmm. Isn't that one of the things you like about her?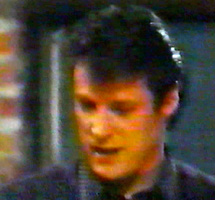 JACK: (Trying to convince himself as much as her.) We work together, alright. She works for me at the paper. I like her work. I don't know why I have to keep convincing people of this point.
ISABELLA: Maybe because you haven't convinced yourself.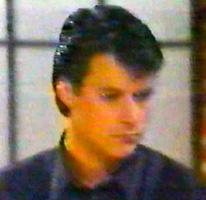 THE SUBJECT MATTER IS BECOMING TOO PERSONAL, SO JACK TRIES TO CHANGE THE SUBJECT. IT IS OBVIOUS THAT HE *DOES* CARE DEEPLY FOR JENNIFER, BUT BELIEVES THAT HE DOES NOT DESERVE HER, AND ANYWAY SHE CARES FOR EMILIO.
JACK: Look, I think we've talked enough about people that aren't here. I think it's time for the gift giving. The presents.
ISABELLA: What presents?
JACK: Present, actually. For you.
ISABELLA: What's this?
JACK: That's a whistle. (Beat) Well anytime that you need me, just.... pucker up and blow [An allusion to Lauren Bacall's character's line line to Humphrey' Bogart's character in the classic film noir To Have and Have Not].
ISABELLA: You made this Christmas better than I thought it could be.
JACK: Good. (Beat) Glad I could make somebody's Christmas.
JACK IS GAZING OUT THE WINDOW, HE SEEMS TO BE TALKING ABOUT NOT BEING ABLE TO HELP STEVE AND KAYLA, AND ALSO JENNIFER.
---
SCENE SEVEN: VICTOR IS IN HIS LIMO AND IS ANGRY, IT APPEARS HE HAS DISCOVERED THAT KAYLA IS FINE AND HAS NOT BEEN KIDNAPPED. [MOST OF THE DIALOGUE IS MISSING SO NOT SURE EXACTLY WHAT HE MEANS]. HE TELLS HIS DRIVER THAT NOTHING WILL HAPPEN TO KAYLA OR THE BABY THIS DAY, LOOKS LIKE HE IS BEING NICE FOR CHRISTMAS. THERE IS CHRISTMAS MUSIC ON THE RADIO AND HE ANGRILY TELLS HIS DRIVER TO TURN IT OFF. THOUGH IT SEEMS THAT HE MIGHT BE BEING "NICE" FOR THE DAY BUT HE STILL IS DETERMINED TO GET THE KEY AT ANY COST AND STILL MIGHT THREATEN STEVE WITH KAYLA'S SAFETY TO GET THE KEY.
---
SCENE EIGHT: BACK AT THE LOFT ISABELLA BLOWS HER NEW WHISTLE TO GET JACK'S ATTENTION. SHE OBVIOUSLY HAS GROWN TO CARE FOR JACK.
JACK: Whoa!
ISABELLA: It works!
JACK: Yeah. It does doesn't it.
ISABELLA: Thank you again. I'm sorry but I didn't get you anything.
JACK: You haven't really had the chance, you know.
ISABELLA: I'd like to though. You've done a lot for me.
Jack tells her about being adopt and Steve not;
45 sec; 2 Meg
JACK: Don't worry about it. I don't need anything. If I need anything, believe me, I can get it myself.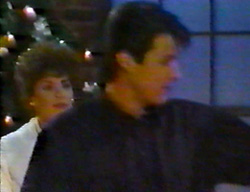 ISABELLA: How did you get that way?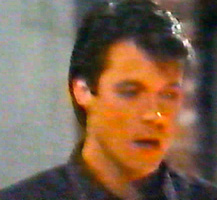 JACK: What do you mean? Independent? Adoption does that to you.
ISABELLA: So that's why you and Steve have different last names.
JACK: Yeah. Different childhoods too. Um, you know when little Stevie was growing up, toiling away in the orphanage, little Billy, that's me, was toiling away in the lap of luxury. I mean you talk about Christmases! But the funny thing is, he's the guy that ended up with everything.
ISABELLA: I used to feel that way about Marina too. It seemed that whatever she wanted, she got.
JACK: Yeah but she didn't get everything. I mean you got.... I mean you're entirely different people. I'm sorry, I.... I.... I know you're missing here and.....
ISABELLA: I miss Daddy too. There was something we used to do every Christmas, Marina and Daddy and I. We'd hold hands and say a Christmas prayer. Could we do that now?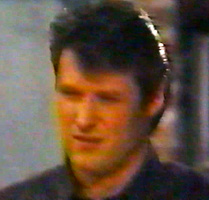 JACK: Ah, I don't know. (Making a face) Pray, me?
ISABELLA: It's okay. If you don't want to, we don't have to do it.
JACK: No, no. I mean I'll do it. I'll give it a whirl. Um, just don't expect any Miracles on 34th Street [An allusion to the movie about Santa, starring a very young Natalie Wood]. (Beat) Joke....joke.
JACK SMILES, HE MAY BE JOKE, BUT IT SEEMS AS ALWAYS HE JOKES TO HIDE HIS TRUE FEELINGS, IT DOES NOT SEEM TO BOTHER HIM AS MUCH AS HE PRETENDS.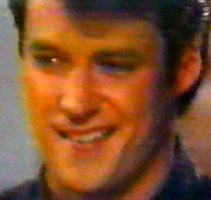 ---
SCENE NINE: JACK FINALLY AGREES TO A PRAY,

JACK AND ISABELLA JOIN HANDS AND BOW THEIR HEADS.
ISABELLA: I didn't expect to be alone this Christmas without my family. I don't think I've ever felt so alone. But I haven't lost everything. I'm just beginning to realize how much I truly have. For that I am forever grateful. (Beat) Your turn.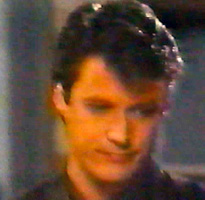 JACK: I was afraid you were going to say that. (Beat) Look I don't know what to say.
ISABELLA: Jack, just say what's in your heart.
Jack admits he wants to change and to make up for what he did to Steve and Kayla;
55 sec; 2 Meg
JACK: Ah, well, I feel the same way you do. Um.... ah, you know, I still have my family but I mean they are pretty far away. At least they felt that way before today. I don't know. I.... I feel I can really change things.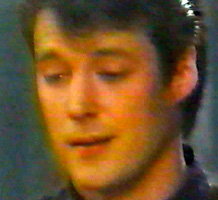 JACK: (Cont.) I mean you can't undo the past but I've been thinking that maybe I work on today I can really do something about tomorrow. (Beat) How's that?
ISABELLA: Not bad. It'll be even better next year.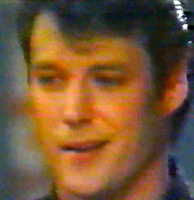 JACK: Yeah. Well um if we've done with the Toscano family tradition, which we are. Good. I think it's time we took up the Deveraux tradition.
HE HANDS ISABELLA A GLASS OF CHAMPAGNE AND TAKES ONE HIMSELF.
ISABELLA: Oh, I'm afraid to ask.
JACK: Oh, it's not drinking. Not alone. (Beat) Jack sings the old favorites.
ISABELLA: No.
JACK: Now don't blow that whistle now. (Beat)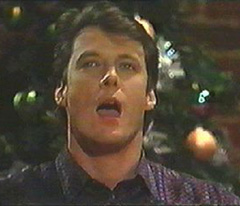 JACK BEGINS TO SING.

Jack sings his version of "The 12 Days of Christmas";
10sec; 300K
JACK: "On the first day of Christmas my true love gave to me A Porsche and a pair of Guccis."
---
SCENE TEN: AT THE HORTONS, EMILIO DROPS BY TO GIVE JENNIFER A GOLD PIN LIKE THE COLLEGE BOYS GIVE THEIR GIRLS. HE STAYS FOR THE TREE TRIMMING.
---
SCENE ELEVEN: STILL WEARING THE SANTA CAP, STEVE IS ROWING A SMALL ROW BOAT TO THE LIGHTHOUSE WITH KAYLA WHO IS WEARING A SANTA COSTUME, HE IS SING "THE 12 DAYS OF CHRISTMAS, TOO."
---
SCENE TWELVE: THERE IS A MONTAGE ENDING, IT IS SNOWING, THE HORTONS ARE SING THEN THERE IS AN INSTRUMENTAL OF "SILENT NIGHT." APRIL RAMIREZ IS ALONE AT WINGS, NOT WITH MIKE, IN THE BACKGROUND NICK CORELLI WATCHES HER, APPARENTLY HE HAS FEELINGS FOR HER; THE NEXT SHOT IS OF THE LOFT, ISABELLA IS LOOKING OUTSIDE THE WINDOW, JACK WALKS OVER AND STANDS BEHIND HER, LOOKING OUT AS WELL;

THE NEXT SCENE IS OF KAYLA, LOOKING OUT THE WINDOW OF THE LIGHTHOUSE WITH STEVE.