---
[Air date very late December 1989]
SCENE ONE: JENNIFER ARRIVES TO MEET EMILIO. SHE IS TO RECEIVE AN AWARD FOR HER STORY ON THE BARRIO. SHE IS WEARING THE PIN EMILIO GAVE HER AT CHRISTMAS. EMILIO ASKS HER EXACTLY HOW SHE FEELS ABOUT HIM. SHE SAYS SHE STILL NEEDS TO SORT OUT HER FEELINGS FOR JACK. EMILIO SAYS HE CAN NO LONGER JUST BE HER FRIEND AND SHE MUST MAKE UP HER MIND.
---
SCENE TWO: MEANWHILE, ISABELLA DECIDES SHE HAS TO LOOK FOR THE KEY HERSELF. SHE GRABS HER COAT, SLIDES OPEN THE DOOR AND JACK IS STANDING THERE.
JACK: Are we going somewhere? (Beat) I thought you didn't want to be seen.
ISABELLA: I can't stand being here alone doing nothing.
JACK: Yeah! So what do you plan on doing?
ISABELLA: Going back to Steve's house to look for the key. I was thinking about what you said and you're right. Marina probably hid it there. It's just like her.
JACK: So, wait a minute. You're planning on going by yourself. Strolling down there and just having a look see.
ISABELLA: Yes.
JACK: While you're at it, why don't you paint a big target on your forehead and save Kiriakis' men the trouble of having to aim.
ISABELLA: This is important Jack. This is about family. I thought you understood that.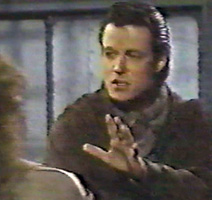 JACK: Whoa, whoa. Wait a minute. Don't tell me what's about family. I know all about family. What did we talk about the other day? Now don't you think I have a life out beyond all this. I made a choice, to go look for this damn key. Because I thought just maybe, maybe, family's worth something. That's why I'm doing this. Because of family, because of Steve.
ISABELLA: And I'm doing this because of family. My father.
JACK: Well, it.... I'm not saying that you're not. But.... it's more than that.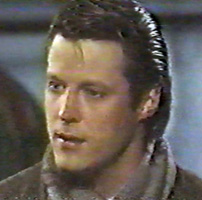 JACK: (Cont.) It's about Steve trusting me and about Kayla trusting Steve and to make all this happen you have to trust me. You're going to get yourself killed unless you do what I say and trust me.
ISABELLA: If you say I have to stay in this apartment one more minute....
JACK: Alright, alright. If you want to leave fine. But I'm telling you right now, that there is one of Kiriakis's men out there. He's waiting for you. He's watching this building right now, I'm telling you. You want to see him? You want to go and shake his hand?
ISABELLA: Alright, alright, then why don't you come to Steve's house with me?
JACK: (Beat) Alright, alright, I'll go with you. As long as you do what I say.
ISABELLA: Agreed. I do trust you Jack.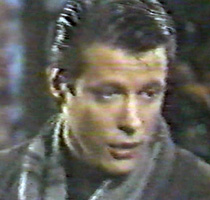 JACK: Good. Take your clothes off.
---
SCENE THREE: A SHORT TIME LATER, ISABELLA COMES DOWNSTAIRS DRESSED IN JENNIFER'S COAT.
ISABELLA: It's a good thing that Jennifer and I are pretty much the same size. How do I look?
JACK: Hmmm. Like Jennifer. Good. Turn around. (Beat) Well, not the hair. What can you do about the hair?
ISABELLA PUTS ON A WIDE BRIMMED HAT.
ISABELLA: How's that?
JACK: Good. Wait a minute. Wrap this around your face.
JACK HANDS ISABELLA A LONG BLACK SCARF WHICH SHE WRAPS AROUND THE HAT AND OVER PART OF HER FACE.
ISABELLA: Okay. Are you sure this is going to work?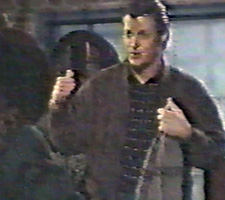 JACK: Well, it worked for the Ayatollah [An allusion to Ayatollah Khomeini]. I mean we don't have to worry about this. (Gesturing with his thumb) I'm going to get this guy to follow me first.
ISABELLA: Okay. So what's next?
JACK: Next you get a cab.
ISABELLA: A cab? Why?
JACK: Well, you've got to get a ride to Steve and Kayla's.
ISABELLA: Okay, so I call a cab and I wait here until it comes.
JACK: No, no, no, no. You meet the cab five blocks from here down at the pharmacy. It's right across from the Fire Department.
ISABELLA: Okay. Four blocks away.
JACK: No, five blocks.
ISABELLA: Five, right, five. So what do I do when I get to the house?
JACK: You have a credit card?
ISABELLA: No, why?
JACK: Eeeer, no. It wouldn't work. I'm sure they're watching the front door. I think that there's a couple of broken windows around the side of the house off the living room. Think you can into that?
ISABELLA: Okay, windows off the living room. Okay. No problem. Windows off the living room, okay.
JACK: Are you sure you want to do this? You said you wanted to do this.
ISABELLA: Yeah I'm sure. I'm just a little scared, that's all. I mean what if Victor's men see me instead of you and they follow me.
JACK: Whoa, whoa, whoa, whoa, whoa. (Taking her hands in his) Take it easy. Now just think, you want to get through this, right?
ISABELLA: Yes, definitely.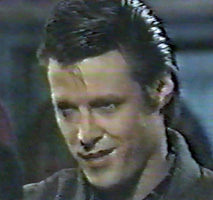 JACK: Okay. I want you to hold that thought. I'll be there as soon as I can.
ISABELLA: Okay. Let's do it.
JACK: Okay. Break! As we say in American football (jogging to the door).
ISABELLA: Jack?
JACK: (Stopping) Yeah.
ISABELLA: Good luck.
JACK: Thanks. That's another American saying.
JACK GOES OUT THE DOOR AND SHUTS IT, THEN PAUSES AND TALKS TO HIMSELF.
JACK: Be careful Isabella, be careful.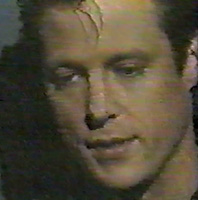 ---
SCENE FOUR: THE AWARD CEREMONY FOR JENNIFER AND EMILIO IS ALMOST UNDERWAY. MAGGIE SEEMS TO BE ENCOURAGING EMILIO TO GO TALK TO JENNIFER. HE IS ABOUT TO WALK OVER WHEN JACK COMES THROUGH THE DOOR, CAUSING HIM TO STOP.
JENNIFER: (She is overjoyed) Jack, hi!
JACK: (Surprised) Hi.

JENNIFER: I didn't know you were going to come here to watch me get my award.

JACK: Award? What award?

JENNIFER: The Citizen's Award. That's why you're here, isn't it?

JACK: Well.... no. Actually, I was here to give Kiriakis's men the slip. Um.... I'm trying to lead them away from Isabella.

JENNIFER: Oh, that's right. Isabella. Yeah. Is everything okay?

JACK: Well, at the moment, yes. Yeah.

JENNIFER: Well, okay, you know you can stay here as long as you need to stay here.

JACK: Well, thank you. I think I'd....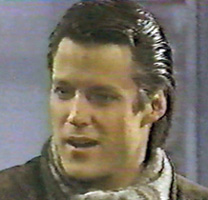 JACK SEEMS TO WANT TO STAY, HE IS PROUD AND HAPPY FOR JENNIFER. HE LOOKS OVER AND SEES EMILIO, AND CHANGES HIS MIND, BELIEVING THAT JENNIFER AND EMILIO ARE SEEING EACH OTHER.
JACK (CONT.): ....ha ha ha. I can't.
JENNIFER: Well, I thought you said that you needed a place to hide.
JACK: Er.... Well, yeah but you know there's so many people here. It's so crowded.
JENNIFER: But think about it Jack. If you stayed here you could use the crowd as a cover, you know.
JACK: Cover?
JENNIFER: Huh, uh.
JACK SEEMS ABOUT TO AGREE TO STAY. THEN HELOOKS OVER AND SEES EMILIO. IT APPEARS THAT SEEING EMILIO MAKES HIM CHANGE HIS MIND, THINKING THAT JENNIFER IS THERE WITH HIM.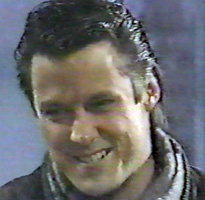 JACK: No, I don't think so. I think I really need to get back to Isabella.
JENNIFER: Of course. Isabella. Well, just let me know if you need any help.
JACK: Sure.... Ah, I don't know what this award is about but I'm sure that whatever it is about, you've got it coming to you. You always do.
JENNIFER: Thanks Jack.
JACK: Take care.
JENNIFER: Bye.
JACK WALKS OUT INTO THE SNOW, LEAVING JENNIFER WITH TEARS IN HER EYES, MISINTERPRETING JACK'S ACTIONS. EMILIO HAS OBSERVED ALL THIS.
---
SCENE FIVE: ISABELLA HAS COME INTO STEVE AND KAYLA'S AND IS WAITING FOR JACK. JACK COMES IN THROUGH THE WINDOW. HE ALMOST FALLS, HE STOPS SEEING WHAT LOOKS LIKE SOMEONE ON THE COUCH.
---
SCENE SIX: JENNIFER WAITS TO TALK TO EMILIO AFTER THE AWARD CEREMONY. THEY ARGUE ONCE MORE OVER JACK. JENNIFER LEAVES, TELLING HERSELF, "SORRY EMILIO, BUT YOU ARE NOT THE ONE I LOVE."
---
SCENE SEVEN: BACK ATSTEVE AND KAYLA'S JACK THINKS STEVE IS HOME AND JACK TRIES TO DO DAMAGE CONTROL. HE PICKS UP THE THINGS HE KNOCKED OVER WHILE CLIMBING THROUGH THE WINDOW. AS TALKS WE SEE THE BACK OFA HEAD, WEARING A READ SCARF AND CAPTAIN'S HAT.
JACK: Oh no. Steve. (Beat) Ah, I can explain. I wasn't breaking in. (Nervously walking around) I was actually, er, helping. Don't give me this silent treatment Steve, please. I was helping you find the key and helping you find Kayla. And--
ISABELLA: Jack what are you doing?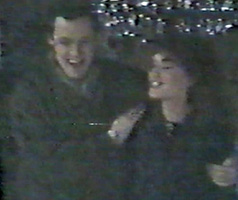 JACK: Isa.... dora Duncan, (He puts his arm around Isabella and then both laugh nervously) my chauffeur [Another allusion to the famous dancer Isadora Duncan who was strangled with her patent long scraf while driving in her roadster convertable; in the '20s]. You decided to come and visit.
ISABELLA: Jack, why are you talking to the dummy?
JACK: He didn't go to college. You don't have to insult the guy. He's.... Steve you can't get good help these days. You know how it is.
ISABELLA: Jack, come on.
JACK: What the....
JACK SEES THAT IT IS A DUMMY AND ATTACKS IT.
JACK: Come here you!
ISABELLA: Jack what are you doing?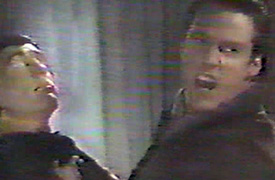 JACK: Take it like a man, huh. This may be the only chance I ever get.
JACK PUNCHES THE DUMMY A FEW TIMES.
ISABELLA: Jack, stop it!
JACK: He thinks he's being real smart just in case some of Victor's goons come by and case the joint.
ISABELLA: He knew what he was doing to.
JACK: What do you mean?
ISABELLA: Your brother came in right after I got here. He called Dr. Hunter. I hid in the dining room. I heard him say that one of Victor's goons followed him here.
JACK: (Jack walks over to the window and looks out to see if Victor's men are still around) What do you mean? Those guys might be here.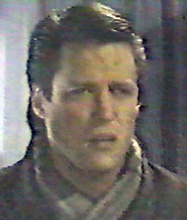 ISABELLA: Jack. There's something else you have to know.
JACK: What?
ISABELLA: Steve has Kayla.
JACK: What?
ISABELLA: I heard him tell Marcus. He's going to go see her tonight.
JACK: You mean that Kayla's okay? You mean that he faked this whole kidnapping so Kiriakis wouldn't have a chance to?
ISABELLA: Pretty smart, eh?
JACK: (Looking at the dummy) I've got to give you some credit.
THEY BOTH HEAR A NOISE.
ISABELLA: What's that?
JACK: I don't know. I.... ah.... ah
ISABELLA: Front door.
JACK: Ah.... ah.... ah.... no, no. I tell you what. Here. Follow me.
JACK RUNS OVER AND PUSHES ASIDE THE BOOK CASE WALL REVEALING THE SECRET PASSAGEWAY HE FOUND WHEN HE WAS SEARCHING FOR THE SHIP'S LOG.
JACK: Alright, this way. Come on. Be quiet. It's full of spiders. I hate spiders.
---
SCENE EIGHT: THEY GO ALONG THE PASSAGEWAY AND PUSH OPEN A TRAP DOOR THAT LEADS TO THE ATTIC. IT IS CRAMMED WITH DUSTY FURNITURE AND CLOTHING AND MASSES OF SPIDER WEBS. JACK COMES UP FIRST FOLLOWED BY ISABELLA
JACK: Come on. Can you still here them?
ISABELLA: No, not anymore.
JACK: We need a light up here. Attic, last stop.
WHILE JACK LIGHTS AN OLD LANTERN, ISABELLA LOOKS AROUND AND KNOCKS OVER AN OLD DRESSMAKER'S MODEL.
JACK: What!
ISABELLA: Sorry.
JACK: Looks like Freddy Kruger. Not our day for dummies, is it?
ISABELLA: Scared me to death. Sorry.
JACK: Look, I know this place is pretty creepy but Victor's people are so close and....
ISABELLA: We have to stay here, don't we?
JACK: That's just it. (Beat) You have to stay here.
ISABELLA: What?
JACK: Ah....
ISABELLA: You're not going to leave me here are you?
JACK: I have to. I've got to go back to my place. I mean, Victor's got a man there and if he doesn't see me come back, he's going to get suspicious.
ISABELLA: Right. But this place is really creepy.
JACK: I know, I know. It's done in early Norman Bates.
ISABELLA: Something like that.
JACK: Well, look you can make the most of it. I mean it's.... I mean look, you've got a nice bed, nice mattress and.... ah.... look, blankets, nice and warm. And here's something you can sleep in.
JACK SHAKES AN OLD NIGHTGOWN AND FILLS THE ROOM WITH DUST.
JACK: Hee, hee. I.... I mean what more could a gal want?
ISABELLA: Are you really going to go away. You can't stay?
JACK: Ah.... no I've got to go.
ISABELLA: Okay.
JACK: Well, look, I promise you, here. I'll be back. You're going to be alright. I promise.
ISABELLA: Okay.
JACK: Okay. I'll be back. Ssssshhhhh. Watch out for spiders.
JACK GOES BACK DOWN THE TRAPDOOR LEAVING ISABELLA ALONE AND REALLY SCARED.