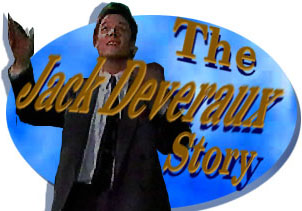 oldEpisode One-hundred-twenty-eight:
Emilio Wants Jennifer to Give up her
Job and Be his Publicist; Jack Tells Her
That Emilio Is not Good Enough for Her,
and She Should Wait for the
Right
Guy.
---
[Air date late March 1989]
SCENE ONE: IT IS THE NEXT MORNING AND JENNIFER IS AT THE LOFT. SHE IS DRESSED IN SHORT BLACK SILK PAJAMAS. THE TOP HAS A TRANSPARENT BACK.

JENNIFER: Isabella! Isabella have you seen the laundry basket? Shoot!

JENNIFER WALKS UP TO THE KITCHEN COUNTER. SHE TURNS AROUND TO CALL ISABELLA AGAIN. JACK POPS UP FROM BEHIND THE COUNTER.

JENNIFER: Isabella! (Beat) JACK!

THEY BOTH ARE MORE GLAD TO SEE THE OTHER THAN THEY LET ON. JACK SEEMS TO ENJOY JENNIFER'S SKIMPY OUTFIT.

JACK: Jennifer! (Beat)

JENNIFER CROSSES HER ARMS OVER HER CHEST.

JACK: Ah..... ah.... coffee?

JENNIFER: What are you doing here?

JACK: Well....don't say thank you. I'm just getting some coffee.

JENNIFER: Right, let me put it another way Jack. What are you doing here?

JACK: Well, since you put it that way, I'm waiting for your room mate Isabella. I'm taking her out to lunch.

JENNIFER SEEMS SOMEWHAT SORRY TO HEAR THAT HE IS NOT THERE TO SEE HER.

JENNIFER: OH!...Well, well she's probably upstairs still dressing. And seeing as how you walked in unannounced I guess I don't have to tell you to make yourself at home, right.

JACK: No, no. I'll be the perfect house guest. As a matter of fact I'll be the best house guest. You don't even have to count the silver.

JENNIFER: You know on the other hand, it would be rude to even leave you here Jack.

SHE WALKS UP RIGHT NEXT TO HIM AND HE SLURPS A SIP OF COFFEE, UNCOMFORTABLY.

JENNIFER: How do you like it?

JACK: Um....I....er...actually I'm trying to cut down on it. On the coffee that is. I'm trying to cut down on coffee. It's bad for the prostate. Ah.....look you don't have to entertain me really. I'll just read one of your comic books.

JENNIFER: Jack are you warm? Because it really looks like you're sweating.

JENNIFER SLOWLY LOOSENS JACK'S TIE AND THE FIRST FEW BUTTONS ON HIS SHIRT. AND STARTS BLOWING ON HIS CHEST. JACK IS GETTING MORE AND MORE NERVOUS, AS WELL AS AROUSED.

JACK: Oh.....actually, actually it is a little stuffy in here but don't worry about me, don't worry at all. In fact it's been a wonderful conversation. It's been just fabulous! But I'm sure there's lots of things that you have to do.

JENNIFER: Oh no Jack I wouldn't think of it. I mean the least I can do for my old buddy Jack is to entertain him while his date's getting ready.

JACK: Well thank you! Thanks.

JENNIFER: Sure, don't mention it.

JENNIFER SITS DOWN ON THE COUCH AND CROSSES HER LEGS. THEN SHE PATS THE SEAT NEXT TO HER. JACK LOOKS ON NERVOUSLY.

JENNIFER: Come here Jack. Take a load off. Come on. You're not afraid of little me, are you Jack?

JACK: Ah....don't be silly.

JENNIFER: Come on.

JACK WALKS OVER AND SLIDES ONTO THE COUCH AS FAR AWAY FROM JENNIFER AS HE CAN GET. HE CROSSES HIS LEG DEMURELY TOWARDS HER TO CREATE A BARRIER BETWEEN THEM, AND AS HE DOES SO SHE SLIDES BOTH HER BARE LEGS OVER HIS.

JENNIFER: So! How are things going at The Spectator Jack since I've been gone?

JACK MAKES NO ATTEMPT TO GET UP OR TO MOVE HER LEGS, AND SEEMS TO BE ENJOYING LOOKING AT THEM; LOOKING DOWN AT THEM.

JACK: Ah....they're fine. I mean everything's fine. Ah....I'm getting more work done than I've ever gotten done and ....ah.....I'm sure that you would like for me to say that everything's just collapsed and fallen apart since you left but I'm sorry it hasn't.

JENNIFER NOTICES THIS, AND IS RATHER PLEASED. SHE IS HAVING FUN PLAYING WITH JACK.

JENNIFER: Don't be sorry. I'm doing great myself.

JACK DOES NOT SEEM TO LIKE THE IDEA THAT SHE DOES NOT MISS HIM.

JACK: You are?

JENNIFER: Yeah. My new job, it's very challenging and I like the people I work with. Couldn't be happier.

JACK DOES NOT WANT TO LET ON THAT HE IN FACT MISSES HER. SHE IS ENJOYING THE SITUATION AND JACK'S DISCOMFORT, AND HIS OBVIOUS FEELING FOR.

JACK: Good. I'm happy for you.

JENNIFER: It's the best thing that ever happened to me Jack.

JACK: Prrrrr....what can I say? It's the best thing for both of us.

HE TRIES TO SLIDE AWAY FROM HER; SHE SLIDES WITH HIM KEEPING HER LEGS OVER HIS. AS HE SETTLES DOWN, HE REALIZES THAT SHE IS SITTING ON HIS HAND. HE SLOWLY SLIDES IT OUT, SHAKING IT.

JACK: Ah....excuse me.

JENNIFER: Excuse me. It's just great that we don't miss each other at all.

JACK TURNS TO LOOK IN HER EYES AND HE BEGINS TO RUN HIS HAND OVER HER LEG, HE LOOKS AS IF HE WANTS TO KISS HER. SUDDENLY ISABELLA COMES DOWNSTAIRS; THEY BOTH STAND UP QUICKLY.

ISABELLA: Jennifer, I going out for lunch today with Jack.

JACK: OH!

ISABELLA IS AMUSED AT JACK AND JENNIFER. AND KNOWS THAT DESPITE WHAT THEY SAY THEY WERE ENJOYING THE CLOSENESS, AND EACH OTHER.

ISABELLA: Oh....I just remembered that I forgot....I'll be back.

JACK: NO! NO! No, no, no, no. You didn't forget a thing! We're all through here.

JENNIFER: Yeah. I need to get dressed.

JACK: (An embarrassed, nervous swallow) Sure do.

ISABELLA: Oh yeah. I hope I didn't interrupt anything.

NEITHER WANTING TO ADMIT THAT THEY WERE ENJOYING WHAT WAS GOING ON, AND THAT SHE IN FACT IS INTERRUPTING THEM.

JACK AND JENNIFER: NO!

THEY BOTH TURN TO LOOK AT EACH OTHER. BOTH DO NOT SEEM TO LIKE THE IDEA THAT THE OTHER WAS SO QUICK TO PROTEST.

JACK: No, take my word for it.

JENNIFER: Really. Take his word for it. I'm going to go change.

JACK: Good.

JENNIFER: I hope you have a really great lunch.

JACK: Yeah.

JENNIFER: It's good seeing you Jack.

JACK: Yeah, I hope to see more of you (Stopping himself realizing the Freudian slip he just made.)....I mean I hope to see you....see you....see you around.

JENNIFER GOES UPSTAIRS, AND TEASES JACK A BIT. JACK WATCHES HER. ISABELLA IS AMUSED AT BOTH OF THEM.

ISABELLA: I'm sorry I took so long. It didn't obviously put you out having to wait.

JACK: Well I think that's your opinion.

ISABELLA: Oh stop complaining Jack! Unless I'm wrong it obviously didn't bother you having to spend so much time with someone you obviously care about.

JACK: Isabella I don't want to talk about alright. Unless you want to start talking about time spent with a certain Roman Brady in Italy.

ISABELLA, SINCE SHE WAS SHOT IN MIAMI EXCHANGING THE KEY FOR KAYLA, HAS BECOME CLOSE TO ROMAN. HOWEVER, ROMAN HAS BEEN ACTING STRANGELY LATELY. HE SEEMS TO BE WONDERING ABOUT HER CONNECTION OR ROLE IN MARINA'S MURDER.

ISABELLA: There's no need to talk about that, so....

JACK: So....you want to drop the whole thing?

ISABELLA: So let's put an end to two boring topics of conversation.Our personal lives.

JACK: Agreed.

ISABELLA: Shall we?

JACK: It'll be a pleasure.

ISABELLA: Let's go.

JACK: After you.

ISABELLA: Get the door.

JACK: Huh, uh!

JACK TURNS AROUND TO SLIDE THE DOOR SHUT AND JENNIFER IS CROUCHED ON THE STEPS STILL IN HER PAJAMAS. SHE GIVES HIM A CUTE LITTLE WAVE AND HE WAVES >BACK THEN LEAVES.
---
SCENE TWO: JACK AND ISABELLA ARE HAVING LUNCH AT WINGS. DAVE, THE MAITRE D', IS TAKING THEIR ORDERS.

JACK: I'd like a large carafe of your cheapest house white.

ISABELLA: (Laughing) I'll pass Jack! Iced tea is fine thanks.

JACK: She's probably afraid she'll get drunk and spill her guts to me. Women tend to do that.

DAVE: (As he leaves) Must be nice!

JACK: Fess up, what's going on?

ISABELLA: Sorry, it's nothing.

JACK: Nothing! You call a week in Italy with Roman Brady, nothing.

ISABELLA: I'm just really confused right now Jack. I really started to trust Roman.

JACK: So what's the problem?

ISABELLA: Well I feel he's pulling away from me. Like there's something going on that he's not talking about.

JACK: What, he didn't appreciate the diary.

ISABELLA: The diary has nothing to do with that. He says he wants to maintain professional distance because of what's going on in the investigation.

JACK: Oh well, that sounds reasonable.

ISABELLA: I just think there's more to it than that.

JACK: Wait a minute! There is. You're falling for that guy aren't you? (Beat) Aren't you?

ISABELLA: Well even if I was Jack, it doesn't matter. Roman's not ready for a relationship, any kind.

JACK: Well, you know what they say in this country. Don't give up the ship. I mean, there's not a lot of decent guys out there!

ISABELLA: Yeah, well I could say the same thing to you.

JACK: Wha....

ISABELLA: About a certain room mate.

JENNIFER WALKS IN AS ISABELLA IS TALKING. JACK TURNS AROUND AND THEY JUST LOOK AT EACH OTHER.
---
SCENE THREE: JENNIFER THEN WALKS OVER TO EMILIO, WHO IS EXCITED ABOUT THE STORY JENNIFER IS DOING ABOUT HIM ON TELEVISION. AS SHE IS LISTENING TO EMILIO, SHE KEEPS TURNING BACK TO LOOK AT JACK, WHO SEEMS TO BE SPENDING A LOT OF TIME LOOKING AT HER TOO.

ISABELLA: Jack!

JACK: (Distracted by Jennifer) Huh, what, did I say something. I mean did you say something?

SHE PICKS UP ON WHAT IS GOING ON IS AMUSED, AND STARTS TO GOOD NATUREDLY RIB JACK ABOUT IT.

ISABELLA: Yeah. I just said your food was getting cold but I said it five minutes ago.

JACK: Oh....well....ah....I like my good chilly. In fact I thought we ordered chili.

ISABELLA: Jack, I've got a really great idea. Why don't you let it really freeze up and go over and talk to Jennifer.

PRETENDING HE DOES NOT KNOW *WHAT* ISABELLA IS TALKING ABOUT.

JACK: What? Go....ah....go....go and talk to her. No!

ISABELLA: Jack, save it. I can see right through you.

THINKS OF AN EXCUSE TO LEAVE THE TABLE AND GO OVER BY JENNIFER.

JACK: Ah....well look I'll tell you what I'm going to do. I've got to go make a phone call over there. Maybe I'll stop by and....say hello.

ISABELLA: Good.

JACK GETS UP AND CASUALLY WALKS OVER TO JENNIFER AND EMILIO.
---
SCENE FOUR: EMILIO IS TALKING AND JACK JUST ACKNOWLEDGES THEM WITH A WAVE OF HIS HAND AND KEEPS >WALKING TO THE PHONE. INSTEAD OF MAKING A PHONE CALL, JACK HANGS AROUND JUST CLOSE ENOUGH TO HEAR THEIR CONVERSATION. EMILIO WANTS JENNIFER TO TRAVEL AROUND WITH HIM ON HIS SINGING CAREER. SHE IS RELUCTANT BECAUSE OF HER JOB. HE WANTS HER TO BE HIS PUBLICIST AND SHE THINKS ITS NOT REALLY WHAT SHE WANTS TO DO. JACK IS FROWNING AT THE WHOLE CONCEPT OF JENNIFER AND EMILIO TOGETHER.
---
SCENE FIVE: EMILIO IS CALLED TO REHEARSAL BY DAN AND THEY GET TALKING ABOUT EMILIO'S PROPOSAL TO JENNIFER. DAN GETS AN IDEA THAT IT WOULD BE GREAT IF EMILIO ASKED JENNIFER LIVE ON TELEVISION DURING HIS BIG SHOW. DAN IS USING HIM FOR RATINGS. EMILIO IS NOT SMART ENOUGH TO REALIZE THIS, SO HE AGREES. HE SEEMS TO BE OBLIVIOUS TO THE JENNIFER DOES NOT ACT AS IF SHE IS IN LOVE WITH HIM, AND THAT SHE TREATS HIM JUST LIKE A FRIEND.
---
SCENE SIX: JENNIFER IS AT THE BAR WATCHING THE REHEARSAL WHEN JACK COMES OVER TO TALK TO HER, HE IS *VERY* UPSET ABOUT WHAT HE JUST HEARD.

JACK: Jennifer, you are a damn fool!

JENNIFER: Whoa! What?

JACK: I said you are a damn fool if you throw away everything that you've worked for just to go trapesing around the country writing press releases for Emilio.

JENNIFER: How did you know about that?

NOT WANTING HER TO KNOW HE WAS PURPOSEFULLY LISTENING IN ON HER CONVERSATION, BECAUSE HE DOES NOT WANT HER TO KNOW HOW HE FEELS ABOUT HER.

JACK: I....I'm a reporter. I've got a nose for that sort of thing.

JENNIFER: Well from now on, be careful where you stick it Jack.

JACK: Look I did not waste all that time developing you into a top drawer journalist with unlimited potential just so you could flush it down the toilet.

JENNIFER IS EXCITED BY WHAT HE IS SAYING, AND WHAT THAT MEANS THAT HE CARES ABOUT HER.

JENNIFER: You didn't?

JACK: NO! And any man worth his salt wouldn't ask you to toss it away either.

JENNIFER: Jack, I....

JACK: What?

JENNIFER: I thought that you wanted me to be with Emilio.

JACK: I never said that! The guy's a deadbeat. I'm more sure of it now than ever.

JENNIFER: You are?

JACK: He's just not the right guy for you!

JENNIFER: Then who is the right guy for me, Jack?

JACK: Jennifer, I....

THEY BOTH ARE ENGROSSED IN THEIR CONVERSATION. JENNIFER IS OVERJOYED THAT JACK SEEMS TO CARE ABOUT HER, AND HOPEFUL THAT HE WILL *FINALLY* ADMIT THAT HE BELIEVES HE IS THE RIGHT PERSON FOR HER. JUST THEN DAN RYAN, HER WATV NEWS PRODUCER, WALKS OVER TO THEM. JACK IS ABOUT TO SAY SOMETHING WHEN DAN INTERRUPTS HIM.

DAN: Excuse me Deveraux. Jennifer I need you ASAP. Sorry pal.

SHE IS FRUSTRATED BY THE INTERRUPTION, AND HOW CLOSE JACK WAS TO POSSIBLY TELLING HER HOW HE FEELS.

JENNIFER: Yeah me too.

JACK LOOKS SURPRISED, THAT HE TOO IS BOTHERED BY THE INTERRUPTION.

JACK: (To himself) Me too!

JENNIFER IS DRAGGED AWAY BY DAN.
[Transcribed by Carol Vaughan
added material by Sally A. Wilson]
---