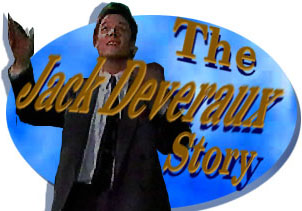 oldEpisode One-hundred-fifty-five:
Cruise of Deception Part II: For the
Gala Costume Ball Jack and Jennifer
Are King Arthur and Queen Guinevere.
---
[Air date 6-8-90]
SCENE ONE: JACK IS STILL ON THE FLOOR HOLDING THE DIAPHRAGM.

JACK: An item of personal nature. It's not mine. Obviously it must be yours.

JACK STANDS UP, STILL HOLDING IT.


JENNIFER: Aren't you going to ask me why I brought it on the cruise? Don't you want to know why I brought it along with me Jack.

JACK: I was assuming it was a mistake. You packed for your honeymoon. You used the same suitcase as you did when you packed for the cruise. It could happen to anybody.

JENNIFER GRABS IT FROM HIM.

JENNIFER: Is that what you think?

JACK: I think it's pretty obvious.

JENNIFER: I think it's pretty obvious you're evading the issue.

JACK: I'm not the one evading the issue, you are.

JENNIFER: Me?

JACK: Yes. You're planning to marry Emilio when this cruise is over, right?

JENNIFER: Right.

JACK: How could you even hint that you're going to use this diaphragm in any other way before that time.

JENNIFER: You can't keep hiding forever Jack. You're going to have to face it sometime.

JACK: I'm not going to face anything.

JENNIFER: You feel what's going on between us as much as I do. You just won't admit it. But you're going to have to sometime. You're going to have to do something sooner or later because it can't go on like this.

JACK: I don't have to do anything because nothing's going to change. Because nothing will change.

JENNIFER: Why will nothing change between us Jack?

JACK HAS HIS BACK TO HER. SHE GENTLY TURNS HIM ROUND.

JENNIFER: What's stopping it? What is not letting it happen? I know what it is Jack and we're going to talk about his right now. If you don't want to talk about it, I will, okay. You have put me up on some pedestal in your mind and you've got me up here and you've got you down here and you don't think that you're good enough for me. That's what you think isn't it? That's it isn't it? You think that I'm this fragile sheltered person. You think I'm this china doll and if you touch me I'm going to shatter into a million pieces. But you're wrong, that's not what I am. I'm a woman and I have all the feelings that a woman has and I'm not going to break if you touch me. And it's about time you figured that out.

JACK SITS BACK ON THE BED.

JENNIFER (CONT.): Look Jack I'm not trying to make you uncomfortable, right. You're just going to have to admit to your own feelings. Otherwise we both lose . I don't know what more I can say to make you see that.

THERE IS A KNOCK AT THE DOOR. JACK USES THIS AS AN OPPORTUNITY TO EVADE JENNIFER'S QUESTIONS.

JACK: I'll get that, just a minute. Yeah come in.

PURSER: Excuse the interruption.

JACK: No problem at all.

THE PURSER PUTS TWO LARGE BOXES ON THE BED.

PURSER: Mr. Jack Deveraux and Miss Jennifer Horton.

JACK: What's in these?

PURSER: Your costumes for the ball this evening. Signore, signorina.

THE PURSER LEAVES.

JACK: This one's yours.

JENNIFER: Jack just forget about that right now, okay. I asked you something and I want an answer.

JACK: Look I think it's time to get ready. You....

JENNIFER: Forget about the ball. Forget about the costumes Jack. We were talking about something.

JACK: If you're not ready to go, I'll go first okay.

JENNIFER: Jack stop. Why are you doing this?

JACK: I can go first. I'm a lot faster than you are.

JENNIFER: You can't run away from me forever. Pretty soon we'll be on the open sea and it'll be you and me and the seagulls and you won't be able to run away from me anymore. If you'll excuse me, I'll go first.

SHE PICKS UP HER BOX AND WALKS TO THE BATHROOM. JACK WALKS OVER AND PICKS UP THE DIAPHRAGM. SHE WALKS OUT AND TAKES IT FROM HIM. THEY EXCHANGE GLANCES. SHE GOES TO CHANGE.
---
SCENE TWO: A SHORT TIME LATER, JACK IS IN HIS COSTUME AND IS ARRANGING HIS SWORD ON HIS KING ARTHUR COSTUME. JENNIFER COMES OUT OF THE BATHROOM DRESSED AS QUEEN GUINEVERE.

JENNIFER: Okay.

JENNIFER LOOKS AT HERSELF IN THE MIRROR WHICH IS THE DRESSER.

JACK: Well which one are you, Fergie or Princess Di?

JENNIFER: Not exactly a contemporary costume huh.

JACK: You can say that. Look I don't know what these people thought they were but they were certainly small. How do you walk in these things? It's too tight.

JENNIFER IS STILL LOOKING IN THE MIRROR, SHE USES IT TO TAKE A PEAK AT JACK, SHE SHE LOOKS DOWN AT HIS TIGHTS.

JENNIFER: They don't look that snug to me Jack.

JACK: I feel like....I feel like I should be handing out towels at Circus World in Vegas, you know, in the men's room.

JENNIFER LAUGHS.

JACK: I mean I how do you tell which one's the queen and which one's the king?

JENNIFER: Jack we're just not any king and queen. I'm Guinevere and you're King Arthur.

JACK: Oh really! How can you tell, how do you know?

JENNIFER: Well that tells me everything.

JACK: What?

JENNIFER PICKS UP HIS SWORD.

JENNIFER: It says "Excalibur."

JACK: I thought it said "Made in Japan." Honestly I don't know anything about this medieval stuff, you know, really.

JENNIFER: Okay, well Guinevere was a princess who lived a quiet sheltered life until King Arthur married her and swept her off on his adventures. He was her perfect and gentle knight. Her knight in shining armor. She rode before him on his saddle and he taught her all the things she didn't know.

JENNIFER TAKES THE SWORD AND PLACES THE POINT IN THE CENTER OF JACK'S CHEST AND PUSHES HIM BACKWARDS ONTO THE BED.

JACK: Whoa, whoa.

JENNIFER THEN MOVES THE SWORD POINT DOWN BETWEEN HIS LEGS. SHE SITS ON HIS LAP.

JENNIFER: He taught her about the world.

JACK: Jennifer, Jennifer.

JENNIFER: And he taught her about magic.

JACK: Jennifer.

JENNIFER: He taught her about the power of words and about the power of love.

SHE LEANS OVER HIM. HE LEANS BACK ON THE BED TO AVOID HER BUT SHE MOVES CLOSER.


JENNIFER: Arthur and Guinevere lived in an enchanted place called Camelot. You believe in Camelot don't you Jack?

SHE MOVES THE SWORD AND THEY ARE ABOUT TO KISS WHEN JACK GETS COLD FEET.

JACK: Argh, argh! Oooh!

HE TAKES THE SWORD FROM HER AND RUNS HIS HAND DOWN IT.

JACK: Well now that we're both up, there's something that I remembered. A couple of facts about the legend of King Arthur.

JENNIFER: What about the legend of King Arthur, Jack? I thought you said you didn't know anything about the legend of King Arthur.

JACK: I happen to be a fan of Richard Burton's. I happen to remember a few things.

JENNIFER: Like what?

JACK: Like the fact that Guinevere dumped Arthur. In the final reel she dumped Arthur and she ran off with Lancelot.

JENNIFER: Jack that is so like you, you know that.

JACK: Hey I didn't write it. I can't help it if Guinevere was fickle and faithless.

JENNIFER: Well maybe it was King Arthur's fault. Maybe he was so miserable and worthless and maybe he treated her so badly that she just got fed up and left.

JACK: No. I don't think so.

JENNIFER: What do you think Jack?

JACK: I'll tell you what I think. I'm telling you this story that goes like this. Arthur gave her up but he did it on purpose. You see this guy was smart. He knew that he couldn't make her happy. You know it was hard keeping that round table round in those days. He knew she'd be a lot happier with Lancelot so he did the thing that was....that was most noble, hat was....most civilized....and gave her up.

JENNIFER: Well he may have been noble Jack but he also ended up alone, very much alone.

JENNIFER WALKS OUT THE DOOR AND SHUTS IT AND JACK CALLS AFTER HER.

JACK: I hope you don't forget that Guinevere ended up in a convent!
---
SCENE THEE: THE BALLROOM ON THE CRUISE SHIP LORETTA. ROMAN AND ISABELLA ARRIVE FIRST AND THEIR COSTUMES ARE HEATHCLIFFE AND CATHY FROM WUTHERING ; HEIGHTS. BO IS RHETT BUTLER; AND JULIE IS KATE AND VICTOR IS PETRUCHIO FROM THE TAMING OF THE SHREW .
---
SCENE FOUR: ERNESTO IS WATCHING THEM ALL FROM A CLOSED CIRCUIT TELEVISION SET AND IS DETERMINED TO GET HIS REVENGE ON THEM ALL. ISABELLA FOR KILLING HIS REAL DAUGHTER MARINA, VICTOR FOR FATHERING ISABELLA TO LORETTA AND THE OTHERS FOR JUST TRYING TO FIND OUT THE TRUTH.
---
SCENE FIVE: AT THE BEGINNING OF THE BALL, HOPE ARRIVES DRESSED AS SCARLETT O'HARA BUT SHE KEEPS HER MASK OVER HER FACE UNTIL SHE CAN LURE BO OUTSIDE ON THE DECK. THERE SHE REVEALS HERSELF TO HIM AND HE IS PLEASED BUT ALSO WORRIED FOR HER SAFETY BECAUSE HE KNOWS THAT ERNESTO HAS BAD THINGS PLANNED.
---
SCENE SIX: MOST OF THE GUESTS ARE THERE ALREADY AND THERE SEEMS TO BE A FEW STRANGE GUARDS ON THE STAGE WATCHING EVERYBODY, JUST JENNIFER WALKS IN AHEAD OF JACK. VICTOR IS AT THE DOOR.

VICTOR: Lady Guinevere! Sir Arthur!

JACK: Yeah.

JACK CHECKS HIS SWORD AT THE DOOR AND FOLLOWS JENNIFER INTO THE BALLROOM.

JACK: I wonder how he knew who I was. He never saw my act in Vegas. Who is he?

JENNIFER: Well you have to look at the man and then see the woman and< then see the woman and vice versa. Did you see Isabella and Roman? They're Kathy and Heathcliff from Wuthering Heights. I read it sixteen times and I cried every time.

JACK: I saw the movie. Wasn't impressed.

JENNIFER: That figures. Well somebody planned this.

JACK: Yeah somebody planned it. It was Ernesto before he croaked.

JENNIFER: Yes but the costumes, the couples. He died a while ago. There's no way he could have paired everyone off like this before he died.

JACK: That's right. If he didn't, who did?

JENNIFER: I don't know. But unless you wonder to wander round as half a pair, you're stuck with me for the night.

JACK: Wait a minute, I though that you were here to do an assignment. I< mean you've got an interview to do, right.

JENNIFER: Yeah I know. But I'm going to take tonight off. I want to have some fun.

JENNIFER WANDERS OFF AND AFTER A FEW SECONDS THOUGHT, JACK FOLLOWS.
---
SCENE SEVEN: SHORT TIME LATER, THE STAGE SHOW BEGINS. JACK AND JENNIFER ARE INTRIGUED.
---
SCENE EIGHT: BACK IN HIS CABIN, ERNESTO PUTS ON A MASK READY TO TAKE HIS PLACE ON STAGE.
---
SCENE NINE: THE SHOW BEGINS WITH A DANCE OF THE HEART. EVERYONE IS ASKED TO DANCE WITH THEIR PARTNERS. IT IS IN HONOR OF LORETTA TOSCANO, IT WAS ONE OF HER FAVORITE GAMES. JACK TRIES TO MAKE HIS ESCAPE.

JENNIFER: Jack don't even think about walking away from me.

JACK: I want to check the towels in the men's room.

JENNIFER: No Jack, you're going to dance with me.

JACK SIGHS AND THEY BEGIN TO DANCE. AFTER AWHILE PEOPLE BEGIN TO EXCHANGE PARTNERS.

JENNIFER: Go on Jack, enjoy your dance.

JACK: Okay.

JACK WALKS OVER AND BEGINS TO DANCE WITH JULIE. JENNIFER DANCES WITH ROMAN. ROMAN WARNS JENNIFER ABOUT HER AND JACK PLAYING AMATEUR DETECTIVES. JULIE HAS NOTICED THAT THE WHOLE TIME JACK IS DANCING WITH HER, HE IS WATCHING JENNIFER. JENNIFER HAS NOT BEEN ABLE TO TAKE HER EYES OFF JACK.

JULIE: You know if I were a little less than the confidant woman I am, I'd be insulted.

JACK: Huh? What, excuse me.

JULIE: I don't think it's considered cricket to dance with one lady and look at another.

JACK: Well I'm not looking at Jennifer, I'm looking out for Jennifer.

JULIE: Oh, the distinction escapes me.

JACK: Trust me, you don't want to know.

JULIE: Jack, tonight has all the ingredients for an enchanted evening. There's magic in the air and music and romance. This is the kind of a night that comes along once in a lifetime. Jack, make the most of it.

JACK LOOKS ACROSS AT JENNIFER WHO IS LOOKING BACK AT HIM. THEY CONTINUE TO DANCE WHILE STARING AT EACH OTHER. THEY ARE NOT EVEN *REMOTELY* SUBTLE.
---
SCENE TEN: LATER ON THE DANCE FLOOR, ROMAN PURPOSEFULLY BACKS JENNIFER INTO JACK.

JACK: Hey, watch where you're....driving.

SHE SMILES AT HIM; HE SMILES BACK. THEN THEY ALL NOTICE THAT SOMETHING IS HAPPENING ON THE STAGE.

JACK: Hey look, hey!

THERE IS A PUFF OF SMOKE AND ERNESTO, WEARING HIS MASK, APPEARS.
---
[Air date 6-11-90]
SCENE ONE: THE BALL CONTINUES AND ERNESTO, PRETENDING TO BE MAGO, PREPARES A MAGIC ACT — LORETTA *LOVED* MAGIC. HE ASKS FOR A VOLUNTEER AND ISABELLA GOES UP. SHE IS PUT IN A BOX AND SEEMS TO DISAPPEAR. ROMAN GETS UPSET AND TRIES TO FIND HER.

JENNIFER: Jack I don't know about this. Something just doesn't sit right.

JACK: She finally notices.

JENNIFER: What are we going to do?

JACK: We're not going to do anything. We're going to lay low and let Roman deal with it.

JENNIFER: Okay, okay, you're right. But what about the pages? Do you have them in a safe place?

JACK: Yes they're in a safe place. They're in my tights. How safe can you get?

JENNIFER: Okay, okay.
---
SCENE TWO: ISABELLA HAS NOT RETURNED AND EVERYBODY IS GETTING VERY WORRIED.

JENNIFER: Jack, what's going on?

JACK: The hell I know.

JENNIFER: Well Roman's really upset and I know it's about those stupid pages. Do you have them?

JACK: Sssshh, sssshh. Just keep your mouth shut, keep your eyes open and we'll just hang in there.

JENNIFER: Well with Isabella still missing and under these circumstances, it's hard to hang in there Jack.

JACK: Alright, well just....just hang on there.

HE PUTS REASSURING HANDS ON EACH OF HER SHOULDERS.
---
SCENE THREE: LATER, SUDDENLY ISABELLA REAPPEARS AND IS FINE. ROMAN IS VERY SUSPICIOUS.
---
SCENE FOUR: WHILE ALL THIS IS GOING ON, BO AND HOPE ARE TALKING OUT ON THE DECK.
---
SCENE FIVE: BACK IN SALEM, MELISSA AND EMILIO ARE ON TOUR AND HAVE BECOME VERY CLOSE. SO CLOSE THAT EMILIO HAS KISSED MELISSA. SHE FEELS GUILTY BECAUSE HE IS ENGAGED TO HER COUSIN.
---
SCENE SIX: : BACK IN THE BALL ROOM.
JENNIFER: Jack, I'll be right back.

JACK: Whoa, whoa, whoa. No, where do you think you're going?

JENNIFER: I want to talk to Victor.

JACK: Why?

JENNIFER: Because I think he might know something.

JACK: What do you mean? About what, about the magic.

JENNIFER: Or any other of the weird things that are happening on this ship. I bet he knows who wants those pages.

JACK PANICS AND PULLS HER ASIDE.

JACK: Look, he's the one who wants those pages. Now if he knows about anybody else who wants those pages, why would he tell you?

JENNIFER: Because I'm a reporter and I can finesse it out of him. I know what I'm doing Jack.

JACK: So does he. He's going to be able to look through you like cellophane.

JENNIFER: Alright, fine, then that will be my problem.

JACK: No!

JENNIFER: What did you say?

JACK: I said no! You are not going. I'm not going to let you near him.

JENNIFER: And how do you propose to stop me?

JACK: (Grinning) I'll sit on you if I have to. Yeah!

JENNIFER GRINS TOO.

JENNIFER: That won't be necessary.

JACK: No, gonna give up that easily huh? That's a first.

JENNIFER: Well it's really no big deal.

JENNIFER GIVES A BIG FAKE YAWN.

JENNIFER: I say I'm kind of tired. I think I'm going to go back to the stateroom and call it a night. Goodnight Jack.

JACK: Goodnight. (Thinking) That was too easy.

HE RUNS AFTER HER BUT STOPS TO GET HIS SWORD FROM THE HAT CHECK MAN FIRST.
[Transcribed by Carol Vaughan
added material by Sally A. Wilson]
---