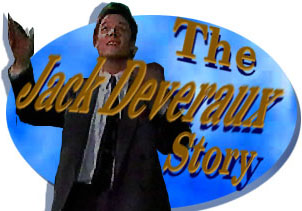 oldEpisode One-hundred-seventy-two:
Jennifer Continues to Hide from Jack
What She Is Investigating; Jack Continues
to Try and Uncover What She Is Hiding.
---
[Air date early August 1990]

SCENE ONE: IT IS THE NEXT DAY. JENNIFER HAS GONE TO THE SPECTATOR.

JENNIFER: Vern, hi.

VERN: Hi Jennifer, listen you're back at the old stomping grounds. You know it hasn't been the same place without you.

JENNIFER: Yeah but you know this isn't really a social visit.

VERN: Ah, you're looking for that certain young publisher, huh?

JENNIFER: No, no, no. I don't want to see Jack now.

VERN: Well in that case you're in luck. He's over at University Hospital. The board is having a financial session. He'll be there all day.

JENNIFER: Yeah I know. Ah you know what, I need your help.

VERN: Oh I feel a headache coming on.

JENNIFER: Vern I'm having a little trouble with this tape. I need to get a good look at the people in this story but the tape is old and it's already been transferred once and it's not very clear. Can you help me?

VERN: Come on, you know I'm putty in your hands when you give me that little Bambi look.

JENNIFER: So you'll do it?

VERN: Yeah a few photo stills and how about some blowups.

JENNIFER: Oh yeah, that would be great. Do you think you could do it right now?

VERN: Sure I haven't got anything else to do. The paper runs itself.

JENNIFER: This is great. Thankyou Vern, thankyou very much. Oh wait! One more thing, you can't tell anybody about this.... especially Jack.

VERN: How did I know that was coming.
---
SCENE TWO: AT THE HOSPITAL, JACK IS TAKING A BREATHER FROM THE FINANCIAL BOARD MEETING. HE WALKS INTO THE STAFF LOUNGE WHERE CARLY IS SITTING GOING OVER SOME PAPERS.

JACK: Well Dr. Horton, how you do go on. I know how Jennifer came by her lung power.

CARLY GETS UP TO LEAVE.


JACK: Carly!

CARLY: Yeah that's right, you're Jennifer's friend.

JACK: And so are you.

CARLY: Yeah, yeah. Well look it was very nice seeing you again, excuse me.

JACK: Just.... just....

CARLY: I'm due on the ward any second.

JACK: I just.... I need to talk to you for a second about Jennifer.

CARLY: About Jennifer?

JACK: Well actually it's about the way she's been acting lately. It's kind of funny.

CARLY: I don't think I know what you mean.

JACK: Well there's no reason that you should. I mean she always acts funny, doesn't she?

CARLY: Yeah.

JACK: But lately.... well I thought at first it had something to do with the studio. I mean we had this kind of rivalry going and I kept getting ahead and she.... well anyway lately she's been acting funny. I mean funnier than she usually acts if that makes any sense. And I thought that perhaps it might have something to do with her old pal Carly.

CARLY: Well I haven't seen Jennifer in years so I wouldn't know if she were acting different than usual.

JACK: Trust me, she is.

CARLY: Well I'm sorry. I can't help you.

JACK: I don't know about that. You see she started to act funny just about the time the two of you met up again.

CARLY: Coincidence.

JACK: I don't know. I was just thinking. The two of you have shared so much together. You even shared a secret pact. I thought logically maybe the two of you were sharing secrets again.

CARLY: Which just goes to show how logic can fail you. I'm sorry Jack. Honestly I don't know what's going on.

JACK: Hmmm. Who was Jennifer's best friend in school?

CARLY: Me.

JACK: Other than you?

CARLY: I don't remember. It was a long time ago.

JACK: Favorite teacher?

CARLY: Well that depended.

JACK: On why?

CARLY: On whether he was young and male. Why are you asking me so many questions Jack?

JACK: I.... I'm sorry, I'm a reporter. It just sort of comes with the territory.

CARLY: Hmmm.

JACK: You know you have an interesting accent when you get going like that. Where it's from? Better yet, where are you from, originally?

CARLY: Well.... where are you from?

JACK: DC. Your turn.

CARLY: You know I didn't know that you and Jennifer were so involved. I mean for you to take this much time to come in here when you have a board meeting to get back to. I didn't realize you two were so serious.

JACK: Ah.... ah actually I was just.....I mean I was just trying to help.... to help out you and Jennifer and....

CARLY: I see and why would you think that we need your help.

JACK: Ah.... we.... well.... you know I just thought.... well Jennifer on her own can get into trouble so fast that it would make your head spin. And I thought if you're anything like her, the two of you together would get into something so deep that you'd need somebody.... heheheh.... somebody from the outside to help you out.

CARLY: Well you know this might come as a surprise to you and probably sound ridiculous but Jennifer and I are probably....no we are more than capable of taking care of ourselves that is if we were in trouble which we aren't. So why don't you.... ah.... take your over active imagination and.... go somewhere else with it. Or better yet, you stay here and I'll go.

CARLY WALKS OUT AND JACK IS LEFT TO PONDER.

JACK: They are hiding something. They are definitely hiding something!
---
SCENE THREE: BACK AT THE SPECTATOR, VERN MANAGES TO GET A STILL OF THE BABY KATERINA OFF THE TAPE. SHE TELLS HIM THAT HE MUST KEEP THIS ALL A SECRET FROM JACK AND VERN PROMISES. VERN SAYS THAT JACK ALWAYS WEEDLES IT OUT OF HIM BUT SHE TELLS HIM TO TRY. SHE LEAVES BUT ON THE WAY OUT DROPS ONE OF THE COPIES OF THE PICTURE OF BABY KATERINA.
---
SCENE FOUR: JENNIFER GOES TO SEE EMILIO AT WINGS AND ASKS HIM A FAVOR. HE HAS A FRIEND WITH A COMPUTER PROGRAM THAT AGES PEOPLE AND SHE WANTS TO AGE THE PIC OF KATERINA.
---
SCENE FIVE: A SHORT TIME LATER, JACK ARRIVES BACK AT WORK WHERE MADELINE IS WAITING TO SEE HIM.

MADELINE: Hi Jack.

JACK: Ah.... Madeline! Slumming?

MADELINE: Ha, ha. So amusing.

JACK: Ah, amusing is my middle name. You know somebody should give you the grand tour of this place.

MADELINE: Oh what about you?

JACK: Well, I'm not really very good at tours.

MADELINE: Actually I dropped in to see you. I was in the neighborhood and I thought what a perfect opportunity to drop in on Jack and bat around some ideas for our next show.

JACK: Oh you know I wish I could but I can't.

MADELINE: What's stopping you?

JACK: Well actually you are. I mean you're such a formidable opponent that you've got me working day and night just doing my homework just trying to keep up with you.

MADELINE IS REALLY FLIRTING WITH JACK.

MADELINE: You're a very hard worker.

JACK: Well let's just say that I'm motivated.

MADELINE: Well you know the old expression, all work and no play.

JACK: You something, that's me to a tee. I'm dull, just dull, just dull city. Just dull, dull, boa, boa, boa.

JACK PUTS HIS ARM AROUND MADELINE AND LEADS HER TOWARDS THE DOOR TO GET RID OF HER.

JACK: I tell you what, we'll get together and we'll have lunch and we'll go over those notes. MADELINE: Okay that sounds great.

JACK: Good.

MADELINE LEAVES. JACK NOTICES THE PICTURE THAT JENNIFER DROPPED ON THE FLOOR.

JACK: Hey nice kid. Actually, those lips, those eyes. Something about them look vaguely familiar. VERN, VERN GET OUT HERE, VERN!

VERN: You bellowed?

JACK: Yes.....no....well yes. Who is this Vern?
---
SCENE SIX: MEANWHILE EMILIO TAKES JENNIFER TO SEE HIS FRIEND AND WHEN HE LEAVES SHE SCANS THE PIC AND PUTS IT THROUGH THE AGING PROGRAM. THE NEW PICTURE IS PRINTED OUT AND IT'S CARLY. JENNIFER NOW KNOWS THAT CARLY IS REALLY THE KATERINA ON THE TAPE.
---
SCENE SEVEN: BACK AT THE SPECTATOR, JACK IS STILL GIVING VERN A HARD TIME.

JACK: Vern, where did this come from?

VERN: Where did you find it?

JACK: It was on the floor.

VERN: Well listen I'll consult with the cleaning staff and....

JACK: No, no, no, no. Vern there is something about this picture. Something about this baby that looks vaguely familiar. Who is this baby Vern?

VERN: Ah.... er.... that's an old blowup of a baby picture of one of my kids.

JACK: Oh Brian or Jeffrey?

[NOTE THE INCONSISTENCEY WITH THE LATER STORYLINE. VERN IN FACT HAD A DAUGHTER, WHO APPEARED A FEW TIMES, AND IN FACT MOVED IN WITH MARCUS; HOWEVER, WAS NEVER SEEN AFTER THIS; AND HIS OTHER SON WAS TANNER, NOT JEFFREY.]

VERN: Brian.

JACK: Oh really. When did he get back from Sweden?

VERN: What?

JACK: This is a picture of a girl Vern. Well Vern, you're sweating. Ah.... you know you only sweat when you lie.

JACK FEELS VERN'S FOREHEAD.

JACK: Now why are you lying Vern? What is it about this picture that makes you so nervous?

VERN: It.... it's August. Everybody sweats in August!

JACK: Oh now Vern you know I'm going to break you down. Sooner or later I'm going to do it. Why don't you just tell me sooner and save us a lot of trouble.

VERN: I....ah I told Jennifer that I wasn't any good at.....

JACK: Jennifer! I knew it. I knew it. It's Jennifer, what about her?

VERN: What, what?

JACK: What does Jennifer have to do with this picture? What?

VERN: Ah....I don't know.

JACK: What?

VERN: I don't know. I didn't ask her. I just didn't want any....oh geez I wish I didn't get involved with this stuff.

JACK: Whoa, whoa, whoa, whoa. How involved are you?

VERN: Okay, okay. She came to me with a video. She wanted me to blow up some pictures from it so she could see them clear. Look it's obvious she dropped this on her way out. I'll jsut messenger it to her.

JACK: No, no, no, no. No need for a messenger. I'll just take it myself. You know Vern a penny saved is a penny earned.

JACK WALKS OUT WAVING THE PICTURE AND WHISTLING.
---
EIGHT: JENNIFER GOES BACK TO THE TAPE LIBRARY AND WATCHES THE TAPE AGAIN. IT IS VERY WORN AND THE SOUND IS TOO DISTORTED FOR HER TO HEAR ALL THE DETAILS OF THE PACT THAT KATERINA'S FATHER ENTERED INTO. THE TAPE STARTS TO WIND OFF THE SPOOL AND ENDS UP IN A TANGLE JUST AS JACK ENTERS.

JENNIFER: Oh great. I was just about to find out the secret.

JACK: What secret is that, Miss Horton?

HE HOLDS UP THE PICTURE.

JACK: Is this by any chance yours?

JENNIFER: Mine?

JACK: Vern said it was.

JENNIFER: Vern has no will power. Yes it is mine.

JACK: I trust you're referring to the picture, not the baby.

JENNIFER: Look, can I have it please?

JACK: Oh certainly, certainly. I suppose it has something to do with the piece that you're working on.

JENNIFER: Oh yeah, what else.

JACK: I don't know, you tell me.

JENNIFER: Well.... well this.... this baby's an heiress and I thought it would be a very interesting story. You know a child of privilege, born to wealth and see how she turns out. You know that kind of thing.

JACK: Hmmm, yeah. Rich kid makes good. Yeah, dime a dozen you know that.

JENNIFER: You know you're right. It's a terrible idea. It's a dead end. You're right, I'm going to move on. I know that there's a bigstory waiting for me somewhere Jack. But you know what....

JACK: Huh, uh.

JENNIFER: ....I don't have time to wait for it because I have to be somewhere. Goodbye.

JENNIFER RUNS OUT OF THE TAPE LIBRARY.

JACK: Je.... wait a minute, Jennifer, if you....

JACK SEES HER GO AND LOOKS BACK AT THE DESK SHE WAS SITTING AT.

JACK: Hey, be kind, rewind.

HE PICKS UP THE DAMAGED TAPE.

JACK: Jennifer.... well since I'm here.

JACK SITS DOWN AND STARTS TO FIDDLE WITH THE TAPE.
---
SCENE NINE: JENNIFER GOES TO WINGS TO MEET CARLY. CARLY TELLS HER THAT JACK IS ASKING TOO MANY QUESTIONS. CARLY THINKS SHE MIGHT LEAVE SALEM SO JENNIFER TELLS HER THAT SHE KNOWS ALL ABOUT HER REAL NAME KATERINA. SHE ASKS CARLY FOR THE INFOMATION THAT SHE COULD NOT HEAR ON THE TAPE BUT CARLY REFUSES TO INVOLVE JENNIFER.
---
SCENE TEN: MEANWHILE, JACK IS WATCHING THE SAME PART OF THE TAPE THAT JENNIFER SAW. THE TAPE UNWINDS AT THE SAME POINT AND JACK CANNOT HEAR THE DETAILS OF THE PACT FOR KATERINA'S TWENTY-FIFTH BIRTHDAY.

JACK: Whoa, whoa, whoa, whoa. Hey! Hey, doggone it, I hate this. Come on.... oh no!

JACK REMOVES THE CASSETTE AND THE TAPE IS UNWOUND ALL OVER THE DESK.

JACK: Well I've got to know somebody who can fix this.
[Transcribed by Carol Vaughan
added material by Sally A. Wilson]
---