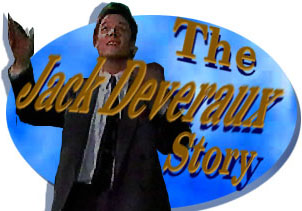 oldEpisode Two-hundred-one: "A 1974 Lava
Lamp": Jack Rushes Home to Be with Steve,
Who Is in Grave Condition after an Explosion.
In a Coma Steve Dreams of his Family. Jennifer
Worries That Lawrence Has Harmed Jack.
---
[Air mid-October 1990]
SCENE ONE: AT THE EMBASSY, JENNIFER IS WORRIED BECAUSE JACK HAS NOT RETURNED WITH STEVE. LAWRENCE ENTERS HER BEDROOM. SHE SAYS THAT SHE WAS HOPING TO ASK HER PERSONAL GUARD FOR SOMETHING BUT HE SEEMS TO HAVE DISAPPEARED. LAWRENCE SAYS THAT ANY GUARD CAN HELP AND THAT SHE NEED NOT WORRY. HE TELLS HER THAT HE COULD NOT ALLOW HER FORMER LOVER TO INTERFERE IN THEIR LIVES. SHE REALIZES THEN THAT HE KNEW ALL ALONG WHO JACK WAS.

JENNIFER: What did you do with him?

LAWRENCE: I just made sure he wouldn't return. Don't look so worried Katerina.

LAWRENCE LEAVES.

JENNIFER: Oh Jack, where are you?
---
SCENE TWO: IN SALEM, JO IS IN THE LOUNGE WHEN JACK ARRIVES STRAIGHT FROM THE AIRPORT, STILL WEARING HIS TRENCH COAT OVER AN OPEN NECKED SHIRT AND DARK BLUE PANTS.
JACK: Alright, I'm here. What's the word on Steve?

JO: Jack, he's still the same. They don't know if he's going to ma.... make it.

JO FALLS INTO JACK'S ARMS IN TEARS.

JACK: Hey, hey, hey, Steve's going to make it. Come on he's going to be fine. He's going to outlive all of us. He's going to be up and out of that bed in no time and he's going to be up and.... he'll be up and on with one of his latest crusades.

JO: Yes I know and we all have to be there for him. Can you do that, for your brother.

JACK LEAVES JO AND GOES TO SEE STEVE IN ICU.
---
SCENE THREE: IN THE ICU KAYLA IS BY STEVE'S SIDE AS JACK WALKS IN. STEVE IS UNCONSCIOUS.

JACK: Kayla.

KAYLA: Hello Jack. He needs you Jack. Steve honey, your brother's here, Jack's here.

STEVE'S MIND DRIFTS INTO AN OUT OF BODY EXPERIENCE WHERE THERE IS BLUE LIGHT AND SURREAL IMAGES.
KAYLA: Steve, Steve, Jack's here.

STEVE: What are you doing, bringing the whole family.

JACK: I think I lost my shoe in here somewhere. Where the hell are we?

STEVE: What the hell are you doing here?

JACK: I don't know, I don't know. Look I need to talk to you alright. I am in big trouble and I need your help

STEVE: What kind of trouble are you in?

JACK: Well it's not me actually, it's Jennifer. You see Jennifer's gotten herself into a big mess and I've been trying to get her out of it but I don't seem to have what it takes. And I figure what I need here is a real honest to goodness hero type and that's where I was going to bring in you.

STEVE: I'm not a hero. I'm not a hero.

JACK: Well I can think of a few people who might disagree with that.

STEVE: Well a lot of people think the wrong thing about me.

JACK: What, this comes from the guy who gave me his kidney even though he wanted to kill me because of what happened to Kayla, right.

STEVE: Look, I did it because you're my brother and I didn't want to see you die.

JACK: Well I don't want to see you die either, alright.

STEVE: You don't have a choice man, I don't have a choice. Nobody's got a choice in this.

JACK: Oh no, well I hope you've got a bag lunch and a chair and you better sit down because I'm not going to stop until I convince you to get the hell out of this 1974 lava lamp.

STEVE: Jack, I can't get out. But you want to know something, you're alright Billy Jack.

JACK: Ah.... I know that. But you see you had to force me to see that and you had to convince me to.... to let Jennifer see that. And you know the great thing is, that I've started to do that, you know. I've finally started to take your advice.

STEVE: Well I'm glad. I'm glad that you're getting your life together. And you know I think you have a good chance with Jennifer, but you don't need me to make that happen.

JACK: No, no, you don't understand. I'm trying to become the kind of person that I want to be but what I need is a role model. And see that's where you come in. Steve, I need.... I need a role model, you don't understand. I need a role model because.... because look I'm finally beginning to appreciate you. I'm finally beginning to appreciate everything that you.... you've always been there for me even when I didn't want you to be. Look, I need you to show me.... how to become the person I want to be.

KAYLA: See Steve, Jack needs you too.

THE LIGHT BRIGHTENS AND STEVE BEGINS TO WALK DOWN THE BLUE TUNNEL OF LIGHT.
---
SCENE FOUR: BACK IN THE HOSPITAL ROOM, JACK AND KAYLA ARE STANDING BY STEVE'S BEDSIDE.

JACK: He can't hear us, can he?

KAYLA: I believe he can. We just have to find a way to get through to him.

JACK: I'd like to speak to him alone.... please.

KAYLA: Alright, I'll be right outside if there's any change.

JACK: Sure.

KAYLA LEAVES. JACK SITS DOWN BY STEVE'S BED.

JACK: Alright.... let's get one thing perfectly clear. I know you can hear me, can't you? So don't pretend you can't. Now what the hell is this you getting all blown up just when I need you. You know something, you talk a real good game, you really do. I remember when I first found out that I was your brother, you told me something that I'll never forget. You said that when we were put up for adoption, you looked me in the face and you said that you would take care of me forever. You promised that. Well this sure as hell isn't forever, is it?

JACK EYES BEGIN TO FILL WITH TEARS.

JACK: What are you going to do, welch, huh? I mean who did you make that promise too, you made it to me. Happy Jack, Billy Jack, Jippy Jack, Hippy Fippy Dippy Happy Howdie.... Happy Howdie Doodie....

HE BEGINS TO CRY.

JACK: .... Johnson. I still need you. No matter everything I've ever said or done.... I still need you.

JACK PLACES HIS HAND OVER STEVE'S. JACK IS STILL BE STEVE'S SIDE WHEN KAYLA COMES BACK IN WITH ADRIENNE. HE QUICKLY MOVES HIS HAND AND STANDS UP.

ADRIENNE: Jack it's alright to admit you care. And it's alright to admit that you're scared and hurting. Honey we all are.

JACK: I'm.... I am fine. And I'm sure that Steve's going to be fine too. He just needs a little time.

ADRIENNE: Sure. Just in case though you need to talk, you know where I'll be.

JACK: Yeah I know where you'll be.

ADRIENNE: I need to be with Steve for a little while, okay.

JACK: I've a.... couple of things I need to do.

JACK WALKS TO THE DOOR.

JACK: Ah I'll be back a little later.... maybe.
---
SCENE FIVE: BACK AT THE EMBASSY, LAWRENCE HAS A FORMAL GATHERING AND TELLS THE CROWD THAT THE WEDDING DATE IS NOT SET AT NOVEMBER 2ND; IT WILL TAKE PLACE IN HIS COUNTRY. JENNIFER IS SHOCKED THAT SHE WILL BE TAKEN OUT OF THE US.
---
SCENE SIX: BACK IN SALEM. JACK IS STILL AT THE HOSPITAL. HE GOES TO THE LOUNGE WHERE HE IS THINKING ABOUT STEVE WHEN WHITNEY BAKER ENTERS.

WHITNEY: Jack, I'm glad to see. You've missed so many sessions I thought you'd left the country.

JACK: Having a little trouble making those condo payments, huh. No I did leave the country. I went to New York.

WHITNEY: I see.

JACK: Huh?

WHITNEY: I mean that sounds nice.

JACK: It was.

WHITNEY: Hey, are you okay?

JACK: Ah yeah,I'm.... I'm actually feeling great considering I've got a brother dying in the next room. Couldn't be better.

JACK WALKS OUT ON THE BALCONY.
WHITNEY: Sorry to hear about your brother Jack. What happened?

JACK: I don't know what happened. Steve's a cop or at least he's trying to be. He was trying to find out what was going on with this River Front marauder or ranger or whatever he is.

WHITNEY: Steve Johnson?

JACK: Yeah, you know him?

WHITNEY: Yeah I sure do. I was one of the people who tried to save him on the pier. He's a good man Jack, I hope he pulls through.

JACK: Oh he's going pull through alright. Of course, he'll pull through. (Beat) What am I saying? I don't know if he's going to pull through. I don't know about these things. With my luck he's probably going to die when I need him most.

WHITNEY: Your brother means a lot to you, doesn't he Jack?

JACK: It's just that.... Jennifer is in an enormous mess right now and Steve is very good at getting people out of jams. So I need Steve's help to.... help.... Jennifer.

WHITNEY: So you and Jennifer are on better terms since our last session.

JACK: I'm just not.... pushing her away. I mean I realize what good is pushing her away when I'm trying to pull her out of this mess. I mean pushing pulling, it doesn't make any sense so I stopped.... pushing her away.

WHITNEY: I'm glad to hear that but to be honest with you I'm a little surprised. What changed your mind?

JACK: Oh I think.... it's just realizing that life is too short. Look at Steve, guess I'm finding myself doing things that are.... out of character. I just wish I had Steve around to tell me if some of those things are right.... or wrong.

WHITNEY: You're afraid of losing your brother aren't you Jack.

JACK: Yes.... I am.
---
SCENE SEVEN: AT THE EMBASSY, JENNIFER ASKS LAWRENCE HOW SHE CAN LEAVE THE COUNTRY WITHOUT A PASSPORT. HE PRESENTS HER WITH A PASSPORT IN THE NAME OF KATERINA AND SAYS THAT HE HAS ALL THE PAPERS IN ORDER. NOW SHE IS REALLY SCARED BECAUSE HE HAS TRANSFORMED HER TOTALLY INTO KATERINA; AND EVEN WORSE HE KNEW ABOUT JACK, AND SHE FEARS THAT HE MAY HAVE HURT HIM, OR WORSE.
---
SCENE EIGHT: IN SALEM, JACK HAS RETURNED TO STEVE'S ROOM; JO AND ADRIENNE ARE WITH KAYLA.

JACK: I'm back.

ADRIENNE: Good, Steve needs you Jack. We all need you.

ONCE AGAIN STEVE'S MIND DRIFTS INTO AN OUT OF BODY EXPERIENCE: HE IS IN A TUNNEL, WITH A GREAT OF BLUE LIGHT. THERE HE SEES JACK, JO, KAYLA AND ADRIENNE ALL TOGETHER CALLING HIM BACK. HE LOOKS BACK AT THEM BUT DOES NOT SEEM TO BE ABLE TO MOVE BACK TO THEM. IN THE HOSPITAL ROOM.

MEANWHILE, THEY ARE ALL STANDING AROUND HIS BED PRAYING FOR HIS RECOVERY.
---
[Air mid-October 1990]
SCENE ONE: IT IS THE NEXT MORNING AND JACK IS ASLEEP ON A CHAIR OUTSIDE STEVE'S ROOM. HE LIFTS HIS HEAD AND BANGS IT ON THE WALL BEHIND HIM, WAKING HIM UP.

JACK: That's.... that's good. I mean.... ah.... that's better than.... can I get you something?

JACK: Maybe you could answer a couple of questions for me.

KAYLA: Well.... I got in kind of late and everything was kind of crazy and nobody really told me what happened with Steve.

KAYLA: Well he was working on a case, a dangerous one. I tried to get through to him. I tried to stop him.

JACK: I don't think he knows the meaning of that word.

KAYLA: I think he might have this time.

JACK: Well why didn't he?

KAYLA: Because I think there were people pressuring him not to leave the case.

AT THAT MOMENT SHANE COMES IN AND WANTS TO KNOW IF SHE MEANS HIM. JACK FEELS AWKWARD AND DECIDES TO LEAVE.

JACK: Ah I'm going to check if Jo and Adrienne are still resting in Neil's office. That's where I'll be.
---
SCENE TWO: JACK RETURNS A SHORT TIME LATER WITH COFFEE FOR KAYLA. SHE COMES OUT OF THE ICU AND SEES HIM.

JACK: Kayla. I thought I'd take a chance and see if you wanted any of this.

KAYLA: Thank you How are Adrienne and Jo?

JACK: They're holding up, holding up. Kayla?

JACK: Nothing. It doesn't matter. What can you say at a time like this anyway.

KAYLA: Actually I have something I'd like to say.

BO: Hello Kay, Jack. How's he doing?

BO GOES ON TO ASK KAYLA WHAT STEVE WAS UP TO. JACK STEPS ASIDE AND LEAVES KAYLA TO TALK TO BO BUT LISTENS INTENTLY.

KAYLA GETS UPSET AT RELIVING THEIR LAST MOMENTS TOGETHER AND BEGINS TO CRY.

JACK: Ah, Kayla I'm going to go get some fresh air if you wanted to go with me.

BO: Well why don't you do that?

KAYLA AND JACK TAKE A WALK TOGETHER.
---
SCENE THREE: LATER THAT DAY, KAYLA IS IN THE LOUNGE WHEN JACK COMES IN CARRYING TWO PLATES OF FOOD BALANCED ON TOP OF TWO DRINKS. HE HAS A STRAW TUCKED BEHIND HIS EAR.
JACK: Alright choose your poison. Bologna or tuna.
HE TRIES TO PLACE THEM DOWN CAREFULLY BUT ONE OF THEM TIPS OVER.

JACK: You know I.... well, that was easy, wasn't it? I think somebody should make a recommendation that the cafeteria provide a reward for the person that can choose between....

KAYLA: Jack, it's alright. You don't have to be up for me.

KAYLA: I mean I know that you are worried about Steve. So am I.

JACK: I'm just trying to do something, that's all.

KAYLA: You are doing something. You're doing a lot.

JACK: Deciphering between bologna and tuna.

KAYLA: No, you're staying with me.

JACK: Um, you said something before or you were about to say something when Bo walked in. What was that?

KAYLA: I was just going to say I'm glad you're here.
JACK: Thank you You're welcome, thank you (Beat) I never really imagined that we would be having this conversation.

KAYLA: I only know one person who could have imagined it.

JACK: Yeah. (Beat) Kayla.... he's not.... he's not going to die.

JACK PUTS HIS ARMS AROUND KAYLA. KAYLA, TO HIS SURPRISE, FALLS INTO HIS ARMS, RESTING HER HEAD ON HIS CHEST FOR COMFORT.

KAYLA: He can't. We love him too much.

[Transcribed by Carol Vaughan
added material by Sally A. Wilson]

---