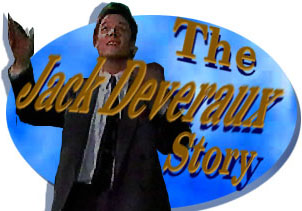 oldEpisode Two-hundred-thirty-seven:
Jack's Life Comes Crashing Down
Further after Adrienne Tells Him She
Is Leaving Salem ; Later He Goes to a
Cheap Hotel Where He Runs into Jennifer.
---
[Air early January 1991]
SCENE ONE: IT IS COUPLE OF DAYS LATER AND JACK IS ASLEEP ON HIS OFFICE CHAIR WITH HIS FEET ON HIS DESK. HE HAS NOT SHAVED AND THE DESK IS MESSY.

ADRIENNE: Jack are you in there?

SHE OPENS THE DOOR.

ADRIENNE: Jack?.... Oh no.

SHE WALKS OVER TO HIM.

ADRIENNE: Jack, wake up. Come on, wake up. What's the matter with you? You look a mess.

JACK SLOWLY WAKES UP AND SCRATCHES HIS HEAD.



JACK: Well thank you for noticing.

ADRIENNE: What's wrong.... wrong?

HE FIDDLES WITH HIS HAIR MAKING IT MORE MESSY THAN BEFORE.

JACK: Aside from a bottle of cow licks and accordion pleated pants and a.... a terminal case of morning mouth.... nothing.

HE GETS UP AND STRETCHES.

ADRIENNE: Jack don't lie to me. Nobody sleeps in their office for nothing.

JACK: They do if they have a paper to put to bed.

ADRIENNE: Jack this isn't about you and the paper, it's about you and Jennifer, isn't it?

JACK: I see you've caught me sleeping again. You obviously haven't heard the latest news. There is no me and Jennifer.
---
SCENE TWO: BACK AT THE LOFT, JENNIFER HAS BEEN TRYING TO GET ON WITH HER JOB. SHE IS CONCENTRATING ON THE NICK CORELLI MURDER AND IS STILL TRYING TO MAKE CONTACT WITH THE MAN WHO CALLED HER WITH INFORMATION. THERE IS A KNOCK AT THE DOOR AND IT IS LAWRENCE WHO IS STILL AFTER THE VON LEUSCHNER FORTUNE. HE THREATENS TO TELL EVERYBODY ABOUT THEIR WEDDING NIGHT TO VOID ANY ANNULMENT IF SHE DOES NOT GET THE MONEY FOR HIM. FRANKIE COMES DOWN AND LAWRENCE LEAVES.
---
SCENE THREE: JENNIFER THEN GETS ANOTHER CALL FROM THE INFORMER AND SHE AGREES TO MEET HIM AT HIS HOTEL ROOM LATER THAT DAY. THE HOTEL IS THE MID-TOWN ON WHITMAN STREET AND JENNIFER IS A BIT WORRIED ABOUT GOING TO SUCH A SEEDY AREA ON HER OWN.
---
SCENE FOUR: AT THE SPECTATOR, ADRIENNE IS QUESTIONING JACK.

ADRIENNE: What happened between you and Jennifer?

JACK: Nothing happened, it's just over.

ADRIENNE: Over?

JACK: As in, you better not have bought a dress for the wedding, over.

ADRIENNE: Jack that's why you're sleeping in your clothes. You want to bury yourself in your work so you won't have to think about Jennifer, right.

JACK: Correction, I'm burying myself in my work because I'm a newspaper man and that's what newspaper men do. I also have to have buried a great deal of Deveraux dough in The Spectator and that tends to make me rely on it heavily. It's very demanding, exacting and it's all I've got and no one is going to take that away from me.

VERN ENTERS, SOMETHING IS BOTHERING HIM.

VERN: Oh famous last words.

JACK: I beg your pardon.

VERN: Listen, Jack, I know this is incredibly lousy timing but somebody's trying to take over the paper.

JACK: What?

JACK GRABS A SHEET OF PAPER FROM VERN.

VERN: I got that this morning from an anonymous buyer. They want to buy out Diana's share of The Spectator.

ADRIENNE: Can he or she get it?

VERN: Oh I don't know Adrienne. With enough money involved anything can happen.

JACK: Something stinks here. I'm not talking about my breath. Vern, tell me, why.... why does this investor want to remain anonymous?

VERN: Yeah that crossed my mind too. Listen Jack you're going to have to be careful because whoever wrote that letter might not be just happy with Diana's shares. He might want to go for full control.

JACK: Over my dead body.

VERN: Don't say things like that too loud. You know how I hate to tempt fate. Listen I've got to get back, take care.

VERN LEAVES AND JACK GETS ON THE PHONE.

JACK: Nobody's getting control of anything. Not as long as I'm in control. I put too much into this paper. So's everybody. My attorney's going to know what to do. (Beat) Hello, Jack Deveraux here. I need to.... ..this is not disconnected.... you can't.... wait a minute.... wait a.... you can't disconnect my attorney. He's on retai....

HE SLAMS DOWN THE PHONE AND LOOKS VERY WORRIED.

JACK: He's on retainer.

ADRIENNE: Jack, Jack, I'm worried about you. The way you're doing this, it's just not healthy. You gotta get out of here and pull yourself together.... please.

JACK: I need a.... I need a hot cup of Joe, that's what I need.

ADRIENNE: How about a nice breakfast? My treat.

JACK: Ah thank you but no. I need.... I need to stay right here. I have a lot of work to do and I have to put an APB out on that attorney.

ADRIENNE: Fine, we'll play it your way. But I'm telling you something. I can be just as bull headed as you. I'm going to stand here over your shoulder and stare at you until you give in. And we'll just see how much work Jack Deveraux gets down.

JACK SIGHS AND PUTS HIS HEAD DOWN TO WORK BUT ADRIENNE HANGS IN THERE.

ADRIENNE: La la la, la la la la.... la.

JACK: Alright, okay, okay. Thirty minutes. Thirty minutes is all you got. Thirty minutes.

ADRIENNE: I knew you'd give in. Works every time.

JACK: What you have to do to keep your merit badge.... these days.

ADRIENNE: Cute.

THEY BOTH LEAVE THE OFFICE.
---
SCENE FIVE: JACK AND ADRIENNE HAVE GONE TO THE CHEATIN HEART.

ADRIENNE: I thought we were going to breakfast.

JACK: I thought the point was to get me out of the office for a while.

ADRIENNE: Well we could have gone to a nice coffee shop for some nice pancakes maybe, some bacon and eggs.

JACK: I changed my mind and wanted to go slumming it and get something to drink. GARĜON!

JACK CLICKS HIS FINGERS AT THE BARMAN.

BARMAN: What'll it be folks?

JACK: It'll be a....

ADRIENNE: Yes, I'll have a tall glass of milk and by brother will have a cup of strong black coffee.

JACK: I said drink, not sip. I tell you what. I would like a Scotch, straight up. Okay wait, save yourself a trip back. Just make it a double.

ADRIENNE: Jack isn't it a little early for that?

JACK: Oh.... it's happy hour somewhere in the world isn't it?

ADRIENNE: Yes but not here.

JACK: Now look, I did not sign up for the lecture series, alright. You want me to unwind?

HE TAKES THE DRINK FROM THE BARMAN.

JACK: This is the way I choose to unwind.

HE SWIGS HALF THE DRINK STRAIGHT DOWN.

JACK: Hmmm, hmm, hmm, hmm. Ahhhh, I feel better already.

ADRIENNE: Don't lie to me Jack. I can see that you're hurting. Why don't you let me help you? Why don't you talk to me?

JACK: Ah, nobody's going to help anybody around here. Nobody can help anyone, don't you understand that?

ADRIENNE: Well maybe you can help yourself. Don't forget you're a Johnson. One of our best qualities is the way we bounce back.

JACK: Adrienne, I know that you have done your share of overcoming but we are talking about me and my problems.

ADRIENNE: Jack, I hate to tell you this but your attitude stinks.

JACK: What did I tell you? I never could get that Johnson attitude down right, could I?

ADRIENNE: Oh would you just knock it off!

JACK IS TAKEN BACK BY HER FRANKNESS AND FOR A FLEETING SECOND STOPS FEELING SORRY FOR HIMSELF.

ADRIENNE: Look I have something to tell you okay. I wish very much that I could help you with your problems with Jennifer but the fact is.... ah.... I'm not going to be around to do it.

JACK: Where are you going?

ADRIENNE: Dallas. Justin was offered a job there and we're going to be moving very soon.

JACK IS SUDDENLY VERY QUIET AND IS BEGINNING TO REALIZE HOW HE LIKES HAVING HIS FAMILY AROUND.


ADRIENNE: I just wanted you to know that we will miss you.... and Momma of course. And all of our friends. More than I can ever say. But Justin and I, we need this, you know. We need to get on with our lives and put the past behind us. And honey, I think that's what you should be doing too. I don't mean move town, move out of town, I mean you should concentrate on the future and don't look back.

JACK: I think you've been reading those self help books again.

ADRIENNE: No Jack, this is just plain old good advice. I want so much for you. I know that you've been through a hard time. You've had to give up everything that you ever cared something about. But honey don't you think it's time to let that go and get on with your life?

JACK BEGINS TO GET DEPRESSED AND SILENT. ADRIENNE GETS UP AND WALKS AROUND TO HIM.

ADRIENNE: Look I have to go.

SHE KISSES HIM ON THE CHEEK.

ADRIENNE: We'll see you before we leave, won't we?

JACK: Ah sure, sure.

SHE KISSES HIM AGAIN ON THE HEAD



AND HE SITS SILENT AND THOUGHTFUL AS SHE WALKS TO THE DOOR.

ADRIENNE: Jack.... for whatever it's worth.... I love you.

SHE LEAVES AND HE IS NOW MORE DEPRESSED AND DECIDES TO GET DRUNK.

JACK: Well I'm right about one thing. I can't do any moving on without a little.... fortification.

HE FINISHES HIS DRINK.

JACK: GARĜON! SET ME UP AGAIN.
---
SCENE SIX: A SHORT TIME LATER ISABELLA COMES IN TO TALK TO THE BARMAN. SHE HEARS A VERY DRUNK JACK CALLING FOR MORE BOOZE.

JACK: HELLO, GARĜON. WHO DO YOU HAVE TO HAVE TO KNOW TO GET A.... TO GET A FRESH DRINK AROUND HERE? I mean I know a few people. I know me. If you don't know me BARMAN: Sorry Jack, Chuckie's back!

HE TAKES THE GLASS AWAY FROM JACK.

JACK: Well what is that supposed to mean?

BARMAN: You've had too much to drink. I'm cutting you off.

JACK LOOKS DOWN AT HIS PANTS AND THEN LAUGHS.

JACK: I.... oh. Well I never.... well I.... maybe once or twice.

ISABELLA: Jack, hey. I think maybe he's right, you know.

JACK: ISABELLA! Well sit down. No.... just join me. He's actually trying to cut me off. You can order a couple of drinks.

ISABELLA: No, you know I think he's right. I don't think you need to drink anymore. I think what I need to do is take you home.

JACK: No, no, no. I'm not going home.

ISABELLA: Wait a second, yes you are. Look I don't know whatever it is you're going through but drinking yourself into oblivion is not going to help.

JACK: Well who died and left you my guardian angel, huh?

ISABELLA: Nobody. You're stuck. I'm just your friend.

JACK: Well if you're my friend, you'll quit pooping the party and start peeping the party.

ISABELLA: Why would I want to start peeping the party with you?

JACK: Well you know the way...the way I look at it....

ISABELLA: Hmmm.

JACK: .... we're two of a kind, you and me. I mean we're young, we're unattached, we're innocent.... well not quite, considering that we're both spawned and schooled by the dark half of society. You know what I mean.... I Mean you know, Harper, Duke, Ernesto and Victor. You know, the original motley crew.

ISABELLA: Don't do this Jack.

JACK: I'm just.... I'm just trying to make a couple of similarities here. Here's.... here's another one. We have both managed to get rid of our lighter halves. Point in case, you, have gotten rid of Roman, president for life of the Salem PD although he can't seem to catch a simple criminal, Brady. me, I've gotten rid of Jennifer, cub reporter for life I cannot tell a lie, Horton. Try to say that three times fast.

ISABELLA JUST LOOKS AT HIM LIKE WHAT HE IS SAYING DOES NOT MATTER.

JACK: What I'm trying to say is, when you've blown it with the best, why mess with the rest, right. It's just you and me. Let's just stay here and have ourselves a little party, alright.

ISABELLA: NO! You know what I really want to do. I want to take you home.

JACK: Well I'm flexible. As long as the bar is stocked I'll be perfectly happy to.... here I tell you what.... why don't go over and get a drin....

ISABELLA STANDS UP AND IS MAD.

ISABELLA: DON'T! DON'T DO THIS ANYMORE TO YOURSELF OKAY. Don't do it to me, don't do it to yourself, not any more!

JACK CRINGES IN HIS SEAT AS SHE SHOUTS AT HIM.
---
SCENE SEVEN: MEANWHILE JENNIFER GOES TO THE MIDTOWN HOTEL TO FIND HER INFORMER. SHE BUMPS INTO A GUY IN THE HALL WHO OFFERS HER TWENTY BUCKS FOR HER SERVICES BUT ANOTHER GUY COMES ALONG AND CHASES HIM OFF. THE SECOND GUY TURNS OUT TO BE HER INFORMER. HIS NAME IS TANNER.
---
SCENE EIGHT: BACK IN THE BAR, JACK WANTS ISABELLA TO CALM DOWN.

JACK: Sanctuary.... sanctuary.

ISABELLA: I'm calm, I'm fine. I'm fine. Alright I am going to chalk up everything you just said to the fact that you are very drunk and obviously in a lot of pain. Otherwise you wouldn't be treating me so badly or yourself.

JACK: I'm not treating you badly. I am very sorry about that. Correction.... I stand corrected. (Beat) Although you come from, shall we say, a not so nice background, you are a very nice person.

ISABELLA: Well although you don't give not so nice compliments, you are a very nice person too. Why don't you give yourself a break?

JACK: Why.... this is what I'm trying to say. People like you and me, we need to be alone. You know, that's what we need.

ISABELLA: No Jack, nobody deserves to be alone. You know, let's get serious here. You are a very good person. You deserve to be happy just as much as anybody else. I am learning something about happiness. It doesn't just fall into your lap. You've got to fight for it.

JACK: You have been borrowing those little self help books from Adrienne, haven't you?

ISABELLA: It's okay. Go ahead, make a joke. I happen to think you're up for the battle.

JACK: I happen to think that you don't know me as well as you think , you think you do. Now if you'll excuse me, I have to....

JACK TRIES TO GRAB HIS OVERCOAT AND STAND UP. INSTEAD HE STUMBLES TO THE FLOOR AND KNOCKS OVER THE CHAIR.

JACK: I'm alright.... I'm alright. My limo awaits. Limbo, limbo. Gotta get to that limbo.

ISABELLA: Yeah that's what you think.

JACK STAGGERS OUT THE DOOR, SINGING AND LEAVING HIS SUIT JACKET ON THE CHAIR.
---
SCENE NINE: MEANWHILE JENNIFER GOES INTO TANNER'S ROOM TO GET THE INFORMATION FROM HIM. WHEN SHE GETS IN THERE SHE HEARS JACK IN THE HALLWAY TALKING.

JACK: Listen you're a businessman and I'm a businessman. It's supply and demand. Now you're supposed to supply the ladies of the night and I'm supposed to demand.... that's right. I'm supposed to demand.

JENNIFER: (To Tanner) Would you excuse me for a minute.

SHE GOES OUT TO THE HALLWAY WHERE JACK, STILL VERY DRUNK, IS TALKING TO A PIMP.

JACK: So.... bring on the ladies.

PIMP: What lady would you like? I can get anything you want.

JACK: Look, you understand. I want.... I want.... I want your worst girl. Not the best girl. I want your worst girl.

PIMP: You're not making any sense.

JACK: I'm making perfect sense. I want your girl who is at her best at her worst. Just like me.

JENNIFER IS HORRIFIED TO SEE JACK BEHAVING LIKE THIS.

JACK: So, what have you got?

PIMP: What do you want?

JACK: Blonde head, blue head, black head, green head. I'll take whatever you got. Just.... just run down the list. Tell me.

PIMP: I'm not getting you anything. Let's see some money.

JACK: Money? Oh wait a minute. My jacket.

PIMP: Yeah.

JACK: Oh I must have left it in the office and my wallet is in my jacket but I got.... listen I got....

THE PIMP WALKS OFF AND LEAVES JACK.

JACK: I just.... love that coat.

JENNIFER: Hello Jack, what are you doing here?

JACK: HUH! (Beat) I'm.... ah....

HE STRAIGHTENS HIS COAT AND TIE.

JACK: Ah.... (His speech is slurred) I'm soliciting!

HE SEEMS PROUD OF THE FACT.

JACK: So what are you.... no don't tell me what you're doing here. You don't have to tell me a thing. I know.

JENNIFER: What are you talking about Jack?

JACK: Hey listen, you don't.... don't try to put on the little pure miss virginal act anymore. I mean because that's what it is, an act.

JENNIFER: How can you say that?

JACK: I don't know. It's my voice, my words, I guess it's me. Obviously you've had a problem telling who me is. I'll tell you, this is me is, right here, see. Now I've had a problem knowing who you is.



JACK (CONT.) You see, I can't figure out how someone can be married to one person, and try and get married to another person while they are living with an old boyfriend and still have time to go running around down here looking for some new action. I mean who are you?

JENNIFER: How can you say those things Jack?

JACK: I'm just stating the obvious. Now why don't you tell me, why are you here?

JENNIFER: I'm following the lead on a story. Somebody told me....

JACK: Oh yes, yes. And a very fine story it is, I'm sure.

JACK LOOKS ACROSS AT TANNER.

JENNIFER: It's true. That's true. Not that I owe you any kind of explanation Jack.

JACK: No, we don't owe.... we don't owe each other anything anymore! Isn't that right...right?

JENNIFER: Yeah that's right. I'm glad that we both agree on that.

JACK: Well.... nice to agree on something for once isn't it?

JENNIFER STARTS TO WALK AWAY.

JACK: Top of the morning to you.

JENNIFER LEAVES. A MOMENT LATER A GIRL APPROACHES JACK. IT IS OBVIOUS THAT JACK FEELS BAD ABOUT WHAT JUST HAPPENED, AND HAS NO INTENTIONS OF SLEEPING WITH A PROSTITUTE.

GIRL: Looking for something, sugar? Like maybe a good time.

JACK: Ahhhh.... well I was.... I was looking for some.... ahhhh. (Beat) (Obviously talking about Jennifer) Oh, I was.... I was looking for something but I think I lost it.

GIRL: Ooooh, too bad.

THE GIRL WALKS OFF LOOKING FOR ANOTHER CUSTOMER.

JACK: Yeah, too bad.

[Transcribed by Carol Vaughan
added material by Sally A. Wilson]
---
---