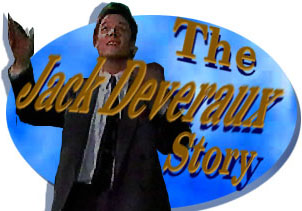 oldEpisode Two-hundred-forty-two:
During a
Crossfire
Segment, Jack
Says That Rapists Cannot Be Reformed.
Meanwhile, He Does not Have Enough
Money To Save the Paper; Eve, Can Only
Inherit Nick's Money If She Marries for Love.
---
[Air early February 1991]
SCENE ONE: IT IS THE NEXT DAY AND JENNIFER IS AT WORK WHEN JACK WALKS BY THE NEWS ROOM SET.

JENNIFER: Jack!

JACK: Huh! Oh Miss Horton.

JENNIFER: (Happy to see Jack) Hi. Ah.... well I didn't expect.... ah...this is a surprise. I mean after the other night.... well I'm glad you came.

JACK: Well....

JENNIFER: This really means a lot to me.

JACK: That should be short lived.

MADELINE: Jack, great, you're right on time.

JACK: Yes, I wanted to find out what this big thing is that you were talking about.

JENNIFER IS VERY SURPRISED THAT JACK IS THERE TO SEE MADELINE.

MADELINE: Well, it's only something that's going to give both of our careers a real booster shot.

JACK: Not that my career needs a boost. But I'm here, so go ahead.

MADELINE: I have found the perfect topic for another debate. It's controversial, timely, compelling.

JACK: I'm here, go ahead hit me.

MADELINE: "Rapists!" (Beat) "Can they be rehabilitated or not."

JENNIFER IS HORRIFIED.

MADELINE: Fabulous, ne c'est pas?

MADELINE IS THEN CALLED AWAY FOR A FEW MINUTES.

MADELINE: Listen think about it. This is resonant. Listen, this will take two shakes. I'll be back in a minute.

JACK: Two shakes.

JENNIFER: I can't believe that woman. Jack let's get out of here. Come on.

JACK: Ah no I'm sorry. I can't go. I have to finish a conversation with.... that woman.

JENNIFER: You are actually going to discuss this.

JACK: Possibly, yes. You know I recall a conversation with you where you said you were preparing to get on with your life. I.... I think I'll just follow suit. Now if you'll excuse me, she's waiting for me right over there.... that woman.

JACK WALKS OVER AND TO DISCUSS IT FURTHER WITH MADELINE.

MADELINE: We made wonderful music together in our last debates. This one will really sizzle.

JACK: What exactly do you mean, sizzle?

MADELINE: Well next month is sweeps month. We'll go to a 20 share. What do you say?

JACK: I say....

JENNIFER BUTTS IN.

JENNIFER: He says nothing. That's what he says. I say this is disgusting and you are using other people's pain to get yourself ratings.

MADELINE: I see this as public service. You know those so-called dramatic programs they show on television. A rapist is made into a good guy in two minutes flat. Well that's not reality or so I intend to prove. Now I want to bring the truth before the American people.

JENNIFER: How do you know that is the truth? What makes you so sure a person can't change his ways?

JACK IS LISTENING INTENTLY TO JENNIFER.

MADELINE: I'm afraid I have no objectivity at all. I think rapists are the lowest of the low.

JACK HAS A WRY SMILE ON HIS FACE.

MADELINE: Which is why I need you so badly Jack, to show the other side. Will you do it?

JENNIFER: Jack, don't.

JACK: Well.... ah.... I never have been one to avoid a challenge.... at least not very often.

MADELINE: Does that mean that?

JENNIFER: That means that.... ah.... that means you're on. I'll.... I'll see you on the boob tube.

MADELINE: Jack I am absolutely delighted. Well excuse me, I've got to go over to public relations. They can kick up the old publicity machine for us. Bye.

JACK: Bye.

MADELINE LEAVES.

JENNIFER: Are you crazy? What are you doing? Why are you doing this?

JACK: I don't know. You know at the moment it seemed like a good thing to do and.... ah.... perhaps we'll be able to educate a couple of people this way.

JENNIFER: Well I'm just glad I have the rest of the day off so I don't have to be here to see it Jack.

JACK: That's too bad because the results could be.... rather surprising.

JENNIFER: Jack all it's going to be is you defending yourself against Madeline's attacks. There's nothing surprising in that.

JENNIFER WALKS OFF VERY ANGRY. JACK LOOKS REFLECTIVE.

JACK: I wouldn't be so sure about that.
---
SCENE TWO: JENNIFER GOES BACK TO THE LOFT AND CANNOT RESIST TURNING ON THE TV TO SEE JACK SEGMENT ON CROSSFIRE WITH MADELINE. FRANKIE COMES IN AS SHE IS WATCHING AND THEY BOTH WATCH IN AMAZEMENT.

MADELINE: My opponent today is Jack Deveraux, publisher of The Spectator. Welcome Jack.

JACK: Thank you Madeline, thank you.

MADELINE: Now as we all know the prison system as a way of rehabilitating criminals is a sorry failure. We'd all like to think of rapists as dirty old men. Wrong! The majority of them are between the age of 15 and 24 with long lives ahead of them in which to rape again.

JACK IS THINKING OVER HIS OWN PROFILE AS SHE SPEAKS.

MADELINE: To commit an act that is one of the most punishing and brutal acts that one can commit short of actual murder. Now rapists rape in order to express anger. You and I release our pent up anger by what? A fast game of racket ball, eating a bag of cookies, picking on our kids. They, these barely human creatures, they express their buried rage by violating women. Now if this impulse strikes again, well don't say I didn't warn you. Jack what can you say to that?

JENNIFER IS VERY UPSET LISTENING TO THIS AT THE LOFT.

MEANWHILE EVE HAS COME INTO THE STUDIO AND IS WATCHING JACK FROM THE SIDE. JACK TURNS TO THE CAMERA.

JACK: Ah.... not much.... not much at all. Rape is a crime. Someone who commits that crime, do I think they can be rehabilitated? (Beat) No.... No! (Beat) I'm sorry Madeline but I afraid that I'm going to have to agree with you. This time you're right. (Beat) Once a rapist always a rapist.

JENNIFER HAS TEARS ROLLING DOWN HER FACE AS SHE LISTENS TO HIM.

MADELINE: Jack I have to admit you threw me a little. But forgive me, I never thought that I would hear that coming from you.

JACK: Well, I really can't argue with the facts Madeline.

MADELINE: Well wouldn't you say that you are the perfect example of someone who.... well I hardly dare say it.

JACK: Well there's no need to say it. Someone who can fool you. You see a rapist comes in all shapes and sizes. Tall, medium, small.... good looking.... charming even. But that doesn't make them any less dangerous or the situation any less traumatic. And whether they have suffered from a chaotic childhood or an inability to express love or just mixed up, pent up feelings of any kind, it doesn't excuse the fact that when you force yourself on another human being, you cause irreparable damage and tremendous scars.

MADELINE: So you are saying.... so you are willing to stand up here and say that you feel that haven't been reformed?

JACK: No I'm going to sit here and say that. The situation's like this. There are some things that can be changed and that you can get beyond and there are some things you can't. This is one of those that you can't. (Beat) So Madeline, I hope you've got some Super Sports Bloopers lined up because you just won this debate and it's all over.

MADELINE IS FURIOUS THAT JACK HAS REFUSED TO DEBATE WITH HER.

MADELINE: Thank you.... Jack Deveraux. This is Madeline Armstrong with Crossfire. We'll be back in a moment with some Sports Boopers and Spencer with today's events.
---
SCENE THREE: AT THE LOFT.

JENNIFER: I got Jack's message. I gave up on him just like he wanted. What does he want from me?

FRANKIE: Jen.

JENNIFER: What, does he want me to hate him, is that what he wants?

FRANKIE: Maybe.... maybe he wants you to see him for who he really is.

JENNIFER: That's not what he is today Frankie.

FRANKIE: No but it's there Jen and he wants you to realize that.

JENNIFER: Look I have told him a million times how I feel about him, alright. I love him. I don't care about his past.

FRANKIE: Well maybe he thinks you're not being honest with yourself. You know maybe he thinks you're fooling yourself when you say it doesn't affect you. Because Jen I think it does. I mean it's like Jack said, he raped a woman. He violated another human being in the worst possible way. Nobody could ignore that, especially you.

JENNIFER: Now why would you say that?

FRANKIE: Because you're a sensitive person. You feel things.

JENNIFER: Alright, alright, maybe it does make a difference. But what we had was wonderful. I thought that maybe we could get past that.

FRANKIE: Yeah and you still can.

JENNIFER: It doesn't look that way Frankie.

FRANKIE: Well maybe not right now. Not after everything that you've been through. Why don't you just give it a little time. I mean you need to do some personal healing anyway.

JENNIFER: You know Frankie you're amazing. I haven't told you one little detail of what's going on with me but you always seem to know what to say to me.

FRANKIE: Well that's why we're friends.
---
SCENE FOUR: BACK AT THE STUDIO, MADELINE IS AFTER JACK.

MADELINE: Jack what was that? This was a debate....

JACK: You were never at a loss for words at The Spectator. Madeline, loved those bloopers, I did.

MADELINE: No, no, Jack, you're not going to get away with this. You're not....

JACK WALKS OVER TO EVE.

JACK: I'm so glad you're here.

EVE: Yeah I got a message you wanted to see me.

JACK: Yes, yes! I think I'm wrapped up here. Let's talk in my office. It's much nicer.

EVE REALIZES THAT HER SITUATION IS NOT MUCH DIFFERENT THAN JACK'S, THEY BOTH HAVE PASTS THEY WANT TO GET OVER, BUT PEOPLE WILL NOT LET THEM DO IT.

EVE: Jack, I.... before you go I just wanted to tell you, I heard what you said during the debate about not being able to get past certain things. Well I can understand that. I've done some stuff that.... well it kind of sticks with you, you know.

JACK: Sure, the way green tuna casserole stick with you.

EVE: But I think you're wrong about not being able to change. I think it's people's perceptions of us. That's who we can't change. They'll always see us a certain way even.... well you know, even if it's not the way we are anymore.

JACK: Well I think you've got a little bit more to learn Miss Donavon. You see the way that people see us, that is the way we are. Now come on, this way.
---
SCENE FIVE: JACK AND EVE ARE AT THE SPECATATOR.

EVE: I don't know what you want to see me about Jack. I mean we don't exactly hang out in the same social circles you know.

JACK: This is not social. I'm doing an investigative report on two homicides, Nick Corelli and Emilio Ramirez.

EVE: Well anything I know, I already told the police Jack.

JACK: No, I am looking for things the police are not interested in.

EVE: Like what?

JACK: Oh, say on Nick, background, things that fill up a story with. Color we call it. Can I get you some coffee perhaps?

EVE: No thanks. What exactly are you talking about here?

JACK: Who his friends were, who he hung out with, who he hated, who hated him. Those sort of things.

EVE: Why should I help you?

JACK: Well, I could be the one who finds out who did the dirty deed. (Beat) Of course that could be a reason for you not to help me.

EVE: What are you getting at Jack?

JACK: I'm saying if you did it, you might not want to aid me.

EVE: Well I didn't! I didn't kill anybody.

JACK: Fine, perfect. Let's start at the top.

EVE: The police think Johnny Corelli did it and so do I.

JACK: No, no, no. There's no way Johnny could have done it. You see they arrested him. If they thought he'd done it they wouldn't have let him go. They also wouldn't have let him leave town which he did and if he was really guilty, he wouldn't have come back.

EVE: So, what are we getting at here? What is it?

JACK: Before I go any further, I want to know. Are you in or out?

EVE: I'm.... out!

JACK: Ah, one more question. This is personal. (Beat) Say if.... Miss Horton asked you to help her, would you do it, which she will?

EVE: Is that what this is about? You're trying to scoop Jennifer?

JACK: No, I'm trying to scoop everyone.

EVE THINKS THIS OVER AGAIN AND CHANGES HER MIND. SHE WOULD DO ANYTHING TO GET BACK AT JENNIFER.

EVE: Maybe I could spare a few minutes, just a few.

JACK: Perfect, great. I must have said the right thing in there somewhere. I don't know what it is but I'm sure you'll tell me later.

EVE: Well if one person had to crack this case open, I'd rather it was you.

JACK: I'm really flattered.

EVE: Besides you might just find out who the real killer is, with my help.

JACK: With your help, you might make sure I don't uncover you.

EVE JUST GIVES JACK A HALF SMILE AND SITS DOWN.
---
SCENE SIX: JACK AND EVE ARE SITTING TOGETHER IN HIS OFFICE AND HE IS TAKING NOTES BY HAND ON A YELLOW WRITING PAD.

EVE: Nick's friends? (Beat) I don't think he had any near the end. And his business associates, I told you you all the people that I know.

JACK: Okay, well what about....

VERN COMES RUSHING INTO THE ROOM.

VERN: Jack!

JACK: I'm sorry, we're busy. Can it wait?

VERN: Listen, you're not going to want to wait on this.

JACK: Oh excuse me.

VERN: Our lawyers have heard from Diana Colville's lawyers.

JACK TRIES TO GET VERN TO SHUT UP SO THAT EVE WILL NOT HEAR ALL HIS BUSINESS.

JACK: Yes.... yes.

VERN: Now it's good news and bad news. Now you wanted time, I don't know how they talked her into it but Diana's giving you time.

VERN PATS JACK ON THE SHOULDER AND THEN REALIZES THAT JACK WANTS HIM TO KEEP IT DOWN. JACK PLACES HIS HAND ON VERN'S SHOULDER AND WHISPERS.

JACK: How much time?

VERN: Well that's the bad news. You've got till Friday, midnight.

JACK GIVES UP ON VERN BEING QUIET.

VERN: Now if you can't beat Lawrence Alamain's offer, The Spectator is going to have a new partner.

EVE IS ALL EARS LISTENING TO THIS.

JACK: (Whisper) Over my dead body Vern. Can you just....

VERN: What?

JACK: I said, over my dead body.

VERN: Oh! Listen, it's a lot of money.

JACK: (Whisper I know that. Like I said before, that's my problem.

VERN: Yeah, okay, right.

VERN LEAVES.

EVE: You know, if you want to finish this another time.

JACK: Oh certainly.... at another time, yes, yes.

EVE: Ah, I couldn't help catching a little of your conversation. It sounds like you need a lot of money right away. Am I right?

JACK: Ah, I told Vern and I believe you overheard, that that is my problem and that's the way it will remain. But...ah.... thank you very much and....

EVE: Yeah, you're welcome. Goodbye Jack.

JACK: It's nothing to do with you.

EVE: Sure, I understand.

JACK: Thank you.

EVE LEAVES AND JACK IS LEFT WONDERING WHAT EVE IS ON ABOUT. OUTSIDE EVE STOPS AND THINKS ABOUT WHAT SHE HEARD.

EVE: Don't be so sure.
[Transcribed by Carol Vaughan
added material by Sally A. Wilson]
---
---