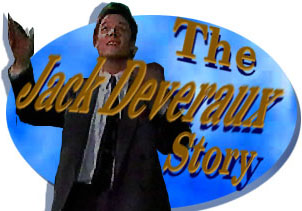 oldEpisode Two-hundred-fifty-eight:
The Train Disaster Part IV:
Twin Peaks
:
Deputy Jack Looks for the Gun. Because of the
Shooting, The Gang Is Taken off the Train.
---
[Air mid-March 1991]
SCENE ONE: IT IS THE NEXT MORNING AND JACK IS UP AND DRESSED AND STARING OUT THE WINDOW OF THE TRAIN. JENNIFER WAKES UP AND SMILES.

JENNIFER: Jack, how long have you been sitting there?

JACK: Huh.... oh an hour, maybe a half. I don't know, I've lost track.

JENNIFER: What's wrong?

JACK: There's nothing wrong. I'm just taking in the view.

JENNIFER: Give me a break Jack, this is me. I know you. I know what you're thinking.

JACK: I beg your pardon but I am not transparent.

JENNIFER: No, you're frustrated. Because once Brian gets us off this train today, we're going to lose our chance to find the gun and then we won't be able to use it against Lawrence and that kills you.

JACK: Er.... that's a good guess.

JENNIFER: That's not a guess Jack. I'm right and you know it.

JACK: It still just a guess. You see your basic premise is entirely wrong. It doesn't matter how much Brian Scofield mutters or mumbles. I'm not getting off this train.

JENNIFER: And how do plan on staying on this train Jack?

JACK: I have a plan!

THAT IS ALL JACK SAYS.
---
SCENE TWO: LATER IN THE LOUNGE CAR WHEN BRIAN ARRIVES TO TELL THEM TO LEAVE.

BRIAN: Okay folks, I'm going to make this short and sweet. You've got twenty minutes to get off the train.

FRANKIE: Well you got to be kidding me.

BRIAN: Oh don't worry about anything. I've arranged at a local hotel for you to stay. And just remember everybody that towel stealing is a felony in this state.

JENNIFER: Overnight? Do you mean all night tonight?

BRIAN: That's right, all night, overnight. Any other complaints?

TANNER: How much time do you have?

BRIAN: Almost none.

TANNER: Call me when you've got a month.

BRIAN: (To Jennifer) Where's your partner in crime?

JENNIFER: Who?

BRIAN: Her husband, where is he?

JENNIFER: He was hungry and they weren't serving breakfast so he went into town to get some.

BRIAN: No bad, not.... bad, not bad.

BRIAN LEAVES THE CARRIAGE.

EVE: What's that supposed to mean?

FRANKIE: It means he doesn't believe her.

JENNIFER: Well it doesn't matter if he believes me as long as he can't prove it.

FRANKIE: What exactly are you and Jack up to Jen?

JENNIFER: Frankie, I don't know what you're talking about.

FRANKIE: You're still looking for the gun aren't you? Come on, Jen, Eve is trying to beat a murder charge here.

EVE: Right and the police have to find that gun and say that my prints aren't on that gun.

FRANKIE: That's right and I don't want Jack screwing it up.

JENNIFER: He's not going to screw up.

FRANKIE: I know this is important to him but you've got to get him to back off.

JENNIFER: I can't do that.

FRANKIE: Why not?

JENNIFER: Because he's not on this train for fun or to chase a story remember. He's here for a reason, a very good reason.

FRANKIE: Yeah and so am I. Look I'm going to clear Eve and nobody is going to get in my way including Jack.

FRANKIE LEAVES AND EVE FOLLOWS HIM SMILING. JACK THEN APPEARS FROM THE NEXT CARRIAGE.

JACK: There you are.

JENNIFER: Jack, hi. How long have you been there?

JACK: Oh, I got there just about the time you started to defend me.

JENNIFER: Why do you sound so surprised?

JACK: Well.... it was my understanding that you thought it was a waste of time trying to outfox Brian Scofield.

JENNIFER: I know, I was wrong. I shouldn't have said that Jack. I mean we have made an arrangement to get Lawrence and as far as I'm concerned that's exactly what we're going to do.

JACK: Well if that's the case, let's stop wasting time. Let's get a move on Miss Horton.

JENNIFER: Alright.

THEY LEAVE THE TRAIN.
---
SCENE THREE: AT THE HOTEL, BRIAN IS TALKING TO THE DEPUTIES THAT ARE GOING TO SEARCH FOR THE GUN. JENNIFER AND JACK SPY ON THEIR CONVERSATION.

JACK: Hmm, you talk about deputies, I was picturing something along the lines of Barney Fife. They look like the Four Horsemen [Seems to be a reference to Knute Rockne's Notre Dame football] all put together. I hope we can get back onto that train.

JENNIFER: Oh yeah, we will Jack.
---
SCENE FOUR: A BIT LATER BRIAN HAS THE DEPUTIES ON BOARD THE TRAIN AND HE IS GIVING THEM INSTRUCTIONS. AS THEY LEAVE TO BEGIN THE SEARCH, JENNIFER COMES BACK ON BOARD.

JENNIFER: Brian.

BRIAN: Oh Jennifer, look no one can board the train until tomorrow morning.

JENNIFER: Listen, listen, it's not that alright. I saw this guy and I think he might be the guy who shot Eve.

BRIAN: Where was he?

JENNIFER: He was near the back of the train.

BRIAN: Are you sure?

JENNIFER: Yes, yes, of course I'm sure.

BRIAN: Oh well I better go check.

JENNIFER: Good idea, good idea.

BRIAN STARTS TO LEAVE AND THEN STOPS FOR HER.

BRIAN: Are you coming?

JENNIFER: Yeah, yeah.

JENNIFER LEAVES WITH BRIAN AND THEN JACK COMES IN FROM THE NEXT CARRIAGE. HE IS WEARING A FULL DEPUTY OUTFIT COMPLETE WITH A NIGHT STICK AND HAT. HE STROLLS ALONG WITH A ROLLING GAIT AS IF HE JUST GOT OFF A HORSE. HE IS IMITATING ALL THOSE STEREOTYPICAL SOUTHERN DEPUTIES FOUND IN THE MOVIES.


JACK: Yeppp! You're in a heap of trouble now boy.

HE BEGINS TO SEARCH THE TRAIN. HE GOES INTO THE FIRST COMPARTMENT AND USES THE STICK TO TAP THE WALLS LOOKING FOR A SECRET COMPARTMENT.

JACK: Dammit, it must be here somewhere.

THERE IS A SMALL WASH BASIN IN THE CORNER AND HE RUNS HIS HAND UP BEHIND THE CABINET ABOVE IT AND FINDS AN EMPTY SPACE JUST THE RIGHT SIZE TO HIDE A GUN.

JACK: Oh what have we here. Oh two cubic feet of stale air.

OUTSIDE HE HEARS JENNIFER TALKING TO BRIAN.

JENNIFER: Brian, we're going the wrong way.

BRIAN: No we're not.

JENNIFER: Yes we are. I told you he's in the back of the train. This is the front of the train so we're not where I told you he was.

BRIAN: Oh, back, forth, front, back. When I was a cub scout I had a reverse sense of direction. When everybody pointed north south, I pointed south north. You see it doesn't matter.

JENNIFER: But we're in the front and he's in the back so let's go back.

BRIAN: No let's go this way. Let's go in here. I want to go in here.

JENNIFER: No Brian.
---
SCENE FIVE: BRIAN OPENS THE DOOR TO THE COMPARTMENT THAT JACK IS IN. JACK IS STILL TAPPING THE WALL WITH HIS BACK TO THE DOOR.

BRIAN: Evening Deputy.

JACK: Evening, sir.

BRIAN: Did you find the gun Jack?

JACK: No, I di....

JACK TURNS AROUND AND SEES BRIAN.

BRIAN: Hi Jack. You know I can't wait to hear your explanation for this one.

JACK: Neither can I. Ah.... but you know the funniest thing happened to me on the way to breakfast this morning.

JENNIFER TRIES TO LAUGH WHILE JACK BEGINS HIS TALE.

JACK: .... and there I was. I had my second cup of coffee and a little bit of breakfast and I thought to myself. Jack you don't really need this city life anymore. What you need is good friends, good food, good Java, Twin Peaks [This was during the time David Lynch's TV show Twin Peaks was very popular]. And there you have it. I went down to the sheriff's office and I made an application out and here I am.

BRIAN: You expect me to believe that, huh.

JACK: Ah, no, no. Of course I don't expect you to believe that. I mean it was joke, right.

JENNIFER BEGINS TO LAUGH TOO HARD AND TOO LOUD.

JACK: It was a joke. You knew it was a joke. Look she's laughing. Hahahahahah. It was a joke.

JENNIFER: Why else would I be doing this? Hahahahah.

JACK: I don't know.

BRIAN: That's a joke! What's the real story, come on.

JENNIFER: He came back for his briefcase.

BRIAN: This isn't his compartment.

JACK: I made a mistake.

BRIAN: Why are you wearing the uniform?

JACK: Look this is America. In America what a man wears or doesn't wear in the privacy of his own compartment is his own business.

BRIAN: One more time, Jack, this isn't your compartment.

JACK: I made a mistake.

BRIAN: Alright, look, enough of this. You get a hundred points for ootzpah, fifty for the brains, that's not a passing grade folks. The exit's this way, come on.

JACK: No, no, wait a minute. We paid for these tickets or at least somebody paid for these tickets and we have our rights.

JACK REMAINS SITTING.

BRIAN: No you don't have any rights because I'm in charge of this case here. I'm in charge.

IN THE DOOR COMES A VERY LARGE OVERWEIGHT SHERIFF — THE STEREOTYPICAL CORRUPT SOUTHERN SHERIFF.

SHERIFF: Well that's where you're wrong son. The only person in charge of a police investigation in Beauford County is Sheriff Lyle Tater. He issues the orders here and he's got one for you. (Beat) Get your butt off this train now!

JENNIFER'S EYES OPEN WIDE AS SHE LOOKS ACROSS AT JACK. JACK DOES THE SAME.

JACK: Ah.... yessir!
---
SCENE SIX: BACK AT THE HOTEL. JENNIFER OPENS THE DOOR TO THEIR ROOM AND JACK FOLLOWS.

JENNIFER: Oh Jack, I am so depressed.

JACK: You're telling me. Not only are we stuck in this little one horse town but it seems to be a dry county to boot.

JENNIFER: Jack do you realize if the sheriff finds the gun then everything is definitely ruined. We're going to have to come up with another way to get Lawrence.

JACK: Don't be so negative about it.

JENNIFER: What's there to be positive about?

JACK: Well I think we can safely say that large bodied small minded sheriffs can be found throughout the United States.

JENNIFER: That's a big help.

JACK: I think we can establish that I look pretty spiffy in a sheriff's.... deputy's outfit too.

JENNIFER: Oh yeah, that's definitely going to get us somewhere Jack.

JACK: And that there are secret compartments on the train.

JENNIFER: Secret compartments, what good is that go.... there are secret compartments in the compartment on the compartment on the train?

JACK: That's exactly what I'm saying. I was looking into one when you burst in on me. I have reason to believe that they may be in the other compartments as well and I don't think that the police know that they're there.

JENNIFER: Jack, that's great!

JACK IS HESITANT ABOUT THAT.

JACK: Nah, nah, it's not so good.

JENNIFER: Jack you just said, like you said, don't be so negative. This is good. This is good. We did something good together. We are a team again.

JACK: No we're not.

JENNIFER: Yes we are.

JACK: We're not and I know what you're thinking.

JENNIFER: You do?

JACK: Yes, I have insight as well. I know that you're thinking that just because we're working together, you're going to get top billing in my newspaper because you're some B television personality and I'm just an inky scribe. Well I'll tell you this, it is going to be Deveraux-Horton or nothing at all.

JENNIFER LOOKS UPSET AND WALKS AWAY.

JACK: Miss Horton? (Beat) Hello? (Beat) Well I'm sorry, I didn't know it meant that much to you.

JENNIFER: It doesn't Jack.

JACK: Well if it doesn't, what does? What's the matter?

JENNIFER: Nothing, nothing.

JACK: Come on, you can tell me.

JENNIFER: No I can't.

JACK: Oh now really! I mean I may not be clairvoyant like yourself but I have been through the therapy thing. I can be very sensitive if I want.

JENNIFER: Oh, right, sensitive the way you were about the couple on the train, Joanie and David, right?

JACK: The bimbo and the chump.

JENNIFER: I rest my case Jack.

JACK: Wait a minute, why are you making these comparisons to these total strangers?

JENNIFER: Some couples have.... certain things in common.

JACK: Huh, uh.

JENNIFER Certain problems.

JACK: So why don't we make a comparison to Sigfried and Roy. We can at least benefit from them.

JENNIFER: Jack this is serious.

JACK: I'm serious too. Tell me what's going on. You can tell me anything!

JENNIFER: I just...I don't want to talk about this anymore, alright.

JACK: Well just remember you heard it here first. You can tell me anything.

JENNIFER: Alright that's good. I promise that I'll keep that in mind.
[Transcribed by Carol Vaughan
added material by Sally A. Wilson]
---
---