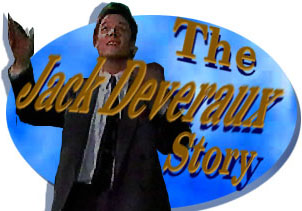 oldEpisode Two-hundred-ninety-nine:
Jennifer's Rape Trial Part V: It Takes
Two
to Play
Scrabble
: Eve Agrees
to give Jack a Divorce; Jack
Spends a
Wild
Night with Jennifer.
---
[Air date mid-June 1991]
SCENE ONE: IT IS THE NIGHT BEFORE THE LAST DAY OF THE TRIAL AND JACK AND JENNIFER HAVE GONE TO WINGS.

JENNIFER: I wonder what this is about Miss Horton. Let's get this over with as quickly as possible.

JENNIFER: Jack what's the hurry? Why don't we just sit down and relax okay.

JACK: Very hard to relax in the home of the blonde haired blue eyed barracuda.

JULIE: Ah, did someone mention Eve?

JACK: Not intentionally.

JULIE: My darlings, that's quite a coincidence because Eve is the reason I've asked you to be here this evening.

JENNIFER: Well Jack was just saying that he isn't too thrilled about seeing Eve right now.

JACK: I'm sure you understand that after a difficult day in court the last thing anyone needs is to run into my lovely wife.

JUST THEN EVEN SHOWS UP.

EVE: Jack, honey?

JACK: Argh, well so much for slipping out unnoticed.

EVE: Jack, Jennifer. I'm so glad you're here.

JACK: Yes well we're so sorry we're here because we have to leave. We're going right now, excuse us.

FRANKIE: So soon? We haven't had a chance to celebrate.

JENNIFER: Celebrate? What are we celebrating?

EVE: The fact that I've decided to give Jack a divorce.


JENNIFER GRINS AND TURNS AROUND TO JACK. HE SMILES TOO.

JACK: Yes.
---
SCENE TWO: FRANKIE HAS GOT SOME CHAMPAGNE WHILE EVE EXPLAINS.

EVE: And that's all there is to it. You're free, I'm free, just like that.

JACK: Just like that?

EVE: Huh, uh.

JACK: I must be hallucinating.

JENNIFER: Well if you're hallucinating then so am I.

FRANKIE: Come on, no one's hallucinating here. It's true Eve wants to be just as free as you Jack. That's why she's giving you the divorce. Besides we have plans of our own.

EVE: We're going on a safari.

FRANKIE: I wouldn't exactly call it a safari but we are going to Africa and we will be together.

JACK: Oh Francoise! I luv ya man! I mean to love the girl so much to take her out of my hair and take her to Africa in one bold stroke....

FRANKIE: I told her the truth Jack.

JACK: Of course the truth that you love her.

FRANKIE: No, the truth.

EVE: And guess what I'm not even mad at you two for your part in it. In fact, I'm really and truly happy for you and I wish you well.

JACK: Aaah.... no, no, no, no, no. It's too good to be true.

JACK WALKS AROUND AND TAKES EVE ASIDE. HE DOES NOT BELIEVE A WORD OF THIS.

JACK: Francoise, would you excuse us for a moment. (Beat) Alright Bundt Cake how much?

EVE: Excuse me?

JACK: How much? Come on now, you expect me to open the old pocket book. How many figures?

EVE: None Jack.

JACK: None, I see. Amount to be disclosed at a later date.

EVE: Jack you're not listening to me. I don't want your money. I don't need your money. I don't. I don't need a dime.

JULIE INTERRUPTS.

JULIE: So, now that that's all settled, why don't we just skip the question and answer period and go right into the celebration. Tanner, champagne for everybody. Eve, why don't you pick a lovely, lovely chair for Jack.... EVE: Well let's get comfy then.

JACK: Well....

JULIE: .... and Jennifer and....

JACK: Francoise.

FRANKIE: Jack.

JULIE TELLS FRANKIE THAT EVE HAS CERTAINLY CHANGED AND FRANKIE AGREES BECAUSE EVE IS GIVING UP ALL HER MONEY TO GO TO AFRICA. JULIE IS SURPRISED. IT'S OBVIOUS THAT JULIE KNOWS A LOT MORE ABOUT THIS CHANGE OF HEART FROM EVE. JACK AND JENNIFER ENJOY SOME CHAMPAGNE WITH FRANKIE, EVE AND JULIE.
---
SCENE THREE: JACK AND JENNFIER HAVE RETURNED BACK TO THE LOFT.

JACK: A trifle down aren't we after having come from a party.

JENNIFER: No I realize that and I mean with everything that's going on I should really happy about Eve and this divorce. I just, ah, I don't want anything to go wrong, that's all.

JACK: Well, Eve has said that she's found someone else to make life miserable for so she's going to cut me loose. I guess everything is working out.

JENNIFER: I really hope you're right.

JACK: I tell you something, I think you should get some sleep right now. Sleep on it and you'll see that I'm right in the morning.

JENNIFER: No, no I don't want.... that's the whole point, if I keep thinking about this then I'm just going to get all keyed up and I won't be able to sleep. Maybe.... maybe we can come up with something for us to do to just take up some time. I don't know.

JACK: Well it is late. I think....

JENNIFER: I know, I know exactly what we can do. And it's something we can stay up all night doing because we won't make any noise. (Beat) Unless of course one of us gets really excited.

JENNIFER PICKS UP A BOTTLE OF WINE.

JACK: Or, ah, tipsy. Let me tell you something. You have to be in court in the morning and I have a pile of paperwork that I need to attend to and I need to get to it right now.

JENNIFER: Jack, you just said that you....

JACK: Ah, look, business before pleasure alright.

JENNIFER: Alright. Well I guess this is something I can do by myself but it would be a lot more fun if we did it together.

JACK PAUSES AT THE DOOR.

JACK: Alright, question Miss Horton. I know you've had a couple of glasses of champagne and everything but is there something that you've changed your mind about that you haven't made me aware of?

JENNIFER: Changed my mind about what?

JACK: Ah, I was under the impression that you were planning on waiting until you were married before you.... took to, ah.... well you know.

JENNIFER: Before I what? Before we play Scrabble together?

JACK: Yes, ah.... Scrabble.

JENNIFER: Well what did you think I was talking about Jack?

JACK: I thought you were talking about playing Scrabble. Scrabble. I just didn't think it was such a wise thing to do to drink wine and play Scrabble the night before a big court case. But if you're.... if you're game so to speak, then what the hell, why not.

JENNIFER: Alright. Thanks Jack.

JACK: Don't thank me. Pour me a glass and get the game board out and let's rack 'em up.

JENNIFER: You got it.
---
SCENE FOUR: A WHILE LATER, THEY SET UP THE BOARD AND BEGIN TO PLAY. JACK HAS THE LETTERS "E-V-E-T-R-O-U-B-L-E"

ON HIS RACK AND HE PICKS UP AN EXTRA E AND PUTS IT IN FRONT. JENNIFER LOOKS CLOSELY AT HIS RACK.

JACK: What are you doing?

JENNIFER: How many letters do you.... you have ten letters Jack. You're only supposed to have seven letters. You're cheating.

JACK: Yes, well a hell of a lot of good it's doing me. I think you're still beating the pants off me. Look what you've got over here. "Zenith," "lynx ," "four," "horse."

JENNIFER: Jack you can catch up. This is your game remember.

JACK: Yes well I think my game's in a big slump.

JENNIFER: A big slump? You have ten letters, I'm sure that you can come up with something. Now hurry up, it's your turn.

JACK: Alright, I've got something right here.

JENNIFER: Okay.

HE PLACES SOME LETTERS ON THE BOARD.

JACK: This game will be over and you can get to bed, ready for tomorrow. "F-O-R-E-V-E-R." Count 'em up.

JENNIFER: That's nice.

JACK: Yes, yes please. Count 'em up.

JENNIFER: Alright, you got four for the F.

JACK: Right.

JENNIFER: Five, six, seven, four's eleven, twelve and triple letter, fifteen.

JACK: Ah, that's thirty, triple, no.

JENNIFER: No, triple letter.

JACK: Forty five.

JENNIFER: No, it's fifteen Jack.

SHE REACHES ACROSS AND TAKES HIS HAND.

JACK: This game's going on forever.

JENNIFER: It's a nice move.

JACK: Yeah.

JENNIFER: Forever's nice.
---
SCENE FIVE: THEY CONTINUE TO PLAY WITH JENNIFER KEEPING SCORE.

JENNIFER: Okay, that's another thirty-six points for me Jack.

JACK: Oh please.

JENNIFER: It's your turn again. And don't think I didn't see you take those extra letters again Jack. I'm just not going to get on you because you're really far behind. What have you got?

JACK HAS LETTERS THAT MAKE THE WORDS: "G-O-L-D -D-I-G-G-E-R"

JACK: Nothing, really. Nothing.

JENNIFER: Do you think maybe we could just forget about this trial and forget about the divorce and not worry about anything tonight and just relax.

JACK: I'm not.... I'm not worried about a thing except getting you to bed on time, that's all. I'm not worried about a thing. I just can't come up with a word that facilitates that.

JENNIFER: I'll help you. I'll help you find a word. You're allowed to do that. You can.

JACK: No, I don't think.... not in the....

JENNIFER: You can help a friend in Scrabble. I will help you.

JACK: Wait a minute. No, oh, oh, oh.

JENNIFER: Jack okay. Just leave me with these. I will come up with a really good word for you.

JACK: I'm sure you will.

JENNIFER: Okay.

JENNIFER BEGINS TO MOVE JACK'S LETTERS AROUND WHILE HE STRETCHES HIS LEGS AND GETS SOME POPCORN.

JENNIFER: Alright, I got a word. I'm really good at this Jack. Alright, I came up with the perfect word.

SHE WALKS OVER TO HIM HOLDING THE LETTER RACK. JACK MESSES-UP THE LETTERS SO SHE CANNOT READ WHAT HE HAD WRITTEN.

JENNIFER: "G-O-L-D-R-I-N-G." I mean technically it's two words but since we've been bending the rules all night I figure this is okay. Sort of fits right up with forever don't you think?

JACK: Especially if you're trying to develop a theme of.... ah.... happily ever after. If you're into that sort of thing.

JENNIFER: Yes I'm into that sort of thing. Think it'll be that way for us?

JACK: One would hope so Miss Horton. One would definitely hope so.
[Transcribed by Carol Vaughan
added material by Sally A. Wilson]
---